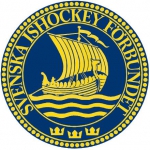 J20 SuperElit
League status: Active
Youth league: yes, U20
Administered by: The Swedish Ice Hockey Association
Head manager: Lars G Karlsson
Year of start: 1995
Did you find any incorrect or incomplete information? Please, let us know.
In the autumn there are two groups (north and south). The top 5 teams of each group form a new Top-10 division. The remaining teams continue with a combined north/south division.
All 10 teams from the Top-10 division and the 6 best teams of the other division qualify for the playoffs.
Two overaged skaters and one goalie are allowed per game in the regular season. In the playoffs no overaged players are allowed.
Clubs with senior teams in Elitserien can't be relegated.
Junior Club World Cup quarter finals
The group stage of the JCWC in Yekaterinburg ended today. The quarter finals will be played on Thursday: Avto Yekaterinburg - MODO Hockey, Red Army Moscow - Jokerit, HC Davos - HC Ocelari Trinec and Snow Leopards Astana - HK Riga.
(22 Aug 2017)
Swedish junior championships finals
The semifinals and finals of the Swedish U16, J18 and J20 championships will be played in Stora Hallen, Nyköping March 24-28 2016.
(12 Nov 2015)
Past league results:
League standings:
Historic statistic:
Individuals records:
Fast facts
season 2005-2006
After two years of preparation, next November the new multi-national tournament will see the light Read more»
KHL President Alexei Morozov said non-Russian clubs will start the season in Russia and may stay there until the issue of crossing borders between states is resolved. Read more»