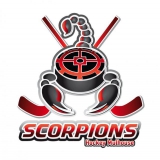 HC Mulhouse
Nickname: Les Scorpions
Year of foundation: 1997
Colours: red, black
Club status: active
Address: 47 Boulevard Stoessel
68200 Mulhouse
Phone: +33 03.8925 5801
Fax: +33 03.8959 1272
Email: contact@scorpionsmulhouse.fr
WWW: Mulhouse Scorpions
Did you find any incorrect or incomplete information? Please, let us know.
Season 2018-2019
Current roster
season 2018-2019
* no longer in the club
Adress: Patinoire Olympique
47 Boulevard Stoessel
68200 Mulhouse
Phone: +33 03 69 77 67 68
Email: patinoire@mulhouse.fr
Capacity: 1600
Opened in: 1986
from 1997 to present: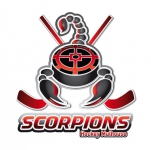 Coupe de la ligue first round completed
The coupe de la ligue first round is now completed. In groups A (Angers, Rouen) & C (Grenoble, Briançon), the top favorites emerged and advanced to the quarter finals. In groups B and D, it was a 3 team fight to get to the next level. The big surprise was finally in group B with qualifications of Epinal and Strasbourg while the top favorite Amiens is eliminated. In group C, Dijon ended up first while Chamonix and Morzine were tied for 2nd. Chamonix finally advance thanks to a better goal difference. The quarter final match-ups will be the following : Strasbourg - Angers ; Rouen - Épinal ; Briançon - Dijon ; Grenoble - Chamonix
(16 Oct 2013)
Mulhouse back in Ligue Magnus
Mulhouse defeats Nice tonight 4:3 to sweep the series 2-0 in the Division 1 Championship. The Scorpions complete their comeback to Ligue Magnus since 2005, the year the won the Championship and then were relegated due to bankruptcy.
(14 Apr 2012)
Historic rosters:
Historic statistics:
Past results:
League standings:
Fast facts
season 2018-2019
Despite material disadvantages, Georgia's hockey team is moving up the charts. Read more»
The 9 and 10 October saw Game Day 5, the penultimate round of the group stage this year's Champions Hockey League. Each team played the first of a back to back meeting with the same opponent as the group stage of ... Read more»