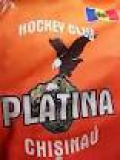 Platina Chisinau
Year of foundation: 2010
Colours: orange,silver
Club status: active
Did you find any incorrect or incomplete information? Please, let us know.
Season 2011-2012
Current roster
season 2011-2012
* no longer in the club
from 2009 to present: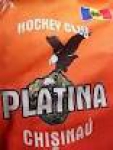 Platina Chisinau withdrew from Romanian League
Romanian Ice Hockey Federation decided to throw out Moldovan team Platina Chisinau from Romanian League, after the team didn't appear in last two scheduled games against Progym Gheorgheni. The team has a tiny roster and already missed games when a player was suspended.
(13 Oct 2011)
Big riot in Romanian League will cost another forfeit for Platina Chisinau
A big riot on ice at 58:40 during the Romanian League match between Miercurea Ciuc Farm team and Moldovan Platina Chisinau, won 9-2 by Platina, resulted in 369 total minutes of major penalties, 190 for Platina and 179 for Miercurea Ciuc. All players involved will be suspended, this means Platina won't have enough players for next game and will loose by forfeit its second game for same reason. For not have a minimum number of players Platina dressed its bus driver Iurie Belogortev in last game
(03 Oct 2011)
Platina Chisinau loss by forfeit
Moldovan team Platina Chisinau lost 5-0 by forfeit second match of Romanian league against Miercurea Ciuc farm team due to lack of minimum number of players at the beginning of the match.
In the first match Platina easily won 9-4
(03 Oct 2011)
Historic rosters:
Historic statistics:
Past results:
League standings:
Fast facts
season 2011-2012
After years of speculations and proposals, the joint championship among Baltic Republics is now a reality Read more»
The international break gave us a chance to see the Four Nations Cup take place in Canada. This is an annual tournament between Canada, USA, Sweden and Finland in women's hockey. The strength of the Swedish league can be seen in ... Read more»