Oshawa Generals
Year of foundation: 1937
Colours: Red, white, blue
Club status: active
Address: 99 Athol Street E
Oshawa, ON
L1H 1J8
Phone: +1 (905) 433-0900
Fax: +1 (905) 433-0868
Email: tleone@oshawagenerals.com
WWW: Oshawa Generals
Did you find any incorrect or incomplete information? Please, let us know.
Season 2020-2021
This club in 2020-2021: OHL
Current roster
season 2020-2021
* no longer in the club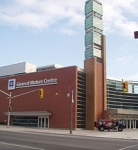 Adress: 99 Athol Street East
Oshawa, Ontario, L1H 1J8
Phone: +1 905-438-8881
Capacity: 5113
Opened in: 2006
The Generals have two distinct eras in their history. The original Generals operated from 1937 to 1953. The team went on a hiatus from 1953 to 1962 due to a fire at the Hambly Arena. The team was resurrected in 1962.
from 1937 to present:
Oshawa wins Memorial Cup
Oshawa Generals won Memorial Cup last night after beating Kelowna Rockets 2-1 in the final. Oshawa had one European player on the roster: Tobias Lindberg of Sweden who lead the team in scoring with three goals and two assists.
The German forward of Kelowna Rockets, Leon Draisaitl, was the Memorial Cup top scorer with four goals and three assists.
(01 Jun 2015)
Historic rosters:
Historic statistics:
Past results:
League standings:
Fast facts
season 2020-2021
Oshawa Generals participates in season 2020-2021: OHL
A short Cup competition involving four teams is to be played from next week in England. Read more»
The resumption of ice hockey in Britain begins this weekend. It will be in the form of a short seven week competition known as the Spring Cup. Read more»