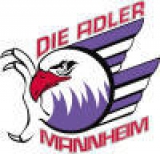 Adler Mannheim
Nickname: Adler
Year of foundation: 1938
Club status: active
Address: Die Adler Mannheim
Xaver-Fuhr-Straße 150
68163 Mannheim

Adler City Store:Friedrichsplatz 6

Phone: +49 0621 - 18190 - 0
Fax: +49 0621 - 18190 - 18333
Email: info@adler-mannheim.de, ticketing@saparena.de (Tickets)
Did you find any incorrect or incomplete information? Please, let us know.
Season 2015-2016
This club in 2015-2016: DEL
Current roster
season 2015-2016
* no longer in the club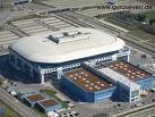 Adress: Xaver-Fuhr-Strasse 150
68163 Mannheim
Phone: +49 (0) 6 21 - 1 81 90 - 204
Email: info@saparena.de
Capacity: 13600
Opened in: 2005
The first incarnation of the Adler Mannheim were the The Mannheimer ice and roller skating club (MERC: Mannheimer Eislauf und Rollschuhclub), founded on May 19, 1938. After the end of the Second World War, they again began operating in 1948. The team's name was Mannheimer ERC until 1994, when it was changed to Adler Mannheim.
The Adler Mannheim were champions of the German Bundesliga, the predecessor of the Deutsche Eishockey Liga in 1980. After the Deutsche Eishockey Liga was founded in 1994, the Mannheim Eagles won the championship five more time
from 1938 to 1948: MERC Mannheim
from 1948 to 1994: Mannheimer ERC
from 1994 to present: Adler Mannheim
German Champions:
1980, 1997, 1998,1999, 2001, 2007

German Cup Winners:
2003, 2007
League winners:
from 1938 to present: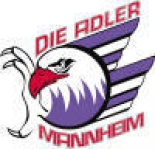 Adler Mannheim third team to participate at Spengler Cup
According to the Spengler Cup media announcement, the Adler Mannheim of the German DEL will be the third team (HC Davos and Team Canada are the other two) to participate at this years Spengler Cup edition. It will be the 8th time the Germans participate at the New Years tournament. In 2012 they reached the final after beating an NHL-packed team Canada 5-2 but fell short to Swiss Hockey Club Fribourg-Gottéron in the final. Mannheim feel honoured to represent the DEL in the highly regarded Club tournament. Further participants will be announced.
(11 May 2015)
Harold Kreis new coach of EV Zug
EV Zug announces German Harold Kreis as new head coach for two next seasons. Fired by Adler Mannheim in December, Kreis, 55, is back in Switzerland where he won two titles, with Lugano (2005-06) and ZSC Lions (2007-08).
(24 Mar 2014)
Spengler Cup program unveiled
The program of the 2012 edition of the Spengler Cup, which takes place from December 26 to 31 in Davos, was releaved. Like in last edition, the six teams were divided into two groups, named Torriani and Cattini.
Invited as special guest for its 75th anniversary, HC Fribourg-Gotteron will have the honor of playing the opening match against Russian Salavat Yulaev Ufa on December 26 afternoon. At night Team Canada and Adler Mannheim will open the Cattini group.
Czech HC Vitkovice Steel completes the group Torriani while host HC Davos is the third team of Cattini Group. Here the complete fixture
(25 Aug 2012)
Spengler Cup participants named
Today the Spengler Cup officials released the names of the participants for this year's Spengler Cup. Favourite for the tournament win is Salavat Yulayev Ufa (KHL). The other participants are Adler Mannheim (DEL), host HC Davos and Fribourg-Gottéron (both NLA), HC Vítkovice (Czech Extraliga) and a team consisting of Canadian players.
(03 Jul 2012)
European Trophy schedules
European Trophy announced today the schedule for the 2012/13 season. Find the complete fixture list here.
(12 Apr 2012)
Adler Mannheim fined for incidents against Ingolstadt
DEL record champion Adler Mannheim has been fined by the league to pay €3000 for incidents in their home game against ERC Ingolstadt where fans threw coins on the ice. In addition to this assistant coach Mike Schmidt has to pay €500 for unsportsmanlike conduct.
(06 Jan 2012)
Mannheim drown their chance in penalties
Adler Mannheim missed out on their chance of making European Trophy finals as they lost their final group game 3-5 against Slavia Praha. Mannheim needed a win to climb over Linköping to second place of South division, but conceded three goals in the 2nd period in a nervous game with 270 penalty minutes (133 to Mannheim, 137 to Slavia).
(04 Sep 2011)
Historic rosters:
Historic statistics:
Past results:
League standings:
Fast facts
season 2015-2016
Adler Mannheim participates in season 2015-2016: DEL
On Thursday, May 21, KHL season-ending ceremony was held in Russia. Read more»
German Ice Hockey Federation decided not to renew the contract with national team coach Read more»