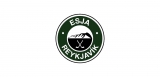 Esja UMFK Reykjavík
Year of foundation: 2014
Colours: green,white
Club status: ceased (Folded after 2017-2018 season after the refusal of the Ice Hockey Association of Iceland and Reykjavík's Athletic Federation to allow the club to start a junior program, which they claimed was essential for the clubs future)
Address: Engjavegur
Reykjavík
Iceland
Email: esja@esjahokki.is
WWW: Esja UMFK Reykjavík
Did you find any incorrect or incomplete information? Please, let us know.
Season 2017-2018
Current roster
season 2017-2018
* no longer in the club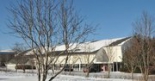 from 2014 to present: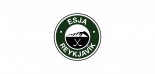 SA Vikingar is champion of Iceland
SA Vikingar Akureyri brings back title of Icelandic League after conceding the honour last season to UMFK Esja Reykjavík, now beaten in 3 games of final series 8-5, 5-4ot and 6-2 with a great performance by forward Johann Leifsson, notching 4 goals and 9 assists in the series. Player-coach of SA, Finnish Jussi Sipponen finished as Top Scorer of regular season with 68 (30+38) points
It's title number 20 in the history of club, the most successful in history of Icelandic hockey.
The title also marked the end of the career of Sigurdur Sveinn Sigurdsson, the most representative player of SA and one of the leading figures in the history of Icelandic hockey, who closes his journey in ice hockey with the incredible record of 21 titles in 27 seasons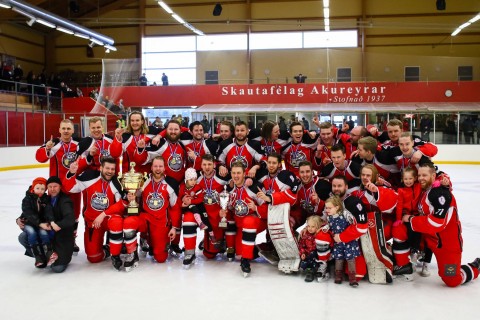 Photo: Icelandic Federation
(10 Apr 2018)
Robert Sigurdsson named Icelandic Player of the Year
UMFK Esja forward Robert Sigurdsson was named 2017 Icelandic Player of the Year.
Sigurdsson, 24, after some season in North American minor leagues, played in Iceland since 2014 for Skautafélag Reykjavíkur and from this season for champion UMFK Esja Reykjavík and is Icelandic League top scorer at moment with 46 points (24+22) in 14 games. Sigurdsson is also member of Iceland National Team
Eva María Karvelsdóttir is the Women's Player of the Year
(17 Dec 2017)
Icelandic League started
Icelandic League started this week with a convincing victory of champion SA Akureyri and new player-coach, Finnish Jussi Sipponen, 5-0 against Bjornin. Silver medalist SR Reykjavík lost 5-4 at overtime in the city derby aginst Esja UMFK.
Follow every game of Icelandic League on Eurohockey page
(03 Sep 2015)
Historic rosters:
Historic statistics:
Past results:
League standings:
Fast facts
season 2017-2018
Cardiff Devils won by one-goal-difference against home side Grenoble and advances to the Continental Cup Superfinals along with Nomad Astana Read more»
Kazakh champion closes the Continental Cup semifinals round with a perfect record, by beating HK Zemgale in the last game Read more»