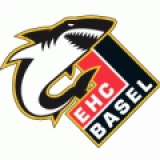 EHC Basel Sharks
Year of foundation: 1932
Colours: Black, red, white
Club status: ceased (bankruptcy in 2014)
Address: Brüglingen 33
4052 Basel
Phone: +41 061 377 51 51
Fax: +41 061 377 51 52
Email: info@sharks.ch
WWW: EHC Basel Sharks
Did you find any incorrect or incomplete information? Please, let us know.
Season 2014-2015
Current roster
season 2014-2015
* no longer in the club
Notable players:

from 1932 to 1933: EHC Basel
from 1933 to 1990: EHC Basel-Rotweiss
from 1990 to 2003: EHC Basel KLH Dragons
from 2003 to 2009: EHC Basel
from 2009 to present: EHC Basel Sharks
from 1932 to 2009: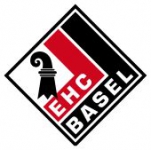 from 2009 to present:
NLB Team EHC Basel Sharks declare bankruptcy
It came as a bit of a suprise for the National League when they informed today that the NLB Team from Basel had to turn over the financial statements to the commercial court. One of many reasons might have been that the average attendance was less than 1'400 fans per game. This made a cost-covering business more than difficult. This means there's a chance the coming NLB season will be played by 9 teams only. You can find the full statement in german on www.nationalleague.ch.
(23 Jun 2014)
Nando Wüthrich suspended for seven games
Basel Sharks defender Nando Wüthrich received seven games suspension and 700 Sweiss francs fee for his check from behind on Lausanne forward Eliot Berthon during 1st February NLB game NLB du 1er février 2013.
(09 Feb 2013)
Basel retires Voegele number
Four days after announcing his retirement due to injury, Basel Sharks decide to retire Stefan Voegele number 19. Voegele starts career and played more then 400 games for Sharks
(18 Dec 2012)
Historic rosters:
Historic statistics:
Past results:
League standings:
Cardiff Devils won by one-goal-difference against home side Grenoble and advances to the Continental Cup Superfinals along with Nomad Astana Read more»
Kazakh champion closes the Continental Cup semifinals round with a perfect record, by beating HK Zemgale in the last game Read more»