Adirondack Thunder
Year of foundation: 2005
Colours: Black, gold, silver, white
Club status: active
Address: Adirondack Thunder
1 Civic Center Plaza
Glens Falls, NY 12801
Phone: +1 518-480-3355
Email: info@adirondackflames.com
Did you find any incorrect or incomplete information? Please, let us know.
Season 2019-2020
Current roster
season 2019-2020
* no longer in the club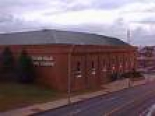 Adress: Glens Falls Civic Center
1 Civic Center Plaza
Glens Falls, New York 12801
Phone: +1 518-798-0366
Capacity: 4806
Opened in: 1979
The Stockton Thunder franchise began as the first incarnation of the Cincinnati Cyclones, who were an expansion franchise that joined the East Coast Hockey League in 1990. Following the 1991-92 season, Cincinnati's owner Doug Kirchhofer was granted an expansion franchise in the International Hockey League and took all Cyclones colors, logos and monikers to be adopted by his future Cincinnati IHL franchise.

The ECHL moved the franchise rights that had been held by Kirchhofer to Birmingham, Alabama. The new franchise was named the Birmingham Bulls, named after the former former World Hockey Association franchise that played in Birmingham from 1976-79. The Bulls played their home games at the Birmingham-Jefferson Convention Complex from 1992 until 2001.

Following the 2000-01 season, the Birmingham Bulls would move to Atlantic City, New Jersey and become the Atlantic City Boardwalk Bullies. The Bullies would find success quickly in the ECHL, reaching the Conference Finals during the 2002 Kelly Cup playoffs and winning the Northeast Division title the following season. The Bullies would continue their streak through the 2003 Kelly Cup playoffs, winning the Kelly Cup after defeating the Columbia Inferno, 4 games to 1. Despite winning a division crown and making playoff appearances in all of their four seasons in New Jersey, including the 2003 Kelly Cup championship, the Bullies were unable to maintain a large average attendance. Following the 2004-05 season, the Bullies were sold to an ownership group out of Stockton, California that moved the team into Stockton Arena which was to open during the 2005-06 season. The Atlantic City Boardwalk Bullies were relocated to Stockton following the 2004-05 season and the franchise was named the Stockton Thunder in May 2005. On January 29, 2015, the Calgary Flames announced that they would be moving their AHL affiliate, the Adirondack Flames, to Stockton as one of five charter member's of the AHL's new Pacific Division. The next day, the Flames announced that the ECHL's Stockton Thunder (who they had purchased the day before) would move to Glens Falls in what was essentially a "market swap".
from 1992 to 2001: Birmingham Bulls
from 2001 to 2005: Atlantic City Boardwalk Bullies
from 2005 to 2015: Stockton Thunder
from 2015 to present: Adirondack Thunder
from 1992 to 2001: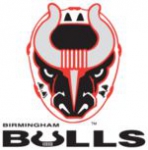 from 2001 to 2005: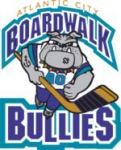 from 2005 to 2015: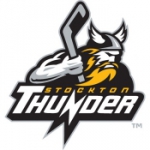 from 2015 to present: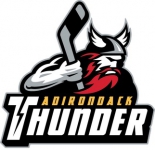 NY Islanders sign affiliation with Stockton Thunder
The New York Islanders and the Stockton Thunder of the ECHL and have reached a one year affiliation agreement for the 2013-14 season.
The Thunder previously had an NHL affiliation with the Edmonton Oilers (2006-13), San Jose Sharks (2010-12) and Phoenix Coyotes (2005-06).
(31 Jul 2013)
Historic rosters:
Historic statistics:
Past results:
League standings:
Fast facts
season 2019-2020
Full analysis of the last 10 seasons of the Ukrainian ice hockey championships Read more»
Full analysis of the last 10 seasons of the Ukrainian ice hockey championships Read more»