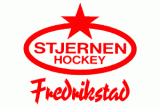 Stjernen Hockey
Short name: Stjernen
Year of foundation: 1960
Colours: red,white
Club status: active
Address: Utfarten 16
1613 Fredrikstad
Phone: +47 69 36 83 00
Email: lene@stjernen.no
Stjernen Hockey is major league affiliate of:
Stjernen 2
Did you find any incorrect or incomplete information? Please, let us know.
Season 2022-2023
Current roster
season 2022-2023
* no longer in the club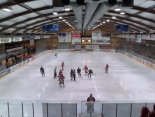 Adress: Utfarten 16
1605 Fredrikstad
Phone: +47 69 33 85 50
Capacity: 2473
Opened in: 1970
Stjernen was founded in 1960 when the boys club "the Star" simply translated their name to Norwegian to comply with the rules of the association to begin play in the league system. After ten years of playing on an outdoor rink, or hiring ice time from local rivals Sparta Warriors, Stjernen got their own arena in 1970 when Stjernehallen was officially opened.
With a good youth organisation to go with the new facilities, Stjernen soon started to climb in the leagues and in 1974 they reached the first division for the first time in club history.
In 1981 the club saw its finest day beating Vålerenga Ishockey 2-1 in the best of three play off final becoming the first team outside Oslo to hoist the cup. Upon returning to Fredrikstad they were met by a crowd of several thousand people carrying torches, cheering the newly crowned champions.
Stjernen was the team to beat throughout the 1980s. Championship success however was repeated only once. In 1986 outsiders Frisk were well beaten in the final.
Although Stjernen remained a force well into the nineties they never managed to add to their two titles. Playing two more finals in 1992 and 1995 they failed both times to add to the silverware.
During the late nineties the club fell into recession due to economic difficulties and failings in the youth department. Having nearly been bankrupted on a couple of occasions the club has started rebuilding and came back into the top during the 05-06-season when they finished second in the league and was extremely close to making the play off final. The team largely built around foreign talent however disintegrated after the season, and the new crop of players did not hold the same standard, leaving the club to fight for a place in this years play off.
Notable players:
Norwegian champion: 1981, 1986
League winners:
from 1960 to present: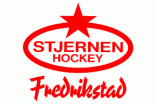 Historic rosters:
Historic statistics:
Past results:
League standings:
Fast facts
season 2022-2023
A look back at a season that lived up to its promise. Read more»
The upcoming NHL draft in June 2023 is fast approaching. Find out here which European Ice Hockey players will likely be in the draft. Read more»