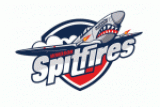 Windsor Spitfires
Year of foundation: 1975
Colours: Blue, White, Red
Club status: active
Address: WFCU Centre
8787 McHugh Street
Windsor, Ontario
N8S 0A1
Phone: +1 519-254-5000
Fax: +1 519-254-9257
Email: gameday@windsorspitfires.com
WWW: Windsor Spitfires
Did you find any incorrect or incomplete information? Please, let us know.
Season 2023-2024
This club in 2023-2024: OHL
Current roster
season 2023-2024
* no longer in the club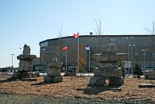 Adress: 8787 McHugh Street
Windsor, ON, N8S OA1
Phone: +1 519-974-7979
Email: webmaster@wfcu-centre.com
Capacity: 6500
Opened in: 2008
Retired numbers
# 9 - Adam Graves
# 15 - Ernie Godden
# 18 - Mickey Renaud
# 23 - Scott Miller
Honoured numbers
# 4 - Marcel Pronovost
# 6 - Joel Quenneville
# 11 - Gordon Haidy
The Original Spitfires in the Ontario Hockey Association played Junior A hockey from 1945 to 1953. During this period the Spitfires reached the league finals twice, and featured four future Hockey Hall of Fame players. Prior to 1945 local junior hockey was divided up into the 6-team Windsor Junior Hockey League. The folding of the Spitfires occurred in 1953 as hockey interests in Windsor chose to focus their attention on the OHA Senior A Hockey League. This resulted in the founding of the Windsor Bulldogs. Eventually five former Spitfires laced up with the Bulldogs and one, Bobby Brown, won an Allan Cup with the team (1963). The Bulldogs folded in 1964 after one season in the International Hockey League.
The modern Windsor Spitfires started as a Junior A team which played in the Southern Ontario Junior A Hockey League from 1971-1975. The Spitfires won the 1973 Jack Oakes Trophy as league playoff champions and were regular season champions in 1974 and 1975, and were granted entry into the OMJHL (later known as the OHL) as an expansion franchise for the 1975-76 OMJHL season, after a 22 year hiatus.
The "Spits" as they are commonly known, won their first Emms division title in 1980 and reached the OHL finals, but lost to the Peterborough Petes. In 1984 Peter Karmanos, the founder and CEO of Compuware, bought the team and renamed them the Windsor Compuware Spitfires.
Karmanos sold the team to local construction magnate Steve Riolo after the 1988-89 season, and the team reverted back the Windsor Spitfires name and adopted their modern logo.
from 1975 to present: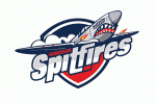 Historic rosters:
Historic statistics:
Past results:
League standings:
Fast facts
season 2023-2024
Windsor Spitfires participates in season 2023-2024: OHL
Cardiff Devils won by one-goal-difference against home side Grenoble and advances to the Continental Cup Superfinals along with Nomad Astana Read more»
Kazakh champion closes the Continental Cup semifinals round with a perfect record, by beating HK Zemgale in the last game Read more»