Did you find any incorrect or incomplete information? Please, let us know.
Season 2023-2024
This club in 2023-2024: NHL
Current roster
season 2023-2024
* no longer in the club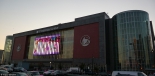 Adress: 165 Mulberry Street
Newark, New Jersey
07102
Capacity: 17625
Opened in: 2007
Founded in Kansas City as Kansas City Scouts in 1974, moved to Denver as Colorado Rockies in 1976, before finally settling in New Jersey as Devils in 1982. Reached playoffs just once in their first 13 seasons, but since 1987 the franchise has been almost ever-present in the post season, finnishing with a winning record every year between 1992 and 2010. Won three Stanley Cups. Moved to brand new Prudential Center before 2007-08 season.
Notable players:
Stanley Cup Champions 1995, 2000 & 2003. Four Stanley Cup finals appearances. Nine Atlantic Division titles.
League winners:
from 1992 to present: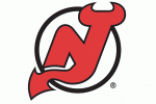 Washington Capitals get new coach
After one season in Tampa Bay and two seasons behind the New Jersey Devils' bench as an assistant coach, Adam Oates has his first job as head coach. He has signed with the Washington Capitals, replacing his former teammate Dale Hunter.
(26 Jun 2012)
Patrik Elias becomes New Jersey Devils best scorer
Scoring twice in Devils' victory against Montreal Canadians, 35 years old New Jersey captain Patrik Elias becomes the Devils' all-time points leader with 845. Elias played 993 games in NHL, all with Devils' jersey
"It just feels nice," said Elias to ESPN. "It just feels that you're doing something right and it keeps me going. Hopefully, I have a lot more in me, obviously, but at this moment I'm enjoying it."
(18 Dec 2011)
New Jersey Devils retired Scott Niedermayer's number
Fomer defenseman Scott Niedermayer has his number 27 retired Friday, when New Jersey Devils honored him in a ceremony before the game.
Niedermayer played for New Jersey from 1992-2004 before joining the Anaheim Ducks in 2005, amassing 172 goals and 568 assists in 1,263 games and winning three Stanley Cups with the Devils and a fourth in Anaheim in 2007.
Among all NHL players, Niedermayer is the only one to have won a Stanley Cup championship, Olympic gold medal, World Cup, World Championship, World Junior Championship and a Memorial Cup. "It was an honor and a privilege to be a New Jersey Devil all those years," he told during the ceremony. "These are memories I will cherish all my life."
(17 Dec 2011)
Jacob Josefson out with broken right collarbone
New Jersey Devils Swedish center Jacob Josefson underwent surgery Saturday morning and will be out three to four months after having broken his right collarbone after a spill into the boards with 3:05 left in the first period in 4-3 shootout home defeat against the San Jose Sharks. Strange coincidence, Josefson suffered another injury during a game against Sharks last season: he was forced to undergo surgery for a torn ligament in his thumb, missing ice for almost four months.
(23 Oct 2011)
Historic rosters:
Historic statistics:
Past results:
League standings:
Fast facts
season 2023-2024
New Jersey Devils participates in season 2023-2024: NHL
The captain Lukas Zukauskas shines in the home team triumph Read more»
in a pleasing match the Croatian champions beat a combative Reykjavik Photos by Evaldas Šemiotas Read more»