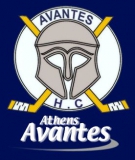 Avantes Athens
Year of foundation: 1984
Colours: blue,yellow,white
Club status: active
Address: Athens Heart ice rink Peiraios 180,komvos Hamosternas,Tavros
15234 Athens, Greece
Phone: +30 693 81 83 44 5
Email: info@avanteshockey.com
WWW: Avantes Athens
Did you find any incorrect or incomplete information? Please, let us know.
Season 2012-2013
Current roster
season 2012-2013
* no longer in the club
Adress: Peiraios 180 Node Hamosternas
Piraeus
Athens, Greece
Phone: +30 210 3414105
Email: info@icearena.gr
Capacity: 30
Opened in: 2009
The Avantes Hockey Club was created in 1984 by Nikos Polichronidis in Chalkis. The team and the players had as headquarters Halkida until 1993 when the only ice rink (200sqm) which existed in the city, closed
From then until 2003 the efforts of the athletes to maintain the team was very difficult without an ice rink and without any assistance from the Greek Ice Federation.
Yiannis Ioannou, the oldest player on the team disbanded the team and moved its headquarters to Athens where there was a skating rink, carrying the burden of re-making a new team, after much effort and personal time, he managed to create the first vintage of new players in the group. From 2003 until now the team is based on European standards of hockey in all areas, despite the difficulties to be faced because of non-existing skating rinks, since the last one closed in 2003 due to a lack of economic resources. It is noteworthy however that in the year 2010, without any financial help, the team operates with the financial burden on the shoulders of athletes.
from 1984 to 2003: Avantes Chalkis
from 2003 to present: Avantes Athens
from 2003 to present: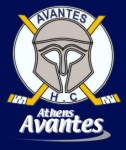 Historic rosters:
Historic statistics:
Past results:
League standings:
Fast facts
season 2012-2013
Avantes Athens participates in season 2012-2013: Greek League
Home loss for the 2021 champion on the opening day of the Swedish league. Read more»
The SC Bern defender Beat Gerber played his 1168th NL game on Friday. Read more»