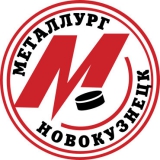 Metallurg Novokuznetsk
Name in original language: Металлург Новокузнецк
Year of foundation: 1949
Colours: red, black, white
Club status: active
Address: prospekt Stroitelei, 24a
654005 Novokuznetsk, Kemerovskaya Oblast
Phone: +7 (3843) 45-32-11
Fax: +7 (3843) 45-68-77
Did you find any incorrect or incomplete information? Please, let us know.
Season 2023-2024
Current roster
season 2023-2024
* no longer in the club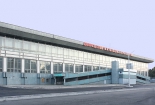 Adress: prospekt Stroitelei, 24a
654005 Novokuznetsk, Kemerovskaya Oblast
Phone: +7 (3843) 45-23-52
Web: http://arena-che.ru/
Capacity: 7533
Opened in: 1984
Notable players:

from 1949 to 2016: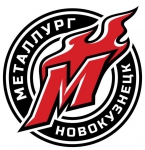 from 2016 to present: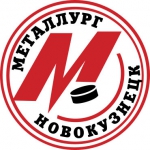 Sputnik Nizhny Tagil forward passed away
Sputnik Nizhny Tagil forward Sergei Simonov, 24, suddenly passed away. According to preliminary reports, the player was hospitalized after a training session, held the day before. He complained of pain in the region of the spleen. The exact cause of death has not been established but an investigation was opened. Before to arrive at Sputnik, Simonov, a product of Novokuznetsk school, played for Lada and Lipetsk in 2013-2014, Sary-Arka Karaganda 2014-2015 and Kristal Saratov in the first part of current season
(07 Jan 2016)
KHL schedule announced
The KHL schedule for 2015-16 can now be found in our games database.
(30 Jun 2015)
Kazzinc-Torpedo will be the farm club of Metallurg Novokuznetsk
Metallurg Novokuznetsk announces the signing of a farm-team agreement with kazakh club Kazzinc-Torpedo Ust Kamenogorsk for one season
(05 Aug 2014)
Zelepukin appointed sports director of Metallurg Novokuznetsk
Valeri Zelepukin became sports director of Metallurg Novokuznetsk. Zelepukin will work again with the head coach German Titov as in Khimik Voskresensk in the past
(29 Jan 2014)
New GM at Novokuznetsk and Ambri-Piotta
Vladimir Rokkel is the new GM of Metallurg Novokuznetsk replacing Evgeny Terentyev. Earlier Rokkel served as first deputy mayor of Novokuznetsk on social issues, as well as supervising the sport in the city, including hockey.
Also Swiss ambri-Piotta announces the new GM: it's former rival HC Lugano GM Alain Vetterli.
(03 Jun 2013)
Avtomobilist signs new headcoach and GM for next season
Anatoli Yemelin will coach Avtomobilist Yekaterinburg next season as announced by Governor of Sverdlovsk region Evgeny Kuyvash. "It is necessary to have the most ambitious goals for our team for next season - said Kuywash - "For this, we invited one of the most authoritative experts in hockey, along with new GM Leonid Weissfeld. We hope that this team of professionals will be able to bring our club to the playoffs next season."
Yemelin coached Lada Togliatti, Amur Khabarovsk amd from 2009 Metallurg Novokuznetsk. Also Leonid Weissfeld worked as GM at Metallurg from 2010
(11 Mar 2013)
Novokuznetsk wins against Amur
In Thursday's only KHL game home side Metallurg Novokuznetsk beat Amur Khabarovsk with the score of 4-2. All goals happend in the last period. Metallurg was already away with a 3-0 lead but had to wait for an empty netter to secure the win.
(15 Nov 2012)
Metallurg Novokuznetsk fans raise funds for the team
Following an appeal from the President to help financially the club,  Metallurg Novokuznetsk fans decided to provide financial assistance to the team.
They want to raise about 80 thousand rubles that are ready to be used for the purchase of medicines for the team. Besides the fans would like to install special boxes in shopping centers to raise money.
"In the near future we will open a special charity account where fans could transfer funds. For every penny, we naturally will report back" said the president Sergei Kuznetsov.
(06 Nov 2012)
Leonid Vaisfeld: Metallurg will play in KHL
Metallurg Novokuznetsk General Manager Leonid Vaisfeld briefly commented the club situation after a meeting with President Sergei Kuznetsov.
"Sergei told me the budget for this season. And will be modest".
According to Vaisfeld the club won't play in VHL, as suggested by League Board, but will continue in KHL: "Kuznetsov said that the Kemerovo Oblast will keep the team in the KHL"
(21 Jul 2012)
Historic rosters:
Historic statistics:
Past results:
League standings:
Fast facts
season 2023-2024
Cardiff Devils won by one-goal-difference against home side Grenoble and advances to the Continental Cup Superfinals along with Nomad Astana Read more»
Kazakh champion closes the Continental Cup semifinals round with a perfect record, by beating HK Zemgale in the last game Read more»