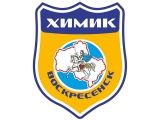 Khimik Voskresensk
Nickname: Хи́мик Воскресе́нск
Year of foundation: 1953
Colours: yellow, blue
Club status: active
Address: ul. Mendeleeva, 2
140200, Moscow Region, Voskresensk
Phone: +7 (496) 444-70-83
Fax: +7 (496) 444-70-10
Email: voskrhimik@mail.ru
WWW: Khimik Voskresensk
Did you find any incorrect or incomplete information? Please, let us know.
Season 2022-2023
Current roster
season 2022-2023
* no longer in the club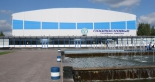 Adress: ul. Mendeleeva, 2
140200 Voskresensk Moscow Region

Phone: +7 (496) 444-70-11
Capacity: 4500
Opened in: 1966
from 2004 to 2016: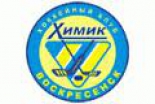 from 2016 to present: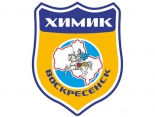 Former goalie Yuri Shundrov passed away
Former goalkeeper Yuri Shundrov passed away at 62 as reported by the official website of the Ukrainian Hockey Federation.
Shundrov, born in Penza, Russia, played for 16 years for Sokil Kyiv, winning a bronze medals of the USSR championship and several titles of champion of Ukraine. He closed the career in Romania, with Rapid Bucharest.
With the national team of Ukraine played in four World championships: 1995, 1997, 1998 and 1999, winning the award as best goalie in 1998. He was back in national team as assistant coach in 2007 and 2010
After the retirement, Shundrov worked as goalies' coach at Metallurg Magnitogorsk, CSKA Moscow, Torpedo Ust-Kamenogorsk and until last season at HC Sochi
(01 Aug 2018)
Voskresensk Ice Palace dedicated to Nikolai Epstein
Voskresensk District Administration has decided to remember Honored Coach of the USSR, and honorary citizen of Voskresensk Nikolai Epstein by dedicating the Ice Palace of Sports simply known as Podmoskoe (suburbs).
Epstein led Khimik for 22 years. Under his leadership the team won twice the bronze medal in the championship of the USSR. Among Epstein alumni are stars as Valeri Kamensky, Igor Larionov, Valery Zelepukin and Sergei Berezin. The ceremony will held on December 14, when club celebrates its 60th anniversary.
(02 Dec 2013)
Silver Lions St. Petersburg scored 60 goals in a game
Russian team Silver Lions St. Petersburg set a memorable score crushing United Arab Emirates U17 team 60-0 during the Cup of the President of Turkmenistan, a junior tournament helding in Ashgabat.
UAE team previously suffered two other tough defeats against Belarusian Raubichi (0-22) and Turkmenstani team Oguzkhan (4-31). In the same tournament also Turkey U17 team suffered severe losses against Turkmenistani Galkan (21-0) and Russian Neftyanik Almetyevsk (32-0)
Khimik Voskresensk won the tournament beating 3-1 Oguzkhan
(18 Feb 2013)
Historic rosters:
Historic statistics:
Past results:
League standings:
Fast facts
season 2022-2023
in a pleasing match the Croatian champions beat a combative Reykjavik Read more»
Home team opens the Continental Cup first round showing no mercy for opponent KHL Zagreb Read more»