ATEK Kyiv
Short name: ATEK
Name in original language: АТЕК Київ
Year of foundation: 1994
Colours: white,red,black
Club status: temporarily not active
Did you find any incorrect or incomplete information? Please, let us know.
Season 2014-2015
Current roster
season 2014-2015
* no longer in the club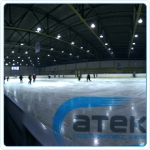 Inactive from 2008-09 to 2014-2015
from 1972 to 1980: Chervonyỹ Ekskavator Kyiv
from 1980 to 1985: Mashynobudivnyk Kyiv
from 1985 to 1996: Chervonyỹ Ekskavator Kyiv
from 1996 to present: ATEK Kyiv
from 1996 to 2014: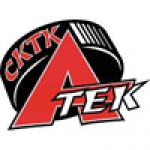 from 2014 to present:

ATEK Kyiv wins Ukranian League
ATEK Kyiv surprisingly wins 2014-2015 Ukranian League beating 4-3 in a dramatic game #3 of finals regular season winner and favourite HC Kremenchuk. Decisive goal was scored at 77:46 in the overtime by Belarusian Evgeny Krivomaz. Kremenchuk won 4-2 game #1 of final series in Kyiv but lost 3-2 game #2 and 4-3 game #3 at home.
It's the second title for ATEK after that won in 2006-207 season. Then club was inactive from 2008-09 to 2014-2015. ATEK forward Pavel Dvoretsky was named League MVP. Started in February after a difficult preparation, Ukraine League alligned just four teams and lasts two months. Kremenchuk proposed the dispute of another tournament in May, named Ukraine Cup, to ensure some games more for the teams.
(07 Apr 2015)
Vladislav Serov died
Former Ukrainian forward Vladislav Serov, who played for the national team of Ukraine at the Olympic Games in 2002 in Salt Lake City (USA) and the World Championships in 2004 in the Czech Republic, suddenly died at 35 for unknown causes
Formed in famous Kharkov Druzhba-78 hockey school,Serov played for Ukraine at the World Junior Championship and then spent almost his entire career in North America, playing for various teams in AHL, UHL, IHL and ECHL. In 2003-04 played for Italian Appiano scoring 22 points in 18 games. In 2006-07 - his last active season - Serov won Ukranian title with ATEK Kyiv
(09 Sep 2012)
Historic rosters:
Historic statistics:
Past results:
League standings:
Fast facts
season 2014-2015
A look back at a season that lived up to its promise. Read more»
The Alliance of European Hockey Clubs (E.H.C.) has announced the nominees for the 2023 Fenix Outdoor & Warrior European Hockey Awards. Read more»