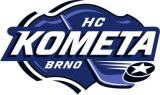 HC Kometa Group
Short name: Brno
Name in original language: HC Kometa Brno
Year of foundation: 1953
Colours: blue, white
Club status: active
Address: Křídlovická 34
603 00 Brno
Phone: +420 543 245 457
Fax: +420 543 245 457
Email: hckometa@kometagroup.cz
Did you find any incorrect or incomplete information? Please, let us know.
Season 2023-2024
Current roster
season 2023-2024
* no longer in the club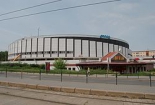 Adress: Křídlovická 34
603 00 Brno-Staré Brno
Phone: +420 543 420 043
Email: m.krpec@kometagroup.cz
Capacity: 7700
Opened in: 1982
In 1953, due to the government order, the best players from various Brno clubs were brought together to form a new club seeded straight into the top division of czech hockey. Brno took full advantage of this swift beginning and has won 11 domestic titles in their first 13 years of existence, with some succes on european stage as well. Slow but steady decline followed and the club was relegated couple of times. Return to the top division came in 2009, when Brno bought rights to play in Extraliga from Znojmo.
Notable players:
from 1953 to 1962: RH Brno
from 1962 to 1976: TJ ZKL Brno
from 1976 to 1990: Zetor Brno
from 1990 to 1992: HC Zetor Brno
from 1992 to 1994: HC Kralovopolska Brno
from 1994 to 1995: HC Kometa Brno
from 1995 to 1996: HC Kometa BVV Brno
from 1996 to 2002: HC Kometa Brno
from 2002 to present: HC Kometa Group
Champions 1955 - 1958, 1960 - 1966 (11 times)
League winners:
from 1994 to 2013: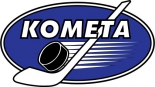 from 2013 to present:
Plzeň becomes the new Extraliga leader
After a 4 : 3 win against Kometa Brno, the Bohemians are now the new leaders of the overall classification. Mlada Boleslav and HK Mountfield follow, the former even after a defeat at the shootout against reigning champions Litvinov.
(02 Oct 2015)
Hadamczik becomes new head coach of Brno
Czech coach Alois Hadamczik, 62, takes over a Czech Extraliga club of Kometa Brno. So far, Hadamczik earned seven Extraliga medals with three organizations - Vítkovice, Třinec and Sparta. His last appearance in club hockey is five years old already, when he was in charge of Vítkovice between 2008 and 2010. After then, Hadamczik was the head coach of the national team of Czech Republic (2010-14).
(07 May 2015)
Four teams perfect in Extraliga
Six games were played in Czech Extraliga today. When two rounds are played Trinec, Vitkovice, Plzen and Brno all have six points.
(16 Sep 2012)
European Trophy schedules
European Trophy announced today the schedule for the 2012/13 season. Find the complete fixture list here.
(12 Apr 2012)
Two Czechs score hat-trick
Petr Vrána, 26, helped Khabarovsk to earn 2 points in an KHL game in Ekaterinburg(4-5 SO) with scoring three goals on Saturday. One day earlier Jakub Svoboda needed only 4 minutes and 41 seconds of the second period to score a hat-trick in an Czech Extraliga game of Kometa Brno in Plzeň(1-6).
(29 Oct 2011)
Start of Czech Extraliga postponed
Originally, Tipsport Extraliga would start this Friday, Sep 16, with seven games. Because of Yaroslavl jet crash all the first round games are postponed. "Jan Marek, Karel Rachůnek and Josef Vašíček were friends of many Czech Extraliga players. Their friends would be unable to attend Jan Marek's funeral if we will make them play hockey on Friday," Czech Extraliga head commisioner Stanislav Šulc said. New dates for the games is unknown, the clubs will arrange date of their 1st round games themselves.
The Czech top-level ice hockey competition will start on Sunday, Sep 18, with games of the second round.
(12 Sep 2011)
Historic rosters:
Historic statistics:
Past results:
League standings:
Fast facts
season 2023-2024
Kaunas City celebrate the qualification to the second round of Continental Cup with a ten-goals victory over Skautafelag Rejkyavik Read more»
Estonian champion wins KHL Zagreb ensuring first place for the home team Read more»