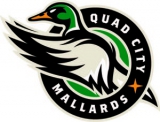 Quad City Mallards
Year of foundation: 2009
Colours: Black, mallard green, aqua, white, orange, midnight green
Club status: active
Address: i wireless Center
1201 River Drive
Moline, IL 61265
Phone: +1 309-277-1364
Fax: +1 309-277-1362
Email: info@myqcmallards.com
Did you find any incorrect or incomplete information? Please, let us know.
Season 2017-2018
This club in 2017-2018: ECHL
Current roster
season 2017-2018
* no longer in the club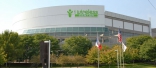 Adress: i wireless Center
1201 River Drive
Moline, IL. 61265
Phone: +1 (309) 764-2001
Email: ask@iwirelesscenter.com
Capacity: 9200
Opened in: 1993
Named in honor of the Mallards team that played in the United Hockey League from 1995 to 2007, the current Mallards debuted in 2009 in the International Hockey League before joining the CHL for the 2010-2011 season after the CHL and IHL merged.The Mallards play their home games at i Wireless Center in Moline, Illinois.

On May 11, 2011 the Mallards originally ceased operations due to a lack of funding, but almost a month later, Club 9 Sports, a consortium between Chicago-based investment bank Prometheus Capital Partners, LLC, management and consulting firm Tobacco Road Capitalists and sports management and marketing firm ScheerSports, Inc. (headed by former National Basketball Association general manager Carl Scheer) bought the team from former owner Eric Karls and announced the team would return for the 2011-12 Central Hockey League season

The original Mallards franchise played in the Quad Cities from the 1995-96 season through the 2006-07 season. Their first two seasons of existence were played in the Colonial Hockey League, which was reformed in 1997-98 as the United Hockey League (UHL). The Mallards were an overwhelming success in their first few years, with attendance figures that regularly topped 6,000 per game. Attendance peaked in the 1997-98 season at over 8500 fans per game, and while it declined, average attendance remained over 6,000 fans per game through the 2001-2002 season. It continued to drop, though, until it reached a low of 3,120 fans per game in the Mallards' final UHL season in 2006-07.

The Mallards franchise was historic in several ways. The team won three league championships and became the first hockey team in the minor or major leagues to record 5 straight seasons of 50 or more wins; the Mallards went on to achieve 7 straight 50+ win seasons. This feat landed the team a place in the hockey Hall of Fame. In 1996-97, the team's second year of existence, the Mallards won the Colonial Hockey League championship. The next year, they won the United Hockey League championship. After losing in the finals in 1998-99 and 1999-00, the Mallards won their third championship in the 2000-01 season.
from 2009 to present: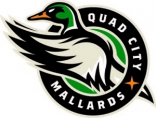 Historic rosters:
Historic statistics:
Past results:
League standings:
Fast facts
season 2017-2018
Quad City Mallards participates in season 2017-2018: ECHL
Ben O'Connor leaves Sheffield for Bayrs Astana of the KHL. Read more»
For the second time in tournament history, Sweden has won back-to-back World Championships thanks to a 3-2 victory in a thrilling contest against Switzerland in the shootout on Sunday in Denmark. ... Read more»