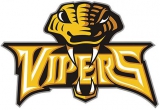 Newcastle Vipers
Nickname: Vipers
Year of foundation: 2002
Colours: White, Black, Gold
Club status: ceased
Did you find any incorrect or incomplete information? Please, let us know.
Season 2011-2012
* no longer in the club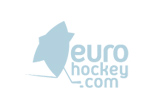 Adress: Hillheads Road
Whitley Bay
Tyne & Wear
NE25 8HP
Phone: +44 0191 2911000
Capacity: 3200
Opened in: 1955
The club was founded August 2002 after a season without a professional ice hockey team in Newcastle. Previously, the city was represented by the Newcastle Jesters, who were founded in 1999 by Finnish businessman Harry Harkimo who purchased the franchise from the Ice Hockey Superleague.
The franchise had previously been owned by John Hall who had owned the club as part of his ambitious "Newcastle Sporting Club" project and known as the Newcastle Cobras and later the Newcastle Riverkings. The Cobras had previously played as the Durham Wasps who had moved to Newcastle Upon Tyne Arena following a season at the Crowtree Leisure Centre in Sunderland as a result of Hall purchasing them after a number of years of financial problems. The Durham ice rink closed shortly thereafter.
After playing its first three seasons in the British National League, the Vipers joined the Elite Ice Hockey League in the 2005-06 season. During their first season the Vipers finished as runners-up to the Belfast Giants in the league and won the EIHL Play-Off Championship at the National Ice Centre, defeating the Sheffield Steelers 2-1 in the Grand Final.
The club folded in 2011 after financial difficulties.
Notable players:
EIHL Play-Off Championship: 2005-06
Retired Numbers:
8 Shaun Johnson
34 Petri Rautiainen (retired by Newcastle Jesters)
from 2002 to present: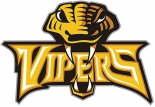 Historic rosters:
Historic statistics:
Past results:
League standings:
Thailand was outstanding at the Southeast Asian Games in Manila, Philippines, beating Singapore 8-0 in the final. Read more»
First held at the 1920 Summer Olympics, the IIHF Ice Hockey World Championship is an annual tournament and one of the most exciting ones as well. The high-profile tournament was formed in 1908 and first held in 1920. In the beginning, ... Read more»