News archive
09 Nov 2023, 10:26 | Nottingham Panthers withdraw from cup
After the tragic accident to Panthers player Adam Johnson the club has decided to pull out of the Challenge Cup games.
The following games are therefore no longer taking place:
CC29 Nottingham Panthers vs. Manchester Storm (originally Sunday 29 October)
CC34 Nottingham Panthers vs. Manchester Storm (Saturday 18th November)
CC36 Sheffield Steelers vs. Nottingham Panthers (Saturday 25 November)
31 Oct 2023, 17:05 | Cape Town Kings won South African Super League title
The Cape Town Kings win the third consecutive title of South African Super League (SASL), played in September-October in Cape Town and Forest Hill.
Kings finished 2 points ahead of Pretoria Capitals
Awards:
Best goalkeeper: Ryan Edward Boyd (Wildcats Ice Hockey Team )
Best defender: Deen Magmoed (Cape Town Kings)
Best forward: Reinhard Venter (Pretoria Capitals)
MVP: Uthman Samaai (Cape Town Kings)
19 Oct 2023, 18:09 | GKS Tychy win Poland SuperCup
GKS Tychy win its 4th Poland SuperCup by beating 4-3 in a thrilling final Cup holder GKS Katowice
19 Sep 2023, 23:40 | Buz Adam withdrew from Continental Cup
Few days before the begin of the Continental Cup, International Ice Hockey Federation (IIHF) announced the withdrawal of Buz Adam Gençlik ve Spor Kulübü. The Turkish champion should have played in Jaca ???????? next weekend. Although no further explanations were released, the reason should be linked to the granting of entry visas
27 Aug 2023, 22:37 | HC Vitebsk retains Belarus Cup
Today the first official trophy of the new season was assigned: Vitebsk retains the Belarus Cup, named after Ruslan Salei, by beating 2-1 Shakhtar Soligorsk in the final. HK Brest won the bronze, by beating 2-1 Yunost Minsk
27 Aug 2023, 11:29 | AIHL Awards
The Australian Ice Hockey League have announced the award winners for the 2023 AIHL season:
Playoffs MVP: Liam Hughes (Melbourne Mustangs)
Most Valuable Player: Scott Timmins (Melbourne Mustangs)
Defenceman of the Year: Ty Wishart (Melbourne Mustangs)
Goaltender of the Year: Andrew Masters (Central Coast Rhinos)
Rookie of the Year: Riley Klugerman (Newcastle Northstars)
Coach of the Year: Benjamin Breault (Perth Thunder)
19 May 2023, 16:11 | KHL awards
Best Goaltender: Nikita Serebryakov - Admiral Vladivostok
Best Coach: Sergei Fedorov - CSKA Moscow
Rookie of the Year (Alexei Cherepanov award): Nikita Grebenkin - Amur Khabarovsk
Regular Season MVP: Dmitrij Jaskin - SKA St. Petersburg
03 May 2023, 20:58 | Jokerit Helsinki will play in Mestis
Jokerit Helsinki has passed the licensing process and next season will play in Mestis, after one-year hiatus following club's exit from KHL
Jokerit will replace Peliitat Heinola, left without a Mestis license due to financial problems.
In total 13 clubs will play in the Finnish 2nd League
15 Apr 2023, 11:24 | Galym Mambetaliyev appointed head coach of Kazakhstan
Galym Mambetaliyev has been officially appointed head coach of the Kazakhstan national team.
He will lead the Kazakhstan national team to the World Championship in Riga
Previously, the 57-year-old coach has already led the Kazakhstan national team at the 2018 World Championship Division 1A. Also at the last Universiade in Lake Placid, he won bronze medal. This season he won the Kazakhstan League with Nomad Astana
The coaching staff will be the following:
Head Coach - Galym Mambetaliev
Assistant Coach - Alexander Vysotsky
Assistant Coach - Yerlan Sagymbaev
Goalkeeping Coach - Alexander Shimin
Coach - Alexander Berezensky
General Manager - Gleb Karataev
12 Apr 2023, 11:31 | Basingstoke Bison take a year off
Whilst work is being carried out at their rink, Basingstoke Bison of the National Ice Hockey league in the UK havr decided to take a year out from playing ice hockey
06 Apr 2023, 09:35 | Zemgale confirms title in Latvia
Latvian title stays in Jelgava! HK Zemgale retains the crown of Latvian champion by defeating 4-1 in the final series and 5-1 in the last decisive game regular season winner HK Mogo
Zemgale forward Gatis Gricinskis was named playoffs MVP
13 Mar 2023, 22:48 | Irbis-Skate Sofia win Bulgarian League
After relinquishing their crown last season, Irbis-Skate Sofia are Bulgarian League champions again, beating defending champions NSA Sofia in the final series. It's the seventh title for the club.
Awards:
Best forward: Marek Malinski /CSKA Sofia
Best defender: Ivaylo Georgiev /NSA
Best goalkeeper: Dimitar Dimitrov /Irbis-Skate
12 Feb 2023, 22:29 | SG Cortina win title in Italy
SG Cortina is the new Italian champion. It's the title number 17 for the traditional club, the first since 2007 when Cortina coach Giorgio De Bettin was on ice as player. In the decisive game, Cortina won 2-1 vs SV Renon
08 Feb 2023, 20:15 | Saryarka wins regular season in Kazakhstan
The regular season of Kazakhstan League finished today with reigning champion Saryarka Karaganda at the top of the standing.
Playoff pairs are:
Saryarka (1) - Kulager (8)
Humo (2) - Gornyak (7)
Beybarys (3) - Aktobe (6)
Nomad (4) - Arlan (5)
Legendary Hc Torpedo Ust Kamenogorsk missed the post season
30 Jan 2023, 12:05 | JAHC Budapest win Hungarian Cup
Budapest Jégkorong Akadémia Hockey Club is the 2023 champion of the Hungarian Cup by beating Hydro Fehérvár AV19 3-2SO in the final. For Székesfehérvár team is the 4th consecutive final lost
All the game sheets and stats of HUN Cup are here: https://bit.ly/3JqyZTY
24 Jan 2023, 11:37 | Canada claims gold at Winter Universiade
Canada won the 2023 Winter Universiade, held in Lake Placid by beating 7-2 USA in the gold medal game
Kazakhstan claimed bronze over Japan
All stats and gamesheets: https://bit.ly/3XSi3tn
12 Jan 2023, 08:09 | New club in Norlisk next season?
Accordeing to Russian media, a VHL club may appear in Norilsk next season. Previously, teams from this city played in the lower divisions of the championships of the USSR and Russia until 2001. Norilsk is located 300 kilometers north of the Arctic Circle.
07 Jan 2023, 14:39 | Norway withdrawn its bid to host the 2027 World Championship.
Due to the lack of funding from the government, Norway Federation has formally withdrawn the bid to host the 2027 World Championship.
The 2023 Iihf Annual Congress, held in May, will decided between the two remaining bids: Germany and Kazakhstan
12 Nov 2022, 13:45 | Poland won Baltic Challenge Cup
After victories with Lithuania (4:2), Latvia B (9:0) and Estonia (5:3), Poland completed a perfect record winning the tournament "Baltic Challenge Cup", held in Kaunas, Lithuania.
04 Nov 2022, 08:24 | Cape Town Kings confirms title in South Africa
The Cape Town Kings won the South African Super League, the interprovincial tournament back in action after two years hiatus due the Covid outbreak
Check all the Super League stats here: https://bit.ly/3NDn8C2
The Individual awards:
Best Goalie: Ryan Boyd (Kempton Park Wildcats)
Best Defender: Dean Magmoed (Cape Town Kings)
Best Forward: Reinhard Venter (Pretoria Capitals)
19 Oct 2022, 23:39 | GKS Katowice with polish Supercup trophy
After smooth 7-1 win over Cracovia Kraków, GKS Katowice earns its first ever Polish Supercup trophy. Hampus Olsson helped his team scoring an hattrick
28 Sep 2022, 22:59 | Hk Olimpija retains Slovenian Cup
By beating 4-2 Acroni Jesenice in the Eternal Derby, in front of 1500 spectators, HK SZ Olimpija Ljubljana retains Slovenian Cup. It's the fifth trophy for the club
20 Sep 2022, 15:40 | Plzeň sets an unpleasant record
Škoda Plzeň, a traditional participant in the Czech Extraliga, recalls Václav Baďouček and Miloš Říha from their coaching staff after only two rounds played from the 2022-23 season (record 0-2). This early decision by the club owner and former NHL-er Martin Straka makes it the fastest walking papers for any coach in the competition 30-years-long history (before Kýhos (2009, Pardubice) and Konečný (2002, Havířov) being withdrawed after four games in respective seasons). Newly appointed coaches for Plzeň are Petr Kořínek and František Bombic.
28 Aug 2022, 18:20 | HC Vitebsk win Belarus Cup
HC Vitebsk win the Belaus Cup named after Ruslan Salei, by beating 2-1 HC Gomel, in the final played in Grodno
It's the first ever trophy for the club

Gamesheet here
Complete Belarus Cup stats, game-by-game here
30 Jul 2022, 14:32 | Long time Northstars coach Don Champagne passed away
Former Newcastle Northstars coach Don Champagne passed away at 71. He leads the Northstars from 2002 to 2011, winning four AIHL titles.
Also served as head coach of the Australian national team at the 2006 World Championship Division II Group B tournament
27 Jul 2022, 12:06 | MHK Sokil Kyiv withdraws from Continental Cup
Due to financial issues, MHK Sokil Kyiv withdraws its participation in the 2022/2023 Continental Cup third round, play next November in Asiago, ITA. Sokil will be be replaced by HK Kremenchuk.
26 Jul 2022, 12:24 | Kazakhstan Cup Groups unveiled
The Kazakhstan Cup, the opening season tournament among Kazakhstan League teams will be held from August 24 to September 1 in three cities.
This year, 13 teams, divided into three groups, will compete for the trophy
In Group A, held in Karaganda, will play Temirtau, Humo Tashkent, Kulager, Aktobe and the Cup holder Saryarka
Group B, In Alamty, consisted of Almaty, Gornyak, Torpedo and Arlan
Group C in Nur-Sultan will allign Ertis, Snow Leopard, Nomad and Beybarys
The winners of their groups, as well as the best team from the runners-up, will advance to the playoffs. All of them will receive a rating according to the results of the preliminary stage (Q1-Q4). Then the semi-finals and the final will take place in Nur-Sultan on August 31 and September 1.
12 Jul 2022, 20:37 | Humo Tashkent back in Kazakhstan League
A team from Uzbekistan will compete (again) in Kazakhstan League in the upcoming season: Humo Tashkent is back after two-seasons hiatus. In 2019-20 season Humo played in Russian VHL and in Kazakhstan League with a farm team
24 Apr 2022, 22:15 | Gold to Stavanger
Stavanger Oilers wins the Norwegian championship after four straight wins over Storhamar. 6-0, 2-1, 3-2 and today 5-2.
24 Apr 2022, 20:23 | Aalborg wins Danish championship
Aalborg Pirates is the 2022 champion of Denmark after a 5-1 win over Rungsted in the fifth game of the finals.
Thomas Spelling scored three of the goals.
23 Apr 2022, 19:19 | Valk Tartu extends dominance in Estonia
Valk 494 Tartu is again the owner of Estonian League, after sweeping Kurbads Riga 3-0 in the final series. Fourth consecutive title, the 13th in the history of the club.
All stats: https://www.eurohockey.com/league/154-meistriliiga.html
17 Apr 2022, 22:23 | Triglav Kranj win again IHL League
HK Triglav Kranj retains the title of IHL by beating in the decisive game HK Slavija Junior.
12 Apr 2022, 09:03 | Zemgale Jelgava win first title in Latvia
For the first time Zemgale Jelgava becomes champion of Latvian League sweeping in 4 games title holder HK Olimp Riga.
And for the first time the title goes to a city other than Riga or Liepaja

All games and stats from Optibet Hokeja Liga : https://bit.ly/3v6jlnM
08 Apr 2022, 23:06 | GKS Katowice champion again after 52 years
GKS Katowice beat Re-Plast Unia Oświęcim 4-1 in the fourth game of the Polish finals to win the series 4-0.
This was Katowice's 7th Polish title, but the first one since 1970.
04 Apr 2022, 14:19 | Barcelona confirms title in Spain
Barça Hockey Gel retaining the title of Liga Nacional after a thrilling playoffs game #4 against GC Puigcerdà, decided at overtime
It's the seventh title for hockey section of giant FC Barcelona
All games and stats from the season here: https://bit.ly/3Kd7NW7
02 Apr 2022, 23:30 | Djurgården relegated
Djurgården lost 3-1 to Timrå to lose the Swedish SHL relagation series 4-0.
This means that there will be no team from the Stockholm area in the Swedish top league for the first time ever.
30 Mar 2022, 15:34 | SA confirms title in Iceland
Skauta­fé­lag Ak­ur­eyr­ar confirms the title in Iceland, by beating rival SR. Fifth consecutive title, 23rd in the history of club.

All stats and results: https://bit.ly/3qJX1yL
16 Mar 2022, 16:42 | First ever title for NSA Sofia
NSA Sofia wins the first ever title of champion in Bulgaria by defeateing six-consecutive-seasons champion Irbis-Skate in a thrilling playoffs decisive game 4-3 at overtime.
Season awards:
MVP: Ivan Hodulov - Cska Sofia
Best goalkeeper - Yuri Groshev NSA Sofia
Best defender - Yanaki Gachev Irbis-Skate Sofia
Best foreigner - Nicholas Lang CSKA Sofia

Complete gamesheets and stats here
13 Feb 2022, 13:42 | Asiago confirms title in Italy
Asiago Hockey is the champion of Italy for the third consecutive season, by beating, once again, SV Renon in decisive game of final round
08 Feb 2022, 22:19 | Zilina wins Slovak Cup
By beating Extraliga club HC 21 Presov 6-1, 1st division Vlci Zilina wins Slovak Cup
10 Jan 2022, 14:36 | Kyrgyzstan won Eurasian Championship
With a perfect record, Kyrgyzstan won the first edition of Eurasian Championship, a U20 tournament played in Istanbul and organized by Turkish Federation to replace the World Championship cancelled by IIHF due to Covid-19
All the gamesheets and stats avaiable here

29 Dec 2021, 20:19 | Lööf suspended
Sweden's Leo Lööf is suspended for one game at the World Juniors for a violation of IIHF Official Playing Rule 48 (Illegal Check to the Head or Neck) and Rule 41 (Boarding) in the game against Slovakia.
29 Dec 2021, 18:18 | Team Czechia placed in quarantine
A Czech player has tested positive so the Czech U20 team will be unable to play the 29 December preliminary game against Finland at the World juniors.
29 Dec 2021, 00:13 | Canadian forward suspended at the World Juniors
The IIHF Disciplinary Panel has issued a one-game suspension to Canada's Justin Sourdif, for a violation of IIHF Playing Rule 48 - Illegal Check to the Head or Neck.
28 Dec 2021, 19:36 | Team USA placed in quarantine
Two players of Team USA at the World Juniors tested positive and the team is placed in quarantine. Today's game against Switzerland is canceled. The result will be recorded as a 1-0 win for Switzerland.
Whether tomorrow's game against Sweden can be played or not is not yet known.
26 Dec 2021, 22:36 | No team relegated from World Juniors
The IIHF Council has voted that no team will be relegated from the 2022 IIHF World Junior Championship.
The 2023 IIHF World Junior Championship will be played with 11 teams with the aim of going back to 10 teams for the 2024 IIHF World Junior Championship.
23 Dec 2021, 22:18 | Pre-WJC game cancelled
Today's pre-tournament game between Czechia and Switzerland has been cancelled due to COVID-19 protocols, reports Hockey Canada.
20 Dec 2021, 20:24 | Bjarki Jóhannesson and Kristín Ingadóttir are the 2021 Icelandic Player of the Year
Bjarki Jóhannesson has been chosen ice hockey player of the year 2021 by the board of the Icelandic Hockey Association.
Bjarki has played with Skautafélag Reykjavíkur all his career and is the captain of the team. According to the motivation of the award: "He is the backbone of all SR games, takes an active part in all training and is a role model for many young players"
Bjarki has been a member of the Icelandic national team for many years, first in 2011 with the U18 national team and then in the U20 national team and now in recent years he has been a permanent member of the A national team
Kristín Ingadóttir (Fjolnir) won the award as women Player of the Year
20 Dec 2021, 15:38 | U16 tournament cancelled
The 4-nation tournament for U16 teams to be played in Imatra and Lappeenranta in Finland  in the last week of December has been cancelled due to Corona.
Participating teams would have been Finland, Switzerland, Slovakia and Germany.
18 Dec 2021, 23:37 | Russia wins U17 tournament
Russia beat Czech Republic, Slovakia and USA to win the 4-nation tournament for U17 teams in Piestany.
Results: Czech Republic - Russia 0-3, Slovakia - USA 2-5, USA - Czech Republic 4-1, Slovakia - Russia 2-5, Russia - USA 3-0 and Slovakia - Czech Republic 4-6.
18 Dec 2021, 15:12 | Hungary vs. France cancelled
The EIHC Christmas Cup game between Hungary and France scheduled to be played in Pytom, Poland today has been cancelled after one Hungarian player tested positive for SARS-CoV-2.
17 Dec 2021, 23:13 | Finland wins EYOF
Finland won the European Youth Olympics Festival tournament. They beat Russia 4-3 in the final game. The Finnish goals were scored by Kasper Lundell, Otto Hokkanen, Aaron Hakala, and Jere Lassila. Topias Leinonen in the net made 32 saves.
15 Dec 2021, 23:17 | Slovakia beat Latvia
In Lonza Arena Visp Slovakia beat Latvia 6-2 in the 3-nation tournament that also include Switzerland.
12 Dec 2021, 21:53 | Opening day in Tallinn
France, Ukraine and Slovenia got clear wins on the opening day of the World U20 Championship Division 1B in Tondiraba Icehall in Tallinn, Estonia.
France beat Poland 6-2, Ukraine beat Estonia 7-2 and Slovenia beat Japan 7-3.
04 Dec 2021, 15:57 | Continental Cup Superfinals held in Aalborg
The International Ice Hockey Federation announced the Continental Cup Superfinals will be held in Aalborg, Denmark from 7 to 9 January 2022.
Matches will be held at the "Gigantium" arena, one of the largest indoor arena in the country, with a capacity of 5,000 spectators
Host Aalborg Pirates will face Saryarka Karaganda (Kazakhstan), Cracovia Krakow (Poland) and HC Gomel (Belarus)
01 Dec 2021, 10:07 | China withdraws
The Chinese U20 national team won't participate in the 2022 World U20 Championship Division II Group B in Serbia due to the COVID-19 pandemic and travel restrictions.
16 Nov 2021, 22:36 | Bratislava Capitals withdraws from Austrian ICE Hockey League
After the recent tragedies Bratislava Capitals decided to withdraw from the league play this season.
15 Nov 2021, 10:36 | SK Trhači Kadaň withdraws
SK Trhači Kadaň is withdrawing from the Chance liga, Czech second league, for financial reasons.
19 Oct 2021, 15:39 | National League game postponed
Due to Covid cases at EV Zug, tonight's game against HC Davos has been postponed as a precaution.
25 Sep 2021, 12:56 | Luc Tardif elected new IIHF President
Hockey France Federation President and former IIHF treasurer Luc Tardif is the 19th President of IIHF and the 2nd French after pioneer Louis Magnus
He won at fourth rounds of voting, taking 67 votes (63.21%).
Czech Petr Briza has been elected Senior Vice-President.
08 Aug 2021, 12:12 | HC Tel Aviv win Israel Elite Hockey League
- Josh Greenberg
July became hockey month in Israel, as for the 1st time ever, a competitive Summer league with international talent came to Israel.
The 4 team league completed a 9 game season, finishing with a bronze and gold medal game.
In the bronze Medal game, the Jerusalem Capitals ended a 4 game losing streak to finish the season on a high-note, defeating the Bat Yam Dolphins 8-6.
In the Gold Medal game, HC Tel Aviv came from last place to be in this game, against 1st place Holon Vipers.
This was an exciting final, where defense was non-existent! After 3 periods, the score was 8-8. The two teams played sudden-death 3-on-3 overtime, when playoff MVP Michael Gennello went on the breakaway and scored the game winner, to give HC Tel Aviv the league championship!
26 Jul 2021, 16:33 | Harijs Vītoliņš named Latvia coach
Harijs Vītoliņš, 53, is the new coach of Latvia National Team. The former Spartak Moscow coach will be assisted by Artis Ābols. Vītoliņš replaced Avangard Omsk coach Bob Hartley and will try to qualify Latvia for the Winter Olympics at the end of August in Riga
11 Jun 2021, 11:32 | Belarus Salei Cup calendar unveiled
The 2021-22 edition of the Belarus Cup, named after Ruslan Salei, was unveiled: the competition will be held according to the classical scheme: two groups at the first stage and the final four
In the upcoming season, the 12 teams of the newly reunified Extraliga will take part in the tournament: Yunost Minsk, HK Gomel, Shakhtar Soligorsk, Metallurg Zhlobin, Dynamo Molodechno, Neman Grodno, Khimik Novopolotsk, HK Brest, Lokomotiv Orsha, HK Mogilev, HK Lida, HC Vitebsk. They will be divided into two groups of 6 teams and will play a one-round mini-tournament
The winners of the group are guaranteed tickets to the final four.
The current winner of the trophy - Dynamo Minsk - will enter directly into the final four. The last participant will be selected among the teams finishing in the second places in the groups and will have the best rating at the end of the 2020/21 season
The final four will be hosted by one of the clubs that won the right to play in the second stage of the tournament.
Group A: Yunost Minsk, Shakhtar Soligorsk, Dynamo Molodechno, Neman Grodno, HK Brest, HK Lida.
Group B: HKGomel, Metallurg Zhlobin, Khimik Novopolotsk, Lokomotiv Orsha, HK Mogilev, HC Vitebsk.
Complete calendar here
07 May 2021, 23:31 | 2022 U18 groups
After the end of the 2021 World U18 Championship the groups for next year's championship are known.
Group A: Canada, Finland, USA, Switzerland, Latvia
Group B: Russia, Sweden, Belarus, Czech Republic, Germany
07 May 2021, 23:17 | Individual awards from the U18 Worlds
Media All Stars: Sergei Ivanov (G), Aleksi Heimosalmi (D), Brandt Clarke (D), Connor Bedard (F), Matvei Michkov (F), Samu Tuomala (F)
MVP: Matvei Michkov
Best Goalkeeper: Benjamin Gaudreau
Best Defenceman: Aleksi Heimosalmi
Best Forward: Matvei Michkov
07 May 2021, 15:36 | Switzerland vs France games cancelled
The national team games between Switzerland and France scheduled for today and tomorrow have been cancelled because a French player tested positive for Covid-19.
03 May 2021, 20:33 | Donbass Donet'sk will play in the Champions League
The Board of the Hockey Champions League decided to allocate a wild card for the champion of Ukraine Donbas Donet'sk.
The Ukrainian champion will play home matches of the most prestigious European tournament on the ice of the Kiev Sports Palace.
Since Donbass will not be able to take part in the Continental Cup, its place in the tournament will be taken by the vice-champion of Ukraine Sokil Kyiv
30 Apr 2021, 00:30 | SA Akureyri continues dynasty in Iceland
In a season plagued by the sanitary restrictions, with many canceled games and a shortened regular season, Skautafelag Akureyri confimed the dominance in the domestic hockey scene, winning the 4th consecutive Iceland League title, the eighth in the last 10 years.
The team from the north of the country swept Fjolnir in 3 games of finals: 2-1 ; 3-1; 3-0
29 Apr 2021, 23:17 | Denmark beats Sweden for the first time ever
For the first time in 22 attempts Denmark managed to beat Sweden tonight in Malmö. Denmark only had 8 shots on goal but managed to score 3 goals to beat Sweden 3-2.
Mathias From, Nicklas Jensen and Nicolai Meyer scored the Danish goals. Sebastian Dahm in the net made 32 saves.
29 Apr 2021, 20:51 | Ketterä Imatra wins Mestis
Ketterä Imatra defends the Mestis title from 2019 after beating Hermes Kokkola in the finals.
27 Apr 2021, 17:08 | Saryarka Karaganda win Kazakhstan League
After the victory of national cup, Saryarka Karaganda completed the domestic en-plein securing also the Kazakhstan League after a thrilling final series against Arlan Kokshetau, decided in game six, with an away 2-0 victory, after Arlan lead 2-0 in the series.
Due the Covid-19 restrictions, this season the Kazakh teams competing in Russian VHL - Hc Torpedo Ust-Kamenogorsk, Saryarka and Nomad Nur-Sultan, and the Snow Leopards, Barys' junior team playing in MHL, partecipated in the domestic league
After the last game, Kazakh Federation announced seasonal awards:
Best goalkeeper: Ilya Rumyantsev (Arlan).
Best defender: Edgars Siksna (Saryarka).
Best forward: Vadim Berdnikov (Arlan).
Best young player: Ivan Zinchenko (Aktobe/Beybarys).
Season MVP: Dmitri Mikhailov (Saryarka).
25 Apr 2021, 15:36 | Olimpija Ljubljana won Alps Hockey League
HK SŽ Olimpija Ljubljana is once again champion of the Alps Hockey League. The Slovenians won the regular season and swept Italian champion Asiago Hockey in the finals with 3:0 victories. After the Dragons won the first two games at overtime, completed the series with 4-1 victory at home
Ljubljana is the first team to defend its title in the AHL
20 Apr 2021, 22:52 | JKH GKS Jastrzebie is the Polish champion
In four of the five games played in the final series, JKS GKS Jastrzebie were better than the team Comarch Cracovia. The team had the best season in its history because, in addition to winning the title, it triumphed in both the Cup and the Polish Super Cup. This is also the first title won in the championship, in 2013 and 2015 they took second place, while in 2014 they were third. In the team of coach Robert Calaber, Hovorka Marek stood out the most with 51 points and Phillips Zackary with 42 points.
17 Apr 2021, 19:58 | Barça Hockey Gel win title in Spain
Regular season winner Barça Hockey Gel needs just 3 games to beat reigning champion CG Puigcerdà in a catalan clash and win the Liga Nacional title, the sixth for the ice hockey section of football powerhouse FC Barcelona, the first since 2008-09 season.
Barça forward Oriol Rubio finished as league Top Scorer
14 Apr 2021, 14:26 | HK Triglav won IHL league
HK Triglav is the new champion of the IHL league for the 2020/2021 season. Due to the situation with the corona virus this season, only teams from Slovenia participated in IHL league (without teams from Serbia and Croatia). HK Triglav started the playoffs from the first place after the regular part of the season. In the final, they defeated HK Slavija Junior in three games. On the home ice in the first game they won 4:2 (0:0,1:1,3:1), in the second game away with 3:5 (1:1,2:2,0:2) and in the third and most uncertain game they celebrated after overtime with 6:5 (2:2,2:1,1:2,1:0) after after 77 minutes of play.
12 Apr 2021, 15:25 | Buz Beykoz confirms title in Turkey
Second consecutive title for Buz Beykoz Istanbul in Turkish Super Lig, after a thrilling duel in the regular season and playoffs final against city rivals Zeytinburnu as in the last season.
Buz Beykoz won 4-2 and 5-2 the finals. Bronze medal for Buz Adamlar, knocked out in the semifinals by Zeytinburnu, despite the performances of League Top Scorer and best forward Konstantin Kuchkin
League awards:
Best Goalkeeper: Savely Voronov (Buz Adamlar)
Best Defender: Yusuf Kenan Kars (Buz Beykoz)
Best Forward: Konstantin Kuchkin (Buz Adamlar)
05 Apr 2021, 20:01 | Debrecen EAC win Hungarian Cup
First ever trophy for DEAC Debreceni: the team wins the Hungarian Cup on home ice, by beating 5-4 at overtime in a thrilling final multiple champion Fehervar AV-19. Canadian Hugo Turcotte scores the winning goal at 61'. Titile holder Ferencvarosi wins the bronze winning 4-2 against DVTK Miskolci
02 Apr 2021, 16:23 | Irbis-Skate continues dynasty in Bulgaria
Irbis-Skate Sofia is the champion of Bulgaria for the sixth consecutive time after defeating NSA Sofia in the finals (3-2 and 1-0). Irbis also won its sixth Bulgarian Cup.
31 Mar 2021, 17:18 | Admiral Vladivostok back in the KHL
KHL will be back to 24 teams for season 2021-2022.
Admiral Vladivostok is confirmed to return to the league if, before July 31, 2021, it repays all money owing to players and coaches from the 2017/18 season.
30 Mar 2021, 03:05 | Debuting team win Macau League
- Hendrik Berends
The newest team in Macau Hockey League, the Flora Mountain thief, was crowned champion after a perfect record in the regular season, trashing 10-3 reigning champion Cavaliers in the final.
Flora and Macau national team forward Justin Cheng Yeung was named tournament MVP
This season, due to Covid restrictions, the Macau League was played in a reduced format
29 Mar 2021, 01:34 | Kaunas hockey is the new champion of Lithuanian League
Kaunas Hockey wins the Lithuanian League for the first time in its history, by beating 2-1 in the game #5 of a thrilling final serie Hockey Punks Vilnius. It's the first time since the creation of the league in 1992 that title lands in Kaunas. The 2020-21 edition was historic also for the absence of traditional Energijia Elektrenai from the last act. The team that dominated the league since the creation was knocked out by Hockey Punks in the semifinals. It's also the first title as coach Petras Nauseda, in his first experience on the bench
28 Mar 2021, 16:39 | Oji Eagles wins Japan Cup
The Oji Eagles are the winner of Japan Cup, the tournament between Japanese teams partecipating in Asia League, not played this season due to Covid restrictions.
The Eagles dominated the season, plagued by the Covid emergency. Newly created team Yokohama Grits stopped to play in December due to the state of emergency declared in the region and were back to competition just in March to play last round. Missing games were cancelled.
Eagles Shogo Nakajima finished as top scorer with 45 points (18+27)
27 Mar 2021, 16:15 | Ice sports complex CSKA named after Bobrov hosted the last hockey match
The ice sports complex CSKA named after Vsevolod Bobrov hosted the last professional hockey match
It was the game of the quarter-finals of the Kharlamov Cup between the Red Army and Dynamo Moscow. Dynamo won 3: 1 and won the series 3-0.
At the end of 2020, it became known that a new complex will be built on Leningradsky Prospekt, including a multifunctional arena and a number of other sports facilities. The new hockey stadium will accommodate at least 10,000 spectators. On the basis of the new sports complex, it is planned to organize a modern training base for the CSKA hockey club with two skating rinks and an arena with a capacity of about 2,500 people.
The ice sports complex CSKA with a capacity of 5500 spectators opened on September 21, 1991. It was the main site of the army before their move to CSKA Arena in 2018.
24 Mar 2021, 20:22 | Crvena Zvezda confirms title in Serbia
Crvena Zvezda Beograd once again dominated the season in Serbia, winning the fourth consecutive title, the ninth in total, including the ones in the Yugoslavia era.
This season the Serbian League consisted of three teams: Crvena Zvezda, Vojvodina Novi Sad and the Red Team,Crvena junior department. Crvena Zvezda finished the regular season with a perfect record and easily defeat Vojvodina in the finals: 6-3 and 6-1. The last game was stopped after the second period but the result was homologated by the Federation.
This season, due to restrictions due to the covid pandemic, Serbian teams didn't participate in International Hockey League with Slovenian and Croatian club
10 Mar 2021, 20:05 | Mladost Zagreb win title in Croatia
After a thrilling final series against reigning champion KHL Zagreb, Mladost Zagreb win the Croatian league for the fifth time in the history of the club, the first since 2008.
The victory comes in game #5 of the playoffs, by beating 3-2 KHL Zagreb.
Mladost's Marko Sakic was the topscorer of the league with 27 points (7+20)
Due to the Covid-19 outbreak, Croatian teams didn't play in the multi countries league IHL with Slovania and Serbia.
01 Mar 2021, 15:35 | Kuwait Stars confirm title
The reigning champion Kuwait Stars confirm the title of Kuwait Hockey League defeating traditional rival Kuwait Falcons. It's the fourth title in the last five years for the Stars.
Serbian Bojan Zidarevic, player/coach of champion Stars, for the fifth consecutive season was the top scorer with 61 points (20+31) in 20 games
Kuwait Blue Waves won the title of Kuwait Women Ice Hockey League
League Awards:
MVP player of the league: Bojan Zidarevic (Stars)
Best player: Ahmad Al Ajmi (Stars)
Best forward: Kamil Vavra (Falcons)
Best defender: Jasem Al Awadhi (Stars)
Best goaltender: Ahmad Al Saegh (Stars)
21 Feb 2021, 16:05 | HK Nitra wins Slovak Cup
HK Nitra wins the 2020-21 edition of Slovak Cup by beating HK SKP Poprad 5-3 in a game of round #40 of Tipos Extraliga, also counting as final of competition.
The Slovak Cup was reactivated this season after a hiatus of 24 years
13 Feb 2021, 22:49 | Asiago retains title in Italy
Asiago Hockey confirms the title in Italian Serie A, by beating SV Rittner/Renon 5-1 in final game #3
It's the 7th national title for the club.
09 Feb 2021, 20:50 | Adam Kopczyński passed away
Hockey family mourns the passing away of Polish hockey legend Adam Kopczyński. Played 413 matches scoring 131 goals in Polish League with Cracovia and LKS Lodz before to move to Belgium where he won 8 leagues with Olympia Heist. Played at Winter Olympics in Sapporo
04 Feb 2021, 17:31 | The final four of the Baltic League are once again postponed
The final four of the Baltic Hockey League has been postponed once again. It was to take place on December 17-20, but due to the COVID-19 outbreak, it was postponed to February 11-14. The decision to postpone again was taken due the current situation of virus pandemic in Latvia
03 Feb 2021, 16:49 | New milestone in Slovak Extraliga
Scoring in Tuesday's victory against Nitra (6-1), Banská Bystrica Dalibor Dvorský became the youngest scorer in the history of Slovak Extraliga at the age of 15 years, 7 months and 18 days. He broke the record of Marián Gáborík from 1998, who scored at 16 years and 27 days
"I realize what happened. It's an amazing feeling, I'm very happy to be the youngest player in the Extraliga to score a goal. I'll do everything I can to have a career like Marián Gáborík" said Dvorský.
02 Feb 2021, 22:04 | Saryarka Karaganda win Kazakhstan Cup
With a goal scored by tournament top-scorer Sergei Golodnyuk at 62.05 in the overtime, Saryarka Karaganda complete a comeback to win 2-1 traditional rival HC Torpedo Ust-Kamenogorsk winning the 2021 Kazakhstan Cup. It's the first trophy for the club.
Due to the Covid-19 outbreak, the tournament was postponed from traditional date in August to January/February and was played in Pavlodar, Kokshetau and Karaganda, venue of the final

The best players of the tournament:
Best goalkeeper - Nikita Boyarkin (Saryarka)
Best defender - Dmitry Stulov (HC Torpedo)
Best forward - Alexander Borisevich (Saryarka)
Best young player - Ivan Zinchenko (HK Aktobe)
25 Jan 2021, 20:11 | The Ice Hockey Federation of Slovakia has sent documents to the IIHF for the IHWC 2021
The Ice Hockey Federation of Slovakia has sent to the IIHF headquarters the documentation for the holding of the 2021 World Championship in cooperation with Latvia.
"We sent last Friday to the IIHF headquarters the necessary documentation, including the budget plan, which is necessary for making a decision to hold a part of the 2021 World Cup meetings in Bratislava. We are awaiting the decision of the IIHF Council" said the press secretary of the Slovak Ice Hockey Federation Peter Janosek
11 Jan 2021, 16:46 | Andrei Spiridonov set a milestone in Kazakh league
For the first time in the history of the championship of Kazakhstan, which has been played since 1957, a player has surpassed the mark of 200 goals. It happened on January 6, 2021 in the game between HK Almaty and Gornyak Rudny
Forward and captain of the HK Almaty Andrei Spiridonov opened the score and reached the milestone of 200 goals.
In the following game, on January 7, Spiridonov also reached 600 games in the national championship
Spiridonov scored his first goalon October 23, 2002 when he played for defunct Enbek against another ceased team, Esil Petropavlovsk.
05 Jan 2021, 13:01 | SHL coach fired
Linköping of the Swedish SHL fires head coach Bert Robertsson. Daniel Eriksson and Johan Åkerman will be new head coaches.
31 Dec 2020, 14:22 | Krutil suspended
Czech defenceman Michael Krutil got a one-game suspension at the World Juniors for a violation of IIHF Official Rule 160-Slew-Footing. He will miss the last game of the Round Robin against Austria.
30 Dec 2020, 23:25 | AHL to start February 5
A statement from thePresident and Chief Executive Officer of the AHL, Scott Howson: "The American Hockey League Board of Governors has approved the structural framework for an AHL season that will begin on February 5, 2021."
"Details are still being worked out, but this step allows our teams and their National Hockey League partners to better determine their plans for the coming season. We look forward to dropping the puck on Feb. 5."
30 Dec 2020, 17:25 | Slovak captain injured
Slovakia will play today's game against Finland at the World Junior Championship without captain Samuel Kňažko and forward Dominik Sojka. Both have minor injuries.
28 Dec 2020, 23:33 | Wimmer receives two-game suspension
Austrian defenseman Philipp Wimmer has been suspended for two games at the World Juniors in Edmonton. He will miss the games against Sweden today and Russia tomorrow after an illegal check against USA's Patrick Moynihan.
27 Dec 2020, 22:02 | Braden Schneider suspended
Canada's Braden Schneider has been suspended for one game at the World Juniors in Edmonton. He checked the head of Gemany's Jan-Luca Schumacher in yesterday's game. Schneider will miss today's game against Slovakia.
24 Dec 2020, 10:30 | Canadian captain injured
The captain of the Canadian team for the upcoming World Juniors, Kirby Dach, was injured in the pre-tournament game against Russia. He will miss the entire tournament.
20 Dec 2020, 18:03 | WJC pre-tournament schedule
The International Ice Hockey Federation has adjusted the pre-tournament schedule, including the cancellation of games on Dec. 20-21.

Tuesday December 22: Switzerland-Austria and Finland-USA
Wednesday December 23: Canada-Russia and Slovakia- Czech Republic

Germany and Sweden are in quarantine and can not play any pre-tournament games.
19 Dec 2020, 22:46 | Czech Republic beats Hungary 5-0 - twice
The women's teams of Czech Republic and Hungary played yesterday and today in Kalich Arena, Litomerice. Both times the Czech women won 5-0.
In the first game Sara Cajanova and Klara Hymlarova scored two goals each. In the second game five players scored a goal each. Klara Peslarova earned a shutout in the first game and Viktorie Švejdová in the second.
18 Dec 2020, 23:00 | Eight German U20 team members test positive
Eight players of the German WJC team received a positive corona test result reports IIHF from the 2021 IIHF World Junior Championship Bubble.
Also two Swedish staff members tested positive for COVID-19.
Team Germany will remain in quarantine until 24 December, while Team Sweden will remain in quarantine until 21 December
18 Dec 2020, 22:36 | Poland and Hungary win a game each in Katowice
Poland and Hungary played two games in Katowice. Poland won 2-1 yesterday and Hungary won 3-1 today.
In yesterday's game Dominik Pas scored the winner with just 5 seconds to go. Today Krisztian Nagy scored twice for Hungary but key player of the Hungarian win was their goalie Zoltan Hetenyi who made 47 saves.
15 Dec 2020, 22:18 | Germany-Switzerland games cancelled
The planned international games between the German and Swiss women's national team this week in Füssen had to be cancelled with short notice. The reason is two positive Covid-19 tests in the Swiss squad.
13 Dec 2020, 21:39 | Latvia withdraws
Due to covid-19 cases in the Latvian national team they were forced to withdraw from Wojciecha Korfantego Cup (EIHC) that was scheduled to be played in Katowice, Poland December 17-19.
Instead Poland and Hungary will play two games.
08 Dec 2020, 21:31 | Swedish WJC head coach tested positive for COVID-19
The head coach of the Swedish Under-20 team, Tomas Montén, and two other members of the team staff tested positive for COVID-19 and will not be allowed to participate in the World Juniors that are just a few weeks away.
Four of the Swedish players have also tested positive.
07 Dec 2020, 07:22 | Swedish players to miss the World Juniors
William Eklund and Karl Henriksson of the Swedish Under-20 team will miss the World Junior Championship due to recent positive covid-19 test results.
29 Nov 2020, 11:50 | Fastest Liiga goal
Markus Nurmi of TPS needed only four seconds to score on Ässät's young goalie Rasmus Korhonen for the fastest goal ever in the Finnish top league.
The game was the Liiga debut for the 18-year-old goalie.
Fastest Liiga goals:
4 seconds: Markus Nurmi, TPS / TPS-Ässät November 28 2020
5 seconds: Jari Laiho, Lukko / Lukko-Jokerit December 6 1979
5 seconds: Esa Välioja, Tappara / Tappara-Jokerit January 31 1982
5 seconds: Seppo Ahokainen, Tappara / Ilves-Tappara December 6 1983
Source: Iitalehti
11 Nov 2020, 21:50 | Swedish junior leagues are paused
The Swedish Ice Hockey Federation´s executive committee decided yesterday to pause league games for J20 National and J18 Regional due to increased spread of covid-19.
The decision applies from November 11 and at least until the turn of the year.
05 Nov 2020, 19:03 | Finland-Sweden games cancelled
Three U20 games between Finland and Sweden that were supposed to be played this week in Vierumäki have been cancelled after two Swedish players tested positive for Covid-19.
21 Oct 2020, 22:15 | Sergei Viter resigned as head coach of Ukraine
Sergei Viter resigned from the post of head coach of the Ukrainian national team following his appointment as HC Donbass Sport Director
Viter headed the national team from June 2019 when he replaced Andrei Sryubko.
20 Oct 2020, 21:38 | Kremenchuk win Ukranian League
Ukraine has finally a champion for 2019-2020 season: HC Kremenchuk win its first title by beating in a thrilling final series reigning champion Donbass Donets'k after seven games. A deflection by captain Nikolai Kiselev on Egor Seranov shot at 66:70 in the overtime gives Kremenchuk the decisive 3-2 victory. After two silver medals (2015 and 2017) and two bronze (2016 and 2019) finally the team from Poltava region can celebrate the title.
Ukranian league stopped during the playoffs last March due to the Covid-19 outbreak, to resume in September and stop again for several cases among players, before the final series.
12 Oct 2020, 22:56 | Kazakhstan and Bulgaria set new dates for leagues
Kazakhstan Federation set the begininng of the season for October 19, playing in six different cities without spectators.
Bulgaria postponed the start of League, originally scheduled for October 15, to October 29
03 Oct 2020, 19:48 | DEL postpones start of season
The start of the new season in the German top league DEL, scheduled for November, has been postponed again. It can start in the second half of December at the earliest.
The players' union is disappointed.
29 Sep 2020, 13:47 | Spengler Cup cancelled
As rumored in the last weeks, the 2020 Edition of Spengler Cup is cancelled. Travel restrictions and government decrees making the tournament unlikely.
This will be the 5th time - after 1939, 1940, 1949 and 1956 - that the traditional tournament in Davos, Switzerland will not take place.
20 Sep 2020, 13:44 | CG Puigcerdà win Spanish League
CG Puigcerda is Spanish champion, by beating in the playoffs finals reigning champion Txuri Urdin.
Federation suspended the playoffs after semifinals last March due to Covid outbreak but decided to complete the 2019-2020 season before the begin of new season.
Puigcerda won 5-2 game #1 last week and game #2 6-4 in San Sebastian winning a title that had been missing for 12 years. Txuri abdicate the crown after three consecutive triumphs. The Basque team suffered some key losses during the summer, when iconic goalie Ander Alcaine retired and Ander Arraras and Josh Gimenez signed for rival Puigcerdà.
The new Liga Nacional season will start next Saturday
17 Sep 2020, 21:23 | Kazakhstan League start postponed indefinitely
Due to the outbreak of coronavirus among the players of Barys Nur-Sultan the start of the championship of Kazakhstan has been postponed indefinitely. All clubs have been ordered to cancel all their trips.
This decision was made by the Ministry of Culture and Sports.
After the announcement of the new start date, an updated championship calendar will be presented.
17 Sep 2020, 16:08 | Coronavirus outbreak in Barys Nur-Sultan
The KHL regular championship match between Barys and Dinamo Riga, scheduled for September 18, will be postponed due to the outbreak of coronavirus in the Kazakh team.
The team was quarantined, and the KHL postponed six matches involving the team to a later date.
The press secretary of the club Yevgeny Akmanov told all the team members are asymptomatic, therefore, during the quarantine, everyone was sent home, but at the same time are under constant supervision of the medical headquarters.
The club hopes that everyone will soon get better, the team will continue to play in the KHL and this situation will not happen again, and the postponed matches, in agreement with the rivals, will be able to be held at a later date.
Relocation of the club to Russia is not currently being discussed, although it was considered before the start of the season.
14 Sep 2020, 13:07 | Arlan was saved and will compete in next Kazakhstan League
A couple of weeks ago, the club announced the dismantle of the team due to financial difficulties, but some days after the Department of Physical Culture and Sports of Akmola region made an official statement on the situation around Arlan.
"On September 4, a competition for the provision of services for the participation of a hockey team in republican and international competitions on behalf of the Akmola region ended. The winner of the competition was the ChU" Sports and Hockey Club "Astana-Baiterek". As a result of the competition, there was a saving of money.
At the same time, we would like to inform you that the hockey team will take part in the championship of the Republic of Kazakhstan under the name "Arlan". This condition is spelled out in the technical documentation of the competition."
07 Sep 2020, 19:35 | UPDATE: playoffs suspended in Ukraine
The Ukrainian Hockey League informs that the semi-final and final play-off series of the 2019/20 season has been suspended for at least two weeks due to the detection of COVID-19 in 19 Donbass hockey players and 2 players of Bilyỹ Bars Bila Tserkva. Also, tests for coronavirus were passed by Dnipro and Kremenchuk. Previously the League rescheduled the date for September 9-10
After retesting the playoff semi-finalist teams, the League will decide on the dates for the playoffs continuation
07 Sep 2020, 12:05 | Covid-19 stopped the semifinal series of the Ukrainian Hockey League
The playoff series of the Ukrainian Hockey League championship has been suspended due to the possible detection of COVID-19 in some hockey players after game #2 of the semifinals. between Donbas Donets'k and Dnipro Kherson and HC Kremenchuk and Bily Bars Bila Tserkva
All players have already been tested for coronavirus before the start of the playoff semi-finals in order to protect all participants in the process before the restart of the championship.
Players of all teams participating in the playoff semi-finals were retested and the new dates for the games are September 9 and 10
04 Sep 2020, 11:01 | South Africa withdraws U20 team
The South African Ice Hockey Federation has withdrawn its men's U20 national team from the 2021 IIHF Ice Hockey U20 World Championship Division III scheduled to take place in January in Mexico City due to the COVID-19 pandemic.
The tournament will be played with five teams.
04 Sep 2020, 10:41 | The Court sentenced the hockey players Dinamo Maladzyechna involved in a match fixing
On September 4, the Moscow District Court of Minsk sentenced hockey players Alexander Syrei, Sergei Sheleg, Nikita Ustinenko and Alexey Ivano , who were accused of unlawfully influencing the course of the Belarus Extraliga match Dynamo Molodechno - Mogilev (5: 6) in November 2019, as well as in the distribution of pornography.
The court sentenced Syrei and Sheleg to two years' imprisonment with a two-year probationary period and a suspended sentence. In addition, both hockey players were fined 2700 Belarusian rubles (euro 860)
Ivanov was fined 13,500 rubles (euro 4315)
In relation to Ustinenko, the criminal proceedings were terminated in accordance with the law "On amnesty in connection with the 75th anniversary of the victory in the Great Patriotic War of 1941-1945."
03 Sep 2020, 14:20 | Dinamo Minsk - Jokerit not to be played today
The KHL game between Dinamo Minsk of Belarus and Jokerit of Finland will not be played today.
Players of the Finnish team had received death threats so they decided not to travel to Belarus.
02 Sep 2020, 22:04 | KHL season started
Ak Bars Kazan won the opening game of the 2020-21 KHL season against CSKA Moscow. Dmitri Voronkov scored the winning 3-2 goal early in the overtime period.
31 Aug 2020, 13:17 | Dinamo Minsk won Belarus Cup
For the third time in history, Dinamo Minsk won the Belarus Cup, named after Ruslan Salei, by beating 3-0 in the final, played in Gomel, cup holder and national champion Yunost Minsk. In the semifinal, Dinamo trashed 4-0 host Gomel, while Yunost prevailed at shootouts against Dinamo Maladzyechna. These teams reached the final four by winnig their qualification groups, while Dinamo Minsk and Yunost earned a bye and enter in the competition in the final four.
In the bronze medal final, Dinamo Maladzyechna left no chance for Gomel, with a 5-1 victory.
It's the first trophy for Dinamo Minsk since 2009, when the club won the Spengler Cup
19 Aug 2020, 21:11 | Buran withdraw from Dizel Cup and tournament was stopped and cancelled
Hockey team Buran announced that was forced to withdraw from the Dizel Cup tournament held in Penza.
Due to the fact that the team went to this competition in a truncated composition, and due to the numerous injuries to the players received in the matches held at the tournament, today the team does not have enough minimum number of hockey players to apply for the match.
Dizel Penza decided to end the tournament ahead of schedule.
17 Aug 2020, 22:44 | New arena name for HV71
The home arena of the Swedish SHL team HV71 changes name from Kinnarps arena to Husqvarna Garden.
16 Aug 2020, 22:43 | HK Astana withdrew from Kazakh League
"Thanks to our fans, players, management. We hope to see you again" In a short official statement HK Astana announced the club won't partecipate in the next Kazakh League. Estabilished in 2011, in the past five years, the capital's team has been played mainly by young hockey players, many of whom are pupils of the local school.
15 Aug 2020, 22:28 | Torpedo-Gorky leaves VHL
Hockey club Torpedo-Gorky Nizhny Novgorod made a decision not taking part in the VHL season 2020-2021 due to the difficult financial situation in the club caused by significant unplanned spending on the fight against coronavirus infection.
13 Aug 2020, 12:45 | New Zealand Season stalled
The shortened New Zealand season was due to begin yesterday (13th August) but due to alocalised lockdown this will not be possible as the game was due to be played at th Paradise Arena in Auckland. The following statement was issued: FOLLOWING A STATEMENT FROM THE GOVERNMENT THE GAME WITH BOTANY SWARM HAS BEEN POSTPONED.
11 Aug 2020, 11:06 | Ferencvarosi-Telekom withdraws from the Continental Cup
Hungarian Ferencvarosi-Telekom Budapest won't compete in next Continental Cup, the club announced in a statement on its website, calling the decision "the only responsible and correct" due the health situation and the strict measures decided by the IIHF to partecipating in international tournaments.
"This also severely affects the participating teams in terms of organizing the trip and the cost of participating in the tournament."
Ferencvarosi should play in the semifinal round, held in Amiens, France from 13 to 15 November 2020 with Altai Torpedo (Kazakhstan), Amiens Gothiques (France) and a qualified team from first round
07 Aug 2020, 23:05 | New Zealand begin their season
The New Zealand Ice Hockey League which was due to begin in May will now start next week (13th) wih a game betweeen Botany swarm and West auckland Admirals.
15 Jul 2020, 14:15 | Poland League will have 12 participants
Zagłębie Sosnowiec and STS Sanok joined the 9 teams that had already received the right to play in PHL. Earlier, licenses were obtained by: Comarch Cracovia, GKS Katowice, GKS Tychy, JKH GKS Jastrzębie, KH Energa Toruń, KTH Krynica, KH Podhale Nowy Targ, Re-Plast Unia Oświęcim and Stoczniowiec Gdańsk.
Despite some opposition by other clubs, also Poland U23 will participate in the competition, which means that a total of 12 teams will start, one more than previous season
"Due to the fact that we have 12 teams, the competition will start two days earlier than planned, September 11. Next week schedule will be approved - adds League Commissioner Marta Zawadzka.
10 Jul 2020, 17:40 | Pavel Kruty passed away
Forward Pavel Kruty died in Orsk today, as reported by the VHL official website. He was 23 years old.
In the morning, Pavel Kruty, who was at the training camp of the Yuzhny Ural Orsk, felt unwell. He was given first aid by the club doctor. The player was taken by an ambulance to the intensive care unit, where he died. A preliminary diagnosis is pulmonary embolism.
Last season Pavel Kruty played for Saryarka Karaganda and recently moved to Yuzhny Ural Orsk. He played also for KRS Heilongjiang and Amur Tigers Khabarovsk, In 1997 was named to MHL All-Star Game
09 Jul 2020, 22:29 | Two goalies suspended in MHL
Two goalkeepers from the Molodezhnaya Hockey League (Russian Youth Hockey League- MHL) teams have been sentenced to eight months of disqualification for the use of illicit substances, according to the Russian Anti-Doping Agency (RUSADA).
Disqualifications were imposed on 20-year-old Nikolai Shashkov from Steel Fox Magnitogorsk and 21-year-old Anton Borodkin from Sarmat Orenburg
In Shashkov\'s doping analysis, was found tuaminoheptane, and for Borodkin - methylhexanamine.
09 Jul 2020, 22:24 | New Zealand withdraws teams
-IIHF
The New Zealand Ice Hockey Federation has withdrawn its teams for its first two scheduled participations in the 2021 IIHF Ice Hockey World Championship program.
The 2021 IIHF Ice Hockey U20 World Championship Division III in Mexico will thus be played with seven teams and the 2021 IIHF Ice Hockey U18 Women's World Championship Division II Group B in Turkey with four teams.
05 Jul 2020, 12:13 | Ertis Pavlodar withdrew from Continental Cup
Ertis Pavlodar won't participate in next Continental Cup as previously announced. Altai-Torpedo Ust Kamenogorsk, the farm club of HC Torpedo, will replace Ertis as owner of Kazakhstan Cup. Altai will play in Amiens, France next 13-15 November with Amiens, Ferencvaros and a team qualified from round played in October
04 Jul 2020, 14:21 | IIHF suspended the players involved in match-fixing in Belarus
All the players involved in the match-fixing scandal in Belarus received a provisional suspension by IIHF as reported in a short note issued by International Federation:
"in accordance with IIHF Code of Conduct Rule 3.6, the IIHF has decided to provisionally suspend the players from all ice hockey competitions or activities authorized and/or organized by the IIHF or any IIHF Member National Association as of 2 July 2020.These cases will now be referred to the IIHF Disciplinary Board for further review and sanctioning."
The players, all from Dinamo Maladzyechna, are:
Goaltender Alexei Ivanov
Defenders Nikita Ustinenko, Sergei Sheleg and Alexander Syrei
Forwards Pavel Boyarchuk,Stanislav Kuchkin and Vyacheslav Lisichkin
02 Jul 2020, 16:12 | Slovak Extraliga should start on October 2
The beginning of the Tipsport Extraliga was tentatively set for October 2. The date should be finally confirmed for next Tuesday at the club meeting in Zvolen. The competition should have 12 participants but the position of Hungarian teams is still unknown
The regular season will have 50 rounds. The best six teams will advance to the playoffs automatically, the teams in 7th-10th place will play the preliminary round for participation in the elimination round. No team will be relegated and the winner of the 1 Liga will earn a direct promotion.
18 Jun 2020, 10:55 | Tomek Valtonen resigned as Poland coach
Finnish Tomek Valtonen resigned as Poland National Team as reported by Hokej.net portal.
"We have not reached agreement on organizational issues. Next season I will be working in a foreign club and I will not be able to visit Poland more often, which was what the Polish Ice Hockey Association expected from me" said Valtonen
15 Jun 2020, 19:13 | All 23 KHL clubs have applied for next season
KHL President Alexei Morozov said all 23 clubs have already submitted financial documents in accordance with the regulations. Now the league will analyze the financial documents sent by the clubs and will present its opinion to the KHL Board of Directors for the final approvation.
08 Jun 2020, 09:30 | Kriss Grundmanis suspended for doping
Latvian defender Kriss Grundmanis was disqualified for 4 years for being tested positive for a doping test carried out last December after a match of the championship of Latvia. The 31-year-old defense player revealed a forbidden substance in the blood - meldonium.
Grundmanis received a "mandatory temporary ban" on sports as of January 20, 2020 which has now grown into a four-year period, until January 19, 2024.
During his career, Grundmanis has played in North America, Czech Republic, Great Britain and Kazakhstan. He has spent the last three seasons in JLSS Zemgale. He represented Latvia in seven junior world championships
17 May 2020, 14:02 | Slovakia will add a new competition
To financially help the clubs and compensate the premature end of the season, the Slovak Federation announced the creatiion of a new trophy, called Super Cup, for the next season. The clubs finished in the first six places in the last season plus two more teams resulting from a qualification round involving eight clubs will enter in the competition
17 May 2020, 13:12 | Awards in Belarus assigned
The Belarusian Federation announced the awards for the 19-20 Extraliga, one of few leagues completed in Europe. The winners are determined by the votes of all Extraliga clubs
Best Goalie: Maxim Malyutin (Shakhtar Soligorsk)
Best Defender: Andrei Antonov (Yunost Minsk)
Best Forward: Nikita Remezov (Neman Grodno)
Best Young Player: Nasser Subkhi (HK Gomel)
Playoffs MVP: Maxim Malyutin (Shakhtar Soligorsk)
Coach of the Year: Yuri Faikov (Shakhtar Soligorsk)
12 May 2020, 11:02 | Hlinka Gretzky Cup cancelled
Hockey Canada announced the traditional junior tournament Hlinka Gretzky Cup, which was to be hosted next August 3-8 in Edmonton and Red Deer, Alberta, was cancelled due to the coronavirus outbreak
27 Apr 2020, 22:00 | Chinese clubs won't compete in VHL anymore
According to Sport-Express portal, all the three Chinese clubs competing in VHL - Tseng Tau Jilin City, KRS Beijing and ORGZHI Beijing - won't compete in the next season. At the moment only ORGZHI, the Kunlun Red Star farm club, confirmed the withdrawal and rumours are it could move somewhere to Russia. No specific reason was cited, but the possible cause is the planned debut of the Chinese championship or the Covid-19 outbreak which has made travel between nations difficult.
Previously also the Uzbek club Humo Tashkent announced the withdrawal from the league
26 Apr 2020, 10:22 | Cergy promoted to LIgue Magnus
Cergy-Pontoise Jokers, the regular season champion of French Division 1, will play in Magnus Ligue in the next season, as determined by the Head Office of the Federation after reviewing the dossier presented by the club. In the same way HC Epinal is promoted to Division 1 from Division 2 and Reims and Poitiers will play in Division 2, coming from Division 3. Châlons asked to be relegated in Division 3
26 Mar 2020, 13:38 | Vladislav Nikiforov suspended for 15 months
Kazakh defender Vladislav Nikiforov, 19, was disqualified by the IIHF Disciplinary Council for 15 months - until February 8, 2021. In a doping test taken on November 8, 2019, when the Kazakhstan U20 national team played at the Baltic Challenge Cup in Tallinn, meldonium was found, which is included in the WADA list of prohibited substances.

In his explanation, the player indicated that meldonium was prescribed to him by a doctor last summer. He admitted that he did not inform the doctor that he was a hockey player. The athlete also said that he had no intention of using prohibited substances.

The International Hockey Federation found that the anti-doping rule violation was not committed intentionally. In addition, the young age of the hockey player and his lack of knowledge about doping were taken into account. The player declined the appeal and decided on the IIHF Disciplinary Board.
24 Mar 2020, 20:14 | Shakhtar to the finals in Belarus
No corona break in Belarus. Today Shakhtar Soligorsk beat Neman Grodno 1-0 to qualify for the finals against Yunost. The finals start on Friday.
22 Mar 2020, 19:00 | Greg Ireland is the new coach of team Italy
Following the resignation of Clayton Beddoes at the beginning of March, Italian Federation announced Greg Ireland as new coach of national team. Ireland, 54, from Orangeville, Ontario, currently the coach of HC Bolzano, start his work with the National team as soon as the emergency of the COVID 19 virus will pass. After the announcement of the IIHF of the cancellation of the World Top Division, the next commitment for team Italy is the Olympic qualifying tournament at the end of August in Riga, Latvia.
20 Mar 2020, 21:10 | Kazakhstan Cup moved from August to December
The Kazakhstan Cup, traditionally the opening season tournament, will be moved from August to December due to the Covid-19 emergency. Dates and venues will be determined later.
17 Mar 2020, 23:44 | KHL suspended playoffs until April 10
The KHL decided to suspend the playoffs after a recommendation by the authorities and taking into account the epidemiological situation. If restrictive measures are reduced or lifted after April 10, the league will be ready for the second stage of the championship. The format and dates will be announced later.
16 Mar 2020, 22:21 | Israel suspend league
With a short statement, Israeli Federation announces that following the spread of Covid-19 and the measures taken by goverment, all ice hockey leagues are suspended until further notices
16 Mar 2020, 17:06 | Telford Tigers win National Ice Hockey League
When they defeated London raiders last night telford became the champions of the National Ice hockey League in the UK, the second tier of hockey there.
15 Mar 2020, 11:09 | AIHL postponed the begin of season, New Zealand confirms the start until now
The AIHL (Australian Ice Hockey League)2020 season will be postponed due to the coronavirus pandemic. The season was scheduled to begin on 18 April. No future date was scheduled.
In New Zealand, where the league start is scheduled for mid-May, the Federation released a short statement confirming for now the competition: "As yet, there has been no delay to the NZIHL 2020 season, but we are monitoring the situation closely"
15 Mar 2020, 09:29 | Fasel: "KHL should suspend playoffs"
President of the International Hockey Federation Rene Fasel called on the KHL to suspend the season due to the coronavirus pandemic.
"Would it be fair to stop the season in the KHL? Yes.In other championships, games are suspended or cancelled. There are two clubs in Switzerland, including Lugano, which are located near the border of Italy. They were not allowed to play. And the Swiss League decided to suspend the championship. Once again, it is very important to protect the population, the people.We will be realistic." said Fasel to Ria Novosti Agency after Finnish club Jokerit Helsinki announced the withdrawal from the KHL playoffs.
12 Mar 2020, 16:22 | Fifth title for Irbis-Skate Sofia
Irbis Skate Sofia won the fifth consecutive title in Bulgaria, once again dominating the league, closing the campaign with a perfect record of 12 victories. NSA Sofia finished second. Irbis won also Bulgaria Cup, assigned to the team finished the first round of the championship in first place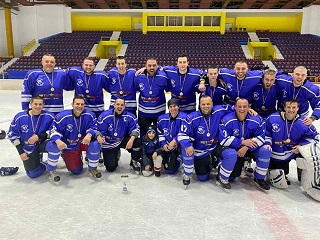 12 Mar 2020, 12:18 | SHL playoffs postponed
The Swedish playoffs are postponed until at least March 24. The playoffs series will also be played best-of-five instead of seven.
The qualification to SHL will continue as planned but with empty seats.
10 Mar 2020, 20:28 | Slovak games postponed indefinitely
With three rounds remaining of the regular season of the Slovak league all games are postponed until at least March 23 due to the risk of coronavirus transmission.
03 Mar 2020, 23:22 | Clayton Beddoes leaves Italy national team
Italian Federation announces Canadian coach Clayton Beddoes,49, resigned today with the national team for "differences in view" with the board. Beddoes was appointed as headcoach of Italy in 2017, leading the Azzurri at a unexpecting stay in the Top Division. Current assistant coaches Riku-Petteri Lehtonen and Giorgio De Bettin, along with video-coach Diego Scandella, remain in the coaching-staff and will lead the training camp in Bolzano starting next April 13 for the preparation to World Championship. Last January Beddoes was fired by Bolzano Foxes
28 Feb 2020, 23:49 | World Championships Division IV canceled
The World Championships Division IV that was supposed to start on March 3 in Bishkek, Kyrgyzstan, has been canceled due to the Coronavirus epidemic.
26 Feb 2020, 23:31 | Asia League finals canceled
The Asian League Ice Hockey has decided to cancel the playoff final, which was scheduled to be held on February 29, due to concerns about the spread of the new coronavirus infection in Japan and overseas.
24 Feb 2020, 16:43 | Solway Sharks clinch Scottish title
With an unbeaten record the Solway Sharks became Scottish National League champions at the weekend.
02 Feb 2020, 11:17 | Challenge Cup Finalists 2020
The second leg of the Semi-Finals confirmed the finalists as the Sheffield Steelers took on Glasgow Clan and Nottingham Panthers faced off against Cardiff Devils. Sheffield Steelers and Cardiff Devils proceed to the final in March 2020.
28 Dec 2019, 06:30 | Nikko Ice Bucks won All Japan Ice Hockey Championship
By beating 5-1 the Tohoku Free Blades, Nikko Ice Bucks won the 87th edition of Japan Championship, the domestic competition crowning the national champion between professional, amateur and teams from Universities. As usual the Asian League teams dominated the tournament, played at the Dydo Drinco Arena in Nidìshi Tokyo, once the home of defunct Seibu Prince Rabbits team. It's the second title for the Buck
23 Dec 2019, 16:46 | Murrayfield win cup
Murrayfield Racers of the snl last night retained the Stuart Robertson cup when they defeated Dundee Comets 14-6 on aggregate over 2 legs.
22 Dec 2019, 12:35 | Róbert Freyr Pálsson named Icelandic Player of the Year
Róbert Freyr Pálsson, 28, is the icehockey player of the year 2019, elected by the board of the Icelandic Hockey Association. The defender has experiences in the Danish 1 Division and with defunct Esja Reykjavik, besides Björninn, his native club. He is also the captain of national team.
Akureyri SC and Icelandic women's team Kolbrun Gardarsdottir was voted Ice Hockey Icon of the Year 2019
18 Dec 2019, 21:24 | Hungary promoted
With a perfect 5-0 record Hungary wins the U20 World Championship Division IB in Kyiv, Ukraine. Italy is relegated to the 2021 IIHF Ice Hockey U20 World Championship Division II Group A.
17 Dec 2019, 10:19 | Romania advances to the next round
As everyone expected, the host country Romania, dominated the group K - Round 2 of Olympic prequalification (December 12-15, 2019). In the last two years, the romanians have considerably improved their level. They are newly promoted to Division I, Group A. 
The only unknowns were just the difference in score against their opponents (Kyrgyzstan, Iceland, Israel). Therefore, with maximum possible points, Romania advances to the third qualifying stage, Nottingham - United Kingdom, February 6-9, 2020, where they will meet Hungary, Estonia and the host country, Great Britain.
15 Dec 2019, 21:26 | Austria delighted to promote to the 2021 World Juniors
Austria lost the first game of the U20 World Championship Division I Group A to the host Belarus in Chizhovka Arena, Minsk.
But then followed wina against Norway, Denmark, Latvia and Slovenia and that was enough to promote to the highest U20 level.
12 Dec 2019, 13:02 | One in One out at Sheffield
Sheffield Steelers (EIHL)head coach Aaron Fox has confirmed that the club has signed defenceman Josef Hrabal from Prereov.
Hrabal will arrive in Sheffield on Friday and the club hopes to have the international transfer paperwork completed ahead of Saturday's home game against Fife Flyers.
Earlier tonight the Steelers announced that Mikko Kuukka would be leaving the club after his trial period and heading back to the Finnish Liiga
"It was a difficult decision to return home to Finland, I have been so pleased to play in Sheffield and was surprised how good and profession the team was. I wish everyone here the best" said Mikko
Aaron Fox confirmed the roster situation "We always knew that Mikko would be a short term signing, in fact I think we were lucky to keep him as long as we did. He really enjoyed his time here and I think it was a tougher decision for him that he thought it was going to be.
"We leave on good terms and you never know if our paths will cross again.
05 Dec 2019, 17:15 | Sheffield Steelers add injury cover
With long term injuries afflicting Sheffield Steelers (EIHL) they signed Finnish forward Janne Koelhmainen. He has signed until the end of the season and makes his debut this Friday night in Belfast.
14 Sep 2019, 11:05 | SV Renon won Supercoppa
Third consecutive Supercoppa for SV Renon: Italian champion easily won 7-2 against Coppa Italia holder SV Caldaro in the first official trophy in Italy. With 5 victories Renon is the major winner of the trophy
31 Aug 2019, 20:23 | Fehervar win Hungarian Super Cup
EBEL team Fehervar AV19 Szekesfehervar win the first edition of Hungarian Super Cup by beating Erste Liga champion Ferencvarosi 4-3 at Tüskecsarnok Arena in Budapest
Gamesheet here
25 Aug 2019, 17:36 | Altai Torpedo retains Kazakhstan Cup
A goal by Maxim Khudyakov at minute 56 gives the second consecutive Kazakhstan Cup to Altai Torpedo Ust-Kamenogorsk, in the final, played in Almaty, against Kulager Petropavlovsk. The Torpedo farm club won the qualifying Group A despite a loss 1-0 SO in a dramatic match agaist national champion Beybarys Atyrau, the bronze winner in the consolation final against home team HK Almaty, unexpectedly lost the qualification, beaten 2-1 in the last game of the group against already eliminated HK Temirtau.
The best players of the competition are:
Best goalkeeper - Andrei Yankov, Kulager
Best defender - Adil Beketaev, Altai Torpedo
Best striker - Ilya Akhmetov, Kulager
Best young player - Demid Eremeev , HK Temirtau
16 Aug 2019, 17:09 | Southern Stampede win the New Zealand IHL finals
Souuthern Stampede took revenge, and their 6th championship, when they defeated last years winners West Auckland Admirals in the finals of the New Zealand Ice Hockey League.
They got the better of their opponents twice to win the best of three series, their goals coming from Liam Stewart and Colin McIntosh who finished top of the play off standings.
11 Aug 2019, 22:25 | U17 National team games
Finland and Russia U17 played three games this weekend with the results 3-4 (OT), 3-2 (SO) and 2-6.
Next week an U17 tournament will be played in Füssen with Germany, Slovakia, Czech Republic, Switzerland and USA.
09 Aug 2019, 23:08 | U18 Hlinka Gretzky Cup, Day 4 - Russia and Canada to play the final
Alexander Pashin scored three goals when Russia beat Finland 4-1 in one of today's semi finals of the prestigeous U18 tournament in Czech Republic and Slovakia. In the other semi final Canada beat Sweden 3-2 in a shootout game. Cole Perfetti scored all Canadian goals.
Czech Republic beat USA 4-3 for place five while Slovakia beat Switzerland 7-5 in the 7th place game.
09 Aug 2019, 16:27 | Omsk will have a new arena in 2022
A new ice palace for Avangard Omsk will be built by 2022, after the current Omsk Arena was declared unfit and set for demolition just 12 years after it opened, due to safety concerns. In September 2018, an evaluation of Omsk Arena's structure determined the building was in emergency condition, with specialists finding structural defects in 90 percent of surveyed areas, including large cracks in its columns.
"The deadline for completion of the build is 2022, the arena will have a capacity of about 12 thousand spectators and five floors" said Vadim Marygin, Minister of Energy and Public Utilities of the Omsk Region.
09 Aug 2019, 09:25 | Tampere will host IHWC 2022
The city of Tampere will be the main venue for IIHF Ice Hockey World Championship 2022, with Helsinki as secondary place.
The under-construction 15.000 places "Tampere Deck Arena" will be the rink for the preliminary rounds, two quarter finals, the semi finals and the final.
08 Aug 2019, 11:34 | U18 Hlinka Gretzky Cup, Day 3
Results of the third day from Breclav/Piestany: USA - Sweden 4-5 (SO), Switzerland - Finland 0-6, Czech Republic - Canada 1-7 and Slovakia - Russia 1-2 (OT).
Friday's semi finals: Canada - Sweden, Russia - Finland.
06 Aug 2019, 22:41 | U18 Hlinka Gretzky Cup, Day 2
On the second day of the U18 Hlinka Gretzky Cup Roni Hirvonen scored three goals when Finland beat Czech Republic 5-1. Other games today: Canada - Switzerland 8-0, Sweden - Russia 0-3 and Slovakia - USA 3-4 (OT).
05 Aug 2019, 23:32 | U18 Hlinka Gretzky Cup, Day 1
The U18 Hlinka Gretzky Cup started today in Breclav and Piestany. Results: Russia - USA 6-2, Finland - Canada 0-6, Czech Republic - Switzerland 4-3 (SO) and Slovakia - Sweden 2-3.
30 Jul 2019, 21:35 | Metallurg Zhlobin was not admitted to Belarus Cup
In a short note, Belarus Federation announced Metallurg Zhlobin won't allowed to participate in next Belarus Cup, that starts on August 1.
The reason is the non-compliance with the competition regulations, including the club's many years of growing indebtedness to the Federation and hockey players, who were forced to appeal to the Federation Appeal Committee.
If the club does not eliminate problems until August 15, Metallurg will not be allowed to start the Belarus Extraliga 2019/20.
17 Jul 2019, 13:16 | Newly created Sherdor Samarkand replaces Binokor in Kazakhstan League
A turn of events about the partecipation of Uzbek team in the Kazakhstan League: originally, following the enter of Humo Tashkent into VHL, another Uzbek team - Binokor Tashkent, should have entered the Kazakhstan League as Humo farm team. Binokor already announced 47-year-old Russian Alexander Ageev as head coach. But apparently the club management did not provide official confirmation of their intentions. So today the Kazakh Federation announced the newly created Hockey Club Sherdor from Samarkand will take part in the championship of Kazakhstan in the next season. Team is already training in Glazov, Russia, with same Ageev as coach and should debut in the new Samarkand Arena,  started building in 2017 and about to be completed in September according to Uzbek Federation
16 Jul 2019, 16:15 | Two more teams accepted in VHL
After the inclusion of four new teams at the beginning of June - Dynamo Tver, Torpedo-Gorky Nizhny Novgorod, Nomad Nur-Sultan (KAZ) and Humo Tashkent (UZB) - VHL announced the addition of two more clubs for the upcoming season: HC Rostov, competing since 2013 in VHL-B, the Russian third division, and Shougang Beijing, a new club acting as Red Star Kunlun farm club. With a record of 34 teams, VHL will be organized into 2 conferences and 4 divisions
15 Jul 2019, 07:21 | Geoff Platt named Player of the Year in Belarus
Forward Geoff Platt, recently signed with Avtomobilist Yekaterinburg from Jokerit, was named Player of the Year by Belarusian journalists. The Canadian born Platt, who had Belarusian citizenship since 2013, received 367 votes, finishing ahead of Dinamo Minsk defender Kristian Khenkel (190) and Yunost Minsk forward Mikhail Stefanovich (115)
12 Jul 2019, 14:11 | Belfast Giants return to SNL
The Scottish National League team of the Belfast Giants will return to the SNL for the coming season. They last played in the 2014-15 season but SIH chairman David Hand said that with a new rink being built in the Dundonald area it is believed that adding Belfast will lead to new hockey players and adding Belfast can only help with the process,
09 Jul 2019, 10:06 | Alexander Titov disqualified for 4 years
Russian defender Alexander Titov, 28,  was suspended for four years for violating anti-doping rules, as reported by the official website of Russian Anti Doping Agency RUSADA.
Titov lastly played for Dizel Penza in 2017-2018 season.
02 Jul 2019, 11:28 | HK Aktobe added to Kazakhstan League
HK Aktobe officially confirms the partecipation in next Kazakhstan League, creating a senior team after the victory on Kazakhstan U20 league. Former national team player Sergei Miroshnichenko has been appointed as head coach, Rinat Omarbekov will serve as assistant.
Uzbek team Binokor Tashkent should be the other additional team
30 Jun 2019, 17:59 | South Korea win Kazakhstan in first exibithion game
South Korea won 5-4 against Kazakhstan in the first of a 5 games series held in Gangneung Sport Center. Both teams allign experimental rosters, made mainly of young players. Other games are scheduled for 1,3,4 and 6 July.
27 Jun 2019, 19:40 | Miroslav Satan is the new President of Slovakian Federation
Former NHLer Miroslav Šatan became the new president of the Slovak Ice Hockey Association (SZĽH).
With 229 votes in the first round of vote. The rival Jaromír Šmátrala received 99 votes. The third candidate Dárius Rusnák retires just before the vote.
Šatan replaced Martin Kohút, who led the Federation since 2016. The 40-year-old Satan is in the eighth President of SZLH in the era of independence.
22 Jun 2019, 09:56 | Matjaz Kopitar is back on Slovenia bench
Matjaz Kopitar, 53, father of Los Angeles Kings captain Anze, is back again on Slovenia national team bench in his third experience as head coach after the 2010-2015 period, when he led Slovenia at Sochi Olympics and in three World Championships, always ended with the relegation of the team. Kopitar was back in 2017-2018 before to work full-time as scout for Los Angeles Kings.
He should sign a contract for four years, beginning the new adventure with two challenge, both on home ice: next February in Jesenice hunting for the Olympic pass battling with Japan, Lithuania and qualifier from a previous round and in late April in Ljubljana at World Championship Division Ia when Slovenia will compete with France, Austria, Korea, Hungary and Romania in a complicate race for the promotion to Elite Division, after a disappointing campaign in Nur Sultan last spring
20 Jun 2019, 20:37 | Belarus Cup fixtures unveiled
The calendar of 2019 Belarus Cup, named after legend Ruslan Salei, was unveiled with a new formula: the teams from Extraliga A and B was splitted in two groups. The winner of each group advances to the semifinals, where are automatically qualified champion Yunost Minsk and Dinamo Minsk. The semifinals and the finals will be held in Orsha on August 17 and 18
13 Jun 2019, 19:37 | New coaches for Switzerland juniors
After coach Christian Wohlwend signed for HC Davos, Swiss Federation named Thierry Paterlini as new head coach of U20 National Team. Former player, Paterlini coached the U18 Team since 2015. He will be replaced by former U17 coach Martin Höhener
12 Jun 2019, 18:14 | Sergei Viter named Head Coach of Ukraine
Donbas Donets'k head coach Sergei Viter was appointed as new head coach of the national team of Ukraine. Hockey Federation of Ukraine. The seven-time champion of Ukraine replaces Andrei Sryubko, after a disappointed campaign at the World Championships Division 1B, where Ukraine finished fifth
11 Jun 2019, 21:06 | Moray Typhoons unable to play in Scottish National League next season.
The club had signalled its intention to play but following a meeting with players the club management have confirmed they will be unable to commit to playing in the league due to a concern over fulfilling fixtures over the coming season (2019/2020)
07 Jun 2019, 11:05 | Róbert Petrovický will lead Slovakia U20
Former Slovakian international Róbert Petrovický, 46, will be the new head coach of Slovakia U20. He replaced long time coach Ernest Bokroš, on Junior team bench since 2011, who will work at Zilina as GM. Other two former players, Martin Štrbák and Viliam Čacho, will be the assistant coaches
04 Jun 2019, 21:13 | Kazakhstan Cup will be held in Almaty
The 15th edition of Kazakhstan Cup, traditionally played before the start of Kazkahstan League, will be held at Halyk Arena, with a capacity of 3.000 spectators, from 20 to 26 August. Last season the Cup was played in Karaganda and Nur-Sultan with Altai Ust-Kamenogorsk winning the first ever trophy by beating 2-1 Ertis Pavlodar in the final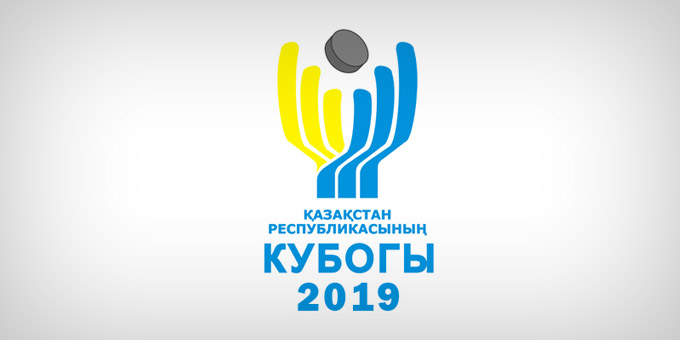 27 May 2019, 16:31 | Sixth title for Galkan in Turkmenistan
Galkan Ashgabat, coached by national team coach Bayram Allayarov, won the sixth consecutive title of Turkmenistan League, ending the season with a perfect record in the league, finishing ahead of HC Shir, Vatanchi, Oguzhan and Nesil. Galkan players, almost all also member of national team, dominated also the individual awards. Kerimli Charyev was recognized as the best goalkeeper, Amangeldi Aganiyazov as the best defender, and Dovlet Soyunov became the best striker and the top scorer. Galkan won also Cup of the President of Turkmenistan by beating 9-6 Vatanchi in the final
27 May 2019, 14:34 | Spengler Cup participants completed
All participants in the 93rd edition of the Spengler Cup are now known.
The Finnish TPS Turku joins the other five teams already announced, namely Salavat Yulaev Ufa, Ocelari Trinec, Team Canada, HC Ambri-Piotta and host HC Davos.
21 May 2019, 10:29 | Alps Hockey League announces teams for the upcoming season
The preparations for the upcoming Alps Hockey League season are already in full swing. For the 2019/2020 season, a total of 19 entries have been received in time. The applications of these 19 teams were also confirmed by the respective national associations from Austria, Italy and Slovenia. Thus, in addition to the existing 17 teams of the previous season, the Vienna Capital Silver and Steel Wing Linz will also be part of the Alps Hockey League. The championship mode will be determined at the AHL-Forum on the 1st of June.
Austrian teams:
EC Bregenzerwald
EC "Die Adler" Stadtwerke Kitzbühel
EC-KAC II
EHC Alge Elastic Lustenau
EK Die Zeller Eisbären
Red Bull Hockey Juniors
VEU Feldkirch
Vienna Capital Silver
Steel Wing Linz
Italiean teams:
HC Fassa Falcons
HC Gherdeina Valgardena.it
HC Val Pusteria
Hockey Club Milano Bears
Migross Supermercati Asiago Hockey
Rittner Buam
S.G. Cortina Hafro
Wipptal Broncos Weihenstephan
Slovenian teams:
HDD SIJ Acroni Jesenice
HK SZ Olimpija
07 May 2019, 22:50 | Slovakia, USA and Canada wins pre-WHC games
With the World Championship three days away three tournament preparing games was played today. The World Championship host Slovakia beat Norway 3-2 in overtime. USA beat Germany 5-2 and Canada beat Austria 7-5 (7-6 after overtime).
05 May 2019, 23:16 | Three late goals give Denmark the win over Austria
Nicklas Jensen, Frederik Storm and Jesper Aabo Jensen scored late goals when Denmark beat Austria 3-1. Peter Schneider scored the Austrian goal.
04 May 2019, 20:16 | Easy win for Slovakia over Great Britain
The newcomer of the World Championship, Great Britain, played the host Slovakia in Poprad in a pre-tournament game. Slovakia had no problem to win 6-1.
03 May 2019, 23:22 | Switzerland wins WC preparation against Latvia
Switzerland beat Latvia 4-1 in Herisau tonight. Miks Indrasis scored 1-0 for Latvia in the first period. Switzerland then scored two goals in the second period and teo in the third. Swiss goals: Gregory Hofmann, Noah Rod, Lukas Frick and Vincent Praplan.
03 May 2019, 22:18 | France beat Italy
In Cergy-Pontoise tonight France beat Italy 6-2. Guillaume Leclerc, Jonathan Janil, Sacha Treille, Damien Fleury, Jordann Perret and Tim Bozon scored for France. Anthony Bardaro and Giovanni Morini for Italy.
02 May 2019, 21:00 | One goal enough for HPK
HPK beat Kärpät 1-0 tonight in the sixth game of the Finnish Liiga finals. Valtteri Puustinen scored the lonely goal in the second period. The Finnish championship will now be decided in the seventh game on Saturday.
30 Apr 2019, 17:23 | Banska Bystrica won't play in CHL
Slovakian tri-champion Banská Bystrica won't join 19-20 edition of Champions Hockey League.
"Costs are too high - said club President Juraj Koval - so we not joining the Champions League because our participation is financially a loss. Deficit means that we are threatening our own financial security."
Slovakia has a spot avaiable for the competition and according to the rules HKM Zvolen, finished second in the regular season, should replace the champion
28 Apr 2019, 22:12 | Slovakia U18 relegated
Slovakia lost the third game of the relegation round at the World U18 Champonship in Sweden. Switzerland won the game 6-3 to avoid relegation.
Germany are promoted from Division 1A.
28 Apr 2019, 22:06 | Trinec champion in Czech Republic
Trinec beat Liberec 4-2 tonight to win the Czech final series 4-2. The game was tied 2-2 after two periods but late goals by Vladimir Roth and Ethan Werek secured the title.
26 Apr 2019, 23:56 | Adler Mannheim wins DEL finals
Adler Mannheim beat Red Bull München in overtime tonight to win the German DEL final series 4-1 after losing game one.
Thomas Larkin scored the title-winning goal at 73:37.
26 Apr 2019, 23:51 | Nico Hischier scores three
In his first game ever for the Swiss men's team Nico Hischier scored a hat-trick in the third period. Switzerland won the game against France 6-0.
26 Apr 2019, 20:43 | Denmark beats Norway
One goal was enough for Denmark to beat Norway in Lørenskog. Nikolai Meyer scored at 12:55. Sebastian Dahm saved 18 shots for the shut-out.
The teams will play again tomorrow.
26 Apr 2019, 20:34 | Swedish revenge
After yesterday's tough loss against Finland, Sweden today won 3-1 in Hartwall Areena. Finland's Toni Rajala scored 1-0 for Finland but Swedish goals by Jesper Bratt, Daniel Zaar and Philip Hol made it a Swedish win.
25 Apr 2019, 22:51 | Two goals by Draisaitl not enough vs. Austria
German super star Leon Draisaitl scored 1-0 and 2-0 for Germany against Austria. But that wan't enough. Daniel Jakubitzka, Lukas Haudum and Dominique Heinrich scored for Austria to win the game 3-2.
25 Apr 2019, 22:06 | Late goals save Finland against Sweden
Finland was down 4-2 late in today's national team friendly but scored three goals in the last 2:14. Arttu Ilomäki scored 3-4 at 57:46 and Harri Pesonen tied it 32 seconds later with his second goal of the game. Eetu Luostarinen then scored the 5-4 winner at 59:12.
24 Apr 2019, 23:24 | KAC wins EBEL finals
KAC Klagenfurt won game six in overtime against Vienna Capitals to win the EBEL title. Adam Comrie scored the winning 3-2 goal at 74:31.
24 Apr 2019, 21:36 | Sary Arka wins VHL title
Sary Arka beat Rubin Tyumen 4-1 in today's VHL final to win the series 4-1.
The club from Kazakhstan was also VHL champion 2014.
23 Apr 2019, 22:41 | Preliminary Round of World U18 championship comes to an end
Results of the last day of the Preliminary Round of the World U18 Championship in Sweden: USA - Latvia 7-1, Finland - Switzerland 12-0, Russia - Sweden 0-3 and Czech Republic - Canada 2-6.
This gives the following quarter final pairings: Canada - Latvia, Belarus - Russia, Sweden - Czech Republic and USA - Finland.
Switzerland and Slovakia will play games to avoid relegation.
23 Apr 2019, 11:00 | Israel on top after day 2
Israel is the only team with two victories after the second day of the World Championship Division 2B in Mexico. Results of day 2:
Iceland - North Korea 8-0
New Zealand - Israel 3-5
Mexico - Georgia 2-3

22 Apr 2019, 23:00 | Amazing come-back in the DEL2 finals
Ravensburg was down 4-0 after two periods of the third game of the DEL2 finals against Frankfurt.
In the third period Ravensburg scored 6 goals in 13 shots to win the period 6-1 and the game 6-5. The game-winning goal was scored by Thomas Supis one second before the end.
Ravensburg now leads the series 2-1.
22 Apr 2019, 17:53 | Latvia sends Slovakia to the relegation round
At the U18 World Championship in Sweden Latvia beat Slovakia 2-0 to secure a spot in the quarter finals. Ernests Osenieks and Ralfs Jevdokimovs scored the goals in the second period. Arturs Silovs made 24 saves for the shutout.
Slovakia will play the fifth place team of the other group to avoid relegation.
22 Apr 2019, 11:03 | SHL finals
Frölunda won the first of the Swedish SHL finals 5-3 against Djurgården.
22 Apr 2019, 10:55 | World Championship Div. 2B opens in Mexico City
Results of day 1:
Israel - Iceland 6-3
Georgia - North Korea 4-9
New Zealand - Mexico 7-2
15 Apr 2019, 22:01 | Frisk Asker wins Norwegian Championship
Frisk Asker are 2019 Norwegian champions after beating Storhamar 4-2 in the finals.
Storhamar won games 1 and 4 of the 7-game series. Both times by 5-1. Frisk won games 2, 3, 5 and 6.
In the last game veteran Petter Kristiansen scored the championship-winning 3-2 goal at 2:19 of the overtime.
14 Apr 2019, 20:54 | Revolution in Croatia
After ten consecutive titles of Medvescak, there is a new champion in Croatian League: KHL Zagreb broke the monopoly by winning a dramatic final series against Medveascak after a decisive 4-1 victory in game #5, in front of a record of 605 spectators.
KHL Zagreb forward Mislav Blagus finished as League MVP and Top scorer, while champion goalie Leon Hergešić Adamović was named playoffs MVP. Eternal silver medalist Mladost Zagreb won bronze with Ivan Štimac Rojtinić awarded as regular season best goalie.
This season Croatia League alligned a record of 6 teams, with two debutant: KHL Kuna Zagreb and HK Siscia Sisak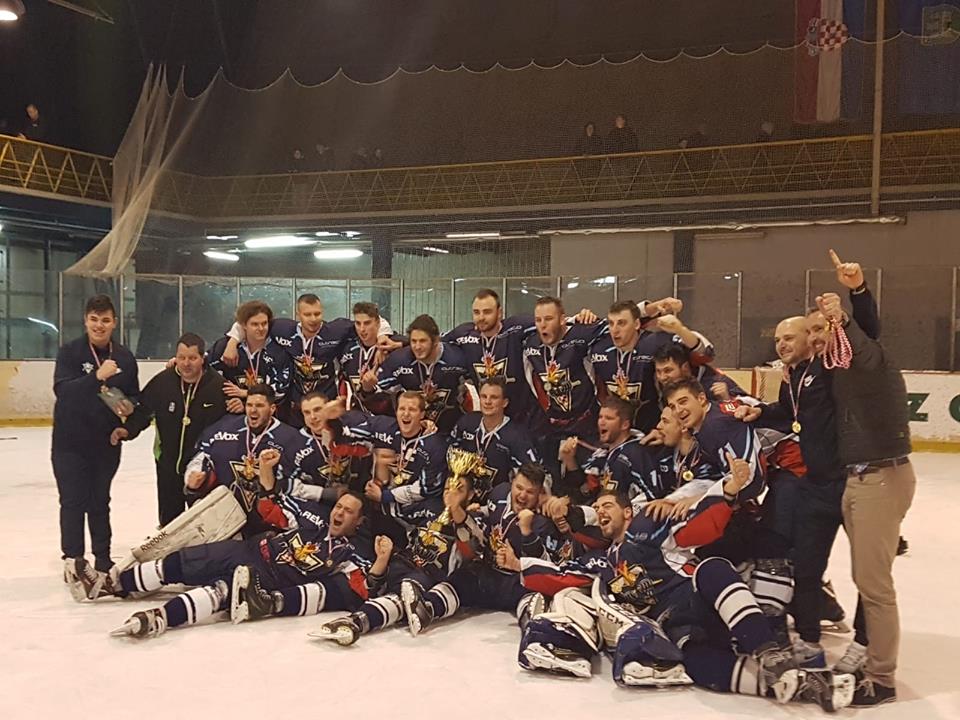 14 Apr 2019, 11:15 | FC Barcelona win Copa del Rey
FC Barcelona has surprisingly triumphed in Copa del Rey, the Spanish national Cup, played in Jaca last weekend. The hockey section of the famous club won Spanish League champion, Cup holder and super-favourite Txuri Urdin San Sebastian 5-4 in a thrilling semifinal, decided by a goal of Bruno Baldris at 61:62 after having recovered the disadvantage three times in regular time. In the final, a clear victory 5-1 against Liga Nacional finalist CG Puigcerdà, which closes the season with two silver medals. Barcelona takes home the sixth Copa del Rey, after the last success in 2014-2015, curiously obtained against the same opponent and on the same ice
14 Apr 2019, 10:34 | Poland U18 promoted
The Polish U18 team won all five games to win the World U18 Championship Division 2A before the host Lithuania, Estonia, Romania, South Korea and relegated Spain.
14 Apr 2019, 10:26 | Hungary and Denmark up, Sweden and France down
Hungary and Denmark finished first and second of the World Women's Championship Division IA to promote to the top division. Sweden and France are relegated from the highest level of international women's hockey.
13 Apr 2019, 13:52 | Luciano Basile leaves Gap
After communicating the renewal of the contract for the next season, Gap Rapaces announces that Luciano Basile will no longer be the coach for 2019-20. In a short press release the club cites "numerous disagreements and internal conflicts" and reports that former assistant Eric Blais will be the new headcoach.
Italo-Canadian Basile left the club after 5 seasons, with two titles of Ligue Magnus and a League Cup won. He was named French League Coach of the Year in 2008-09, 2009-10, 2012-13, 2014-15
06 Apr 2019, 19:17 | Kyrgyzstan forfeited four games at World Championship Qualification in Abu Dhabi
The long awaited debut of Kyrgyzstan at the World Championship has gone from so hot to so not: after winning the first four games against Kuwait, Thailand, Bosnia and Herzegovina and Hong Kong at the Division III Qualification tournament, currently held in Abu Dhabi, the Central Asian team had to play with the UAE for the first place, but all the wins were voided due to an ineligible player: forward Aleksandr Titov, scored 5 goals in the tournament so far, was disqualified resulting in their team forfeiting their first four games
03 Apr 2019, 14:34 | Cape Town Kings win South African Super League
The title of South African Super League lands in Cape Town for the first time, after the first three editions were won by teams from Johannesburg. The Cape Town Kings take the crown of national champion with a perfect record of eight victories, ahead of Pretoria Capitals and the winner of first two editions Kempton Park Wildcats. Kings forward Uthman Samaai finished as Top Scorer with 32 points (19+13)
The South African Super League is the only national competition in South African icehockey. The provinces of Gauteng and Cape Town each have their own league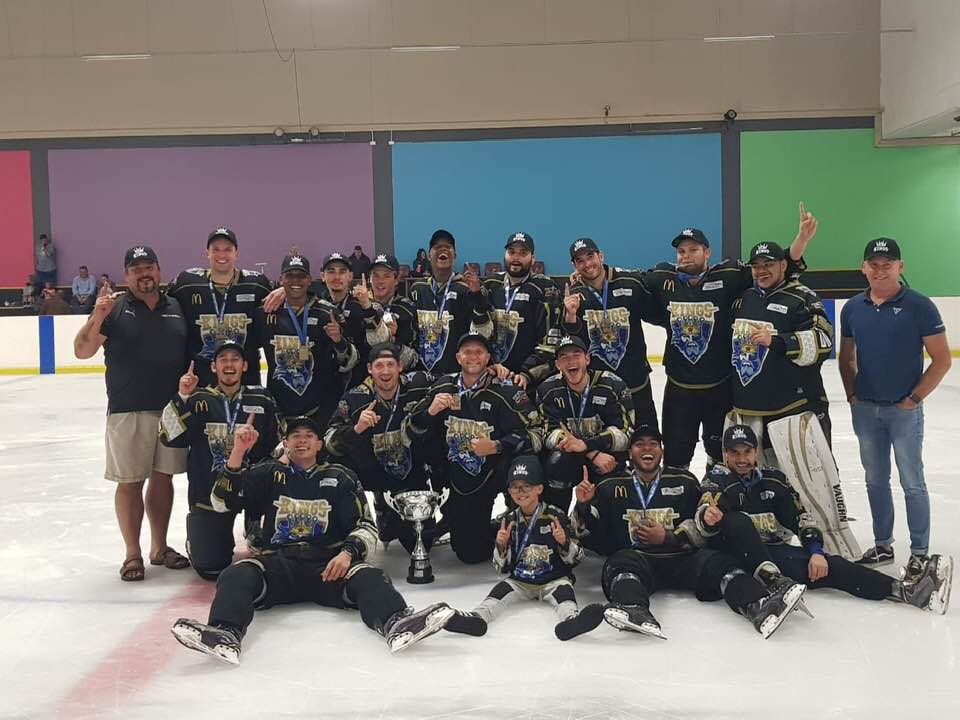 01 Apr 2019, 09:25 | Bulgaria U18 promoted
Bulgaria won all five games to promote from the World U18 Championship Div 3A in Sofia.
01 Apr 2019, 09:19 | Serbia wins in Belgrade
The Serbian U18 team won promotion from the World U18 Championship Div. 2B on home ground in Belgrade. The Netherlands were on top of the standings before the last day but lost to China 3-2 to finish third. Belgium were relegated after losing all five games.
23 Mar 2019, 21:29 | Dukla Michalovce promoted in Extraliga
For the first time since the creation of the club in 1974, Dukla Michalovce will play in 2019-2020 season in Slovak Extraliga, after winning 2-1 a dramatic game #7 in promotion/relagation series against MsHK Garmin Zilina. Czech forward Jakub Linet, scoring the two goals, and goalie Adam Trencan, stopping 55 shoots, are the hero of a night to remember for Dukla fans
17 Mar 2019, 23:31 | Kuwait Warriors win first title
The Kuwait Warriors win for the first time the title of Kuwait Ice Hockey League, 9 points ahead of last season champion Kuwait Stars.
Serbian Bojan Zidarevic, from champions Warriors, was the top scorer with 17 points (11+6) in 22 games
Check all the stats from Kuwait League on eurohockey!
24 Feb 2019, 12:31 | Racers claim Scottish National League title
In their first season in the league Murrayfield Racers claimed the title with their 12th win of the season, the other two results being ties means they are unbeaten thus far with only two games to go. Their closest rivals Kirkcaldy Kestrels slipped up at Aberdeen Lynx which meant they could not mathematically take the title.
14 Feb 2019, 12:18 | India celebrates national champions
In the last weeks the Indian Championships of icehockey were held at the newly constructed Ice Hockey Rink at Ladakh Scouts Regimental Centre, Leh. In front of a big crowd, playing with the boards for the first time, the Indo-Tibetan Border Police won the male championship for the third consecutive years by beating the Ladakh Scouts 6-5. J&K was crowded women champion and Ladakh Scouts won the 4th Junior National Championship (U-20) by defeating 5-1 Jammu & Kashmir Team
29 Jan 2019, 17:35 | Renon confirms domination in Italy
SV Renon/Ritten won the fourth consecutive Italian title (the fifth in last six years) by beating Asiago in a dramatic overtime. After eliminating Wipptal Broncos in the semifinals, Renon won 4-3 finals' game #1 in Asiago, losing 6-2 after the regular time at home game #2. Having won a game each, the teams played a decisive overtime, decided by a goal of Latvian forward Olegs Sislannikovs after 77 minutes.
The Italian League is played by the eight teams competing in the Alps Hockey League with the Alps League games between Italian teams until the end of December using as a qualification round. The fourth best placed teams played and home/away semifinals and finals.
For the second consecutive season Renon realizes the domestic double, having won Supercoppa Italiana and the domestic title
21 Jan 2019, 18:26 | Macquarie Ice Rink demolition paused
The demolition of Macquarie Ice Rink in Sydney, scheduled for 2020, has been paused after the community reaction. There will be talks with stakeholders and the two clubs using the rink as home, the Sydney Bears and Sydney Ice Dogs, before coming to a final decision. Neither club has announced what a new rink would be.
13 Jan 2019, 17:02 | Slovakia to the Elite level for the first time
Slovakia beat Germany 5-1 to win the U18 Women's Division 1 Group A and promote to the elite division for the first time.
The home team Austria is relegated to Division 1B.
13 Jan 2019, 06:56 | French girls promoted
France won the U18 Womens World Championship Division 1 Group B one point ahead of Norway to win promotion to Division 1A. Netherlands are relegated after five losses.
Poland's Wiktoria Sikorska won the scoring title with 10 points.
01 Jan 2019, 09:52 | World Juniors Quarter finals
The quarter final match-ups of the World Junior Championship in Canada is decided after the end of the Preliminary Round:
Sweden - Switzerland
Canada - Finland
USA - Czech Republic
Russia - Slovakia
01 Jan 2019, 01:50 | Swedish stomach flu
Five Swedish players missed the game against Kazakhstan because of stomach flu.
With Adam Ginning, Johan Södergran, Filip Svenningsson, Philip Broberg and Richard Hugg out Sweden still managed to win 4-1 against Kazakhstan to finish on top of Group B.
31 Dec 2018, 13:51 | JKH GKS wins Polish Cup
JKH GKS beat TatrySki Podhale 4-0 in the final in Tychy to win the Polish Cup Puchar Polski.

Tomáš Komínek, Kamil Wałęga, Artiom Dubinin and Łukasz Nalewajka scored the goals.
31 Dec 2018, 13:30 | McIsaac suspended
The IIHF Disciplinary Panel has issued a one-game suspension to Team Canada defenceman Jared McIsaac. McIsaac will miss his Canada's final preliminary round game on New Year's Eve against Russia.
31 Dec 2018, 11:43 | First ever Swedish goalscorer in NWHL
Last night Michelle Löwenhielm was the first ever Swedish player to score a goal in the National Women's Hockey League. She scored 1-1 for Connecticut Whale against Boston Pride.
15 Dec 2018, 11:33 | Icelandic Players of the Year selected
Skautafelag Akureyri players' won the Player of the Year awards in both men and women category in Iceland.
Forward Johan Leifsson,25, was elected Player of the Year after the successful campiagn with the club in Icelandic League and Continental Cup, while Silvía Rán Björgvinsdóttir, 19,  was awarded among the women for her performances with national team
28 Nov 2018, 12:10 | Mirosław Minkina elected new President of Polish Federation
Former Vice-President Mirosław Minkina is the new President of Poland Ice Hockey Federation. Marta Zawadzka, Marek Matuszewski and Robert Walczak are the Vice Presidents.
Minkina is the third president of PZHL this year. Last February, Dawid Chwałek resigned due the difficult financial situation of the Federation. In mid-March, board member Piotr Demiańczuk, took over the reins before to resign last October 22.
The next election congress will take place in mid-2020.
"The Ministry of Sport's subsidy was incorrectly spent and Presidents Chwałk and Demiańczuk did not hold regular meeting, using the money without consulting the Board. We must repair the actions of my predecessors" said Minkina
26 Nov 2018, 10:19 | Slovak hockey player passed away at 21
Slovak forward Kristián Lunter, 21, was found dead on Sunday evening in unclear circumstances. Product of HKM Zvolen, with an experience in Czech U20 League with Kometa Brno, Lunter played this season for HC Presov in Slovak 1.Liga, with two goals and three assists in 15 games, the last one on Friday
22 Nov 2018, 11:54 | KHL canceled the status of foreign for the Belarusian players
Belarusian players have officially ceased to be considered imports in the KHL.
KHL President Dmitry Chernyshenko said the decision were made last September. But on November 14, Sibir Novosibirsk Belarusian defender Pavel Vorobey was still registered as import in the official gamesheet of the game against Red Star Kunlun
"Belarusian players are not considered imports, but it is necessary to make appropriate changes veru urgently to the regulations to allow them playing without limitations" said earlier this week former KHL President Alexander Medvedev
Yesterday the KHL Board of Directors officially adopted the amend to the regulament
17 Nov 2018, 10:42 | Ukraine named new coach
Ukraine Federation announced the appointment of Andrei Sryubko as new national team head coach. The 43-year-old former Sokil Kyiv player will lead Ukraine at the next World Championship Division IB in Estonia. replacing Alexander Savitsky, who left the position after last World Championship in Lithuania. Sryubko worked as assistant coach at HK Dmitrov and Donbas Donets'k, leading Ukraine U20 last season at World Championship Division IB.
17 Nov 2018, 10:18 | Leonids Tambijevs back in Karaganda
Leonids Tambijevs, 48, is the new head coach of Sary Arka Karaganda. He signed a contract until 2020 returning to the bench of the club he lead in 2014-2015 winning the VHL regular season before losing in playoffs semifinals. Last season won the title with Dinamo St. Petersburg, left last month by mutual agreement. Tambijevs replaces interim coach Dmitri Maximov, back at original task of head coach at HK Temirtau, Sary Arka farm club. Andrejs Banada will be the assistant coach
14 Nov 2018, 16:47 | Marko Kettunen suspended for 4 years
Estonian national team player Marko Kettunen was suspended for four years by IIHF after being found positive to an unspecified prohibited substance during a test at last IHWC Division Ib held in Lithuania last April
Kettunen claimed the traces detected in his blood came from contaminated meat, bur according to the Disciplinary Board he was not able to produce sufficient evidence of this, and that a four-year suspension was still applicable.
The suspension started on 28 May 2018, ending on 27 May 2022.
12 Nov 2018, 19:27 | Colombia triumphs at LaTam Cup
Colombia won the third title of Latam Cup (formerly known as Pan-American Tournament), played in Coral Springs, Florida in the last weekend. Colombia closed tournament with a perfect record, by beating all others participants with big scores, including a 10-0 in the semifinals against newcomer Venezuela and 12-3 in the grand final against Mexico B, previously winner 5-4 in a thriller semifinal against Argentina.
Brazil finished last in the qualifying group with no points.
The previous editions of LaTam Cup were played in Mexico City, under the umbrella of Mexican Federation.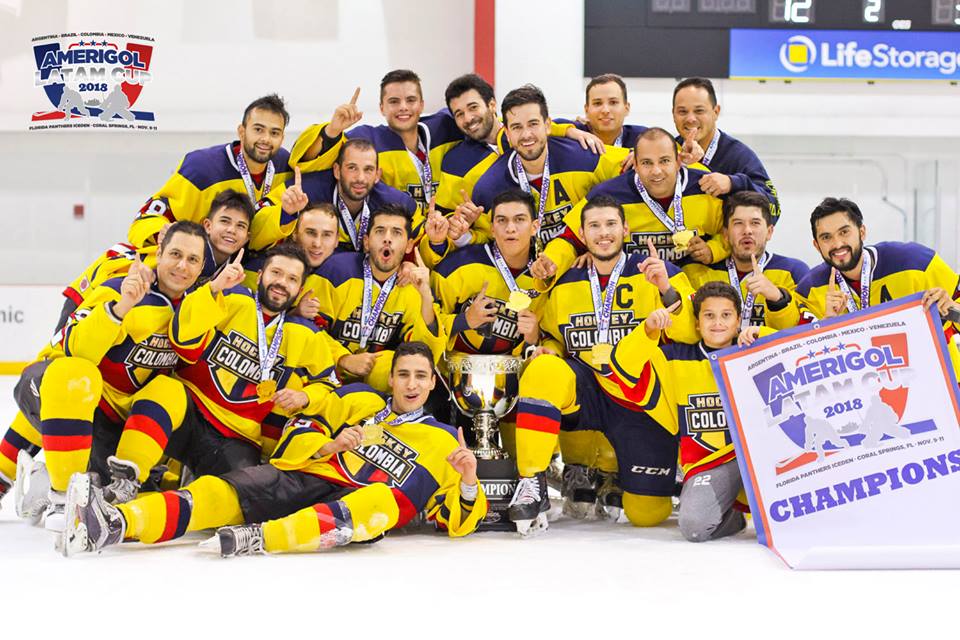 Check all results and rosters on eurohockey LaTam Cup page
11 Nov 2018, 22:02 | Dinamo Minsk changes coaching staff
Dinamo Minsk, last in Western Conference, fired Canadian coach Gordie Dwyer and all the staff:
assistants Sergey Stas, Konstantin Koltsov , goalkeeper coach Andrei Kudin and physical training coach Gennady Lyango.
Current Belarus National Team coach Andrei Sidorenko was appointed as new coach, with Andrei Sidorenko , Andrei Kovalev and Dmitry Kravchenko to complete the coaching staff
09 Nov 2018, 13:27 | Irbis-Skate Sofia win Bulgarian Cup
Current champion Irbis-Skate Sofia won the Bulgarian Cup having finished the first round of the Bulgarian League in first position. It's the third consecutive Cup for Irbis, dominator of national hockey in the last seasons
07 Nov 2018, 11:41 | Metallurg Zhlobin at Baltic Challenge Cup
The Extraliga team Metallurg Zhlobin will represent Belaus at the Baltic Challenge Cup in Vilnius, a tournament part of Euro Ice Hockey Challenge series, held in Lithuanian capital from 8 to 11 November. At first Belarussian Federation indicated a U25 team would participate in the tournament. Metallurg will play in the jersey of the national team of Belarus and will face Lithuania, Japan, Romania, Estonia and Latvia B team.
Cheack all the rosters here
03 Nov 2018, 17:16 | Mulhouse names new coach
HC Mulhouse announces Swedish coach Christer Eriksson will continue to work at club as General Manager, leaving the role of coach to Yorick Treille, 38, one of most representative players of French hockey in the last 2 years. Treille retires immediately as player to start the new career behind the bench. Mulhouse is currently 11th in the standing, with just a victory after 15 rounds of Ligue Magnus
01 Nov 2018, 11:35 | Slovak player Dávid Gáborčík passed away
Twenty-five-year-old Slovak defender David Gáborčík, played in France 2nd Division for Dunkerque Corsaires, passed away last Tuesday in still unknown circumstances. According the local newspaper La Voix du Nord, the player was found lifeless on a sidewalk with a major wound in his head and the evidence suggested that Gaborcik would have made a fatal fall from the third floor of a building, but at the same time the car belonging to the player was found in a canal and Gaborcik clothes were wet.
But according to hokej.sk portal, Gaborcik suffered a car accident in a completely different part of the city. The player was still alive after the crash but died at the hospital for the wounds suffered
The prosecutor's office in Dunkerque, which opened an investigation into the causes of death on Tuesday night said: "We tries to understand. There is no certainty that he has fallen from an apartment. We do not exclude anything until we have a medical answer . For the moment, no track is privileged. All are explored."
25 Oct 2018, 12:13 | Surprises in Coupe de France
The second round of Coupe de France, played between October 23 and 24, left two big surprises: the two major winners of the competition, Rouen Dragons and Grenoble Brûleurs de Loups, were both eliminated: current title holder Lyon HC knocked out Ligue Magnus leader Grenoble by winning 2-1, while Rouen lost 6-3 with 2nd Division team HG Dunkerque. All the others Ligue Magnus teams advanced to third round, except Bordeaux, eliminated by Anglet
24 Oct 2018, 18:55 | Julius Supler left HC Donbas
HC Donbas announced Slovakian Julius Supler resigned due to health problems
Supler returned to Donbas last summer after a previous experience in 2012-2013 when the club played in KHL.
Donbas is currently third in the Ukraine Hockey League standing and last week played in the Continental Cup second round in Riga, missing the qualification after the defeat against home team HK Kurbads
Club's Sports Director Sergey Viter will replace Supler
16 Oct 2018, 15:10 | Dinamo St. Petersburg changes coach
VHL champion Dinamo St. Petersburg annunces club has terminated the contract by mutual consent with coach Leonids Tambijevs. The team is currently 5th in the standing with a 8-5 record. Tambijevs, on Dinamo bench since 2016, will be replaced by former Dynamo Moscow coach Sergei Oreshkin, in the team staff as consultant since last season. Oreshkin will be assisted by Italo-Canadian Ivano Zanatta
15 Oct 2018, 20:21 | Banska Bystrica will host Winter Classic
On days 02 and 03 of February, the city of Banska Bystrica, home of current Extraliga champion team, will host the first ever edition of Winter Classic, the open competition inspired by similar events in Europe and the NHL. The game will take place at the
Štiavnická stadium, with a capacity of 9.881 spectators.
"The program and organizing team is 100% ready to provide an original and unforgettable sporting experience to hockey fans in Slovakia Personally, I want to present the definitive form of the event to the public directly from Banska Bystrica as a host city " said Pro-Hockey Director Richard Lintner
05 Oct 2018, 12:34 | SV Renon retains Supercoppa
A goal by vetarn Dan Tudin after eight seconds in the overtime gives Italian champion SV Renon its 4th Supercoppa, the opening season trophy in Italy. The game, played at Palagorà in Milan, was thrilling, with Milano Rossoblu, debuting in Alps League this season, able to recover twice from 3-1 and 4-3, before the final 5-4 .The final was a rematch of last year's clash, when Renon easily won 8-3. Renon is now the major winner of the trophy along with HC Bolzano

29 Aug 2018, 08:07 | AIHL announces awards
After the end of the regular season, dominated by Canberra Brave, before the semi-finals that will be played Saturday, September 1st, AIHL announced the awards of the season. Surprisingly the Brave won just one award with forward Wehebe Darge named Local Player of the Year. Perth Thunder and Sydney Bears, finished 3rd and 2nd respectively, take all the other prizes:
AIHL Awards:
- Goaltender of the Year: Anthony Kimlin (Sydney Bears)
- Defenceman of the Year: Landon Oslanski (Perth Thunder)
- Most Valuable Player: Pier-Olivier Grandmaison (Perth Thunder)
- Rookie of the Year: Jason McMahon (Perth Thunder)
- Coach of the Year: Ron Kuprowsky (Sydney Bears)
- Skaters Network Local Player of the Year: Wehebe Darge (CBR Brave)
In the semifinals, played in Melbourne, Canberra Braves will face Melbourne Mustangs and Sydney Bears will battle against Perth Thunder for the spots in the grand final, Sunday 2nd of September
25 Aug 2018, 22:39 | Set for JCWC final
Loko Yaroslavl of Russia and HV71 of Sweden will play tomorrow's final of the 2018 Junior Club World Cup.
HV71 knocked out Ottawa Capitals of Canada 4-2 in the first semi final. Loko Yaroslavl then eliminated Austrian Red Bull Salzburg with a comfortable 8-2 win.
18 Aug 2018, 23:17 | JCWC starts in Sochi
On the first day of the 2018 Junior Club World Cup Jokerit of Finland beat Chinese club KRS 5-1. Loko of Russia got a 4-2 win over the Canadian team Ottawa Capitals.
13 Aug 2018, 09:14 | Ziga Jeglich suspended 8 months
The IIHF issued a verdict on the case of Slovenian national team player Ziga Jeglic. He receives an eight-month suspension, until October 20, 2018.
During the Olympics 2018, a fenoterol drug was found in the hockey player's test. The hockey player recognized the violation of the anti-doping rules, and was suspended from the remaining matches of the Slovenian national team. In Korea Jeglich scored one goal. He accepted a voluntary suspension until the date of the final decision
Jeglic played in the KHL last season for Torpedo Nizhny Novgorod and Neftekhimik. After reporting a positive doping test, he left the Nizhnekamsk club.
09 Aug 2018, 17:09 | Ivo Jan will coach Slovenia
Vipiteno Broncos head coach Ivo Jan will coach Slovenia national team keeping his job at the Italian team competing in Alps Hockey League.
Matjaz Kopitar, father of Los Angeles superstar Anze, was originally supposed to coach the Slovenian national team, but he cancelled the contract accepting a scout role at Los Angeles Kings.
The 43-year-old signed a 1+1 year contract, heading Slovenia at the 2019 World Championship Division I in Astana against Belarus, South Korea, Lithuania, Hungary and Kazakhstan
01 Aug 2018, 08:01 | Ilya Vorobyev and Harijs Vitolins awarded
Ilya Vorobyev and Harijs Vitolins, head coach and assistant of Russia national team, were awared by President Vladimir Putin with the Order of Friendship and the Order of Alexander Nevsky respectively "for the successful preparation of athletes who have achieved high sporting achievements at the 2018 Olympic Winter Games in Pyeongchang"
Russian hockey team, competed in Korea under the status of the Olympic athletes from Russia, won gold medals.
The Order of Friendship rewards foreign nationals whose work, deeds and efforts have been aimed at the betterment of relations with the Russian Federation and its people.
The Order of Alexander Nevsky is awarded to citizens of the Russian Federation who have achieved special personal merit in nation-building and for strengthening the international prestige of Russia
01 Aug 2018, 07:44 | Former goalie Yuri Shundrov passed away
Former goalkeeper Yuri Shundrov passed away at 62 as reported by the official website of the Ukrainian Hockey Federation.
Shundrov, born in Penza, Russia, played for 16 years for Sokil Kyiv, winning a bronze medals of the USSR championship and several titles of champion of Ukraine. He closed the career in Romania, with Rapid Bucharest.
With the national team of Ukraine played in four World championships: 1995, 1997, 1998 and 1999, winning the award as best goalie in 1998. He was back in national team as assistant coach in 2007 and 2010
After the retirement, Shundrov worked as goalies' coach at Metallurg Magnitogorsk, CSKA Moscow, Torpedo Ust-Kamenogorsk and until last season at HC Sochi
18 Jul 2018, 10:39 | Sergei Pushkov named Coach of the Year in Belarus
A jury of 51 journalists voted champion Neman Grodno Sergei Pushkov as Coach of the Year in Belarus, for the second consecutive season. The 54-year-old Russian coach preceded Belarus U18 coach Pavel Perepekhin, who lead the national team at the final 8th place at World Championship and current Barys Astana coach Andrei Skabelka.
29 Jun 2018, 22:33 | Yevgeny Rymarev is the Kazakhstan Player of the Year
Kazzin Torpedo Ust-Kamenogorsk captain Yevgeny Rymarev was named Kazakhstan Player of the Year for the 2017-2018 season. Rymarev preceded Avangard Omsk left-winger Semyon Koshelev - who plays with Russian passport - Barys Astana duo Roman Starchenko (winner in 2013 and 2015) and the KHL Top-Scorer Nigel Dawes and the winner of last season, Nomad and Barys forward Nikita Mikhailis
25 Jun 2018, 11:43 | Sergei Ogorodnikov passed away
Former Russian national team player Sergei Ogorodnikov passed away at 32, as a result of injuries after an accident on a water scooter.
Drafted by New York Islanders in 2004, Ogorodnikov played in US in 2006-07 season for Bridgeport Sound Tigers and defunct Pensacola Ice Pilots (ECHL), appearing in 127 games of KHL for CSKA Moscow, Dynamo Moscow, Lada Togliatti, Avtomobilist Yekaterinburg and Metallurg Novokuznetsk with experiences abroad in Belarus (Gomel and Zhlobin), Kazakhstan (Sary Arka)and Poland (Podhale Nowy Targ) last season.
With Russia national team won the gold medal at WJC 18 in 2004 in Belarus, beating 3-2 USA, playing along with Anton Khudobin, Alexander Radulov and Evgeny Malkin and the silver medal at WJC U20 2006
23 Jun 2018, 21:27 | Erste Liga expands to 11 teams
- ersteliga.hu
The Erste Liga has expanded from nine teams during the 2017-18 season to 11 team for the upcoming 2017-18 season. There will be four new teams in the league as Vasas, DEAC, KMH and Gyergyói HK will be additions to the league. The Hungarian Ice Hockey Federations and the league has approved this. MAC Budapest and DVTK Jegesmedvék will be only playing in the Slovak Extraliga, thus the ERSTE Liga will have 11 teams.

Vasas, DEAC, KMH and Gyergyói HK have successfully applied to joining the ERSTE Liga and have the support of the Hungarian Ice Hockey Federation.
The league currently has 13 teams, Corona Brasov Wolves, Dunaújvárosi Acélbikák, DEAC, DVTK Jegesmedvék, Fehérvári Titánok, Ferencvárosi TC, Gyergyói HK, KMH Budapest, MAC Budapest, SC Csíkszereda, UTE, Vasas HC and the Vienna Capitals.
Of these 13 teams MAC Budapest and DVTK Jegesmedvék did not apply to participate in the upcoming season. There were be 11 teams competing for the championship during the 2018-19 season.
06 Jun 2018, 13:58 | Kazakhstan named new coach
Belarussian Andrei Skabelka, 47, was appointed as new coach of Kazakhstan national team, following his sign as new coach of Barys Astana. Last season Skabelka coached Avangard Omsk
28 May 2018, 09:20 | Bat Yam win Israeli League
An hattrick of former Neusser forward Evgeny Kozhevnikov gives HC Bat Yam the title of Israeli League, the third in the history of club, by beating 5-2 Canada Israel Hockey School Metula, at the first final after beating 6-5 SO reigning champion and regular season winner Rishon Le-Zion Ice Devils in the semifinals. Bat Yam won 9-4 the other semifinal against HC Kfar Saba that later forfeited the bronze game. Bat Yam Russian forward Artyom Verny finished as top scorer
22 May 2018, 20:12 | 2018 Rona Cup cancelled
Due to work at the Pavol Demitra Arena, the traditional summer hockey tournament Rona Cup will not be held this year. An important part of the reconstruction will be the replacement of the old cooling technology. Since its beginning in 1994, the Rona Cup was not played only in 2016, again for work at the arena
21 May 2018, 17:05 | Yunost and Shakhtar become farm clubs of Dinamo Minsk
Yunost Minsk and Shakhtar Soligorsk will be both farm-clubs of Dinamo Minsk. The agreement was signed by the General Director of Dinamo Anatoly Kurilets, and the equal role Alexei Torbin (Yunost) and Yuri Budko (Shakhtar).
"Today we have made logical steps that will help further progress of all three teams. We ended the cooperation with Dinamo Maladzyechna that now is becoming an indipendent club.
Now we should give an opportunity to young Belarusian players to prove themselves. Cooperation with the leading clubs of our national championship will allow it to be done with the greatest efficiency" said Kurilets
08 May 2018, 13:38 | Belarus changes Head Coach
After three losses in the opening of the World Championship Belarus changes coach. Sergei Pushkov replaces Dave Lewis.
30 Apr 2018, 12:35 | Tomasz Rutkowski resigned
Tomasz Rutkowski is no longer the Manager of the Polish Ice Hockey Association. 53-year-old resigned with a short notice.
He worked for Polish Federation with various charges, included head coach of U18 and U20 national teams since May 2012.
29 Apr 2018, 21:42 | Donbass will build two arenas in Mariupol
The President of the HC Donbass, Boris Kolesnikov, announced the construction of two ice arenas in Mariupol.
The construction of a full-scale air bearing structure with an ice field of 60x30 meters should begin no later than June 1 and will be completed this year.
The second stage will be the construction of a multisport complex, for approximately 2,000 spectators, to be built at the end of 2019 - early 2020.

"At the age of 8, it is necessary to bring a child to a big hockey and at five years old - to figure skating - these are very early sports" said Boris Kolesnikov
25 Apr 2018, 09:38 | Dubai Mighty Camels won Emirates Hockey League
The iconic Dubai Mighty Camels won the fourth title of Emirates Hockey League, becoming the major winner of the competition, sweeping regular season champion Al Ain Theebs in two games of the final, 7-3 and 8-2. In the semifinals both teams needs 3 games to defeat Abu Dhabi Scorpions and Abu Dhabi Storm respectively.
Al Ain Theebs Russian forward Artur Zainutdinov finished as Top scorer with remarkable 60 points (43+17) in 14 game
23 Apr 2018, 21:14 | Agidel Ufa wins Russian Championship
Agidel Ufa beat Tornado 4-1 to win the Russian Women's Championship for the first time. Agidel won all playoff games - first both semi final games against SKIF and then all three final games against Tornado.
16 Apr 2018, 19:23 | Jesenice again in Slovenia
HDD Jesenice confirms the title of Slovenian League by beating eternal rival HK Olimpija Ljubljana in 4 games of final series, with the decisive 4-1 victory on Olimpija ice, at Tivoli Arena. Since the indipendence of Slovenia, only the two archrivals shared all the titles, with Olimpija leading with 13 victories and HDD Jesenice - the reincarnation of HK Jesenice folded in 2012 due to bankruptcy - with 12.
HK Olimpija Ljubljana forward Crt Snoj finished as Top Scorer with 32 points (10+22) in 14 games
16 Apr 2018, 19:12 | Greece Ice Hockey League 2018 announced
EOXA, the Hellenic Federation for Winter Sports, which is in charge for the sport of ice hockey in Greece announced that the 2018 Greek National Hockey Championship will take place on the following dates:
21-22, April, 2018
28-29 April, 2018
05-06 May, 2018
The games will take place in Athens and Thessaloniki.
10 Apr 2018, 10:27 | SA Vikingar is champion of Iceland
SA Vikingar Akureyri brings back title of Icelandic League after conceding the honour last season to UMFK Esja Reykjavík, now beaten in 3 games of final series 8-5, 5-4ot and 6-2 with a great performance by forward Johann Leifsson, notching 4 goals and 9 assists in the series. Player-coach of SA, Finnish Jussi Sipponen finished as Top Scorer of regular season with 68 (30+38) points
It's title number 20 in the history of club, the most successful in history of Icelandic hockey.
The title also marked the end of the career of Sigurdur Sveinn Sigurdsson, the most representative player of SA and one of the leading figures in the history of Icelandic hockey, who closes his journey in ice hockey with the incredible record of 21 titles in 27 seasons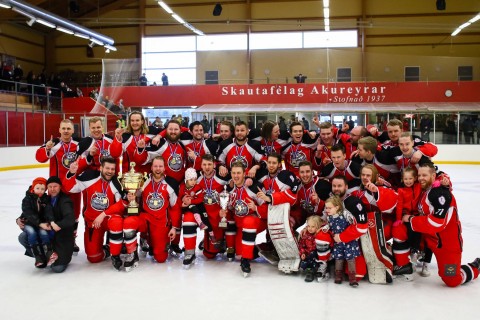 Photo: Icelandic Federation
07 Apr 2018, 16:48 | Neman retains title
Seventh title of Belarus Extraliga for Neman Grodno that defeated arch rival Yunost Minsk after six games in the final series, with a decisive 3-2 at Chizovka Arena in front of 7000 spectators.
"We did a good job. This is the victory of the whole staff, the leadership of the club and the fans." said Russian coach Sergei Pushkov
05 Apr 2018, 21:41 | Sport Club Miercurea Ciuc takes back the title in Romania
Team with the most titles in the 2000s, Sport Club Miercurea Ciuc interrupts a 4-year fast by winnig the 2017-2018 Romanian League by beating 4-3 at overtime in a dramatic game 6 the major rival and reigning champion Corona Brasov. The finals has a uncommon trend with Sport Club, that had easily eliminated Steaua Bucharest in the semifinals, winning 9-7 and 6-5ot first 2 games, losing 2-1ot game 3. The balance was brutally broken in game 4, with Sport Club hammering 10-1 Corona in Brasov, already anticipating the title in front of their fans. But Corona Brasov did a small miracle winning 2-3 game 5 in Miercurea Ciuc, before to surrender to a Csanad Fodor decisive goal tonight.
Traditional Steaua Bucharest closed a very positive season winning bronze series against ambitious Progym Gheorgheni, that announced to submit application to join Erste Liga next season. The biggest disappointment is Dunarea Galati, twice champion 2 seasons ago and with a one-season partecipation to Erste Liga, now sinking in debts and finished 5th, just ahead of eternal last Sportul Studentesc Bucharest, finishing the umpteenth season without winning even one game. Dunarea announced right after the end of regular season that the club very likely won't partecipate in the next season
Veteran Vaclav Novak finished again as top scorer with 63 points (31+32)
02 Apr 2018, 09:06 | Jonathan De Castro named Head Coach of Philippines
Filipino-American Jonathan de Castro is the new Head Coach of Philippines Men's National Team. De Castro, from Long Beach, California, worked as goaltending coach in the New York area, for Long Island Royals and Manhattanville College men and women teams. From last January he worked also as Director of Hockey Development and Director of Player and Coaching Development for the Philippine Hockey Federation. DE Castro will lead Philippines at the Challenge Cup of Asia in Manila from April 3 to 8
29 Mar 2018, 22:47 | Medvescak-2 won IHL
The reserve team of Medvescak Zagreb is the champion of the first edition of IHL - International Hockey League, the multi-national championship including teams from Slovenia, Croatia and Serbia.
The eternal champion of Croatia finished 4th in the regular season, won by Triglav Kranj. In the playoffs eliminated KHL Zagreb in the quarterfinals and same Triglav in the semifinals, when team received reinforcements from EBEL team like goalie Vilim Rosandic and forwards Nik Simsic and Ivan Jankovic. The finals were played against HK Celje that eliminated in 3 dramatic games ambitious Crvena Zvezda Beograd. Medvescak closed the quest with two victories 5-3 and 7-3. Mislav Blagus of KHL Zagreb finished as Top Scorer with 56 points (33+23)
26 Mar 2018, 23:15 | Txuri Urdin retains title in Spain
Txuri Urdin San Sebastian completed a perfect season confirming the title of Liga Nacional alredy won last season by beating in 3 games - 4-3, 7-1 and 7-2 - archrival CH Jaca after dominating regular season and knocking out SAD Majadahonda in the semifinals. Jaca, finished second, eliminated FC Barcelona to reach the final. This is the title number 14 for Txuri, now the the winningest club of the country, having passed Jaca with 13 titles
In December Txuri also won Copa del Rey, the national cup, beating 3-1 Jaca in the final. Czech Pavel Mrňa from champion Txuri finished as Top Scorer with 34 (17+17) points
25 Mar 2018, 16:10 | Title is back to capital in Estonia
HC Viking Tallinn won the 2017-2018 Estonian League by beting in four games - 7-4, 3-2, 5-6ot and 3-2 - of final series Kalev-Välk Tartu bringing back the title to the capital Tallinn after two consecutive leagues won by Narva PSK, this season eliminated in the semifinals by Kalev. Other semifinalist Vipers Tallinn won bronze by beating 6-5 Narva. It's the third title for Viking, the first after the reborn of the club in 2015 following the disbanding of previous incarnation due to economic problems. Alexander Bogdanov of Narva PSK finished as the Top Scorerwith 30 points (17+13)
Photo from HC Viking Facebook page
23 Mar 2018, 16:24 | Energija won Lithuanian League
Third consecutive title of Lithuanian League for Energija Elektrenai, once again dominating the regular season and the playoffs. Energija, competing also in Belarussian Second League, dominated regular season and had a perfect record in the playoffs eliminating Geležinis vilkas Vilnius (7-2 and 8-4) in the semifinals and newcomer Kaunas Hockey in the final series with three victory 10-1 3-2 and 7-0 in the decisive one, with 5 goals by Povilas Verenis. Kaunas made sensation in the regular season by beating 5-4 Energija, the first defeat after an immemorial time for champions.
The Lithuanian League counted this season with 7 teams - along with Kaunas Hockey also Baltija Klaipėda debuted - but Juodupė LRK folded during the season.
Energija forward Danielius Nomanovas finished as top scorer with 52 (21+31) points

22 Mar 2018, 23:36 | Longest KHL game ever
Jokerit beat CSKA in Moscow in the 8th period to stay in the KHL playoffs. Mika Niemi scored the winner at 142:09 but CSKA still leads the series 3-2.
18 Mar 2018, 17:21 | Third title for Zeytinburnu
Third consecutive Super Lig title for Zeytinburnu Istanbul - the second consecutive after finishing season undefeated. After dominating regular season, the team from Istanbul trashed 21-3 and 12-4 newly promoted Buz Korsanlari Istanbul before to beat Erzurum Büyükşehir Belediyesi SK, in a replay of last season finals, in two games 6-3 and 10-2
Champion team Russian forward Vladislav Lomakin was the top scorer with remarkable 104 points (54+50) in 14 games
17 Mar 2018, 19:48 | HK Kurbads confirms title in Latvia
HK Kurbads confirm the title in Latvijas Virslīga by sweeping underdog JLSS Zemgale 4-0 in the series, winning 1-0 game #4 with decisive goal by Gatis Gricinskis. Zemgale made sensation knocking out regular season winner HK Mogo in the semifinals, while Kurbads eliminated HK Liepaja. It's the second title in the history of the club, based outside of Riga.
HK Liepaja Edgars Homjakovs finished as top scorer with 39 points (10+29)
11 Mar 2018, 17:01 | Chinese Taipei U18 and Malaysia win titles in Kuala Lumpur
The Women's Challenge Cup of Asia was played this week in MyNiss Arena in Kuala Lumpur, Malaysia. Chinese Taipei U18 won the elite division after beating Thailand 5-3, New Zealand U18 4-1 and Singapore 12-1.
Malaysia won division one after wins against Philippines 3-1, India 5-0 and United Arab Emirates 5-3.
01 Mar 2018, 10:10 | Reigning champion Gap eliminated
The current Ligue Magnus champion Gap Rapaces was knocked out in the first round of playoffs by Boxers Bordeaux in just 4 games, losing 4-3 game #4. Gap finished third in the regular season and faced 6th seed Bordeaux, being eliminated at quarterfinals after two titles and a semifinals in the last 3 years.
Rouen leading 3-1 against Angers while it's 2-2 in the series between Mulhouse and Grenoble and Amiens and Lyon.
Follow Ligue Magnus playoffs on eurohockey.com !
23 Feb 2018, 22:07 | Milestone for Mikhail Zakharov
In the Belarus League game against Shakhtar Soligorsk (won 7-3) Yunost Minsk coach Mikhail Zakharov celebrated an historic milestone: it was the game number 900 at the head of the team and at the same time also the game 900 in the history of the club: that's right, Zakharov headed the cluib since its foundation in 2003. During this 15 years Zakharov turned a small club in a top team in Belarus and Europe: 7 domestic leagues, 5 Belarus Cups and 3 Continental Cup, the last one won in past January, making Yunost the biggest winner of the plate.
Zakharov also leaded U18 National Team and Belarus at World Championship in 2004 and at the 2010 Olympics in Vancouver
12 Feb 2018, 20:49 | Switzerland beat Norway
Two days before the start of the Olympic Tournament Switzerland beat Norway 4-2 in Goyang. Simon Moser scored two goals within 1:03 in the second period.
12 Feb 2018, 12:18 | Fourth title for Renon/Ritten
SV Renon/Ritten won its fourth Italian championship - the third consecutive - by beating 6-1 Val Pusteria Wolves in the final played at Odegar Arena in Asiago. The Italian League, this season called Italian Hockey League (IHL), was played just by the eight teams competing in the Alps Hockey League with the Alps League games between Italian teams played at the end of December using as a qualification round and a final four played last weekend in Asiago. Renon won 4-3 at overtime against Vipiteno Broncos in the semifinals, while Val Pusteria knocked out 6-4 host Asiago. For the Wolves, still without a title, is the fourth final lost.
11 Feb 2018, 11:43 | U.S. women beat Finland
USA beat Finland 3-1 in the opening game of the A Group of Women's Olympics. Finland took the lead in the final seconds of the first period but USA scored twice in the second and added an empty net goal 13 seconds before the end.
11 Feb 2018, 11:39 | Ukita suspended
Japanese forward Rui Ukita was suspended for one game due to a kicking incident in the last minute of the Women's Olympics game against Sweden.
10 Feb 2018, 18:33 | Müller scores four in Swiss win
Alina Müller scored the first four goals of the game when Switzerland beat Korea 8-0 on the opening day of Women's Olympics.
05 Feb 2018, 23:26 | Jesenice and Olimpija reach final of Slovenian League
Once again the two best teams of the country, HDD Jesenice and HK Olimpija Ljubljana, will battle for the domestic championship, after winning the semifinals series 2-0. Jesenice easily won 4-2 and 5-1 against HK Celje, while Olimpija has a more difficult series against Triglav Kranj, defeated 2-1 and 5-4.
The dates for the finals are still to be determined. The two teams will fight for the title for the fourth consecutive time and the 21th out of 26 editions of Slovenian League. Only Slavija Ljubljana was able to reach the finals besides the two giants, but lost the 5 finals played.
Olimpija has 15 titles, Jesenice 11 (9 as HK Acroni, 2 as the new club HDD Jesenice)
30 Jan 2018, 20:47 | Russia beats Belarus
Kirill Kaprizov scored twice and Pavel Datsyuk added a third goal when Russia beat Belarus 3-0 today in Moscow.
28 Jan 2018, 21:40 | Premiere for Lyon
Lyon HC won the Coupe de France by beating 2-0 Les Rapaces de Gap in front of 11.500 spectators at the AccorHotels Arena in Paris-Bercy. A deflection by Norbert Abramov at 34:37 and an empty goal by Canadian Dave Labrecque at 58:56 give Lyon the first trophy in its history. Latvian goalie Maris Jucers was named MVP of the final.

Crédit : Xavier Lainé / FFHG
20 Jan 2018, 20:15 | DVTK Jegesmedvék Miskolc win Hungarian Cup
Erste Liga champion DVTK Jegesmedvék Miskolc win its second Hungarian Cup, after two consecutive finals lost, by beating 4-0 Ujpest Budapest in the final, played at home rink. DVTK played its sixth final in the last seven editions of the tournament. In the semifinals, DVTK beat easily 5-1 Ferencvarosi, while Ujpest surprisingly won 5-4 at overtime against MAC Budapest, ewinner of last edition
12 Jan 2018, 23:00 | Danish girls promoted
Team Denmark today won the World Women's U18 Championship Div. IB in Katowice, Poland to promote to Division IA after beating France 2-0.
03 Jan 2018, 12:09 | Kosice fired coaches
Due the unsatisfactory results of the team, 4th after 32 rounds of Extraliga, HC Kosice fired coach Milan Jančuška and assistant Jerguš Bača. Marcel Šimurda and Peter Bartoš, both already in the coaching staff, will act as interim coaches
01 Jan 2018, 20:08 | Barys Astana fired coach
Barys Astana fired headcoach Yevgeny Koreshkov, promoted last May after three seasons as assistant coach.
Galym Mambetaliev was appointed as interim coach
01 Jan 2018, 11:57 | World Juniors quarter finals
The World Junior Championship quarter finals will be played on Tuesday:
Czech Republic - Finland
Canada - Switzerland
Sweden - Slovakia
USA - Russia
Belarus and Denmark will play three games to decide who relegates.
31 Dec 2017, 18:56 | Addition to the Czech WJC squad
Czech Republic added the defenseman Frantisek Hrdinka to the World Juniors roster today.
30 Dec 2017, 22:28 | Finland adds forward
Finland added forward Eetu Tuulola to the WJC roster.
26 Dec 2017, 13:24 | Italian Hockey League Elite started today
The Italian teams partecipating at Alps Hockey League started today the battle for qualification at Final Four, scheduled in next February, to assign the Italian title.
The eight teams were splitted in 2 groups, South A and B, with homa and away games scheduled between December 26 and January 6. The games count both for Alps Hockey League and the Serie A, this season called Italian Hockey League Elite. The first two teams for each group will advance to Final Four of February 10-11 to assign the title
Follow the IHL Elite on eurohockey
Group South A: SV Renon/Ritten, HC Val Pusteria/Pustertal, SG Cortina, Fassa Falcons
Group South B B: Asiago Hockey 1935, HC Egna, HC Gherdeina, SSI Vipiteno Broncos
25 Dec 2017, 10:45 | Damir Ryspaev can go back in KHL
According to portal shaiba.kz, the KHL terminated the suspension of Damir Ryspaev imposed after player started a brawl on 08 August 2016 during the a game between his club Barys Astana and the Red Star Kunlun for the Cup of the President of Kazakhstan in Astana. A week later Ryspaev received a lifetime ban from the league. He started the season playing for Nomad Astana, the Barys' satellite club playing in Kazakh League, before to receive the permission to play in VHL, moving to Torpedo Ust-Kamenogorsk where played 7 games
24 Dec 2017, 16:31 | Txuri Urdin win Copa del Rey
Txuri Urdin win Copa del Rey (Spanish National Cup) by beating 3-1 arch-rival CH Jaca in the final played at home in San Sebastian. Two goals on power-play at the begin of last period, scored by Slovak Vladimir Lantos and Czech Pavel Mrna decided the game. The two teams have faced each other for the third year in a row in the final, with Jaca won last season and Txuri two years ago.
With this victory Txuri Urdin sums 11 Cups. Jaca remains the remains the major winner with 15 titles, following by Puigcerdà with 12
23 Dec 2017, 19:46 | HSC Csíkszereda won Romanian Cup
HSC Csíkszereda (SC Miercurea Ciuc) won its ninth Romanian Cup by beating 5-1 major rival Corona Brasov in the final played at Galati. Experienced Russian forward Pyotr Schastlivy scored two goals while compatriot Andrei Taratukhin netted a decisive short-handed goal in the second period.It was the eighth final in the last ten years for Sport Club, defeated last season by Dunarea Galati. Progym Gheorgheni won the bronze defeating 6-5 host Dunarea
20 Dec 2017, 20:16 | Gomel win Belarus Cup
Kazakh forward German Nesterov was the key player for Gomel winning the 2018 Belarus Cup, named after Ruslan Salei. Nesterov scored a goal, seved one assist and netted the decisive shootout in 3-2 epic victory at Ice Palace Grodno in front of 2800 spectators against Cup holder Neman Grodno. The first leg of final ended 2-2. With this victory Gomel award the fifth National Cup, becoming the major winner of the Trophy along with Yunost Minsk, both with 5 titles
17 Dec 2017, 13:58 | Robert Sigurdsson named Icelandic Player of the Year
UMFK Esja forward Robert Sigurdsson was named 2017 Icelandic Player of the Year.
Sigurdsson, 24, after some season in North American minor leagues, played in Iceland since 2014 for Skautafélag Reykjavíkur and from this season for champion UMFK Esja Reykjavík and is Icelandic League top scorer at moment with 46 points (24+22) in 14 games. Sigurdsson is also member of Iceland National Team
Eva María Karvelsdóttir is the Women's Player of the Year
05 Dec 2017, 20:57 | Draw in the first leg of Belarus Cup
In front of 2.800 spectator at Gomel ice arena, home team lets the victory escaped in the first leg of Belarus Cup final against Neman Grodno. Leading 2-0 after 22 minutes, Gomel suffered two goals in 15 seconds at minute 24.for the final 2-2
The second decisive leg will be played at Neman Arena on December20
30 Nov 2017, 09:55 | Zilina replaces coach
31 points after 25 rounds weren't enough for Stanislav Skorvánek to keep his job at Zilina: headcoach was fired by the club and replaced by Czech Petr Rosol.
Rosol, 53, has a long career in Czech Extraliga for Litvinov and Jihlava, with experiences in Italy, Switzerland and Germany. Internationally, he played for Czechoslovakia winning the World Championship in 1985 in Prague and the bronze medal at the 1992 Winter Olympics in Albertville
As coach, Rosol worked at homeland for Usti nad Labem, Ceske Budejovice, and as assistant at Litvínov and in Switzerland at Martigny and EHC Uzwil, his last duty in 2016-17
26 Nov 2017, 12:06 | New coach at Rubin Tyumen
Rubin Tyumen, 17th in the standing, fired headcoach Vladislav Khromykh and one of his assistants Denis Bayev, replacing him with Andrei Kirdyashov, in last two seasons on Sputnik Nizhny Tagil bench. Dmitri Andreyev, who lead team as interim coach for one week, and Rashid Galimzhanov will be the asssitants
26 Nov 2017, 11:35 | Dunarea Galati announced new coach
After the resignation of Cornel Chiriţă at the beginning of November and the interim period of GM Mihai Brandabur, Dunarea Galati announced the appointment of Cristi Munteanu as new coach. Former Dunarea player, Munteanu, 43, coached U18 team last season and was assistant coach of Romania women national team
22 Oct 2017, 16:02 | Tough weekend for Sportul
Even though Sportul Studentesc Bucharest is used to defeats, living in a perennial place at bottom of Romanian League, this weekend was to remember: opposed to Erste Liga team Sport Club Miercurea Ciuc, the amateur team lost 30-1 on friday, with a total of 67 shots on goal faced by two goalies Rares Bularca and Stan Stefan. On Sport Club side, Radim Valchar (6+6) and Zoltan Sandor (5+2) were the top scorer.
On Saturday, in the replay, a loss for "just" 19-0.
In ten games of the league, of course all lost, included a 25-2 against Dunarea and a combo 22-0 and 20-0 against Progym, Sportul already suffered 195 goals, scoring just 10.
19 Oct 2017, 21:48 | Israel League started
Israel League started this week with a spectacular game between Raanana Hitman and HC Bat Yam, decided by a power play goal at minute 57 by Joshua Greenberg. For Raanana weren't enough 4 goals by Eli Tilson for the 5-6 final score.
Silver medalist Kfar Saba Horses will debut againstNes Ziona Dragon
2017-2018 Israel League alligns 10 teams, with the newly formed Holon Ninjas replacing HC Metula.
As usual eurohockey will follow all the games of Israel League with gamesheets, rosters and stat
15 Oct 2017, 00:17 | Slovenian Cup stats available
THe complete statistics for 2017 Slovenian Cup, played in September in Celje, are now available on eurohockey, don't miss the last episode of eternal rivalry between Jesenice and Olimpija
14 Oct 2017, 10:10 | Sputnik replaces coach
After 12 rounds without a victory and no points in the standing, coach Alexander Rozhkov left the bench of Sputnik Nizhny Tagil. Club replaces him with current assistant coach Sergei Lopushansky
12 Oct 2017, 12:46 | Ratushny replaced as Lausanne head coach
Despite an 8:4 derby win against Servette Geneve the previous day, Lausanne HC have relieved head coach Dan Ratushny of his duties on Wednesday. The club from Switzerland's NLA has named Yves Sarault, one of Ratushny's assistants and head coach of the club's U18 team as his replacement for the next games.
06 Oct 2017, 21:59 | Detva fires coach
With just one point after nine rounds of Extraliga, newly promoted HC 07 Detva decided to fire coach Miroslav Chudý, replacing him with current assistant Dušan Kapusta, who will be assisted by Tomáš Chlebničan.
"We are dissatisfied with the results, we cannot replace 25 players, but we had to do something," said the club Chairman Róbert Ľupták.
06 Oct 2017, 14:37 | Two IIHF tournaments moved to a new venue
- iihf.com
Two IIHF Ice Hockey World Championship events got a new venue following approval by the 2017 IIHF Semi-Annual Congress.
The 2018 IIHF Ice Hockey World Championship Division III Qualification will take place in Sarajevo, the capital of Bosnia & Herzegovina that hosted the 1984 Olympic Winter Games, from 25th to 28th February 2018. Earlier the original host United Arab Emirates had withdrawn their application.
The lowest tier in the men's senior World Championship category includes the United Arab Emirates, Bosnia & Herzegovina as well as the two newcomers Kuwait and Turkmenistan.
The 2018 IIHF Ice Hockey Women's World Championship Division I Group A that was previously awarded to France got a new venue within the country. The event will now take place in the French Alps in Vaujany.
Austria, Norway, Denmark, Hungary, France and Slovakia will play at the six-team event from 8th to 14th April. The winner will be promoted to the top division of the 2019 IIHF Ice Hockey Women's World Championship in Finland, which will be the first to be played with ten teams.
30 Sep 2017, 12:53 | New President for Japan Federation
Japan Hockey Federation announces Akihisa Mizuno as new President, during the last General meetings.
Mizuno, 64, previously worked for various companies in Japan and US and for the World Bank.
Former player Tsutomu Hanzawa was appointed as the new General Secretary.
30 Sep 2017, 12:44 | Games cancelled in Lyon
The Magnus Ligue game between Lyon and Epinal was stopped after first period due a failure of refrigeration machinery. The club announced also the next game versus Strasbourg, scheduled for Sunday, was cancelled assuring ensuring they are doing everything they can to fix the failure as soon as possible
27 Sep 2017, 10:56 | Neman and Gomel are the finalists of Belarus Cup
Despite two defeats in 2nd leg of semifinals, Cup holder Neman Grodno and HK Gomel are the finalists of 2017 Belarus Cup, named after Ruslan Salei.
In a replay of last season Cup and league finals, Neman knocked out rival Yunost Minsk, winning 6-4 in Minsk and loosing 1-2 at home.
An opening goal by Edijs Brahmanis was enough for Gomel to secure the pass for the final, despite the 3-1 defeat against Dinamo Maladzyechna, thanks to the 3-0 victory in the first leg.
The date of final is TBD
HK Gomel won the national Cup 4 times, the lasty in 2013; Neman has two titles, in 2015 and 2017
24 Sep 2017, 11:52 | Round 2 of Spanish League
Positive debut for champion Txuri in the 2nd round of Spanish League. Jaca won a real battle in Puigcerdà at overtime after a total of 271 PIM !
Follow the Spanish League on eurohockey


27 Aug 2017, 15:33 | Belarus Cup semifinals set
After the last game, won by Dinamo Maladzyechna against Yunost Minsk, the semifinals of Belarus Cup are known with the first two teams from each of two groups qualified: HC Dinamo Maladzyechna, winner of Group A, will play with Gomel, while Neman Grodno will face Yunost Minsk. The dates of two legs of semifinals are to be determined
25 Aug 2017, 18:43 | Games of the day: 24 August
Games of the day: 24 august: click here
24 Aug 2017, 14:41 | Games of the day: 23 August
Games of the day: 23 August: click here
23 Aug 2017, 21:15 | Slovakia beats Czech Republic
Slovakia beat Czech Republic 2-0 in Trinec today. Matej Paulovic scored 1-0 in the first period and Patrik Svitana added an empty net goal towards the end.
23 Aug 2017, 11:18 | Games of the day: 22 August
Games of the day, 22 August: click here
22 Aug 2017, 20:25 | Junior Club World Cup quarter finals
The group stage of the JCWC in Yekaterinburg ended today. The quarter finals will be played on Thursday: Avto Yekaterinburg - MODO Hockey, Red Army Moscow - Jokerit, HC Davos - HC Ocelari Trinec and Snow Leopards Astana - HK Riga.
22 Aug 2017, 11:29 | Games of the day: 20-21 August
Games of the day: 20 August, click here
Games of the day: 21 August, click here
20 Aug 2017, 19:32 | Germany and Russia U16 winners
U16 National team games have been played this weekend. Germany won a tournament in Kitzbühel with victories over Switzerland Red 7-3, Austria 10-4 and Switzerland White 9-1.
Slovakia and Russia played three games in Ruzinov. Russia wan all three: 6-0, 11-2, and 6-1.
20 Aug 2017, 19:08 | Swiss women win in Albertville
This week Switzerland won the 3-nations tournament with France and South Korea in Albertville.
Results: South Korea - France 1-2, Switzerland - France 2-1 OT, Switzerland - South Korea 2-1 OT, France - South Korea 5-4 OT, France - Switzerland 0-4 and South Korea - Switzerland 2-5.
20 Aug 2017, 14:19 | 2017 Southeast Asian Games starts
The 2017 Southeast Asian Games started today in Kuala Lumpur. In the opening game Malaysia beat Indonesia 10-3.
19 Aug 2017, 12:07 | Games of the day: 18 August
Games of the day: 18 August: click here
18 Aug 2017, 10:24 | Games of the day: 17 August
Games of the day: 17 August: click here
16 Aug 2017, 23:20 | Games of the day: 16 August
GAmes of the day: 16 August - click here
15 Aug 2017, 23:07 | Games of the day: 15 August
Games of the day: 15 August click here
15 Aug 2017, 11:57 | Games of the day: 14 August
GAme of the day, 14 August: click here
13 Aug 2017, 16:00 | Finland beat Russia
Finland won the last game of three between the Under-17 teams of Finland and Russia in Vierumäki 2-1.
Finland also won game one 3-1 while Russia won the second game 4-3.
13 Aug 2017, 15:00 | World Championship schedule
The 2018 World Championship schedule is now available here. The tournament is played in Denmark May 4-20.
13 Aug 2017, 10:26 | Regular season ends in New Zealand
The regular season of the NZIHL ended today. Southern Stampede finished on top before West Auckland Admirals. The two will play in the best-of-3 finals on August 19, 25 and 26.
12 Aug 2017, 00:32 | Games of the day: 11 August
Games of day 11 August: click here
11 Aug 2017, 12:45 | Games of the day: 10 August
Games of the day for 10 August: click here
09 Aug 2017, 00:19 | Games of the day: 08 August
GAmes of the day: click here
07 Aug 2017, 22:31 | Big wins on Ivan Hlinka Memorial opening day
Three of the four games on the first day of Ivan Hlinka Memorial in Breclav, Czech Republic and Bratislava, Slovakia ended with big wins. First Lukas Wernblom and Samuel Fagemo scored two goals each when Sweden beat USA 6-1 in Breclav. In the second game in Breclav Czech Republic beat Switzerland 6-2 after two goals by Jan Jenik and two by Jakub Lauko.
In Bratislava Ruslan Iskhatov scored the winner when Russia beat Canada 4-3 after a shootout. Rasmus Kupari had two goals and three assists when Finland got an easy 6-1 win over Slovakia.
06 Aug 2017, 20:34 | Games of the day: 06 August
Sochi Open: HC Sochi - Canada Oly. team 0-1
Sochi Open: SKA St. Petersburg - Metallurg Magnitogorsk 4-2
Tarasov mem.: Molot-Prikamie Perm - Toros Neftekamsk 2-3
Tarasov mem.: Izhstal Izhevsk - Neftyanik Almetyevsk 1-2OT
N.N. Gov. Cup: Ak Bars Kazan - Spartak Moskva 2-1 OT
N.N. Gov. Cup: Torpedo Nizhny Novgorod - Avtomobilist Yekaterinburg 4-3
Pres. of Kazakh. Cup: Neftekhimik Nizhnekamsk - Traktor Chelyabinsk 5-4 OT
Pres. of Kazakh. Cup: Avangard Omsk - HC Admiral Vladivostok 4-5 OT
Pres. of Kazakh. Cup: Barys Astana - HC Davos 4-2
Mountfield Cup: Mountfield HK - HC Dynamo Pardubice 2-1 OT
Kulager Petropavlovsk - Gornyak Rudny 3-0
Fischtown Pinguins Bremerhaven - Grizzlys Wolfsburg 1-2
06 Aug 2017, 20:28 | Santino Pellegrino left Chamonix
Announced as new coach of Chamonix Pioniers at the end of July, Italo-Canadian coach Santino Pellegrino left the team citing familiar reasons.
Chamonix is now looking for a new coach
06 Aug 2017, 14:46 | Games of the day: 05 August
Games of August 5: click here
05 Aug 2017, 00:43 | Games of the day: 04 August
Games of the day: click here
03 Aug 2017, 22:38 | Games of the day: 03 August
Altai Torpedo Ust-Kamenogorsk - HK Astana 3-1
Belarus U17 - BFSO Dinamo 4-5 SO
HK Nitra - Sary Arka Karaganda 0-7
Belarus U20 - HK Mogilev 5-1
Parishev mem: Chelmet Chelyabinsk - Arlan Kokshetau 2-5
Parishev mem: Zauralie Kurgan - Rubin Tyumen 4-1
N.N. Gov. Cup: Ak Bars Kazan - Salavat Yulayev Ufa 4-3
N.N. Gov. Cup: Avtomobilist Yekaterinburg - Spartak Moskva 3-2 SO
HC Olomouc - HC Ocelari Trinec 2-4
HK Gomel - Metallurg Zhlobin 6-2
Dinamo Maladzyechna - HK Lida 5-3
Piráti Chomutov - Bili Tygri Liberec 1-6
HC Skoda Plzen - BK Mladá Boleslav 1-4
HC Slavia Praha - HC Benátky nad Jizerou 4-1
Mountfield Cup: Mountfield HK - HC Sparta Praha 3-2 SO
HC´05 Banská Bystrica - Comarch Cracovia 9-4
HC Kometa Group - HC Slovan Bratislava 3-0
HC Vitkovice Steel - Orli Znojmo 4-3
HK SKP Poprad - HKm Zvolen 6-1
HK Tambov - HK Ryazan 3-0
Pelicans Lahti - Severstal Cherepovets 3-6
National Teams

USA U18 - Hungary U20 4-2
Slovakia U18 - Belarus U18 1-4
02 Aug 2017, 23:15 | Games of the day: 02 August
Altai Torpedo Ust-Kamenogorsk - HK Astana 2-3
Dizel Penza - HK Sarov 5-2
WJSS Canada U20 - Finland U20 6-5 OT
Parishev mem: Rubin Tyumen - Chelmet Chelyabinsk 4-0
Parishev mem: Zauralie Kurgan - Arlan Kokshetau 1-2
N.N. Gov. Cup: Metallurg Novokuznetsk - Avtomobilist Yekaterinburg 1-3
N.N. Gov. Cup: Torpedo Nizhny Novgorod - Ak Bars Kazan 3-1
Nomad Astana - Kulager Petropavlovsk 4-0
HC Slovan Bratislava - PSG Zlin 4-6
Mountfield Cup: HC Sparta Praha - South Korea 1-2 OT
HC ZUBR Přerov - SK Horácká Slavia Třebíč 3-0
Lokomotiv Yaroslavl - Amur Khabarovsk 3-1
Comarch Cracovia - Unia Oświecim 4:1
02 Aug 2017, 12:36 | Games of the day: 01 August
Dinamo Maladzyechna - HC Torpedo Ust-Kamenogorsk 3-5
Sary Arka Karaganda - MHK 32 Liptovsky Mikulas 5-1
Lada Togliatti - SKA Neva 3-1
Dizel Penza - HK Sarov 3-2 OT
Neftyanik Almetyevsk - Bars Kazan 3-0
N.N. Gov. Cup: Ak Bars Kazan - Avtomobilist Yekaterinburg 4-3 OT
N.N. Gov. Cup : Metallurg Novokuznetsk - Spartak Moskva 1-5
N.N. Gov. Cup: Torpedo Nizhny Novgorod - Salavat Yulayev Ufa 0-3
Parishev mem.: Rubin Tyumen - Arlan Kokshetau 3-4
Parishev mem.: Zauralie Kurgan - Chelmet Chelyabinsk 3-1
USA White - Canada Red 8-2
Vityaz Podolsk - Italy 5-0
HC Kosice - HK SKP Poprad 1-2
USA Blue - Canada White 1-2
31 Jul 2017, 23:04 | Games of the day: 31 July
Jokerit - SKA St. Petersburg 1-4
Vityaz Podolsk - Italy 9-0
30 Jul 2017, 22:47 | Switzerland wins U20 Summer Challenge in Zilina
Switzerland won all of their three games at the U20 Summer Challenge in Zilina, Slovakia this weekend.
In the first game six different players scored for the Swiss team when Czech Republic was beaten 6-3. Switzerland had six scorers also in game two when they needed a shootout to defeat Germany 6-5. Philipp Kurashev scored twice in the third game when the tournament win was secured with a 4-2 win over the home team Slovakia.
Czech Republic beat Slovakia 2-1 (OT) and Germany 3-1 to finish second. Slovakia got the third place as they had beaten the German team 7-5 on the opening day.
Slovakia's Marian Studenic was the tournament's top scorer with three goals and two assists.
30 Jul 2017, 22:42 | Sweden beat Korea twice
The Swedish women's team visited Korea for two games in Gangneung. Sweden won the first game 3-0 and the second 4-1.
30 Jul 2017, 22:17 | Games of the day: 30 July
Yunost Minsk - Lokomotiv Yaroslavl 1-7
CSKA Moskva - Sibir Novosibirsk 5-2
HC Red Star Kunlun - Severstal Cherepovets 3-0
HC Admiral Vladivostok - South Korea 3-2
U20 4-nat Zilina: Czech Republic U20 - Germany U20 3-1
U20 4-nat Zilina: Slovakia U20 - Switzerland U20 2-4
29 Jul 2017, 22:51 | Games of the day: 29 July
Minsk Cup 5h place final: Dinamo Minsk - Dinamo Riga 4-0
Minsk Cup bronze: Yunost Minsk - Yugra Khanty-Mansiysk 1-4
Minsk Cup gold: Lokomotiv Yaroslavl - Dynamo Moskva 3-1
HK Temirtau - Nomad Astana 1-2
HC Torpedo Ust-Kamenogorsk - HK Gomel 4-5 SO
HK Tambov - Kristall Saratov 8-2
HC Sochi - Metallurg Novokuznetsk 4-0
Zvezda Chekhov - Khimik Voskresensk 5-2
Grodno tourn.: Dinamo St. Petersburg - Shakhtar Soligorsk 1-2
Grodno tourn.: Neman Grodno - Beybarys Atyrau 2-4
Yuzhny Ural Orsk - Gornyak Uchaly 2-4
U20 4-nat Zilina: Germany U20 - Switzerland U20 5-6 SO
U20 4-nat Zilina: Slovakia U20 - Czech Republic U20 1-2 OT
Metallurg Magnitogorsk - Vityaz Podolsk 5-2
CSKA Moskva - Sibir Novosibirsk 4-0
HC Dynamo Pardubice - Avtomobilist Yekaterinburg 2-0
Avangard Omsk - Italy 3-2 OT
HC Admiral Vladivostok - South Korea 5-3
Women
South Korea - Sweden 1-4
29 Jul 2017, 09:08 | Games of the day: 28 July
Kostyuchenko mem.: BFSO Dinamo - Junior Minsk 1-4
Kostyuchenko mem.: MHK Spartak Moscow - HK Gomel-2 2-4
MsHK Garmin Zilina - Sary Arka Karaganda 1-4
HK Temirtau - Nomad Astana 2-1 SO
Traktor Chelyabinsk - Severstal Cherepovets 1-3
4-nations Zilina: Switzerland U20 - Czech Republic U20 6-3
Grodno tourn.: Beybarys Atyrau - Shakhtar Soligorsk 4-3
Minsk Cup Dinamo Riga - Yugra Khanty-Mansiysk 2-3 SO
Ak Bars Kazan - Neftekhimik Nizhnekamsk 3-4 SO
Chelmet Chelyabinsk - Zauralie Kurgan 1-4
Piráti Chomutov - Avtomobilist Yekaterinburg 4-3 SO
4-nations Zilina: Slovakia U20- Germany U20 7-5
HK Tambov - Kristall Saratov 5-1
Toros Neftekamsk - Lada Togliatti 5-4 SO
Jokerit - HC Red Star Kunlun 2-3
Yuzhny Ural Orsk - Gornyak Uchaly 6-1
Minsk Cup: Yunost Minsk - Dynamo Moskva 4-5 OT
Grodno tourn.: Dinamo St. Petersburg - Neman Grodno 6-0
Women:
South Korea - Sweden 0-3
27 Jul 2017, 20:13 | Games of the day: 27 July
Snow Leopards Astana - Altai Torpedo Ust-Kamenogorsk 3-2
Belarus U18 - Neman Grodno-2 5-3
MHK Dubnica nad Váhom - Sary Arka Karaganda 1-6
Sputnik Nizhny Tagil - Avto Yekaterinburg 3-4 SO
Minsk Cup: Yunost Minsk - Dinamo Minsk 5-2
Grodno Tourn.: Dinamo St. Petersburg - Beybarys Atyrau 3-1
HK Lida - HC Torpedo Ust-Kamenogorsk 1-6
Khimik Voskresensk - Zvezda Chekhov 2-0
Spartak Moskva - Torpedo Nizhny Novgorod 2-1
Avangard Omsk - Vityaz Podolsk 1-3
Russia U18 - Red Army Moscow 7-1
Grodno Tourn.: Neman Grodno - Shakhtar Soligorsk 2-3
Minsk Cup: Yugra Khanty-Mansiysk - Lokomotiv Yaroslavl 2-3 OT
HK Mogilev - MHK Dinamo St. Petersburg 2-3
Metallurg Zhlobin - HK Gomel 3-4 SO
27 Jul 2017, 13:57 | Games of the day: 26 July
Snow Leopards Astana - Altai Torpedo Ust-Kamenogorsk 4-1
Toros Neftekamsk - Lada Togliatti 1-3
Neftyanik Almetyevsk - Ak Bars Kazan 2-3 OT
Minsk Cup: Lokomotiv Yaroslavl - Dinamo Riga 3-1
Minsk Cup: Dinamo Minsk - Dynamo Moskva 3-6
Gornyak Uchaly - HC Zvezda Chebarkul 5-4
26 Jul 2017, 19:10 | Games of the day: 25 July

Switzerland U18 - Czech Republic U!8 3-4
Finland U20 - Czech Republic U29 4-3
HC Slovan Bratislava - Spartak Moskva 3-2 SO
24 Jul 2017, 01:07 | Games of the day: 23 July
@ Minsk: Neman Grodno - Yugra Khanty-Mansiysk 3-2
23 Jul 2017, 15:08 | Games of the day: 22 July
HK Temirtau - Snow Leopards Astana 5-0
HK Gomel - Dinamo St. Petersburg 3-4 SO
HK Lida - Beybarys Atyrau 0-5
Switzerland U17 - Czech Republic U17 2-5
Nomad Astana - Arlan Kokshetau 3-2
22 Jul 2017, 17:01 | AHL releases players to go to Pyeongchang
Unlike the NHL, American Hockey League announced players with a contract in the league will be eligible to play in the 2018 Winter Olympics even if the schedule does not have an Olympic break.
Players could only be loaned for Olympic participation from February 5-26.
"I would guess we're going to lose a fair number of players," said AHL CEO David Andrews "Not just to Canada and the U.S., but we're going to lose some players to other teams, as well. But we're used to that. Every team in our league has usually got two or three guys who are on recalls to the NHL, so it's not going to really change our competitive integrity or anything else."
22 Jul 2017, 16:16 | Dijon relegated in Division 2, Chamonix back in Magnus
After the validation od Financial Commission of Magnus Ligue, Les Ducs de Dijon lost their licence for playing in Magnus Ligue and the club didn't submit neither guarantees to play in Division 1, so the Federation decided to demote the club in Division 2, the third level of French hockey.
Chamonix, relegated after the last season, is bring back in Magnus even if without the fusion with Morzine-Avoriaze, that will compete in Division 3.
Cergy-Pontoise will replace Chamonix in Division 1
20 Jul 2017, 23:19 | Games of the day: 20 July
@ Minsk (Minsk Cup):Yugra Khanty-Mansiysk - Neman Grodno 4-3 SO
@ Raubichi (BLR): Yunost Minsk - Dinamo Maladzyechna 0-4
HC Dynamo Pardubice - HC Slovan Bratislava 5-2
14 Jul 2017, 23:43 | New hockey season started today
Almost three months after the KHL finals, the hockey season in Russia re-started today with the first friendly game of the summer: in Astana, Kazakhstan, local KHL team Barys lost 2-6 against Torpedo Ust-Kamenogorsk.
As every silly season, follow all the preparation games and tournaments on pre-season games page on Eurohockey
13 Jul 2017, 15:12 | Slovenia Federation launches new league
The Slovenian Federation, in partnership with Croatian and Serbian counterparts, launched the calendar of a new trans-national league called IHL - International Hockey League, starting from September after the positive partecipation of Croatian and Serbian teams in the last two editions of Slovenian League.
10 teams will partecipate, 5 from Slovenia - HK Slavija Ljubljana, HK ECE Celje, HK Triglav, HK MK Bled and HDK Maribor - 3 from Croatia - KHL Medveščak Zagreb 2, KHL Mladost Zagreb and KHL Zagreb - and two from Serbia - Crvena Zvezda Beogrand and HK Vojvodina Novi Sad.
After a home/away round robin and a round more according to the standing, the first eight teams advance to playoffs. A maximum of 5 imports are allowed.
12 Jul 2017, 18:40 | Kazakhstan Cup calendar unveiled
Kazakhstan Federation published the calendar of Kazakhstan Cup 2017, held in the cities of Pavlodar (Group A) and Kokshetau (Group B). The ten partecipants will compete in two groups from 19 to 24 August and the winner of each group will play the final at Kokshetau Arena August,27.
Last season Kulager Petropavlovsk won the trophy by beating 2-1 Ertis Pavlodar in the final
29 Jun 2017, 19:22 | Miroslav Šatan named new GM of Slovakia
Miroslav Šatan is the new GM of Slovakia national team. The former hockey player signed a one-year contract with an option for the next one.
"I am glad that Miro has agreed with our offer. We believe that this is the best opportunity for Slovak hockey" said President Martin Kohút.
17 Jun 2017, 00:26 | Crvena Zvezda will compete in Belarus Cup
The calendar of 2017 Belarus Cup, named after hockey legend Ruslan Salei, was unveiled with a unexpected news: Serbian team Crvena Zvezda Beograd will compete in the Cup as host team, without the right to eventually advance to final. Serbian team, with Belarusian Igor Krivoshlykov in the coaching staff, will spend pre-season training camp in the city of Kobrin, successfully asking to the Belarus Federation to compete in a tournament as part of preparation for the new season, according to the rumours, in the newly created International Hockey League with Slovenian, Croatian and Serbian teams
As usual the teams are divided in two groups, with the top two teams in each group advancing to semifinals.
Last year Neman Grodno, later also Extraliga champion, won the Cup beating Yunost Minsk in the final
16 Jun 2017, 23:24 | New format for Belarus leagues in 2018
Belarusian Extraliga will change format at the end of 2017-2018 season: the clubs finished from 9th to 12th place at the end of upcoming season will perform in the new created Extraliga-2 from 2018-19 season. To complete the partecipants, four new clubs will be created at the end of next season in the cities of Bobruisk, Orsha, Baranovichi and Pinsk.
12 Jun 2017, 09:45 | Pittsburgh wins Stanley Cup
Swedes Patric Hörnqvist and Carl Hagelin scored late goals when Pittsburgh Penguins beat Nashville Predators 2-0 in game 6 to win Stanley Cup for the second year in a row - and fifth time overall.
20 May 2017, 11:51 | Bobby Robins is the new coach of CH Jaca
American Bobby Robins, 35, is the new head coach of CH Jaca, silver medallist of last Spanish League. Robins played most of his career in AHL, with two stints in Europe, at Belfast Giants and HK Jesenice. In 2014, Robins debuted in NHL with the Boston Bruins, becoming the oldest rookie to make an opening-day roster at 32-years-old.
He retired after 2014-2015 due to concussion.
18 May 2017, 16:18 | Re-vamp of UK hockey
From next season the second tier of UK hockey will be the National Ice Hockey League. This was originally the third tier of hockey but the old English Premier League has had to be re-structured and it was felt that the best thing to do would be to invite the current clubs in that league to join the NIHL.
18 May 2017, 13:12 | Valentin Ebert suddenly passed away
The Belarusian hockey mourns the loss of former player Valentin Ebert, passed away in Novopolotsk after a brief illness. During his active career Ebert, 36, played 668 games in the Belarusian Extraliga, notching 163 points (43+120), placing him among the top ten players in the 25-year history of the domestic championship. He won two titles (2002,2004), six silver medals (2000, 2001, 2006, 2007, 2014, 2015) and two bronze (2005, 2008) playing for HK Minsk, Khimvolokno Mogilev, Keramin Minsk, Vitebsk, Yunost Minsk,Dynamo Minsk and in the last five seasons in Khimik-SKA Novopolotsk, where Ebert closed his career and become General Manager of the team
Eurohockey expresses its condolences to his family.
07 May 2017, 16:26 | AIHL game suspended due to fire in the arena
AIHL game between the Sydney Bears and the Melbourne Ice at Macquarie Ice Rink was stopped during the first intermission due to a small fire in the overhead speaker system that caused the venue to be evacuated.
The AIHL is looking in to rescheduling the fixture
29 Apr 2017, 10:48 | Kuwait Stars won Kuwait League
Dominating the season with one defeat in 21 games, Kuwait Stars won Kuwait Ice Hockey League with Stars player-coach Serbian Bojan Zidarevic finished as top scorer with 50 points (27+23). Zidarevic is also assistant coach of Kuwait National team, lead by his brother Marko, recently champion of Asia Challenge Cup Division 1
26 Apr 2017, 17:23 | Tarandos Athens win Greek League
Tarandos Athens win the 2016-17 Greek League, back in action after 3 years of absence and after the Hellenic Federation of Winter Sports incorporates icehockey following the closure of Hellenic Ice Sports Federation in 2014.
Tarandos Athens and Ice Guardian Thessaloniki finished both with 15 points and the titles was assigned to Athens team for the better goals difference in head to head matches.
Tarandos won also the newly created Junior League
08 Apr 2017, 21:15 | IHWC Division III without Bosnia
Bosnia and Herzegovina won't travel to Sofia to compete in IHWC Division III, scheduled 10-16 April.
Because of the short notice in communication, tournament format won't change and all Bosnia games will count as forfeited.
The other teams will be divided in two groups with cross-over semi-finals and placement games.
Bulgaria, Chinese Taipei and Hong Kong will play in Group A and Georgia, Luxembourg, South Africa and the United Arab Emirates in Group B.

08 Apr 2017, 20:17 | New champion in Serbia
After 11 consecutive titles by Partizan Beograd, Serbian hockey celebrated a new champion: the new team HK Beograd, created by the federation before the season to compete in MOL Liga, was crowned champion of Serbian League after eliminating Partizan - struggle with economic problems and finished 3d out of four in regular season -  in semifinals and Crvena Zvezda in two games of finals 7-2 and 2-1. Vojvodina Novi Sad takes the bronze winning 7-1 Partizan. Crvena Russian forward Alexander Zubritsky finished as top scorer
08 Apr 2017, 20:02 | Medvescak continue to dominate domestic league
Medvescak Zagreb win the 9th consecutive tilte of Croatian League, the 24th in the history of club, by beating once again traditional rival KHL Mladost Zagreb in three games: after a battiling game #1, won 3-2 at overtime, Medvescak trashed opponents 12-1 and 10-2, alligning some of the KHL players.
As in last season, the games played between Croatian teams partecipating in Slovenian league - KHL Mladost, Medvescak and KHL Zagreb - counts also for Croatian League regular season. KHL Sisak, still without an indoor rink, played just against the three teams from Zagreb. Medvescak defender Domen Vedlin finished as top scorer
08 Apr 2017, 18:44 | Macau Aces win first title in Hong Kong
- cihl.com
The Macau Aces held off the Hong Kong Tycoons to become the 2016-2017 CIHL Quam Cup Champions after reaching the finals for the first time.
Jeff Ceccacci (1g, 2a), Whitney Olsen (2g), and Stefan Northman (1g, 1a) helped the Aces build a 5-1 lead, only to see it erased as the Tycoons netted three consecutive goals to make it a 5-4 game with under one minute left to play.
Time expired before the Tycoons could complete the comeback and the Aces celebrated in joy as they raised the Quam Cup
03 Apr 2017, 21:23 | Sweden beats Hungary
Sweden beat Hungary 4-0 in Budapest tonight. Goals by Richard Gynge, John Norman, Emil Pettersson and Pär Lindholm.
29 Mar 2017, 19:28 | Martin Lacroix named head coach of Romania
Some days after having led Corona Brasov to the national title, Canadian Martin Lacroix accepted the position of headcoach of Romania national team for the upcoming IHWC Division II A, held in Galati from 03 to 09 April, where Romania, relegated from Division Ib last year, will battle for the promotion with Australia, Belgium, Iceland, Spain and Serbia
Dunarea Galati and Steaua Bucharest coaches Marius Trendafir and Nelu Alexe will be the assistant coaches.
"I accepted the appointment as coach of the Romanian team because it's a new challenge, an honor and a responsibility for me. In Galati we will try to get the best results and I think it is possible to finish first in the group and gain promotion. As a first step I will try to establish a new mentality among the components of the national team and prepare seriously every game" said Lacroix
29 Mar 2017, 09:30 | Women's World Championship coming up
On Friday starts the Women's World Championship in Plymouth, Michigan, United States. Yesterday the U.S. Women's National Team and USA Hockey announced that they've reached an agreement so USA will be represented by their best players at the home championship, trying to defend the gold medals.
In exhibition games yesterday Sweden beat Germany 3-2 and Switzerland beat Russia 4-0.
22 Mar 2017, 14:32 | Sydney Ice Dogs announces new coach
Sydney Ice Dogs announced former Australian national team Christopher Blagg as new head coach for upcoming season. Canadian Christopher Foster and former goalie Andrew Waite will serve as assistant coaches. Blagg replaces Vladimir Rubes, who not extended contract due to family commitments.
"Chris brings a wealth of experience and leadership to our hockey club" says General Manager Jason Juba. "He is a good communicator which we believe will work well with the players and also get the best out of them".
15 Mar 2017, 21:24 | New Zealand best in Asia!?
The New Zealand women's U18 team were unbeaten at the 2017 Women's Challenge Cup of Asia in Bangkok, Thailand to win the tournament ahead of the hosts.
15 Mar 2017, 00:17 | Chamonix/Morzine relegated
The merge between Morzine-Avoriaz and Chamonix, occurred last summer, should have created a more competitive team in Magnus Ligue, according to the purpose of management: but things did not go just like that: last after the regular season with just 13 points, Morzine-Chamonix Pionniers were relegated in the Division 1 with a round still to play in the relegation round, played along with Strasbourg, Dijon and Nice
12 Mar 2017, 11:35 | MOL Liga Awards announced
At the eve of playoffs finals between reigning champion DVTK Miskolc and MAC Budapest, MOL Liga announced the awards for the season:
despite the season finished at the quaterfinals for his club Dunaujvaros, Canadian foraward Kevin Dansereau was elected Best Forward thanks to 71 points marked (34 goals and 37 assists).
League rookie Sean Escobedo (MAC Budapest) win the Best Defender award, while his teammate Bence Bálizs was chosen as Best Goalie, same honour he received two seasons ago
06 Mar 2017, 10:02 | Cardiff devils win Challenge Cup
For the second time in three seasons and in a repeat of the final three years ago Cardiff Devils defeated the Sheffield Steelers in the challenge cup final run by the EIHL.
Although Steelers took a 2-1 lead in the first period Cardiff were dominant for the remainder of the game - only allowing five shots- and ran out worthy winners 3-2.
01 Mar 2017, 17:42 | English Premier League to drop word English
The English Premier Hockey League (the second tier of hockey in the UK) is to drop the word English next season to become known as Premier Ice Hockey League.
Seven teams have committed to next season so far, some re-structuring may become necessary as two teams - Guildford Flames and Milton Keynes Lightning - will step up to the EIHL and Manchester phoenix folded earlier this season.
Finalising of full preparations will take place at the end of March. The owners of the league hope changes to the format will encourage new teams so that the league may expand.
19 Feb 2017, 17:55 | Grenoble win Coupe de France
In the traditional venue of Paris-Bercy, in front of 11.300 spectators, Grenoble Bruleurs de Loups win its 4th Coupe de France by beating 3-2 at overtime traditional rival Rouen Dragons, taking revenge after the defeat 4-2 of last season final.
Grenoble scored twice in first 5 minutes with Bostjan Golicic and Eric Chouinard. Rouen tied game - Marc Andrè Thinel and Chad Langlais the scorers - before the decisive goal in the overtime, again by Grenoble captain Chouinard.
Winner team goalie Lukas Horak was named final MVP
18 Feb 2017, 14:00 | Mogo retains Latvian Cup
After a thrilling final, played at Arena Riga in front of 2500 fans, HK Mogo keep the Latvian Cup in its trophies room defeating, as in last season, HK Kurbad 3-2 at overtime with the decisive goal scored by Ronalds Cinks at 62:57. The two goalies, Henrijs Ančs and Mārtiņš Raitums were awarded as team's MVP
13 Feb 2017, 22:22 | USA on top of U18 tournament in Sweden
With the World U18 Championship two months away five of the leading countries got together in a 5-nation tournament in Sundsvall, Sweden. USA finished on top after beating Sweden 5-4 in a shootout game on the last day. if Sweden had won the shootout they would have finished on top. Man of the day for USA was Josh Norris whou tied the game 3 seconds(!) before the end and then got the shootout winner.
Czech Republic finished third, Russia 4th and Finland 5th. Find all results and game stats here.
12 Feb 2017, 23:15 | Bahrain renounces to Asian Winter Games
National Teams of Ice Hockey reported Bahrain Ice hockey team won't travel to Sapporo to partecipate at Asian Winter Games, scheduled from February 19, because the local Olympic Committee didn't approve the trip expenses due to the drop in oil prices and limited budget. Bahrein would compete in Division II tournament
11 Feb 2017, 20:38 | Finland wins U19 tournament
Finland won the U19 5-nation tournament played in Zuchwil, Switzerland this week. In the first game they were beaten 5-4 in overtime by Czech Republic. Then followed three wins; Sweden 4-0, Germany 5-2 and Switzerland 5-1.
08 Feb 2017, 23:29 | Donbas fire coaching staff
The last home defeat 3-2 against Kryvbas was fatal for Donbas Donet'sk coaching staff: the club decided to terminate the contract of head coach Anatoli Stepanischev ans assistants Evgeny Brul and Andrei Sryubko, despite a positive campaign of current Ukraine champion. Sporting Director Sergei Viter was named interim coach
01 Feb 2017, 08:24 | Ambri-Piotta signs Medvescak head coach
Swiss club Ambri-Piotta has found a new head coach after parting ways with Canadian-born Hans Kossmann on Monday. Kossmann had been in charge of the NLA side for 15 months. His replacement is fellow Canadian Gordie Dwyer who left KHL's Medvescak Zagreb for the opportunity in Switzerland.
31 Jan 2017, 15:28 | Penzes becomes the new headcoach of Dukla Trencin
After the sudden death of coach and general manager Jan Kobezda, Dukla Trencin announces current assistant coach Julius Pénzeš will work as headcoach until the end of season. Viliam Cacho and goalies coach Peter Kosa will serve as assistants
29 Jan 2017, 12:55 | MAC Budapest wins Hungarian Cup
MAC Budapest won the first trophy of its history by beating 3-2 MOL champion DVTK Miskolci in Hungarian Cup final, played at Miskolc Arena
23 Jan 2017, 07:55 | National Cup assigned in Netherlands and Spain
CH Jaca has brought home the Copa del Rey (Spanish National Cup) by beating 2-1 trophy holder Txuri Urdin with 2 goals by Canadian Frédérik Diséi in the final played at Valdemoro rink. It's the 15th Cup for Jaca, the biggest winner of the competition. In the semifinals, Jaca easily won 5-0 against Majadahonda, while regular season champion Txuri Urdin won 4-2 against FC Barcelona
With four goals and three assists veteran Marco Postma was the undisputed protagonist of Dutch Cup final, played at Eindhoven Icerink: his team Heerenveen Flyers trashed 8-1 Limburg Eaters in front of 1300 spectators to grab second consecutive trophy, a revenge after losing the Supercup to Eaters at the start of the season
23 Jan 2017, 07:15 | Renon confirms title in Italy
The champions of last four years decided title in Italy during the last weekend at Palaodegar in Asiago: champion Renon won 3-2 against home side Asiago with a comeback from 0-2, confirming the title of Serie A, the third in last four season, earning a place for next Continental Cup. This seaon Italian champion was decided in a semifinals/final between the best four teams after the end of Alps Hockey League regular season. In the semifinals Renon won 5-2 against SG Cortina, while Asiago defeated 3-1 Val Pusteria
17 Jan 2017, 09:50 | Sweden will play in Belarus
Belarus and Sweden will play two friendly games in preparation for World Championship 2017. Both games will be held in Grodno, at the Ice Sports Palace, on on Friday and Saturday, 21 and 22 April 2017
16 Jan 2017, 10:23 | HC Lugano fires coach staff
Last season vice-champion HC Lugano, currently 8th in NLA, 47 points behind leaders ZSC Lions and SC Bern, announces the club fired head coach Doug Shedden and assistant Pat Curcio. The 55-years-old Canadian, at Lugano from last season, will be replaced by compatriot Greg Ireland, 51, last season fired by Adler Mannheim in February. Ireland has a brief stint at Lugano during 201-2011 playoffs. Finnish Jussi Silander from farm-team Ticino Rockets staff, will be the assistant coach
04 Jan 2017, 18:38 | Dukla Trencin fires coach
The job of Josef Turek at Dukla Trencin lasted two months: hired at the end of October to replace resigned Milos Holan, the 45-years-old coach was fired today after the last defeat 8-3 against Liptovsky Mikulas. He will be replace by a coaching triumvirate: current club GM Ján Kobezda will be the new headcoach, assisted by experienced Julius Penzes - fired in November by Nove Zamky - and U18 team coach Viliam Cacho. Turek started season at Zvolen, before being dismissed in October

04 Jan 2017, 11:22 | Turkmenistan national team is preparing for Asian Winter Games in Belarus
The Turkmenistan national team is preparing in Belarus the international debut in an official competition, the Asian Winter Games, held in Sapporo, Japan, in February. During the training camp at the Olympic sports complex "Raubichi" in Minsk, Turkmenistan played two friendly games against local amateur teams, winning 18-1 against club Soyuz and 17-3 with Ice Soft. Besides the Asian Winter Games, Turkmenistan will partecipate at Asia Cup in April in Kuwait
02 Jan 2017, 11:41 | New year, new coach at Dunaújvárosi Acélbikák
Lee Gilbert is no longer the coach of Dunaújvárosi Acélbikák: the recent poor results of the team in MOL Liga cost the Canadian the position. He was replaced by Finnish Heikki Mälkiä who was inactive last season after winning the Inter-National League with Lustenau. Hunor Strenk remains as assistant
31 Dec 2016, 13:50 | GKS Tychy win Polish Cup
GKS Tychy win the 2016 edition of Polish Cup by beating 3-0 arch-rival Cracovia Krakow, winner in 2015, in the final played in Nowy Targ. It's the seventh national trophy captured by Tychy, the club that has won more times the competition. In the semifinals Tychy trashed 5-1 Polonia Bytom, while Cracovia eliminated host MMKS Podhale Nowy Targ by winning 4-2
29 Dec 2016, 09:06 | Denmark adds player
Denmark registers Mathias From as their last player on the World Juniors roster.
26 Dec 2016, 16:49 | Epinal hires Brad Gratton as new coach
After a brilliant 2015-16 season, when team finished 2nd in the standing and lost in playoofs semifinals, Gamyo Epinal, currently 8th in the standing, fired coach Stephane Barin, replacing him with Canadian Brad Gratton, who coached mainly in Denmark during the career. Gratton left Odense Bulldogs after last season, with a Danish Cup won with the club
26 Dec 2016, 16:12 | Chelmet fire coach
Chelmet Chelyabinsk announced the club fire coach Alexander Rozhkov due the poor results in VHL, replacing him with current assistant coach Igor Znarok. Chelmet is currently 16th in the standings

23 Dec 2016, 23:19 | Brezvin re-elected president in Ukraine
Anatoly Brezvin earns another term, the third consecutive since 2006, as President of Ukraine Ice Hockey Federation by unanimous decision of the General Congress of the Federation, which is being held in Kyiv.
23 Dec 2016, 21:25 | Dunarea Galati won Romania Cup
Current national champion Dunarea Galati won its first title of Romania Cup beating 6-5 at overtime in a spectacular final, played at Brasov Arena, Cup holder SC Miercurea Ciuc with decisive goal scored by Slovak Ondrej Rusnak after 69 minutes, after Dunarea has recovered a 0-3 gap after two period, scoring 5 goals in the third, despite Miercurea has found the further advantage twice. Corona Brasov won the bronze winning 7-2 against Progym Gheorgheni
22 Dec 2016, 16:05 | Three in a row for Russia U16
The Russian U16 team bet the Czech 6-1 today in Český Těšín. Russia also won 3-2 on Tuesday and 4-1 on Wednesday.
22 Dec 2016, 15:17 | Fourth coach in the season for Nove Zamky
Nove Zamky announced Štefan Mikeš, 51, as new headcoach after the resigning of Julius Penzes and the interim period of Ivan Černý who will remain in the club as assistant.
Mikes, coached Czech HC Havirov in the last two seasons, before to be fired last October, is the fourth trainer of Nove Zamky since the begin of season, the first of club in Extraliga. Miroslav Chudy, Julius Penzes and Ivan Černý seated on Nove Zamky bench since July
15 Dec 2016, 10:10 | Gennady Tsygurov passed away
Former Russian coach Gennady Tsygurov passed away at 75. Known for winning titles of second division - with Torpedo Nizhny Novgorod in 2003, MVD in 2005 and Traktor Chelyabinsk in 2006 - Tsygurov coached Traktor, Avangard Omsk, Kazan and Lada during the career. In 1995-1996 and from 1998 to 2000 was assistant coach of Russia National Team. In 1999 he lead Russia U20 to the victory in WJC defeating Canada 3-2 at overtime in Winnipeg, in front of 13.000 spectators. He was also assistant coach of Kazakhstan in 3 World Championships and at Olympics in Turin 2006
14 Dec 2016, 20:49 | Also in KHL overtime will now be decided 3-on-3
From Thursday, December 15, KHL regular season games which are tied at the end of regulation will progress to a 3-on-3 overtime.
13 Dec 2016, 16:02 | Molot changes coach
Sergei Vostrikov, 52, is the new coach of Molot Perm, replacing fired Marat Askarov. Nikolai Kazakov will be the new assistant. Both worked at Lada Togliatti in 2010-11 season. Molot is currently 20th in the standing, with 36 points in 31 games played
05 Dec 2016, 15:30 | New ice rink opens in Ulaanbaatar
A new international standard ice rink opened in Sukhbaatar District was opened on November 30.
The Mongolian Ice Hockey Federation and Sukhbaatar District administration built the ice rink to develop winter sports in Mongolia.
Winter sports athletes will be able to train in ice hockey, figure skating and short track skating on the new ice rink.
Ulaanbaatar has several outdoor ice rinks, but only one indoor ice rink in Hunnu Mall.
03 Dec 2016, 00:54 | Shakthar Soligorsk changes coach
Shakthar Soligorsk announced longtime coach Andrei Gusov was fired due to the unsatisfactory campaign at Continental Cup, where team failed to qualify to Superfinals. Gusev was in coaching staff of the club since the foundation in 2009, winning a title, two silver and a bronze in Belarus Extraliga. He was replaced by former Belarus U20 and U18 coach Vladimir Tsyplakov, in last two seasons working at Traktor Chelyabinsk as assistant
02 Dec 2016, 13:11 | Mitch Versteeg suspended for 3 months
The Disciplinary Committee of the Slovak Ice Hockey Federation suspended HK Nitra Canadian defenseman Mitch Versteeg after the charge on Dukla Trencin forward Petr Ölvecky, for which the season is over, during 5-1 Trencin victory of last 20 November
01 Dec 2016, 14:34 | MH Automatyka Gdańsk fired Swedish coach
After signing a 3-year contract last May to lead the team in first ever season in Polska Liga, Swedish coach Peter Ekroth was fired due the poor results of the team, three victories in 21 games. Assistant coach and former player Robert Błażowski replaces him.
30 Nov 2016, 22:37 | Gangnueng Ice Arena board crashed
The electronic scoreboard at the Gangnueng Ice Arena crashed onto the ice surface on November 26
The arena will be used for the 2018 Winter Olympics.
Nobody was injured and organizers said a scoreboard will be installed on a wall for the coming test events.
30 Nov 2016, 11:47 | Irbis Skate Sofia won Bulgarian Cup
Current national champion Irbis Skate Sofia won Bulgarian Cup by beating 9-2 Slavia Sofia, coming back from a 0-2 disadvantage. The Bulgarian Cup is awarded to the team that finishes first place after the first round of national championship
28 Nov 2016, 14:25 | A weekend to remember for Dmitry Kovyazin
Progym Gheorgheni Russian forward Dmitry Kovyazin had a stellar performance during the weekend of Romanian League. In two games against the worst team of the league, Sportul Studentesc, won by Progym 26-0 and 21-1, Kovyazin recorded an incredible total of 24 points, scoring 17 goals and serving 7 assists. Progym is second in the standing, 12 points from leader Corona Brasov.
24 Nov 2016, 13:31 | Leo Gudas new coach at Miercurea Ciuc
Czech Leo Gudas, 51, is the new coach of Sport Club Miercurea Ciuc. He replaces Canadian Tom McCarthy, resigned last week.
22 Nov 2016, 22:17 | Anyang Halla won Korea Open Championship
Anyang Halla won the 71th edition of Korean Open Championship, the national competition involving Asia League clubs and not professional clubs. Anyang won 5-2 against Korea University, the only not professional team qualified after preliminary round, in the semifinals, before to route High1 5-0, with all goals in the central period. High1 reached the final by beating 5-3 Daemyung Killer Whales. This is the ninth title for Anyang, after the last won in 2014
20 Nov 2016, 22:26 | Vitaly Semenchenko leaves Nowy Targ
Ukranian coach Vitaly Semenchenko left Podhale Nowy Targ bench after the poor results of the team, that los five of last 10 games. Contract with the coach was terminated by mutual agreement. Former assistant Marek Rączka will replace Semenchenko
16 Nov 2016, 14:31 | Perth Thunder named new coach
Perth Thunder announced the appointment of former player David Ruck as new coach after the resignation of Dave Kenway who stepped down from the position due to family commitments and will remain in the club as Director of Hockey. Ruck, 47, retired from active hockey after 2014-15 season, coached junior team Perth Sharks
16 Nov 2016, 07:05 | Biel fires head coach
Switzerland's EHC Biel decided to part ways with longtime head coach Kevin Schläpfer on Monday. The 46 year old previously had held various positions in the current NLA club, including player and manager before being named head coach in 2010. Until further notice youth coach Mike McNamara will be his replacement.
10 Nov 2016, 12:48 | Doug McKay new coach of Orlik Opole
Canadian Doug McKay, 63, is the new coach of Orlik Opole, replacing fired Jason Morgan. McKay coached mainly in Netherlands and Italy during his career and was inactive since 2013-14 season, when he lead Rungsted in Denmark until January.
"We were looking for a trainer to develop our young players, - said Orlik President Dariusz Sulek - "Former coach Jason Morgan made an excellent work with them, and I believe that such an experienced coach as Doug McKay will improve much more their skills" added.
07 Nov 2016, 14:52 | Coventry Blaze, EIHL, have confirmed the signing of Great Britain forward Ben Davies.
The 25-year-old, who most recently played for the Norfolk Admirals in the East Coast Hockey League, has previously iced for Cardiff Devils and Braehead Clan in the Elite League. Before going to the US he had a short stint with Swindon Wildcats of the EPL in Britain.
Davies has appeared in 442 Elite League and Challenge Cup games to date, registering 81 goals and 202 points during that span, whilst also representing Team GB at under 18, under 20 and senior level.
07 Nov 2016, 14:24 | Poprad changes coach
Due to unsatisfactory results in Extraliga, Poprad decided to change coaching staff, firing headcoach Petr Jonak and assistant Ludovit Jurinyi. New coach is Marcel Ozimák, recently fired as assistant coach at Avtomobilist Yekaterinburg. His assistant will be Frantisek Štolc
07 Nov 2016, 13:04 | Jason Morgan back to Hungary
Two days after he was fired from Orlik Opole in Poland, Canadian coach Jason Morgan found a new bench in Debrecen, replacing Russian coach Evgeny Mukhin. fired during his third season at the club. Morgan won MOL Liga title last season with DVTK Miskolc
07 Nov 2016, 12:42 | Movements of coaches in VHL
Two VHL teams announced changes in coaching staff:
Yermak Angarsk appointed 53-years-old Igor Zhlinsky as new head coach after the dismissal of Sergei Dushkin and the five-games interim period of Aleksei Isakov.
Ruslan Suleymanov resigned from headcoach position of Yuzhny Ural Orsk citing family reasons. Evgeny Zinoviev will act as interim coach until a replacement is found
01 Nov 2016, 14:26 | Kamil Kalinowski caught by anti-doping
GKS Tychy and Poland national team forward Kamil Kalinowski, 24, was found positive for THC (tetrahydrocannabinol) on an anti-doping control realized on September 27, after 9-1 victory against Unia Oswiecim. Kalinowski can now face a two-years suspension depending on the decision of the Disciplinary Commission
"I made a mistake and I am ready to undergo a fair punishment. I made a detailed explanation to my club and I'm ready to repeat on the disciplinary commission" said Kalinowski
01 Nov 2016, 13:43 | Two KHL clubs replaced coach
Avtomobilist Yekaterinburg and Neftekhimik Nizhnekamsk fired coaches due to poor results and annouced new coaching staff.
Avtomobilist - 12th in East Conference - fired coach Andrei Razin and assistants Oleg Leontiev, Alexei Mitroshin and Alexander Urakov, after 12 defeats in last 16 matches. Former Neftekhimik Nizhnekamsk Vladimir Krikunov was named new head coach, with Ivan Krivonosov and Oleg Mikulchik as assistants.
Neftekhimik accepted the resignation of Nikolai Solovyov on Octber 28 and announced former Barys Astana and Kazakhstan coach Andrei Nazarov as new coach. Andrei Potaichuk and Igor Petrov will serve as assistants
27 Oct 2016, 14:43 | Dukla Trencin changes coach
Dukla Trencin announced head coach Milos Holan and assistant Robert Petrovicky both resigned for personal reasons last Tuesday following the defeat 5-2 against Poprad. "I'm quitting only for personal reasons, not leaving because of poor results, and I think with the team I had a good relationship, we hadn't problems" said Holan
Today the club announces the appointment of Josef Turek as new headcoach. Turek, 44, was fired by Zvolen last week.
"We needed to find a coach as soon as possible to lead the team in the last two games before the break, so he can work with the team during the break " said the General Manager Jan Kobezda.
25 Oct 2016, 21:07 | Neman win Belarus Cup
After the defeat 4-5 at home in leg one of the finals, Neman Grodno overturned the score winning 4-1 at Chizovka Arena in Minsk, earning the second Belarus Cup, named after legendary Ruslan Salei, in the history of club, after the first ever won in 2014-15 defeating again Yunost in the final.
The club from Minsk is still the major winner of the trophy, with 5 victories
23 Oct 2016, 21:55 | MHC Martin forced to postpone games
MHC Martin was forced to postpone the Extraliga games against Zilina and Liptovsky Mikulas scheduled for Friday and Sunday due to a infectious viral illness.
"Unfortunately, one of our players was diagnoed with an infectious viral disease and was quarantined" - said the club in a spress release. Since in this case must be carried out tests on all those who were in close contact with the patient, and make the necessary vaccinations, we were forced to cancel the trainings and of course the games." Team should be back on ice on October 28 for the game against Nitra
20 Oct 2016, 21:30 | Zvolen changes coach
"After last disappointing results, the club decided today to cease cooperation with coach Josef Turek and assistant Andrei Podkonický". With a short statement HKM Zvolen chairman Dusan Mraz announced the replacement on the bench. U20 team coach Milan Stas is the new coach. Zvolen is currently 8th in the Extraliga, after 14 rounds
16 Oct 2016, 21:46 | Czech U18 team beat Russia - twice
The Czech U18 team bet the Russia U18 in Pribram. The game yesterday ended 5-1. Filip Zadina scored twice while Jan Hladonik, David Kvasnicka and Radim Salda got a goal each for the Czechs. Maxim Marushev scored the Russian goal.
Today Czech Republic won 3-2 on goals by Ondrej Buchtela, Jan Kalus and Krystof Hrabik. Daniil Lobanov and Maxim Marushev scored for Russia.
02 Oct 2016, 18:41 | Zeytinburnu Istanbul won Continental Cup first round
For the first time a Turkish team advances to second round of Continental Cup: national champion Zeytinburnu Istanbul dominated First Round, played at Winter Palace in Sofia, Bulgaria. With a perfect record and an impressive 32-6 goals record, Turkish demolished 5-1 home side Irbis-Skate Sofia, 8-3 Serbian champion Partizan Beograd and 19-2 in the last game the Israelian HC Bat-Yam. Partizan finished 2nd, ahead of Irbis Skate and Bat-Yam. Zeytinburnu dominates also the individual statistics, with 5 players finished as scoring leaders, with Ukranian forward Aleksei Voytsekhovsky as top scorer with 15 points (5+10).
Zeytinburnu advances to Second Round, scheduled for 21-23 October in Jaca, Spain against CH Jaca (SPA), Nottingham Panthers (GBR) and HK Liepaja (LAT)
12 Sep 2016, 21:22 | Rakell will miss World Cup
Sweden's Rickard Rakell is sick and will miss the World Cup. He will be replaced by Patrik Berglund.
04 Sep 2016, 22:59 | Olympic groups
IIHF reports that the groups for PyeongChang 2018 men's ice hockey are known:
Group A: Canada (1), Czech Republic (6), Switzerland (7), Korea (12)
Group B: Russia (2), USA (5), Slovakia (8), Slovenia (11)
Group C: Sweden (3), Finland (4), Norway (9), Germany (10)
26 Aug 2016, 16:49 | World Cup rosters update
There are some updates in the rosters for upcoming World Cup:
Canada announces two changes: San Jose Sharks forward Logan Couture replaces the captain of the Dallas Stars Jamie Benn, out due the recover after a muscle surgery.
Also defender Duncan Keith will miss the tournament due the rehabilitation on a knee injury: he will replaced by Jay Bouwmeester
In Sweden roster Anaheim Ducks' defenseman Hampus Lindholm will replace injured Detroit Red Wings' defenseman Niklas Kronwall In the net, Jhonas Enroth will replace injured Robin Lehner of the Buffalo Sabres,
26 Aug 2016, 14:20 | Southern Stampede win New Zealand ice hockey league
For the second year running Southern Stampede clinched the play off trophy defeating Canterbury Red Devils in game 2 of three. They had alredy taken the first game, winning by four clear goals and ensured that they would claim the title as they won the second game 7-1.
22 Aug 2016, 23:33 | Mikko Koivu named captain of Finland at World Cup
Finnish Federation has announced Minnesota Wild forward, Mikko Koivu will serve as Team Finland's captain at the World Cup of Hockey. Koivu, also Wild captain, will lead Finland in three World Championship
19 Aug 2016, 20:48 | Rakell replaces Steen
Sweden's Alexander Steen is injured and will miss the World Cup of Hockey. He will be replaced by Rickard Rakell.
18 Aug 2016, 17:15 | 10 clubs approved in next Slovak Extraliga
The Executive Committee of Slovak Ice Hockey Federation has granted ten licenses for for the upcoming Extraliga confirming also the partecipation of Slovakia  U20
As expected, ŠHK 37 Piestany have given up license due to financial difficulties and was replaced by MHK 32 Liptovský Mikuláš, back in Extraliga after seven seasons. HK Nove Zamky, winner of I Liga is the another newcomer
"I consider the return of Liptovský Mikuláš as very positive. It will bring the enthusiasm and the energy of a traditional hockey area. Finally, we consider this another step towards full economic stabilization of our top hockey league" commented the CEO of Pro-Hockey Richard Lintner.
15 Aug 2016, 09:23 | Kempton Park Wildcats defends title in SASL
The Kempton Park Wildcats confirms the title of SASL - South African Super League with a 7-3 record in the season. The title came on the final round when Pretoria Capitals surprisingly lost 4-6 decisive game against last ranked Cape Town Kings with a nightmarish third period, closed 0-5. National team and Pretoria defender Andre Marais was the Top Scorer with 23 points (9+14)
14 Aug 2016, 08:20 | Team USA U17 wins in Dallas
USA got four easy wins to finish on top of the 5-nations tournament for U17 national teams in Frisco, Texas. Czech Republic finished second before Switzerland, Slovakia and Germany.
05 Aug 2016, 10:44 | Bled will host both U18 I division WC
The city of Bled, Slovenia, already chosen by the federation to host U18 Division I Group B World Championship next April, will organize also the Division I Group A since no-one of the six participating nations submitted an application to host the tournament.
So entire Division I will be played in the same venue: from 07 to 13 April Denmark, Germany, Kazakhstan, France, Norway and Hungary for Group A and from 15 to 21 April 2017 Austria, Japan, Ukraine, Slovenia, Italy and Poland for Group B
01 Aug 2016, 09:15 | New Zealand ice hockey finals
The Sky Sports Southern Stampede are the first team through to the finals of the NZIHL as they beat Botany Swarm at the weekend but it is a close run thing for second with Botany Swarm, Canterbury Red Devils and West Auckland Admirals in contention.
30 Jul 2016, 20:58 | Swiss U20 team wins in Dresden
Team Switzerland U20 won the 4-nations U20 tournament in Dresden, Germany with a perfect record. Germany was beaten 4-2, Czech Republic 4-0 and Slovakia 3-0.
Swiss goalie Matteo Ritz was outstanding shutouts in both games he played. Damien Riat, also Switzerland, was the tournament's top scorer with three goals and two assists.
28 Jul 2016, 22:56 | Courbevoie withdrawn, Grenoble punished
CO Courbevoie announced the club won't partecipate in next France Division 1 season and auto-relegated to Division 3. Consequently, applying the regulation, Federation fined the club with 6.000 euro and ousted from Division 3 final round and the promotion for upcoming season.
Following the report of National Monitoring and Management Control Commission (CNSCG) Grenoble was fined and sanctioned for violations of administrative rules, financial tax or statutory and concealment of official documents.
Thus the club received a withdrawal of 6 points in next Magnus Ligue and two years suspension from Coupe de France
26 Jul 2016, 22:39 | Belarus U20 and Khimik withdrew from Belarus Cup
Belarus Federation announced changes on calendar of Belarus Cup, named after Ruslan Salei, that was supposed to start today: two teams - Belarus U20 and SKA-Khimik Novopolotsk - were withdrew from competition for different reasons: Khimik faced a serious financial crisis during the summer, resolved only days ago, so the team started preparation very late and is not able to compete, while Federation decided to focus the U20 national team preparation for upcoming tournaments in autumn.
Check the new fixtures here
24 Jul 2016, 20:24 | Defeat in first ever game for Kunlun
New KHL team, Red Star Kunlun from Beijing, played its first ever game today in Vierumäki, Finland against Traktor Chelyabinsk. The Chinese team lost 0:2, postponing the scoring of first historic goal. Maxim Yakutsenya and Aleksandr Sharov scored for Trakto. Next Red Star Kunlun game will be on July 28 against Spartak Moscow. Follow all the pre-season games on eurohockey
24 Jul 2016, 12:17 | Odins wins the Golden Whistle
Latvian Eduards Odins, 40, wins the Zolotoy svistok (Golden Whistle) award as the best referee of the KHL. It's the fourth trophy for Odins
23 Jul 2016, 18:13 | SHKO Ust-Kamenogorsk changes name
Torpedo Ust-Kamenogorsk announced the club's second team, performing in Kazakhstan League, changed the name: previously known as SHKO Ust-Kamenogorsk, the farm team is now called Altai-Torpedo. Als the junior team, playing in MHLB, has the same name. Altai is the name of mountains surrounding the city of Ust-Kamenogorsk
21 Jul 2016, 21:08 | Donbas joins EHC
Current Ukranian champion Donbass Donets'k is the newest member of Alliance of European Hockey Clubs (EHC), becoming the first Ukrainian club and the first from former CIS joining the organization, created last June with the mission to unite and represent Europe's professional ice hockey clubs.
"The creation of EHC is an opportunity to make the European hockey market more modern and profitable, and we are proud to become the first Ukrainian club part of that organization" - said Donbass CEO Alexei Braga.
21 Jul 2016, 15:46 | Tom Barasso new coach at Asiago
Asiago Hockey announced the appointment of former NHLer Tom Barasso as new headcoach, Barasso, 51, had his first experience as headcoach last season at Valpellice Bulldogs, when he replaced Canadian Pat Curcio, winning a National Cup, the second ever trophy for the club, and loosing at game #7 playoffs quarterfinals against Asiago
21 Jul 2016, 15:32 | DVTK Miskolc hires Stana as goalie coach
MOL Liga champion DVTK Miskolc announced former goalie Rastislav Stana as new goalie coach. Stana,36, retired after 2014-15 season after a career in North America, Sweden, Russia and Czech Republic. Although he has won just one national title, in 2013-2014 with Kosice, he was the gaolie of historic World Championship title won by Slovakia in 2002. He will work in Miskolc with former Sapa Fehervar junior teams goalie coach Tamás Farkas
20 Jul 2016, 15:54 | Miroslav Valíček new General Secretary at Slovak Federation
Former Director of Slovak hockey Hall of Fame Miroslav Valíček is the new General Secretary of Slovak IceHockey Federation replacing Robert Pukalovič. Mr Valíček also worked in 2019 World Championship organizing Committee.
"He's an experienced person who has previously worked with the Federation. He will be one of my closest collaborator" said President Martin Kohut
20 Jul 2016, 13:40 | Barys confirmed camp in Switzerland
After a first statement announcing the cancellation of training camp in Switzerland due the delay in the journey bacause of political situation in Turkey, Barys Astana confirmed today the team arrived in Davos. During the camp team will play three pre-season games, 2 against HC Davbos and one versus Vityaz.
17 Jul 2016, 11:05 | AIHL Finals in Melbourne
The 2016 AIHL season will see its final act at O'Brien Group Arena in Melbourne on 27-28 August weekend when the top four regular season AIHL teams will compete for the Goodall Cup.
17 Jul 2016, 10:33 | Barys Astana cancelled training camp in Switzerland
Due to the difficult political situation in Turkey (through which the flight had been planned), Barys Astana cancelled the first part of pre-season training camp, planned in Switzerland. Pending a decision of logistic issues players will continue to prepare for the season in Astana.
Barys scheduled two games with Davos for last week of July, but wasn't yet released an official statement about confirmation
12 Jul 2016, 15:28 | Calendar of Belarus Cup unvelied
Belarus Federation publishes today the calendar for Belarus Cup, named after Ruslan Salei, in memory of the defender tragically passed away in Yaroslavl plane crash. As in last editions, the 11 Extraliga teams plus Belarus U20 national team are divided in two groups playing a single round robin. The two winners will advance to finals. Two finalists from last edition, champion Yunost Minsk and Dinamo Maladzyechna are in thew same group, so won't meet in the final act.
As usual Eurohockey will follow Belarus Cup with game-by-game stats
09 Jul 2016, 17:38 | HK Brest will remain in Extraliga
Despite the news from last weeks about the abandon of HK Brest due to financial difficulties, Federation Sport Director Alexander Khromylev declared the situation is now under control and the team will play in next Extraliga: "The Federation, the regional authorities and the club management quickly reacted fter the signs of difficulties for the club and the mobilization has given the result, now the situation was stabilized. The club will begin the pre-season training camp" said Khromylev
02 Jul 2016, 19:09 | Chamonix and Morzine join forces
As anticipated after the end of season, the reduction of Ligue Magnus to 12 teams and the gradual professionalization of clubs encourage two traditional clubs to join forces to be more competitive: HC Chamonix and Morzine-Avoriaz merged and created the new Chamonix-Morzine Pionniers that will play at Centre sportif Richard-Bozon in Chamoniz while trainings and possibly play some games will be at Skoda Arena in Morzine. Chamonix coach Stephane Gros will be the headcoach
02 Jul 2016, 16:01 | Eric Lien new coach at Adrenaline - Milestone for Dunwoodie
Adelaide Adrenaline announced the club named former assistant coach Eric Lien new headcoach of the team. Liam, 37, lastly worked as assitant coach of national team. He replaced fired Trevor Walsh.
Sydney Ice Dogs defender Dave Dunwoodie celebrated his 300th AIHL game in the 5-2 loss against Newcastle North Stars on June 25. After 16 years in the League, Dunwoodie is just the second player to reach the milestone in the AIHL. In mid-June Sydney Bears captain Michael Schlamp played his 200th AIHL game
27 Jun 2016, 17:40 | Predators Sign Forsberg to a Six-Year, $36 Million Contract
- Nashville Predators Press Release
Nashville Predators President of Hockey Operations/General Manager David Poile announced Monday that the club has signed forward Filip Forsberg to a six-year, $36 million contract. Forsberg will make $6 million each season from 2016-17 to 2021-22.
"Filip is among the most skilled, dynamic talents we've ever had in the organization and is an integral part of our success for the next six years and beyond," Poile said. "While we have already seen his creativity, hockey sense and puck skills, he has yet to reach the peak of his abilities. We have full confidence that he will continue to blossom into one of the top players in the world.
This is just another example of our ownership group's commitment to the franchise, our fans and the entire community to build a team that can reach our ultimate goal of winning the Stanley Cup."
Forsberg, 21 (8/13/94), led the Predators in goals (33) and points (64) for the second consecutive season during his sophomore campaign in 2015-16.
20 Jun 2016, 13:51 | Nik Zupančič to coach Jesenice
HDD Jesenice announces the head coach for the next season in the newly formed Alps Hockey League: national team coach Nik Zupančič will be back on club bench after leaving in 2015 to take the lead of the national team, promoted to Elite Division last April. He will remain also on Slovenia bench.
"I don't see problems in combining the two positions, I can say that it is good for the coach to constantly be in the rhythm of work. My duties at the club will not interfere with the representative and vice versa - says Zupancic.
Jesenice is the only Slovenan club playing in Alps League
19 Jun 2016, 08:29 | Tucson welcomes the Roadrunners
The Arizona Coyotes announced that the Club's American Hockey League (AHL) affiliate will be called the Tucson Roadrunners. The team's name and logo were revealed by Coyotes' President and CEO Anthony LeBlanc at an open house event at the Tucson Convention Center.

"We are very proud to name our AHL affiliate the Tucson Roadrunners," said LeBlanc. "The Tucson Roadrunners will build on the great traditions of hockey in Arizona dating back to 1967. Roadrunners was the overwhelming fan favorite during our 'Name the Team' contest, and we thank the thousands of fans who helped us select a great name that creates a strong connection to the City of Tucson, reflects our state pride, and extends the reach of the Coyotes brand."
16 Jun 2016, 18:14 | Adelaide Adrenaline fires coach
The Adelaide Adrenaline have announced that head coach Trevor Walsh was fired after just two victories in 10 games of AIHL. Forward Graham Charbonneau will be the interim coach until further announcement.
13 Jun 2016, 17:17 | Kazakhstan Cup groups unveiled
The cities of Pavlodar and Kokshetau will host the 2016 edition of Kazakhstan Cup, from 20 to 28 August.
As usual the ten partecipating teams were placed in two groups. The winner of each group will play the final at Pavlodar on August 28
Group A (Pavlodar): Beybarys Atyrau, Ertis Pavlodar, Nomad Astana, HK Almaty, SHҚO Ust-Kamenogorsk
Group B (Kokshetau): Arlan Kokshetau, Kulager Petropavlovsk, HK Temirtau, Gornyak Rudny, HK Astana
13 Jun 2016, 16:35 | HC Bat Yam wins title in Israel
HC Bat Yam wins Israel championship by beating 6-3 Monfort Maalot in the grand final. It's the second title in the history of the club since the first, won in 1995. In the semifinal Bat Yam, finished fourth in the regular season, surprisingly won 7-2 against season dominator Horses Kfar Saba, while Maalot caused another surprise by beating last-three-seasons champion Rishon Devils.
Rishon wins bronze winning 8-5 against Kfar Saba
Kfar Saba Russian forward Viktor Vorobiev was the top scorer with 24 points (19+5)
12 Jun 2016, 17:25 | Brest relegated, Lyon back in Magnus
Brest Albatros, finished 6th in last Magnus Ligue, announced club won't play in next season at elite level and will compete in Division 1 due to financial reasons. Relegated HC Lyon will be back in Magnus, as per decision of Federation, if club will fulfill financial requirements. Federation also announced Brest received a 10.000 euro fee and will not be allowed to compete in playoffs in 2016-17 season. Finally Division 2 champion Clermont-Ferrand was allowed to partecipate in Division 1.
12 Jun 2016, 07:50 | Lake Erie wins Calder Cup
Denmark's Oliver Bjorkstrand scored the only goal when Lake Erie Monsters beat Hershey Bears 1-0 in game four of the AHL finals. As Lake Erie had also won the first three games only four was needed to win the championship.
The Swedish goalie Anton Forsberg guarded the Lake Erie net in all four final games and made 23 saves for the shutout in game four. Other Europeans in the championship team are Dean Kukan (SUI), Daniel Zaar (SWE), Lukas Sedlak (CZE), Markus Hännikäinen (FIN) and Joonas Korpisalo (FIN).
12 Jun 2016, 00:10 | GKS Tychy mourns longtime President
GKS Tychy former President Jacek Białożyt passed away after long illness. He was 59. Mr. Białożyt was President of the club since 1996 until 2002, when he resigned from his position, remaining member of the board.
10 Jun 2016, 23:24 | Andrei Nazarov remains coach of Kazakhstan
Despite the relegation at last World Championship, Russian Andrei Nazarov was confirmed as head coach of Kazakhstan national team. Nazarov will lead Kazakhstan at the Olympic qualification in September against Norway, Italy and France. Nazarov was confirmed also as Barys Astana coach.
Federation also announced the coaches for junior and women teams:
Sergei Starygin - U20
Viktor Buyalsky - U18
Alexander Maltsev - Women
09 Jun 2016, 10:03 | EPL to continue with 10
The second tier of British hockey The EPIHL will again have 10 sides. This was after much speculation that Manchester Phoenix would not be able to support a team. Because of their new EIHL neighbours Phoenix were forced to play miles from Manchester but have now secured facilities in the city.
27 May 2016, 22:54 | Seven more players added to Swedish World Cup roster
The Tre Kronor head coach Rikard Grönborg named today the last seven players on the Swedish World Cup roster:
G: Robin Lehner, Buffalo Sabres
D: Mattias Ekholm, Nashville Predators
F: Carl Hagelin, Pittsburgh Penguins - Patric Hörnqvist, Pittsburgh Penguins - Marcus Krüger, Chicago Blackhawks - Jakob Silfverberg, Anaheim Ducks - Carl Söderberg, Colorado Avalanche
27 May 2016, 20:44 | Nice admitted to Magnus Ligue
Following the merging between two teams competing in Magnus Ligue, Chamonix and Morzine-Avoriaz, the Franch Federation announced Division 1 champion HCA Nice was chosen to be the 12th club in the French top division. Nice lost 2-4 and 4-5 the promotion/relation series against Morzine. The admission is still contioned by the respect of sporting and economic criteria to be examined in a meeting between Nice board and Federation in next future. The best placed between relegated teams - HC Lyon - will take the place of Nice if Federation does not deem satisfactory the economic conditions. It's still to be decided which team, between the relegated Mont-Blanc and Toulouse or Division 2 champion Clermont-Ferrand, will replace Nice in Division 1
23 May 2016, 15:06 | Pan-American tournament teams announced
The Brazilian Federation reported that Brasil, Colômbia, México A and B, Argentina A and B are the teams partecipating in third edition of Pan-American tournament, held in Mexico City from 6 to 12 June.
"I'm very exited about the Pan-American and the future of icehockey in Brazil - said Brazilian national team American coach Jens Hinderlie - We have a lot of skilled athletes here who can play hockey at good level, we need more icetime"
Brazil, bronze medal last year, announced the roster for the tournament
22 May 2016, 13:14 | Filip Wielkiewicz found positive for doping
Podhale Nowy Targ forward Filip Wielkiewicz was found positive to THC said Michał Rynkowski, Director of the Commission Against Doping in Sport.
The test was made on March 18, after the second match for the bronze medal against STS Sanok. The result of this research has been positive.
"The player could take from two to four years of suspenson" - said Rynkowski.
This is the second case of doping this season in Poland League: last October GKS Tychy Russian forward Yuri Kuzin has been suspended for two years.
22 May 2016, 02:05 | Indonesia, Nepal, Philippines new IIHF members, Qatar earns full membership.
IIHF admitted three new associate members, all from Asia: Indonesia, Nepal and Philippines while Qatar Ice Hockey Federation - until now an associate member - has been awarded full membership. Indonesia and the Philippines will compete at Southeast Asian Games in 2017 in Malaysia, where ice hockey will debut among the events.
IIHF counts now with 77 countries
16 May 2016, 11:38 | Sheffield Steelers signing
Sheffield Steelers today brought their roster up to fifteen with the addition of former DEL2 right winger Jesse Schultz.
"Just two seasons ago he was the third highest scorer in the East Coast league. His experience is vast both in North America and Europe. He is a perfect fit for us and a great addition to the team that we take into the Champions League in August" said coach Paul Thompson."He is obviously an offensive talent, an offensive player" continued Thompson "I think we have a highly skilled winger who will add a further offensive punch to the line up. He is a puck possession player who comes with a great shot. I like the way he fits into the line up along side the variety of talent we have already amassed"
15 May 2016, 12:25 | Swedish awards
Three Swedish award winners has been announced this weekend.
Junior of the year: Gustav Forsling, Linköping
Coach of the year: Per-Erik Johnsson, Leksand (promotion to SHL)
Leader of the year: Roger Rönnberg, Frölunda (CHL and SHL champion)
13 May 2016, 09:45 | Swedish NHL players join the WC team
Forward Andre Burakovsky and defenseman Mattias Ekholm joins the Swedish World Championship squad. Nicklas Bäckström, Johnny  Oduya and Filip Forsberg says no to participating.
Defender John Klingberg might join the team later is the doctors let him.
11 May 2016, 13:55 | Ovechkin joins Team Russia
The Russian national team announced today that Alexander Ovechkin of Washington Capitals will join the team for the rest of the 2016 IIHF Ice Hockey World Championship.
So will his teammates defenceman Dmitry Orlov and forward Evgeny Kuznetsov.
09 May 2016, 18:55 | Adam Huska named the 2016 USHL Goaltender of the Year
The United States Hockey League announced today that Gamblers Slovakian goaltender Adam Huska has been named the 2016 USHL Goaltender of the Year as determined by a vote of League general managers.
Huska played in 37 games for the Gamblers and finished with a record of 26-9-2, leading the Gamblers to the number two seed in the Eastern Conference. He made 880 saves throughout those 37 games, and posted a 1.82 GAA and a .931 SV% in that span. Both of those marks led the league, and the 1.82 GAA is the best mark in USHL Tier 1 history (2002-present)
06 May 2016, 13:48 | Zeytinburnu Istanbul confirms title in Turkey
Finished 2nd in the regular season, 2015 champion Zeytinburnu Istanbul defended title of Turkish Super Lig by defeating 3-1 in Izmir regular season champion Izmir Büyuksehir Belediyesi in decisive playoffs game #5. Zeytinburnu Ukranian forward Oleg Zadoyenko finished as top scorer with 60 points (31 goals + 29 assists). Erzurum Büyükşehir Belediyesi SK won bronze with two clear victories 12-1 and 16-1 against Koc University
03 May 2016, 22:48 | World Championship preparation
The World Championship in Russia starts in three days. Four pre-tournament games were played today. Canada beat Czech Republic 3-0 and Kazakhstan beat France 6-3. Finland-USA (3-2) and Switzerland - Germany (4-3) were both decided in overtime.
21 Apr 2016, 21:29 | South China Sharks captured Hong Kong CIHL League
Canadian Jordan So (3 goals and 2 assits) and American Blake Steele (3+1) were the key players for South China Sharks defeating 9-6 reigning champion Hong Kong Tycoons in the CIHL final, conquering the second title and joining Kowloon Warriors as major winner of the league. Tycoons Canadian forward Lucas Eshleman finished as top scorer with 54 points (28+26)
21 Apr 2016, 20:27 | Season awards decided in Belarus
At the meeting of Executive Committee of the Belarus Federation were announced the awards for the 2015-2016 season:
Here the winners:
Best goalkeeper - Maxim Malyutin (Shakhter Soligorsk)
Best defender - Kristian Khenkel (Yunost-Minsk)
Best forward - Pavel Razvadovsky (Yunost-Minsk)
Best young player - Danila Karaban (Dinamo Maladzyechna)
Top scorer - Victor Andrushchenko (Shakhter Soligorsk)
Playoffs MVP - Alexander Tryanichev (Yunost-Minsk)
Best referee - Andrei Shrubok (Minsk)
Best arena - Chizhovka Arena Minsk
The Committee also announced the Extraliga will be played with same format also next season, but increasing the number of import players up to 6.
21 Apr 2016, 13:52 | Beybarys wins Kazakhstan League
It took seven games to determine the 2015-2016 champion of Kazakhstan: by beating 3-1 Arlan at Kokshetau, Beybarys Atyrau wins its third title,all under the lead of Aleksandr Istomin, noting a constant presence among the elite of Kazakh hockey, with 3 titles and two silver medal in last seven years. Another season empty-handed for Arlan, winner of the regular season at the third consecutive silver medal.
Season awards:
Best goalkeeper - Alexei Kuznetsov (Beybarys)
Best defender - Vladislav Kolesnikov (Arlan)
Best forward - Mikhail Rakhmanov (Ertis)
20 Apr 2016, 23:29 | Austria defeats Italy in final World Championship test
Stefan Geier's hattrick led Austria to a 3:2-win in an exhibtion game over Italy. Austria had a strong start, gaining a 2:0 lead in the intitial frame. The Italians though got better in the second and third period, coming close to the tying goal. Goals by Luca Frigo and Alexander Egger, showcasing his skill with an amazing backhand goal, scored for the 'azzurri'. In net Starkbaum and Bernard played a solid game, but the game was highlighted by the national team debut of 35-year-old Frederic Cloutier between the Italian pipes in the second half of the game.
20 Apr 2016, 14:48 | Forward Morges and Star Lausanne merge
Two Swiss clubs from 1 Liga decide to merge: Forward Morges and Star Lausanne decided with the majority of votes to create a new club, called "Star Forward" with the goal to enter in the new Swiss Regio League, operating from 17-18 season. Current Forward coach, French Laurent Perroton, will be on the bench of new club
12 Apr 2016, 16:12 | Olimpija Ljubljana captured Slovenian title
Olimpija Ljubljana win Slovenian League beating 2-0 rival Jesenice in game #5 of finals, bringing title back to the capital after the victory of Jesenice last year. The final series had a particular trend, with four out of five games ended with a shutout for the goalie of winning team: 3-1, 0-1,0-1,3-0 and 2-0.
This is the 15th title for Olimpija; Jesenice won other 10, nine as defunct Acroni Jesenice and one with current name HDD Jesenice. HK Slavija Ljubljana won bronze by beating 1-0 HK Celje
08 Apr 2016, 11:54 | Sergei Pushkov will coach Neman
After two seasons Russian Sergei Pushkov is back on the bench of Neman Grodno where he led the team to title in 2014. Pushkov, 52, coached SKA-Neva St. Petersburg in the last seasons. In 2009 he earned a promotion to Elite Division with Belarus U18
06 Apr 2016, 20:20 | Czechs beat Germany
In one of many friendly games before the World Championship Czech Republic beat Germany 7-2 in Usti nad Laben tonight.
06 Apr 2016, 14:10 | Medvescak continues to dominate in Croatia
Medvescak Zagreb wins the eighth consecutive title of Croatian League, beating 4-3ot and 7-4 eternal silver medalist Mladost Zagreb. It's title number 23 for Medvescak since the indipendence, with just 5 years of fast when gold medal was captured by KHL Zagreb (4 titles) and Mladost
Awards:
Best goalie: Tihomir Filipec (KHL Zagreb)
Top scorer: Tadija Mirić (Mladost Zagreb)
MVP regular season: Tadija Mirić (Mladost Zagreb)
MVP playoffs: Ivan Ružić (Medveščak Zagreb-2)
03 Apr 2016, 00:02 | Morzine remains in Magnus Ligue
By beating 5-4 in promotion\relegation series game #2 Division 1 champion HCA Nice, Morzine-Avoriaz will play in Ligue Magnus also next season, when the elite league of French hockey will be reduced from current 14 to 12 teams. Lyon and 2014 champion Briançon were relegated
01 Apr 2016, 14:06 | Donbas win title in Ukraine
After two seasons the title of champion is back to Donets'k: regular season dominator Donbas - playing home games in the city of Druzhkivka after the bombing of Druzhba arena in Donets'k - swept Generals Kyiv in four games of playoffs finals.
Russian forward Denis Kochetkov was named Ukranian Extra Leauge MVP. Kochetkov became the third Russian to win the award after forward Yuri Koksharov (Donbas - 2012) and goalkeeper Sergei Zavyalov (Companion Kyiv - 2014).
Other awards go to:
Eduard Zakharchenko (Generals Kyiv) - best goalie
Denis Petrukhno (Donbas Donets'k) - best defender
Artem Gnidenko (Generals Kyiv) - best forward
31 Mar 2016, 21:24 | Västervik and Södertälje promoted
Västervik and Södertälje have secured promotion to HockeyAllsvenskan, the Swedish second league. Relegated to HockeyEttan were Asplöven and Sundsvall.
29 Mar 2016, 22:54 | Pan-American tournament dates announced
The third edition of Pan-American tournament will be played, as the previous ones, at Icedome Arena in Mexico City from 06 to 12 June 2016 with a men and women tournament, organized by Mexican Federation.
Chile, Brazil, Ecuador, Colombia, Venezuela, Panamá, Jamaica, USA, Canada, Argentina and México are the countries invited. At moment only Argentina, beside host Mexico, confirmed partecipation.
Last year Colombia surprisingly won the tournament beating Mexico 4-3SO in the final
29 Mar 2016, 14:58 | Merano and Pergine play for the Serie B title
Two-time Italian champion Merano and Pergine have qualified for the final Best-of-Five-series in Italy's second tier league 'Serie B'. Pergine, nicknamed the 'Lynx', was the eight-seeded team coming into the playoffs, sweeping the Aurora Frogs and Appiano Pirates on its way to the finals. The Eagles from Merano finished the regular season on third place, before knocking out HC Fiemme and the Neumarkt Wildgoose.
29 Mar 2016, 14:36 | EBEL: Brian Lebler is back
Brian Lebler, after a season playing for Ingolstadt in DEL, has decided to return to the Black Wings Linz for the 2016/2017 season. The 27-year-old Austrian national team member has spent most of his professional hockey career in Linz, collecting 212 points (122 goals) in 235 games. Lebler was awarded EBEL's MVP in the 2014/2015 season.
28 Mar 2016, 23:22 | Sapa Fehervar win Hungarian Cup
Sapa Fehervar beats 4-1 MOL-Liga champion and Cup holder DVTK Miskolc to win 2015-16 Hungarian Cup in the rematch of last year final. Debreceni takes the bronze after 4-3 OT victory over MAC Budapest
28 Mar 2016, 18:35 | Txuri Urdin win Spanish Copa del Rey
Txuri Urdin win its 9th Copa del Rey, the first trophy since 1999-2000 season, by beating 4-1 national champion CH Jaca in the final played in San Sebastian, a revenge of championship finals played between same two teams and won by Jaca. In the semifinals, Txuri trashed 6-0 Majadahonda while Jaca won laboriously 3-2 FC Barcelona
21 Mar 2016, 13:55 | Partizan continues its domination
A goal by Dimitrije Filipović at 63:02 in the overtime gives Partizan the victory 3-2 in game #4 of playoffs finals against arch-rival of Crvena Zvezda and the title number 13, the 11th consecutive. Partizan won all editions of Serbian League since 2006, when League adopted current name after the separation of Montenegro. Crvena Zvezda forward Pavel Popravka was the top scorer of the league with 32 points (16+16)
20 Mar 2016, 17:21 | Jaca confirm title in Spain
Beating away 6-2 regular season winner Txuri Urdin San Sebastian in decisive game #5 of finals, CH Jaca confirm the title of Spanish Liga Nacional. It's title number 13 for the club, the fifth in last 7 years
20 Mar 2016, 15:47 | Philippe Bozon will coach Bordeaux
Boxers de Bordeaux announce Philippe Bozon will be the head-coach of the team from next season. Former national team player, Bozon coached Lugano and Sierre in Switzerland, France U20 and Epinal in France. With Epinal he reached Magnus Ligue finals last season, lost by Gap
17 Mar 2016, 18:57 | Tom Pokel remains Bolzano's head coach
For the first time since joining EBEL in the 2013/2014 season, it seems as if Italian club HC Bolzano will have a normal off-season. The Foxes extended the contract with coach Tom Pokel for one season and plan to put together their roster within the next two months.
13 Mar 2016, 16:01 | EBEL semifinals start today
After Red Bull eliminated Klagenfurter AC with a 5-2 win in Game 7, today the semi-finals start in Erste Bank Eishockey Liga. Defendig champion Salzburg will be challenged by Villacher SV. Orli Znojmo vs Black Wings Linz is the other match-up in the race for a spot in the final.
13 Mar 2016, 15:41 | Valpellice forces Game 7 against defending champion
The Valpellice Bulldogs, coached by NHL-legend Tom Barrasso, have come back from a 1-3 deficit in the quarter final series against defending Italian champion Asiago Hockey. Thanks to a 5-2 win on home ice,  Valpellice will face Asiago in Game 7 on Tuesday. Ritten, Pustertal and Sterzing have already qualified for the semifinals, eliminating Cortina, Gherdeina and Fassa respectively.
12 Mar 2016, 08:02 | Kloten Flyers owners already on the jump
As the "Avenir Sports Entertainment" (ASE) communicated in the night of Friday to Saturday, the Canadians have decided to pull out of the ownership as they feel that only a Kloten based ownership can bring back success to the longest serving NLA team. As mentioned in the statement "It has become clear that having outside ownership, such as ASE, is not the proper structure for success in Kloten". ASE has begun searching for a new owner and will take over the responsibilties as the current owner for the time being until a new owner is found.
The Kloten Flyers are expected to generate a loss of 7 to 8 million Swiss Francs this past season after reaching the playoffs for the first time in two years and loosing to HC Davos 0-4 in the quarterfinal series.
You can find the complete statement here
10 Mar 2016, 09:59 | Scottish National League Champions
Kirkcaldy Kestrels held of Paisley Pirates and Edinburgh Capitals to claim their second successive SNL trophy. Things did not look promising early season as they crashed out of the Autumn Cup but a heavy defeat in November gave them a wake up call to remain focussed on the task in hand: that of claiming the title. As their close rivals ran out of games and the Capitals and Pirates played each other the way was clear for the Kestrels to sneak through.
09 Mar 2016, 21:23 | JYP wins women's title in Finland
At 13:51 of the overtime Tanja Niskanen scored the only goal of game 3 of the Finnish women's finals. That was enough to secure the title for JYP Jyväskylä who won three straight games against HPK without allowing a single goal.
JYP has been outstanding this season. They lost only one point in 28 regular season games and won all six games of the playoffs.
01 Mar 2016, 20:01 | Sport Club Miercurea Ciuc win Romanian Cup
Sport Club Miercurea Ciuc/Csíkszereda win Romanian Cup 2015-16 beating 3-2 Steaua Bucharest in the final played in Brasov. The game was the replay of the original final, scheduled on 20 december 2015 at Gheorghieni ice rink and suspended after second period with score 7-2 for Miercurea Ciuc due to a short circuit. It's the eighth trophy for Sport Club.
29 Feb 2016, 12:34 | Narva PSK win title in Estonia
With three rounds still to play, Narva PSK was already crowned Estonian champion after the 5-1 victory against Viru Sputnik in front of almost 1000 spectators. The title is back to Narva after 15 years, since defunct club Kreenholm/Narva 2000 grabbed the title in 2001
28 Feb 2016, 23:28 | Komarek unleashes the inner Granlund
In Game 2 of the EBEL Quarter Finals, Konstantin Komarek of Red Bull Salzburg helped his team with THIS gorgeous goal (click here to watch the video). In 'Grandlund-fashion' the 23-year-old Austrian scored on Klagenfurter AC to increase the series' lead to two. Also Linz, Dornbirn and Villach are now up 2:0 in their match-ups.
28 Feb 2016, 23:01 | Darius Kasparaitis debuts in Lithuanian League
Hockey legend Darius Kasparaitis, 43, made his seasonal debut tonight with his team Hockey Punks Vilnius in the game against Geležinis vilkas Vilnius for Lithuanian League. Hockey Punks won 10-1 with Kasparaitis scoring one goal and serving three assists. In the last two seasons Kasparaitis played just one game in each season
28 Feb 2016, 00:35 | Serie A playoffs start on Tuesday
In Italy's top league the eight teams have finished the regular season, with Ritten Sport emerging as the top seeded club. Following are the match-ups in the Quarter Finals (Best-of-Seven):
Rittner Buam - SG Cortina
Pustertal Wolves - HC Gherdeina
Asiago Hockey 1935 - Valpellice Bulldogs
Sterzing/Vipiteno Broncos - Fassa Falcons
27 Feb 2016, 23:35 | Slovan and Sochi out from KHL playoffs
Slovan Bratislava and HC Sochi were the two first team eliminated from the KHL playoffs 1/8 finals. Slovan lost the series 0-4 to CSKA Moscow while Sochi also lost 0-4 to Dynamo Moscow. Tomorrow Neftekhimik and Admiral also risk being eliminated.
27 Feb 2016, 11:31 | Scottish National League update
The Paisley Pirates are just two points off leaders Kirkcaldy Kestrels with a game in hand. Veteran netminder Gordon Langford says he would like to end his career with a medal by clinching the title. That game in hand is against bottom of the table Kilmarnock Storm who have only won once all season. Paisley head into the weekend games with on a rich veign of form, and will hope to take two points off early pacesetters Edinburgh Capitals.
25 Feb 2016, 14:52 | Mighty Camels win Emirates League
A goal at 40:29 by Canadian Ross Macmillan gives the Dubai Mighty Camels the victory 3-2 in the decisive game #3 of finals against reigning champion Dubai Oilers and the title of 2015-16 champion of Emirates Hockey League, the third in Mighty Camels history. Russian Nikita Klyuchnikov of White Bears Dubai was the Top Scorer of the League with 51 points (28+23) in 12 games of regular season. White Bears were eliminated in playoffs semifinals by Oilers
25 Feb 2016, 14:14 | Eihl challenge cup finalists are now known
The Eihl Challenge Cup final will be between the Cardiff Devils and seven times winners - four in a row - Nottingham Panthers.
Cardiff progressed courtesy of a two leg victory over Belfast Giants and Nottingham did the same by defeating Sheffield Steelers.
The final will be a showpiece event at the Sheffield Arena on March 6th.
23 Feb 2016, 10:29 | EBEL playoff draw made
In EBEL, the top-3 seeded club could pick their opponent for the first playoff round. Following matchups will battle in the quarterfinals:
Red Bull Salzburg (1) - Klagenfurter AC (8)
Orli Znojmo (2) - Dornbirn Bulldogs (5)
Vienna Capitals (3) - VSV Villach (7)
HC Bolzano Foxes (4) - Black Wings Linz (6)
19 Feb 2016, 15:25 | New coach at Brest
HK Brest announced the contract with coach Sergei Petukhov was terminated by mutual consent and the new coach became Roman Romanenko, 41, at his first assignment as head coach after finishing his playing career last season with Kalev Valk Tartu in Estonia
17 Feb 2016, 22:39 | Gap wins the last edition of Coupe de la Ligue
Current Magnus Ligue champion Gap wins the Coupe de la Ligue beating 4-2 Rouen Dragons in the final, played at Meribel arena in front of 2.500 spectators. It was the last edition of the trophy played since 2006 but cancelled per decision of French Federation. Rouen and Grenoble are the major winners with four titles, but Dragons also lost three finals, giving the team from Normandy the record of 7 appareances in the last act in 10 editions of the trophy. It was the first Cup for Ga that lost against same Rouen the Champions' game at the begin of current season.
16 Feb 2016, 15:21 | Last-minute roster changes in EBEL
With only three games left before the start of the playoffs, the clubs in EBEL had to make the final roster decisions. In order to stay within the 60-point-limit under the EBEL point system, four clubs made signficant choices going into the playoffs.
Red Bull Salzburg signed Juuso Riksman as the new backup. GK Fabian Weinhandl and FW Marco Brucker were released to make space for the Finnish net minder. The Vienna Capitals scratched Kurtis McLean, whereas Roland Hofer will no-longer be part of the roster of the Bolzano Foxes. Davide Nicoletti, who was part of the Italian's championship winning team in 2014, will take Hofer's spot in the line-up. Orli Znojmo increased its depth between the pipes acquiring Jan Lukas.
13 Feb 2016, 11:49 | Qatar to cooperate with Belarus in winter sports
- Belta.by
Qatar would like to cooperate with Belarus in developing winter sports, Dr. Thani Al Kuwari, the Secretary General of Qatar Olympic Committee (QOC), said as he met with a Belarusian delegation headed by Chairman of the Central Council of the President's Sports Club Dmitry Lukashenko, BelTA learned from the press service of the President's Sports Club. The Secretary General praised the revival of sports ties between the two countries, especially in the development of winter sports. The Belarusian side took part in the opening ceremony of the Gulf Ice Hockey Championship, after which the parties discussed further steps to cooperate in the field of sport and methodological work and development of sports infrastructure.
Read full text at: http://eng.belta.by/sport/view/qatar-to-cooperate-with-belarus-in-winter-sports-88620-2016/
13 Feb 2016, 11:46 | Oleg Bratash is the head coach of the Russian Olympic national team
- fhr.ru
Oleg Bratash has been named head coach of the new special Russian Olympic national team. The ex Krylya Sovetov, CSKA and Torpedo Nizhny Novgorod goaltender is currently a member of the HC Lokomotiv Yaroslavl coaching staff, and will begin his new job after his contract in Yaroslavl runs out. The agreement with the Olympic national team runs until spring 2018.
Chairman of the RIHF board Arkady Rotenberg: "We are very happy that such a coach will work with our younger, talented players, Oleg has worked in the MHL, won the Kharlamov Cup with Spartak Moscow, and has worked as an assistant in big clubs. We are sure, that his experience will help our young players use their potential. He was picked for the job after consulting with the main national team's coaches. The Olympic national team's preparation will form a part of our united system, and along with Valery Bragin Oleg will form squads as well as working together in different aspects."
12 Feb 2016, 17:03 | Double losses for Norway
Both the Norwegian boys and girls (U16) lost on the opening day of the Youth Olympics in Lillehammer. The boys were beaten 11-0 by Finland. The girls were closer but lost 1-2 to Slovakia.
12 Feb 2016, 13:23 | Also HC Pustertal wants to join EBEL
After Ritten Sport expressed their wish to join EBEL a few weeks ago, another Italian team has now officially applied to partcipate in this central european league. HC Pustertal Wolves has applied to join EBEL in the 2016/2017 season. The Wolves would be the second Italian team in the league, as HC Bolzano is already in the midst of its third season in EBEL. All thee Italian clubs have the permission from the Italian federation to play in Austria's top league. A decision on which clubs join Erste Bank Eishockey Liga will be taken within the 5th of April.
10 Feb 2016, 18:23 | BIHL - Spartak still tops the league
The third tournament of the Balkan Ice Hockey League was played past weekend in Subotica, Serbia. It is the home town of the unbeaten leader of the league - Spartak! Once again Spartak won all three games and tops unbeaten the league. The first game was won versus the second placed Metalurg, Spartak won 12:6 followed by a 9:4 victory over Vukovi Stari Grad and 9:4 versus Slavia.
10 Feb 2016, 16:59 | Leonids Beresnevs named new Latvian national team coach
Experienced coach Leonids Beresnevs was named new headcoach of Latvian national team during a board meeting of the Latvian Federation. Beresņevs, 57, coached Latvia several times in the past, both senior and junior level. After two seasons at Arlan Kokshetau in Kazakhstan, Beresņevs was back at Latvia to coach HS Riga.
"The contract with mr Beresņevs was signed until the end of the World Championship in Russia. If the coach will fulfill the goals, then the contract will be extended until the end of season, including the Olympic qualifications in September. If Latvia will earn a ticket to Korea 2018, the contract will automatically be extended for two years" said Federation President Kirovs Lipmans.
07 Feb 2016, 18:55 | Odense beat Frederikshavn in the Danish Cup final
The Danish league leader Fredrikshavn played at home and was big favorite in the cup final against Odense. But the away team scored twice in the first seven minutes and added two more goals in the third period to win 4-0.
05 Feb 2016, 12:18 | HK Mogo wins Latvian Cup
Current national champion HK Mogo win the first edition of new format of Latvian Cup, a tournament resumed after being played on and off in the past, , by beating 4-3 HK Kurbads with a spectacular comeback from 0-3 in the final, played at Arena Riga in front of 2150 spectators. Mogo forward Miks Lipsbergs, with 2 goals and one assist, earns the MVP title.
03 Feb 2016, 18:19 | Dusan Gregor new coach at Piestany
Dusan Gregor, 54, is the new coach of Slovakian Extraliga club SHK Piestany. He replaced fired Leo Gudas. "Dušan Gregor was one of the coaches, which we were interested in before the season. We knew that he was still free, so we call him and we agreed. I believe this is the right choice" said club President Jaroslav Lušňák. Gregor coached Dukla Trencin, Martin,Košice and Žilina in his homeland, Liberec and Slavia Praha - his last commitment - in Czech Republic, Sokol Krasnoyarsk and Saryarka Karaganda in VHL and Admiral Vladivostok in KHL.
Branislav Janos will serve as assistant coach
02 Feb 2016, 22:51 | Miroslav Frycer is the new coach of Morzine; Dusseau at Neuilly
Czech Miroslav Frycer, 59, is the new coach of Ligue Magnus club Morzine Avoriaz replacing fired Tommie Hartogs. Frycer closed last season his two-years experience at Sanok with one national title and a fourth place and two Polish Cup finals, both lost. Morzine will play in play-outs to avoid relegation.
François Dusseau, fired by Lyon on January 13, finds a new job as assistant coach of Frank Spinozzi at Neuilly sur Marne, in French 2nd division
02 Feb 2016, 11:02 | Serie A: Paul Zanette returns to Asiago
Paul Zanette, an Italian-Canadian dual citizen, has signed a contract with defending Italian champion Asiago Hockey. The 27-year old two-way-forward has already played for the 'stellati' during the 2012/2013 and 2013/2014 season, collecting 45 goals and 60 assists. He spent the last season in EBEL, also representing Bolzano in the CHL, before joining the Edinburgh Capitals (EIHL) this past off-season. He is expected to be an impact player on Asiago's route to defend the 'scudetto'.
01 Feb 2016, 20:29 | Serie A: Trevor Johnson leaves Valpe, joins the Wolves
Defenceman Trevor Johnson, who possesses both the Italian and Canadian citizenship, has decided to leave the financially troubled Valpellice Bulldogs. The 34-year-old former member of the Italian national team has been the captain of the Bulldogs for the past 5 seasons. He now joins HC Pustertal Wolves, who are currently ranked on second place in Serie A. In 395 games in Italy's top league the blueliner has collected 348 points.
01 Feb 2016, 17:06 | Piestany fired coaching duo
SHK 37 Piestany announced the club fired coach Leo Gudas and his assistant Jozef Krisak after a period of poor results beginning in December. The name of new coach will be announced shortly. Gudas arrived on Piestany bench in December 2014 and held team to playoffs quarterfinals last season
01 Feb 2016, 12:12 | Serie A: Tyler Weiman is Pustertals new goalkeeper
After Juuso Riksman left HC Pustertal because of personal reasons, the Wolves have now found their new net minder. 31-year-old Tyler Weiman has signed a contract for the remainder of the season.
29 Jan 2016, 23:17 | Indian Army won Indian Championship
Once again Indian Army, the backbone of national team, dominated the National Championship, played at the Karzoo outdoor link in the city of Leh from 09 to 16 January. After having dominated the round robin, the Army won 2-1 traditional rival of Indo Tibetan Border Police and grabbed the gold trashing parent team Ladakh Scouts Regiment 5-1 in the final. A record of eight team took part in the competition. J&K Red won the women competition, beating 4-2 J&K Blue in the final.
Check all results on Indian Championship page
27 Jan 2016, 20:01 | Morzine fires coach Hartogs
HC Morzine-Avoriaz, last place in Magnus Ligue, fired Dutch coach Tommie Hartogs after four seasons. Trio of players Mathieu Jestin, Cyril Papa and Jakub Sindel will coach the team in the last part of regular season and in the playouts serie
26 Jan 2016, 15:39 | MHK Humenné withdrew from Slovakian 1 Liga
After the closure of city ice rink due to damages suffered after a storm, The Slovakian 1 Liga decided to withdraw MHK Humenné, cancelling all the results of the team until now. The decision was taken after the club failed to find another rink to play home games.
"Despite the efforts of the club, MHK Humenné was unable to find other solutions for playing the games of 1 Liga, thus Hockey League Slovakia in accordance with the Competition Rules has determined to withdraw MHK Humenné from the competition"
As consequence, the playouts between the last four teams to determine the relegation were cancelled due the fact Humenne will be automatically relegated
26 Jan 2016, 14:41 | Fischtown Pinguins change coach
Fischtown Pinguins Bremerhaven fired coach Benoit Doucet, hired at the begin of the season, due to poor results of the team. "The decision was humanly difficult, but necessary - said CEO Hauke ​​Hasselbring. "Benoit was perhaps the wrong time at the wrong place. We thank him for his commitment and wish him all the best for the future"
The new coach is Thomas Popiesch,50, until December on Dresdner Eislöwen bench
22 Jan 2016, 16:05 | EBEL: Pick and Qualifying Round kick off today
In EBEL the first chapter of the regular season has ended and now the teams enter the intermediate stage. Salzburg, Linz, Znojmo, Vienna, Bolzano and Dornbirn fight for a spot in the Champions Hockey Leaue and the right to pick the opponent in the quarter finals. In the Qualifying Round Klagenfurt, Villach, Fehervar, Graz, Innsbruck and Ljubljana battle for the remaining two playoff spots.
15 Jan 2016, 18:20 | Ritten wants to join EBEL
Rittner 'Buam', Italian champion of 2014, has requested to leave Serie A and applied to join Erste Bank Eishockey Liga in the 2016/2017 season. Ritten would be the second Italian team in the Austrian based league, as the Bolzano Foxes already play in this competition. Biggest obstacles for the South Tyroleans to become the league's 13th member are their arena, which only offers space to approximately 2000 spectators, and the geographic proximity to Bolzano.
15 Jan 2016, 18:10 | Tayor Vause is Bolzano's last roster cut
With the signing of defenceman Branden Bell, the Bolzano Foxes had to make one roster move to fulfill EBEL's point system obligations. It was thought to be a hard chioce, but in the end it was made easy in a unfortunate way. Taylor Vause is out for weeks because of a hand injury and has been removed from the Italian record champion's roster.
14 Jan 2016, 15:11 | Humenné ice rink closed indefinitely after damages
The ice rink of Humenné was closed by Municipality indefinitely after the damages suffered due to bad weather. The roof was damaged by the strong wind that swept Humenné
"We called a structural engineer to decide on the need to shore up the roof structure." said city Mayor Jana Vaľová.
"When it becomes clear what repairs need to be done and what it will cost, we are ready to seek funding without delay. As the building is insured, we immediately reported the insured event"explains Vaľová. "Until then, our hockey players will have to use a different stadium. Although we are immensely sorry for the closure of the stadium, public safety comes first. We Immediately take the steps necessary for the earliest possible reopening of the stadium.
Team will play next home games in Trebisov
13 Jan 2016, 15:22 | Steelers sign Hayes
Sheffield Steelers of the EIHL today swooped for new signing Ryan Hayes, the EIHL top goalscorer with Edinburgh Capitals. This is hot on the heels of the signing of Swedish forward Conny Stromberg. Hayes, who has scored 25 goals, became available and with Colton Fretter of Sheffield struggling through a recurring injury it obviously seemed a prudent move by coach Paul Thompson.
12 Jan 2016, 14:58 | Kuwait Airways Club won Kuwait League
Kuwait Airways Club won the National Ice Hockey title after defeating Sable 10-5 during the final match which was held at the Ice Skating Rink of Kuwait City on January 04
The championship lasted for four weeks with the partecipation of four teams: Touristic Enterprises, Gulf Cables, KAC and Sable.
Now the Kuwait national team will have week a training camp in Sweden to prepare the Gulf championship to be held in Qatar at the end of January.
09 Jan 2016, 20:57 | DEL2 game visited by 31,853 fans
The Sachsen derby Dresdner Eislöwen - Lausitzer Füchse in the German second league, DEL2, was played outdors at the Dresden football stadium in front of 31,853 spectators. The home team won the game 4-3 in overtime.
08 Jan 2016, 15:05 | EBEL: Foxes add NHL-experienced defenceman
Italian EBEL-club HC Bolzano Foxes has signed 32-year-old defenceman Brendan Bell. The blueliner can look back at 102 games in NHL and 530 in AHL, as well as three Spengler Cup appearances for Team Canada.
With this addition, Bolzano will have to release one forward, with Brodie Reid, Alex Foster and Nick Palmieri being the most probable candidates for the roster cut.
07 Jan 2016, 19:27 | EBEL: Hannu Järvenpää to coach the Red Devils
Hungarian club Székesfehérvár AV19, currenty on 9th place in EBEL, has hired Hannu Järvenpää as the new head coach. The 52-year-old from Finland, who has coached in EBEL since the 2009/2010 season, replaces Rob Pallin. Järvenpää is well known in the league as former bench boss of Ljubljana and Villach, where he was fired two months ago.
07 Jan 2016, 16:09 | Sputnik Nizhny Tagil forward passed away
Sputnik Nizhny Tagil forward Sergei Simonov, 24, suddenly passed away. According to preliminary reports, the player was hospitalized after a training session, held the day before. He complained of pain in the region of the spleen. The exact cause of death has not been established but an investigation was opened. Before to arrive at Sputnik, Simonov, a product of Novokuznetsk school, played for Lada and Lipetsk in 2013-2014, Sary-Arka Karaganda 2014-2015 and Kristal Saratov in the first part of current season
04 Jan 2016, 11:55 | The Broncos have found their new top-line forward
Sterzing/Vipiteno Broncos, currently on 3rd place in Serie A, have aquired Canadian winger Taylor Stefishen. The 25-year-old, who was drafted by the Nashville Predators in 2008, will replace Johnny Lazo in the top line.
03 Jan 2016, 22:24 | DVTK Miskolc changes coach
Current MOL Liga champion DVTK Jegesmedvék Miskolc announces a change on the bench: coach Peter Mayer was fired despite the team is leading the table, one point ahead MAC Budapest.
"There have been problems inside the team, so we had to change and move on, because we need new impulses" - said President of DVTK Miskolc Egri István
"Because we are in the first place, I have no reason to be ashamed of. What happened is part of a long process: I could not find a common language with the team" commented Mayer who will stay in the club coaching staff.
Mayer was replaced by Canadian Jason Morgan, until now on the bench of junior team, at his first assignment as senior coach
03 Jan 2016, 18:46 | Rouen held the Cup
Rouen Dragons wins for the second consecutive year Coupe de France beating 4-2 (2-0,0-2,2-0) traditional rival Grenoble at Paris Bercy Arena in front of 10.020 spectators. It's the sixth national cup for Rouen. Forward Yorick Treille, one goal and one assist, was named game MVP
03 Jan 2016, 10:12 | No more William Nylander at WJC
Swedish team doctor PA Bergsten announced today that Swedish star William Nylander who was injured on the first day of the World U20 Championship won't be able to play more in the tournament.
Sweden also lost defenseman Adam Ollas Mattsson to an injury during the quarter final gae against Slovakia. He will be out for 4-6 weeks.
01 Jan 2016, 00:46 | WJC Quarter Final draw
The Group stage of the World U20 Championship ended tonight with Sweden on top of Group A and Russia of Group B. The quarterfinals will be played on Saturday: Russia-Denmark, Sweden-Slovakia, Finland-Canada and USA-Czech Republic. Switzerland and Belarus will play three games to decide who gets relegated.
30 Dec 2015, 21:12 | Cracovia Krakow wins Polish Cup
Outclassing 5-0 host Nowy Targ, Cracovia Krakow wins the second Polish Cup of its history completing a perfect weekend with a 8-0 record. Maciej Urbanowicz scored 2 goals and served one assist, while teammate Mateusz Rompkowski was awarded as MVP of the final. In the semifinals Cracovia won 3-0 against GKS Jastrzębie while Nowy Tag advanced beating 5-3 champion GKS Tychy
30 Dec 2015, 17:56 | Dizel Penza on the verge of bankruptcy
Traditional club Dizel Penza may have its days numbered: according to local site "Tema Penza" citing the Minister of Physical Education and Sports of Penza region Grigory Kabelsky the team may withdraw from VHL in January. Dizel is currently 24th in the standing, the second worst record of the league.
"The situation of Dizel is more than serious, we can speak of an impasse. On January 19 will be set a hearing, with high probability it will be the last, and will begin the process of bankruptcy. The property will be arrested and the funds that will be transferred to the account of the club will go to creditors. Then it will be necessary the creation of a new legal entity, this is the only way. What it would take to recreate a professional club in Penza, is now difficult to say"- said Kabelsky.
Dizel last summer announced the club would not participate in VHL but then reverse the decision.
Last November newly created VDV-Zvezda was withdrawn from the league by unanimous decision of the Board of VHL due to financial problem
29 Dec 2015, 21:51 | Seven new members to Finnish Hockey Hall of Fame
Seven persons were today named to the Finnish Hockey Hall of fame: Pekka Leimu (player), Saku Koivu (player), Teemu Selänne (player). Kimmo Rintanen (player), Tiia Reima (player, member of Finnish 1st Women's Olympic team), Erkki "Neka" Haapanen (equipment manager) and Rauli Virtanen (coach).
28 Dec 2015, 10:51 | Record crowd in EIHL
Fans of the Sheffield Steelers and Nottingham Panthers set a new Elite League record attendance on Boxing Day.
A total of 9,087 turned out at the Sheffield Arena to watch the two teams play out a tight 2-1 contest in Steelers' favour.
27 Dec 2015, 11:08 | Egli suspended three games
Switzerland's Chris Egli has been suspended three games following his check to the head of Sweden's William Nylander in yesterday's game at the World Juniors.
26 Dec 2015, 10:26 | Serie A: Johnny Lazo leaves the Broncos
forward Johnny Lazo, in his first season as a pro after graduating from University of Alberta, showed strong abilitites playing for Sterzing/Vipiteno in Serie A. In 22 games he collected 35 points (16 assists and 19 goals), even scoring his first hattrick in his last game in Italy. For personal reasons the 26-year-old has now decided to terminate his contract with the 3rd placed Broncos, who are now looking for a new top line forward.
25 Dec 2015, 19:41 | Coaching news in EBEL
HC Innsbruck, currently ranked 11th in EBEL, fired head coach Christer Olsson. Aisstant coach Pierre Beaulieu will act as interim head coach for the Sharks.
In the meantime, record champion Klagenfurter AC decided to extend the contract with interim coach Alexander Mellitzer. The 35-year-old Austrian will stay bench boss also for the remainder of the current season.
23 Dec 2015, 23:42 | Sebastian Aho injured
Team Sweden U20 defenseman Sebastian Aho was injured during today's game against Canada. He will now miss the World Juniors in Finland. A puck fractured his larynx and he will be out for 4-6 weeks.
22 Dec 2015, 10:25 | Romania Cup final suspended
The final of Romanian Cup between SC Miercurea Ciuc and Steaua Bucharest, played at Gheorgheni arena, was suspended after the second period due to a short circuit to the lighting system which caused the explosion of two reflectors and a fire. The firefighters decided to evacuate the spectators from the rink. Given the impossibility to guarantee the repair in a short time, Federation decided to reschedule the game for a future date to be determined. At the moment of suspension the score was 7-2 in favour of SC Miercurea Ciuc. In the bronze game, Dunarea Galati won 7-6 at overtime against host Progym
20 Dec 2015, 23:07 | Serie A: Kim Collins is the new Wolves' bench boss
After firing Mario Richer, HC Pustertal hired Kim Collins as the club's new head coach. Collins is a three-time Swiss NLB champion and a deep-playoff-push will definitely be expected in Serie A too.
18 Dec 2015, 13:16 | Serie A: Ulrich Egen is Gherdeina's new head coach
After releasing Henry Thom from his duties, HC Gherdeina hired Ulrich Egen as the team's new head coach. Gherdeina is currently on last place in Serie A.
17 Dec 2015, 21:37 | Trevor Walsh new coach at Adrenaline
Adelaide Adrenaline announced the appointment of former player Trevor Walsh as new head coach. Canadian-born Walsh, 44, played from 1998 and 2008 for defunct Adelaide Avalanche amassing an impressive 118 goals and 93 assists in 107 games before closing his career at Gold Coast Blue Tongues. He also represented Australia at three World Championships.
"Trevor is well respected by the players and he has a great mind for hockey. He is fierce competitor and I look forward to working with him to bring a championship back to Adelaide" said former coach and Adrenaline Vice President Ryan O'Handley
17 Dec 2015, 11:27 | Serie A: Pustertal fire coach Mario Richer
After losing the final of the Italian Cup on home ice against Valpellice, the Wolves from Val Pusteria have opted to release Mario Richer from his duties as head coach. Pustertal, currently on second place in Serie A, had been coached by Richer since January of 2014.
14 Dec 2015, 13:20 | New Swiss Head Coach
SIHF signed Daniela Diaz as new head coach of the Swiss women's team.
13 Dec 2015, 17:40 | Valpellice wins Coppa Italia
Valpellice Bulldogs surprisingly wins its second Coppa Italia (Italian national cup), after the premiere in 2012-2013, by beating current league leader and trophy holder SV Renon 4-3 in the semifinal and host Val Pusteria 3-1 in the final in front of 1800 spectators. It's the first trophy for Valpellice coach Tom Barrasso. Val Pusteria reached final beating 2-1 Asiago in the other semifinal
12 Dec 2015, 10:15 | Polish Cup 2015 will be assigned in Nowy Targ
After 10 years from the last appearance, the Nowy Targ Arena, with capacity for 3.500 spectators, will host the finals of Polish Cup 2015 on 29-30 December 2015, featuring the best four teams after two rounds of the regular season. The semifinals pairs are:
16:00 Comarch Cracovia - JKH GKS Hawks
19:30 TatrySki Podhale Nowy Targ - GKS Tychy
The final will started on 30 December at 18:30
12 Dec 2015, 09:55 | Japan U20 withdraws
The 2016 IIHF Ice Hockey U20 World Championship Division IB scheduled from 12 to 18 December in Megeve, France lost one team on the eve of first match: Japan announced the cancellation of partecipation and the consequent relegation to Division II Group A
Thus only five teams - Slovenia, Ukraine, Poland, France and Great Britain - will compete in France and none of the teams will be relegated.
10 Dec 2015, 10:28 | New coach at Zauralie
Albert Loginov,45, is the new headcoach of Zauralie Kurgan after the club terminated by mutual consent the contract with Sergei Dushkin, on Zauralie bench since 2013. Loginov worked as assistant coach at Molot Perm in the last two seasons. Alexei Isakov and Vyacheslav Sedov remain as assitants
07 Dec 2015, 22:40 | Swedish WJC squad
Sweden named today the preminary roster for the World Juniors to be played in Helsinki. You can find it here.
04 Dec 2015, 23:55 | Coppa Italia quarter finals kick off on Saturday
On Saturday, 5th of December and Monday, 7th of December, the eight Serie A clubs will compete in the Coppa Italia quarter finals. The winners of the two-game-series will qualify play the Final Four tournament between 12th and 13th of December. Following are the matchups in the first round:
Asiago - Sterzing
Cortina - Pustertal
Gherdeina - Ritten
Valpellice - Fassa
04 Dec 2015, 17:18 | Kempe and Nylander to play WJC
Adrian Kempe and William Nylander, both drafted in the first round of the 2014 NHL Draft, are clear to represent Sweden at the 2016 World Junior Championship.
Both have had a great AHL season so far. Nylander leads the league in scoring with 10 goals and 14 assists in 19 games while Kempe has collected 13 points in 17 games.
03 Dec 2015, 13:03 | Patrick Fischer named the new Swiss coach
Patrick Fischer, the former trainer of HC Lugano, has been named yesterday to the post of Swiss national coach. The 40-year old from Zug, who briefly played in the NHL with the Arizona Coyotes and in the KHL with SKA but spent most of his career in the National League A, was fired a month ago after the poor results obtained with the Ticino club until that point, despite previously reaching the playoffs twice. Felix Hollenstein, who spent most of his playing career with Kloten, and Reto von Arx, a former Blackhawks player who retired at the end of the past season after a long stint with Davos, will be his assistants. "Fischi" was himself assistant coach of the national team between 2010 and 2013, before being chosen to lead the Lugano bench. The new staff will debut at the 2015 Arosa Challenge on December 18th-19th, when Switzerland will take on Norway, Slovakia and Belarus.
02 Dec 2015, 20:04 | Tyler Beskorowany signs for Nürnberg
After the injury suffered by Andreas Jenike and the ongoing unavailability of Jochen Reimer, the Thomas Sabo Ice Tigers have added today Tyler Beskorowany to their roster. The 25-year old Canadian, who last year successfully played for Düsseldorf, has now come back to the DEL after a beginning of the season split between the AHL and the ECHL. Selected by the Dallas Stars in the 2008 NHL Draft, he was elected "Goalie of the year" during his stint with Düsseldorfer EG, being one of the best goalkeepers of the entire league. His contract will be valid until the end of the present season.
02 Dec 2015, 19:30 | Olimpija win Slovenian Cup blanking Jesenice
Olimpija Ljubljana won the first edition of Slovenian Cup by beating 4-0 traditional rival of HDD Jesenice in the final played at Jesenice in front of a sold-out 2500 spectators with goals by Pešut, Kalan, Pem and Kaspitz. Jesenice assistant coach Anze Terlikar was dressed as player due to several injuries in home team roster
02 Dec 2015, 18:39 | Kim Hirschovits to Kärpät
Last year's Liiga top scorer Kim Hirschovits will leave Espoo Blues with immediate effect and join Kärpät Oulu. Hirschovits terminated his current contract due to unpaid salaries arising from financial problems the Blues are having and joins the champion until season's end with an option for next season. He will not be eligible for tuesday's second leg in the CHL between Kärpät and Espoo.
02 Dec 2015, 12:16 | Brad Vigon new coach of Australia
Australian Federation announced the appointment of Brad Vigon as new national team headcoach, replacing Ryan O'Handley, in charge since 2014, who recently resigned also as Adelaide Adrenaline headcoach to become Vice President and Director of Hockey Operations of the club. Vigon, 46, native of Santa Monica, California, coached Melbourne Mustangs since 2012, winning a title in 2013-2014. He already had an experience on national team bench in 2013, when was assistant coach at World Championship Division IIa.
Matti Luoma was named assistant coach. The duo will lead Australia, relegated last season, at World Championship Diviion IIb at Mexico City next April
01 Dec 2015, 21:57 | Continental Cup Finals will be held in France
The Rouen Dragons will host this year's edition of the IIHF Continental Cup Super Final. Between the 8th and 10th of January the 13-time French champion will face off against Asiago Hockey (Italy), Herning Blue Fox (Denmark) and GKS Tychy (Poland). It is already the fourth time that the winner's plate will be awarded in Rouen.
01 Dec 2015, 18:35 | Shirt retirement
Adam Calder, native of Manitoba in Canada, last played for UK Elite League Championship winning Coventry Blaze in 2010 and now they have decided to retire his no 25 shirt.
During his six seasons (2004to 2010) he played 384 games for them and holds the record still for the most points during an Elite league season - 125 - during 2007-08 season.
He was a grand slam winner (Elite League, Play Offs, Challenge Cup) in 2004-05 with a deceptively lazy style he was a true winner for Coventry.
01 Dec 2015, 16:42 | KAC fire head coach Doug Mason
Austrian record champion Klagenfurter AC has released Doug Mason from his duties as head coach of the team. It is the club's second coaching change in two years, after Mason has been signed during the last season. Alexander Mellitzer is acting as interim coach until new personell is hired.
17 Nov 2015, 06:32 | Hamburg without Wolf for several weeks
DEL club Hamburg Freezers announced that their forward David Wolf is out for at least a couple of weeks. The 26 year old left winger suffered a torn hamstring in the Freezers' 1-6 away defeat against Kölner Haie, making that loss even more bitter for the Nothern Germans.
15 Nov 2015, 16:29 | Olimpija and Jesenice will battle for Slovenian Cup
Archrivals Jesenice and Olimpija Ljubljana will compete for the first edition of Slovenian Cup, playing the final on December, 1 in Jesenice. Olimpija won 5-1 the city derby against Slavija Ljubljana, while Jesenice prevailed 2-1 over HK Celje
12 Nov 2015, 11:51 | Swedish junior championships finals
The semifinals and finals of the Swedish U16, J18 and J20 championships will be played in Stora Hallen, Nyköping March 24-28 2016.
11 Nov 2015, 14:44 | Sputnik Nizhny Tagil fires coaches
With 8 victories after 19 rounds, Sputnik Nizhny Tagil announces the club fires coach Vladimir Golubovich and the assistant Vadim Shaidullin. Club manager Marat Valiullin will lead the team as interim coach
06 Nov 2015, 15:04 | New Sports Director at Ässät
Former player and Karhu-Kissat junior chief Jari Korpisalo has been chosen to replace Mika Toivola as Ässät Sports Director.
Korpisalo and Ässät has agreed to a 3-year deal starting in early January. Korpisalo played 575 games for Ässät between 1990 - 2005 and was the team's best scorer 6 times during that era. Since 2006 he had been working for his own junior team Karhu-Kissat as a junior chief.
Current Sporting Director Toivola will continue as usual until January and after year change they will sit down and decide how they shall split the work.
05 Nov 2015, 22:11 | Tre Kronor forward injured
Anton Rödin was injured during Sweden's Karjala Tournament (EHT) game against Czech Republic tonight. John Norman of Skellefteå will replace him in the two remaining games.
04 Nov 2015, 21:44 | Women's national team tournaments
Today started two national team tournaments for women. In Sundsvall, Sweden Canada beat Finland 2-0 and the home team lost 2-6 to USA. In Czech Republic Russia beat Switzerland 4-1 and Germany beat Slovakia 4-2.
03 Nov 2015, 19:40 | New coaches at MODO
MODO Hockey of SHL released today the head coach Larry Huras and his assistants Henrik Gradin and Jan-Axel Alavaara. Andreas Johansson will be new head coach of the team that holds the 13th spot of the 14 SHL teams. He will be assisted by Fredrik Olausson.
01 Nov 2015, 12:59 | Lugano hire Serie A head coach as new assistant
Pat Curcio, until yesterday head coach of Italian top league club HC Valpellice, has accepted an offer of struggling Swiss NLA member HC Lugano. Lugano, after a tough start into the season, repositioned their coaching staff, signing Doug Shedden as the new boss on the bench. Curcio will help Shedden in his new role as the team's assistant coach.
31 Oct 2015, 08:44 | U17 games
Four pre-tournament games before the 2015 World Under-17 Hockey Challenge was played last night: Finland - Czech Republic 8-7 (OT), Sweden - Canada Black 5-1, Canada White - Russia 3-2 and USA - Canada Red 4-3.
28 Oct 2015, 14:40 | Lithuania named national teams coaches
Lithuania Federation announced the coaching staff for U18 and U20 national teams.
American/Irish James Tibbetts, 62, will lead U18 national team at Division 2a championship in Brasov, Romania in April 2016. Tibbets coached in France and Ireland in the past. He will be assisted by American Damian DiGiulian, 45, last year on St. Michael's College bench in Northeast-10 Conference. Both signed a 1+1 contract
Latvian Aigars Cipruss was confirmed as U20 headcoach; he was assisted by former player Arunas Aleinikovas and current Hockey Punks Vilnius captain Mindaugas Kieras. Cipruss will coach Lithuania next december at U20 WJC Division 2a held on home ice of Elektrenai Arena
27 Oct 2015, 15:45 | New coach at Ertis Pavlodar
Czech Ladislav Lubina was appointed as new headcoach of Ertis Pavlodar. Lubin replaces Slovak Julius Penzes, resigned after five years and three titles, due to bad start of the team in Kazakhstan League. Lubina, on Slavia Praha bench last season, signed last summer for another Kazakh team, Beybarys Atyrau, but resigned in August after the training camp. Curiously the first game for Lubina on Ertis bench will be against Beybarys.
"Now I will not talk a lot, we have a lot of work. I came here to help Ertis to take its rightful place in the standing" said Lubina during his presentation
25 Oct 2015, 07:20 | Munich without two top players for weeks
Injuries are continuing to be a serious problem for several championship contenders in Germany's DEL. Red Bull Munich have to play without their starting goalie Danny aus den Birken - who is also a regular in the German national team - and forward Steve Pinizzotto - who is their best plus/minus player of the current season - during the next weeks. Both players suffered leg injuries this week and a date for their return is not yet scheduled. Now a total of 7 regulars are out with injuries for the Red Bulls.
21 Oct 2015, 06:23 | Mannheim climbing in DEL standings
Adler Mannheim are continuing their upwards trend in Germany's top professional hockey league. Following a 5-point weekend, the current DEL champions were able to beat vice champions ERC Ingolstadt in a rematch of last season's playoffs finals by a score of 3-1.
This was the 3rd consecutive win for Mannheim who are now 6th while Ingolstadt stays 14th - dead last - in the league after losing 5 league matches in a row, bringing the total of losses in official competitions to six combined with losing in CHL round of last 16.
21 Oct 2015, 06:16 | DEL injury report
Two DEL players suffered long-time injuries this weekend during wins against Straubing.
Mannheim defender Dennis Reul is expected to miss up to 4 months with a shoulder injury that requires surgery. The injury happened during the Eagles' 4-1 away win in Sraubing on Friday. It was Reul's first appearance after a four week absence due to injury.
Augsburg forward Mike Iggulden is out for 8 weeks with a knee injury after a check in the 4-3 win of the Panthers against Straubing on Sunday. Surgery is not required.
20 Oct 2015, 10:02 | CSKA Sofia won't travel to Tychy
Due to financial problems CSKA Sofia, winner of Round 1 of Continental Cup, announced the team won't travel to Tychy, Poland, next weekend to partecipate in Second Round of competition. IIHF will fine the club for the withdrawal and invited the clubs finished behind CSKA to partecipate. Also runner-up Zeytinburnu Istanbul declined, but Partizan Beograd, finished third with just one game won, accepted the invite and will face GKS Tychy,Coventry Blaze and Dunarea Galati for a spot in semifinals
11 Oct 2015, 15:53 | Bulgaria advances in Olympic Qualifications
Bulgaria take the first step towards PyeongChang 2018 winning 9-1 at Winter Palace in Sofia, in front of 581 spectators, the Qualification game against Georgia. Captain Martin Boyadjiev was the star of the game, scoring 2 goals and serving 6 assists. His teammates at CSKA Sofia Yanaki Gachev (3+3) and Petar Mihov (2+3), along with Kristian Semkov and Bogdan Stefanov also contributed to demolish the weak Georgian team. Fiery Crusaders Tbilisi forward Vitali Dumbaze scored the only goal for Georgia.
Bulgarian coach Kirill Hudulov granted one minute on ice at 51-years-old legendary goalie Konstantin Mikhailov
Now Bulgaria will play next round of Olympic qualification at Tallinn, Estonia from 5 to 8 November against Estonia, Mexico and Israel
05 Oct 2015, 19:04 | Two KHL players temporarily banned today
After an accurate review, the KHL board has temporarily banned two players from playing the next few games of the Kontinental Hockey League: Barys Astana forward Dustin Boyd and Evgeny Artyukhin (SKA St. Petersburg) were suspended because of misconduct for four and one games respectively, after the major penalties inflicted against their teams already during Saturday's matches. Alexei Pepelyayev, the Torpedo player hit by Boyd, even required medical treatment and therefore spent the rest of the match outside the ice rink, while Semyon Afonasyevsky, the Traktor forward who collided with Artyukhin, didn't receive serious injuries.
05 Oct 2015, 19:00 | Yuzhny Ural Orsk fires coach
Andrei Martemiyanov has resigned from the position of headcoach at Yuzhny Ural Orsk after seven games and just one victory in regulation time. Former captain and current hockey school coach Vitaly Kazarin was appointed as interim coach.
"Of course the start of the championship wasn't satisfactory. When the team arrived in Orsk, we met with the coach, talks and take a mutual decision to terminate the contract" said Minister of Regional Sports Oleg Pivunov
05 Oct 2015, 18:54 | Graz 99ers fire head coach
The Graz 99ers reacted to their poor start in EBEL by releasing Todd Björkstrand from his duties as head coach and GM. Assistant coach Ivo Jan has been promoted to the position of head coach and will try to bring his team out of last place. Teppo Kivelä will continue in his role as assistant coach.
04 Oct 2015, 21:44 | Nuremberg Ice Tigers lead the DEL
With a 3-2 victory against reigning champions Adler Mannheim, the Ice Tigers are now the new leaders of the Deutsche Eishockey Liga. For the Franconians is the first win in Mannheim since 2010. The Eisbären Berlin and the Straubing Tigers follow in the leading table after having been both defeated today.
03 Oct 2015, 19:50 | Traktor Chelyabinsk defeats reigning champions
With a 2-1 victory in overtime, Traktor Chelyabinsk puts an end to a not-so-entertaining game against SKA St. Petersburg, last year's winners of the Gagarin Cup. It is the third loss in a row for the reigning champions, which remain seventh in the Western Conference standings.
03 Oct 2015, 19:43 | HC Sochi triumphs against Podolsk
Vityaz Podolsk has been ultimately thrashed today by HC Sochi. The team from the Black Sea coast scored 5 goals to none winning a really one-way game and ending a string of two consecutive losses on the ice.
03 Oct 2015, 19:33 | Dinamo Minsk wins against Avangard Omsk
With four goals (the latter on numerical inferiority and with empty net) and one assist, Matt Ellison literally challenges Avangard Omsk on his own: the Belarusian team from the capital city Minsk, aided by the decisive contribution of the Canadian player of Blackhawcks' fame, ends up winning 4-2, the remaining goal being scored by the captain Alexei Kalyuzhny. Despite the goals by Fishenko and Perezhogin, Omsk leaves the arena disappinted and with no points.
02 Oct 2015, 22:18 | Slovan loses again, Ufa rises during overtime
After a very tense game, Salavat Yulayev Ufa defeats Slovan in Bratislava 3 -4 during the overtime of today's KHL action. It is the third consecutive loss for the Slovaks, now placed sixth in the Bobrov division.
02 Oct 2015, 21:58 | Medveščak earns an important win
Medveščak Zagreb defeats Magnitogorsk 4-1 and chases Jokerit Helsinki at the head of the Bobrov division after three consecutive scores and an empty net goal. It is the fifth consecutive win for the team from the Croatian capital, after five consecutive losses at the beginning of the tournament.
02 Oct 2015, 21:28 | Plzeň becomes the new Extraliga leader
After a 4 : 3 win against Kometa Brno, the Bohemians are now the new leaders of the overall classification. Mlada Boleslav and HK Mountfield follow, the former even after a defeat at the shootout against reigning champions Litvinov.
30 Sep 2015, 16:01 | Yunost and Dinamo Maladzyechna will battle for Salei Cup
Yunost Minsk and Dinamo Maladzyechna are the finalists of Salei Cup (National Cup of Belarus) 2015. In a home/away semifinal series Yunost won national champion Shakhtar Soligorsk 8-3 and 2-6 reaching the final for the seventh time since the first edition of the competition in 2001-02 equaling the record of defunct Keramin Minsk. Yunost already holds the record for the most wins, four, along with HK Gomel.
Dinamo Maladzyechna, a team founded in 2014, reached its first ever final by beating 2-1 and 3-3 Khimik-SKA Novopolotsk
Final will be played in home/away format, on October 06 in Minsk and October 20 in Maladzyechna
29 Sep 2015, 16:28 | EBEL: Rafael Rotter suspended 8 games
28 year old Austrian winger Rafael Rotter, member of the Vienna Capitals, has been handed an 8 game suspension by DOPS, EBEL's department of player safety. The incident happened during the Caps' home game against Olimpija Ljubljana, leading to a concussion of Guillaume Desbiens. The detailed reasons behind the ban are being explained in DOPS' official video release.
29 Sep 2015, 12:51 | Andrei Potaychuk resigned as head coach of the Sary Arka
Russian coach Andrei Potaychuk, arrived at Sary Arka Karaganda this summer, resigned today, terminating the contract by mutual agreement, after eight games and nine points earned.
Vadim Yepanchintsev was appointed as interim coach
24 Sep 2015, 09:38 | Barys sacked coach
After the last game lost 1-4 at home against Avangard and a disappointing start of season - just 3 victories in 13 games - Barys Astana announced club fired coach Erlan Sagymbaev and his assitant, Finnish Raimo Helminen. Evgeny Koreshkov was appointed as interim coach
18 Sep 2015, 23:36 | Asiago wins Supercoppa
Italan champion HC Asiago faced off against Coppa Italia-winner Ritten Sport in a game to determine the holder of the 2015 Supercoppa. In a close matchup the game was tied going into the final period thanks to goals scored by Markus Spinell and Sean Bentivoglio. In the 43th minute Anthony Nigro gave the Lions the 2-1 lead, a goal which would eventually result as the game winner.
17 Sep 2015, 22:22 | Game interrupted in Norway
Tonight's game Vålerenga - Lørenskog in Norwegian GET-Ligaen was terminated in the second period due to too much fog over the ice. At that point Lørenskog had a 1-0 lead on a goal by Nathan Longpre.
Other results in Norway today: Stavanger - Sparta 10-2, Stjernen - Manglerud 7-3 and Kongsvinger - Frisk Asker 3-7.
16 Sep 2015, 08:45 | Mannheim star signing Marcel Goc out 3-4 weeks
DEL top summer signing Marcel Goc who returned to Adler Mannheim for the third time in his career after playing for Pittsburgh and St. Louis in the NHL last season is out for 3 to 4 weeks. According to his club the forward suffered a lower body injury in the away loss to Red Bull Munich (2-4) on Sunday. His first DEL weekend wasn't yet impressive with 0 points in 2 games and a -1 rating.
14 Sep 2015, 17:21 | Krämmer gets two year extension in Hamburg
DEL side Hamburg Freezers have extended the contract of German national team player Nico Krämmer until 2018. The original contract of the 22 year old forward would have ended next summer.
14 Sep 2015, 15:34 | Short EIHL summary
The Elite League in the UK has been running for two weeks now but a mixture of regular league games and Challenge Cup games does not give a very clear indication of early pacesetters. However, making the early running in the EIHL are Belfast Giants even though they have only played once. The picture with the Challenge Cup is much clearer. In one conference Braehead are out in front with a 100% record whilst in the Erhardt conference Sheffield Steelers last evening trounced leaders Cardiff Devils to take second place.
12 Sep 2015, 14:58 | Yunist' Kharkiv is the last team to apply for playing in the Ukranian League
On Septeber 10, at the deadline for the partecipation at the next Ukranian League, the new club Yunist' Kharkiv applied to compete in the league. Thus Kharkiv team became the eighth team of the national championship of Ukraine.
According to coach Valeriy Plyasheshnyk, the team will count mainly on young players from the famous hockey school SDYuSShOR Kharkiv.
Besides Yunist' Kharkiv the XXIV Hockey Championship of Ukraine will allign: Bilyy Bars Bila Tserkva, Vytyaz' Kharkiv, Generals Kyiv, Donbas Donets'k, Companion Kyiv, Rapid Kyiv and HC Kremenchuk
12 Sep 2015, 13:38 | Continental Cup Group C scheduled
The IIHF Continental Cup second round, gets under way in October and the Coventry Blaze of the EIHL, have now confirmed the order and face off times for all of the matches in group C. Blaze will face Romanian Champions, Dunarea Galati, hosts and Polish Champions GKS Tychy and the winner of first round Group A in the four team event.  The winners will progress to the third round in Rouen, France in November.
Full schedule for group C:

Friday 23rd October

15.30 - Dunarea Galati v Coventry Blaze
19.30 - Group A Winner v GKS Tychy

Saturday 24th October

15.30 - Coventry Blaze v Group A Winner
19.30 - GKS Tychy v Dunarea Galati

Sunday 25th October

15.30 - Group A Winner v Dunarea Galati
19.30 - GKS Tychy v Coventry Blaze

All face off times are CET which is the local time zone.
11 Sep 2015, 08:37 | Finnish goalie released for pro-drug comments
Richard Ullberg, goalie of second-tier Mestis side Hermes Kokkola, was released by his team due to violating the club's anti-drug policy. The 22-year old made positive comments about the use of cannabis on his personal social media accounts which made a further work relationship with the club impossible.
Ullberg, who already played in top division Liiga and Austrian-based EBEL earlier in his career, had a great preseason and looked like the top candidate as starting goalie.  After being testes by the club on forbidden substances, the goalie will be able to play for any other team as there were no anomalies found.
10 Sep 2015, 20:28 | Berlin signs Japanese forward
DEL club Eisbären Berlin have signed Japanese winger Shuhei Kuji for the 2015-16 DEL season. The 28 year old could become the first ever Japanese player to make it to the DEL level. The 2012 Asia League champion - with his longtime team Oji Eagles - was the best goal scorer of Asia League in 2010-11 - together with Go Tanaka who himself played in Germany during the 2009-10 season for 2. Bundesliga side ESV Kaufbeuren.
Kuji already had played in all 4 CHL games of the Polar Bears as a test player and scored 1 goal.
08 Sep 2015, 07:16 | Nürnberg six months without goalie Reimer
Bavarian DEL club Nürnberg Ice Tigers will miss Jochen Reimer for a scheduled six months which means likely the loss of a full season for the 30 year old who shared goaltending duties in 2014-15 with Andreas Jenike. The bad news come after Reimer needed hip surgery in the off season.
Nürnberg now are looking for a new second goalie and are likely to sign a new player soon to fill the gap with the league start in Germany's highest professional men's league coming this weekend.
04 Sep 2015, 22:05 | MODO Hockey lost opening game in SCA Cup
MODO Hockey lost against Sundsvall Hockey in tonights opening game in the SCA Cup. Game ended 2-1 after Christoffer Kjaergaard scored the game-winning goal. MODO still have a tough preseason.
03 Sep 2015, 19:20 | Icelandic League started
Icelandic League started this week with a convincing victory of champion SA Akureyri and new player-coach, Finnish Jussi Sipponen, 5-0 against Bjornin. Silver medalist SR Reykjavík lost 5-4 at overtime in the city derby aginst Esja UMFK.
Follow every game of Icelandic League on Eurohockey page
02 Sep 2015, 07:52 | Marcel Goc returns to Germany
One of the few long-time NHL players from Germany, Marcel Goc (32), leaves North America after 12 years with 203 points in 699 NHL games for San Jose, Nashville, Florida, Pittsburgh and St. Louis. The national team center who was picked as 20th overall in the first round of the 2001 NHL Entry Draft by San Jose, signed a 5 year contract with current German champions Adler Mannheim. It's the third time he joins the club after playing for them from 2001-2003 and during the 2012-2013 lockout. In Mahheim he will join his brother Nikolai Goc with whom he played in the same team already during his last stay in DEL.
31 Aug 2015, 12:57 | Kempe suspended
Vityaz forward Mario Kempe has been suspended for two KHL games after kneeing Sibir forward Sergei Shumakov.
29 Aug 2015, 22:42 | Gornyak Rudny wins Kazakhstan Cup
Gornyak Rudny surprisingly won 2015 edition of Kazakhstan Cup beating 2-1 Arlan Kokshetau in the final played at Burabai Arena. It's the second trophy for Rudny team after the Cup won in 2009-10. Beybarys Atyrau won the bronze medal defeating 5-1 Nomad Astana.
The individual awards:
Best goalie: Stepan Goryachevskikh (Arlan)
Best defender: Georgi Dulnev (Beybarys)
Best forward: Igor Cherkasov (Gornyak)
Best young player: Ivan Stepanenko (Nomad)
29 Aug 2015, 21:49 | Finland-Sweden
Finland and Sweden played three national team games today. In the Women's game Finland won 1-0 in Mariehamn. The Swedish U17 team beat Finland 7-4 in Haapajärvi. In the U20 tournament in Dmitrov, Russia Sweden won 3-2 after a shootout.
In Dmitrov the Czech U20 team beat Russia 4-0.
28 Aug 2015, 18:30 | Ertis Pavlodar lost decisive game by forfeit
Cup holder and national champion Ertis Pavlodar was awarded a 5-0 forfeit loss in the last match of Kazakhstan Cup against Gornyak Rudny for alligning four young players born after 01 January 1991 instead of five, as determined by rules of competition. After the game, won by Ertis 3-2 after shootouts, Gornayk has filed a protest to the federation, which was examinated and accepted. Individual statistics for the game will be maintained, according to the rule
Thus, Gornyak Rudny won Group B and will play the final against Arlan Kokshetau, winner of Group A
Nomad Astana and Beybarys Atyrau will battle for the bronze. Both games are scheduled for August 29
27 Aug 2015, 13:44 | Marty twins retires from the Swiss national team
Swiss twin sisters Julia and Stefanie Marty announce that they retire from the Swiss women's team after 11 years. Julia retires also from club hockey while Stefanie will play another year for Université Neuchâtel.
26 Aug 2015, 08:39 | Swedish Preseason games Wednesday August 26
Following Swedish teams are participating in todays preseason games. Frölunda HC - BIK Karlskoga, HC Lugano - Malmö Redhawks, Ambri Piotta - Karlskrona HK.
25 Aug 2015, 22:04 | Swedish Preseason games Tuesday August 25th
There's been four preseason games in Sweden today. VIK Västerås HK-Linköping HC 1-2, AIK-Vita Hästen 2-1, Mora IK-Leksands IF, Sundsvall-Österund 2-3 (SO). With Linköpings win, the team now have four straight wins.
24 Aug 2015, 22:22 | Swiss goalie injured
The 22-year-old keeper of Kloten Flyers, Luca Boltshauser, was injured on Friday during the preseason game against Schwenninger Wild Wings. His shoulder needs surgery. He will be out of play for 4 to 5 months.
24 Aug 2015, 16:53 | HV71 Defenseman out for six months
Lawrence Pilut, HV71, is forced to operate his shoulder in order to strengthen it up. HV71 decided today to let Lawrence operate his shoulder. This means that the young talent will be out up to six months.
24 Aug 2015, 15:35 | Klotens Luca Boltshauser out 4-5 months
According to the Kloten Flyers, newly acquired goalie, Luca Boltshauser, injured his shoulder and will be out after surgery for 4-5 months. He injured himself in a friendly game at home against the Schwenninger Wild Wings.
24 Aug 2015, 11:54 | HC Bolzano kick off transfer campaign
HC Bolzano Foxes, the Italian representative in EBEL, has been faced with financial difficulties and therefore is only starting to build its new team now. After bringing back coach Tom Pokel, hero of the suprise 2014 EBEL championship title, the Italian national team players Marco Insam and Anton Bernard have been resigned.
The club also announced its first acquisitions. 23 year old speedy Canadian center Taylor Vause and 36-year old veteran forward Nate DiCasmirro, who possesses the Italian, American and Canadian citizenship, have been added to the roster of the 19-time Italian champion.
23 Aug 2015, 19:34 | New record in AIHL
Newcastle North Stars Canadian forward Geordie Wudrick broke the record for most points and most goals scored in a season, amassing an amazing 91 points (44 goals, 47 assists) in 28 games. Curiously the old record belongs to another North Stars player,  American Peter Cartwright (now retired), who notched 88 points in 2009-10 season.
Newcastle North Stars won the AIHL regular season and advances to finals, held in Mebourne next week, with the best record
21 Aug 2015, 22:07 | Preseason games Sweden Friday August 21st
MODO Hockey-IF Björklöven 2-1, Karlskrona HK-Hamburg Freezers 5-3, Brynäs IF-Leksands IF 4-1, Asplöven-Roki 6-0, Timrå IK- Frisk Asker 5-1, Tingsryd-Troja Ljungby 2-1.
21 Aug 2015, 21:55 | Skellefteå AIK managed the thick fog in Slovakia
Skellefteå AIK won their first game in CHL tonight as they defeated HK Nitra, 4-2. But it wasn't just Nitra that caused problem for the Swedish team, there was also a thick fog now and then on the ice, which made it hard to see. But three points to Skellefteå AIK and a good start in CHL.
21 Aug 2015, 14:13 | Michal Cesnek dead in a plane crash
Former Slovakian defender Michal Cesnek was among the seven victims of a mid-air collision between two airplanes during a parachuting show in Cerveny Kamen, Slovakia.
Cesnek,36, retired after 2013-14 season, played more than 200 games in Ligue Magnus with Caen and mainly Strasbourg when he arrived in 2008. In 2007-2008 season was named to French All-Star team. In his native Slovakia played for Danubia Bratislava, Zilina, Martin and Spartak Dubnica
20 Aug 2015, 12:16 | 7 teams in next Lithuanian League
After the deadline for the applications to partecipate in next domestic championship, seven teams showed interest
Baltų ainių Kaunas
Hockey Punks Vilnius
SSM-2000 Elektrenai
Energija Elektrenai
Geležinio vilko Vilnius
Juodupės
Rokiškio
League lost three teams: Ober-Haus Vilnius, Lokių - Poseidono Elektrenai and current champion Delovaja Rus Kaliningrad.
Two new teams are SSM-2000 Elektrenai and Geležinio vilko Vilnius
Also Energija Elektrenai, after some years in Belarusian 2nd division is back in the domestic scenario. With the loss of Russian Delovaja Rus, the league will be formed only by Lithuanian teams
19 Aug 2015, 22:10 | Results preseason Wednesday August 19
There's been two preseason games played in Swedish hockey today. Timrå IK-AIK 3-2 and Karlskrona HK-Linköpings HC 1-4.
19 Aug 2015, 11:09 | Semifinals defined in Belarus Cup
After the end of first phase, with teams splitted in two groups, are known the semifinalists of Belarus Cup. Trophy holder Neman Grodno was surprisingly eliminated in Group A
Yunost Minsk - Shakhtar Soligorsk
Khimik-SKA Novopolotsk - Dinamo Maladzyechna
Semifinals will be played in September, dates are to be determined, with home/away format
18 Aug 2015, 22:03 | Preseason games Sweden Tuesday August 18
Björklöven-MODO Hockey 3-4 (SO), HC Lugano-Örebro HK 3-4 (SO), Rögle-IK Oskarshamn 1-3, Sundsvall-AIK 0-2, Skövde-Karlskoga 2- (OT).
17 Aug 2015, 16:51 | Skellefteå AIK signs Alexander Urbom
Skellefteå AIK have signed defenceman Alexander Urbom to a three year contract, the club announced on the website. Alexander is currently coming from Severstal Cherepovets. -"He's a big and strong player, who's going to fit right in," Skellefteå AIK's General Manager Lars Johansson said.
15 Aug 2015, 21:44 | Färjestad BK defeated Leksands IF
Färjestad BK defeated Leksands IF, 4-1, in todays only preseason game among the Swedish SHL teams. Färjestads goalscorers were: Johan Persson, Milan Gulas (2) and Robbie Earl.
15 Aug 2015, 20:36 | Noora Räty won't play in NWHL
Finnish star goalie Noora Räty won't play in the new professional women's league NWHL. "Plan is to keep playing with men this season and look how NWHL develops", she says on her Twitter.
14 Aug 2015, 22:41 | Results preseason Friday August 14
There's been two games played today where three Swedish SHL teams and one Finnish team were involved. Here are the results.
Frölunda HC-HV71 0-4 and Luleå HF-Kärpät 0-3.
14 Aug 2015, 15:13 | Laura Rollins new coach of the Norwegian Women's team
Laura Rollins will be the new coach of the Norwegian women's national team. Rollins, currently Sports director in Stavanger IHK, has coached Norway's U18-girl national team the last 4 seasons. She has also been coach of Stavanger's Ladies' team in Eliteserien. Rollins is originally from Canada, where she has gotten her hockey education, but has also studied hockey at Sports Institute in Vierumäki, Finland.
14 Aug 2015, 14:46 | HIFK names captain
Arttu Luttinen will he new captain of the Finnish Liiga club HIFK. Juuso Puustinen and Daniel Grillfors will wear the "A" jerseys.
14 Aug 2015, 14:42 | Sami Salo retires
The Finnish NHL veteran Sami Salo decided to retired. The 41-year-old defenseman has had troubles with an injured wrist and hasn't played a game since the spring 2014. Salo played 878 NHL games 1998-2014 and represented Finland at four Olympic tournaments.
13 Aug 2015, 23:52 | Results preseason Thursday August 13
Malmö Redhawks-Växjö Lakers 3-0, Djurgårdens IF-Skellefteå AIK 2-1, HPK-Luleå HF 3-1, Huddinge-AIK 0-4, Östersund-Timrå IK 4-3 (SO), Sparta Sarpsborg-BIK Karlskoga 1-6, Västerås-Vita Hästen 1-2 (SO), Björklöven-Asplöven 5-1.
13 Aug 2015, 09:38 | Five games and seven teams up for preseason games
Seven teams from the Swedish HockeyAllsvenskan will be up today and try to measure their strenghts.
Sparta Sarpsborg – Karlskoga, Huddinge – AIK, Björklöven – Asplöven, Östersund – Timrå and Västerås – Vita Hästen.
13 Aug 2015, 09:10 | Swedish Preseason games Thursday August 12
There will be three preseason games for the Swedish teams today. Some interesting meetings to keep an eye on.
Djurgårdens IF - Skellefteå AIK, Malmö Redhawks - Växjö Lakers and HPK - Luleå Hockey.
12 Aug 2015, 23:03 | U17: USA and Slovakia wins
USA beat Czech Republic 5-4 and Slovakia got a 3-1 win over Switzerland on the opening day of a U17 tournament in Arosa.
12 Aug 2015, 13:03 | Ivan Baranka to Rögle BK
Rögle BK have signed the Slovakian defender Ivan Baranka. The contract is sealed for one year. Baranka has 107 national games behind him and he has played in KHL and AHL. Baranka is Rögle's eleventh recruit for upcoming season.
12 Aug 2015, 06:49 | Results from Swedish preseason games
Linköping HC vs Skellefteå AIK 6-0, Västerås VIK vs Djurgårdens IF 1-0, IK Pantern vs Malmö Redhawks 0-4. Notable is that Skellefteå AIK lost their second straight game yesterday.
12 Aug 2015, 05:36 | Düsseldorf to miss two players for months due to injuries
For DEL side Düsseldorfer EG the preseason is not going well. Newly signed German forward Christoph Gawlik had an ACL rupture in his right knee during a test match against Swiss club EHC Olten and will be out for at least 6 months which means the 28 year old will miss most of the regular season.
Out for an uncertain period of time is fellow team mate Jakub Ficenec. The 38 year old Czech suffered a knee injury aswell,
11 Aug 2015, 20:41 | Neman Grodno signed Slovakian forward
HC Neman Grodno signed slovakian 33-years old forward Frantisek Skladany. Last year Skladany played 56 games (16g., 15a.) in VHL for Buran Voronezh. In 2008 Skladany performed with Team Slovakia in the World Championship. Skladany will play in Salei Cup against Shakhtar Soligorsk August 15.
11 Aug 2015, 07:48 | Adler Mannheim without Metropolit next 4-6 weeks
DEL top team Adler Mannheim has to play without 41 year old veteran Glen Metropolit during the next 4-6 weeks. The forward suffered a rib fracture and is likely going to miss the group stage of the 2015-16 Champions Hockey League season which is played between 21 August and 5 September 2015.
10 Aug 2015, 23:47 | Swedish preseason games Tuesday 11/8-2015
Three preseason games will be played tomorrow Tuesday 11/8-2015. Four SHL teams are facing some tough and a little easier opponents.
Linköping HC will stand up against Skellefteå AIK, Västerås VIK will take on Djurgårdens IF and IK Pantern  will face Malmö Redhawks
10 Aug 2015, 14:32 | Marcel Jenni won't play for the Kloten Flyers this season
Both Jenni, who turned 41 years old this year as well as the Flyers Management decided not to extend his contract for the coming season. Jenni who had been a member of the Flyers since the 2005-2006 season had previously won championship titles with HC Lugano of the Swiss National League A as well as Färjestads BK of the Swedish Hockey League. It remains unkown if he will continue his career elswewhere. In 658 NLA games he produced 461 points, in 224 SHL games 126 points. The Kloten Flyers will bid Jenni good bye at a home game this coming October.
10 Aug 2015, 10:03 | New arena of Barys inaugurated in Astana
The new arena of Barys Astana was inaugurated yesterday afore Kazakhstan President Nursultan Nazarbayev and IIHF President Rene Fasel, with the game of President of Kazkhstan Cup between Barys and Metallurg Novokutznesk. The new arena has 12.000 spectators capacity and replaced the Kazakhstan Arena, voted the worst arena of KHL in the past
09 Aug 2015, 16:25 | Switzerland vs France
The Swiss women played the French in two games in St.Gervais and won both. Today 5-2 and yesterday 2-1.
09 Aug 2015, 15:32 | Ivan Hlinka Memorial starts tomorrow
The prestigeous U18 tournament starts tomorrow in Breclav and Bratislava. Yesterday two pre-tournament friendlies were played: Slovakia-Canada 1-12 and Czech Repubic - USA 2-1.
08 Aug 2015, 19:37 | Asplöven and Frölunda HC winners
Asplöven (HockeyAllsvenskan) defeated MODO (SHL) 4-2 in todays game in Varda Cup. Asplöven ended up in second place total in Varda Cup and MODO ended up in last. Luleå HF won the tournament. Frölunda HC won their preseason game against Färjestad BK 4-2 in Stenungsund today.
08 Aug 2015, 00:21 | Djurgårdens IF and Luleå HF winners
Djurgårdens IF won their first game of the preseason, as they defeated Almtuna IS 1-7. Luleå HF won their second game in preseason as they defeated MODO Hockey 4-2. Both Luleå and Djurgården showed some strength for upcoming season.
07 Aug 2015, 21:49 | Björklöven defeated Skellefteå in a shootout
Björklöven won against Skellefteå AIK after a shootout (3-2) on Friday night. T3 Center in Umeå was full and the audience got to see a great game. Björklöven scorers: Viktor Ekeståhl Jonsson, Stefan Öhman and Lukas Sandström. Skellefteå scorers: Erik Forsell and Patrik Zackrisson.
07 Aug 2015, 00:47 | Luleå HF won as expected
Luleå HF won as expected against Asplöven in tonights preseason game. 5-1 the game ended and it was both teams first game in Vardia Cup. Luleås goalscorers were Jan Sandström, Jacob Mickflikier, Emil Sylvegård (2) and Bill Sweat.
06 Aug 2015, 23:17 | Liiga Winter Classic
There will be an outdoor game in Finnish Liiga this season. MTV reports that HIFK will play Ilves at the Helsinki Olympic Stadium December 12.
06 Aug 2015, 08:40 | Steve Walker new assistant coach in Mannheim
Adler Mannheim of German DEL have filled the last open position in their coaching staff.
The newest addition to the team is Steve Walker who won 5 German championships with Eisbären Berlin during his time there between 2000 and 2011.
The 42 year old Canadian was last coaching a junior team in his native country during the last 3 years. For him it's his first coaching stint in professional ice hockey. He will support fellow assistant Craig Woodcroft and head coach Greg Ireland.
05 Aug 2015, 07:38 | Sebastian Elwing honored with farewell game
On Saturday, goalie Sebastian Elwing ended his career after 15 years in professional ice hockey in the two top divisions in Germany with a farewell game.
About 2000 fans and many current German national team players came to Weißwasser, home of DEL2 team Lausitzer Füchse, who Elwing played for during 6 different seasons, to give Elwing a deserved farewell. Elwing won the DEL title with home town club Eisbären Berlin in 2012-13 but had to end his career this spring at age 35 after not being able to play after the 2013-14 season due to a knee injury.
03 Aug 2015, 09:37 | Evaluation Camp in Lake Placid
At the U20 Evaluation Camp in Lake Placid Sweden beat USA Blue 5-2 while Finland lost 5-2 to USA White.
01 Aug 2015, 21:09 | Guvernor's Cup
Guvernor's Cup involving six KHL teams started today in Nizhny Novgorod. Lada beat Neftekhimik 3-2 (OT), Lokomotiv beat Ak Bars 3-0 and the home team Torpedo lost 2-4 to Salavat Yulaev.
01 Aug 2015, 19:20 | Amur beats Japan
Amur Khabarovsk beat Team Japan 3-0 in an exhibition game today.
01 Aug 2015, 09:05 | Andreas Jämtin to KHL
Former HV71 and Linköping HC player, Andreas Jämtin has signed with Medvescak Zagreb in KHL. The contract is signed for one year, Medvescak Zagreb announced. Andreas was one of the key players in HV71 last season and he's certainly going to be an important player for Medvescak.
31 Jul 2015, 22:50 | Kiprusoff to coach TuTo
Former Montreal Canadiens and New York Islanders defenseman Marko Kiprusoff will be new assistant coach for the Finnish Mestis team TuTo. Last year he was assistant coach of TPS. As a player he won the World Championship in 1995.
31 Jul 2015, 09:41 | Niklas Treutle to play in NHL
EHC Red Bull München lost their goalie talent Niklas Treutle. The club and the goalie ended the contract so that the player can join the Arizona Coyotes organization to chase his NHL dream. He is the second DEL goalie to join the Arizona Coyotes organization this summer after Tyler Beskorowany (Düsseldorfer EG) who will play for their AHL farmteam Springfield Falcons. München already had signed a good replacement in German national goalie Danny aus den Birken.
30 Jul 2015, 12:08 | HC Lada fired Belarussian goalie because of problems with discipline
HC Lada Togliatti fired Belarussian goalie Stepan Goryachevskikh because of problems with discipline. Headcoach Sergei Svetlov was dissatisfied with the goalkeeper and decided to terminate the contract with the player.
Last season Goryachevskikh played 29 games in Yugra Khanty-Mansiysk (GAA 2.60, SVS% .910).
27 Jul 2015, 17:07 | India changes coach
For the first time since its first appearance on ice in 2009, India replaced American coach Adam Sherlip with former assistant coach Abdul Hakim Giri.
Hakim, 38, a phys-ed teacher in Leh, was on Indian national team bench since 2009 and was U18 national team headcoach
27 Jul 2015, 13:14 | Marcus Thuresson new club director in Rögle BK
Former player Marcus Thuresson is replacing Magnus Blomsterberg as Rögle BK's new Club Director.
26 Jul 2015, 18:18 | Garrett Roe have signed with Linköping HC
The 27-year old forward Garrett Roe have signed with Swedish Hockey Leagues Linköpings HC and the contract is signed for one year. -"He's a creative, speedy forward with a great attitude," Fredrik Emwall, General Manager Linköping says.
26 Jul 2015, 12:56 | Simon Gysbergs to KHL
The 28-year old Canadian defenseman choose to leave Djurgårdens IF after only 12 games, where he recorded 6 points. Gysbergs new club adress will Medvescak Zagreb in KHL.
25 Jul 2015, 10:55 | Heilbronner Falken back in DEL2
Relegated after last season, Heilbronner Falken are back in DEL2 replacing EV Landshut, excluded for financial reasons
"Heilbronn staff have worked very committed in the last few days and submitted orderly and complete documentation despite the short lead time. We are glad to start the league with a complete grid" said DEl2 CEO René Rudorisch.
23 Jul 2015, 23:20 | Indrašis signs new contract
Latvian forward Miks Indrašis signed a new 2-year contract with Dinamo Riga of KHL.
21 Jul 2015, 07:46 | Künast to coach German U20 national team
Former German national goalie Christian Künast has been announced as the new head coach for the German U20 national team.
This is the second high-level recruitment for a German national team after Künast's brother-in-law Marco Sturm took the position as new head coach of the men's team last week.
Künast was a goalie in his active career and played in 2 World Championships and the 2002 Olympic Winter Games in Salt Lake City for the senior men's team. His first experience as head coach he collected with the Hannover Indians in 2. Bundesliga in 2012-13.
18 Jul 2015, 18:22 | CBR Brave replaces coach
"Team needs to build a long term plan": with this justification, CBR Brave announced the replacement of coach Brad Hunt with current goaltender, American Josh Unice. Also defender Aaron Clayworth joins the coaching staff as assistant. Brave is currently 4th in AIHL standing
17 Jul 2015, 19:49 | Yefimenko, Koval, Kovyrshin and Volkov practice with Yunost Minsk
Team Belarus players Alexei Yefimenko, Vitali Koval, Yevgeni Kovyrshin and Artyom Volkov practice with Yunost Minsk. They can play in a preseason game against Dinamo Minsk.
Last season Yefinemko scored only goal with Sibir Novosibirsk, Kovyrshin, who had the best face-off Percentage (66.7%) in WC-2015, take 9 (4g., 5a.) points in 50 games in Severstal Cherepovetsk. Koval missed the middle of season due to injury.
Volkov played 18 games in Avangard Omsk and earned 2 (1g. 1.a) points.
17 Jul 2015, 14:04 | HC Neman does not sign Alexander Ribbenstrand
HC Neman Grodno does not sing swedish defender Alexander Ribbenstrand. The deal fell down at the last moment.
Neman also considers the possibility of signing a goalkeeper and a defender.
17 Jul 2015, 11:48 | Johannes Salmonsson to Germany
Linköping HC forward Johannes Salmonsson is leaving the club. New adress is Kölner Haie in DEL. The contract is signed to a year.
17 Jul 2015, 06:54 | 2015 WC a financial success
With a profit of 450 million Czech crowns or 16.6 million euro, the 2015 IIHF World Championship was even more successful than anticipated. Originally a profit in Czech crowns of less than 100 million was expected. The better result comes due to the record attendance for a World Championship of 741.000 spectators. The Czech Republic plans to host its next tournament in 2023.
17 Jul 2015, 06:49 | Transfer news from Germany
DEL side Kölner Haie signed 34 year old forward Jason Williams who played almost 500 NHL games and won the 2002 Stanley Cup with the Detroit Red Wings. Meanwhile goalie Mathias Niederberger returns to Düsseldorfer EG on a one-year loan from DEL record champions Eisbären Berlin.
16 Jul 2015, 17:11 | HV71 agreed terms with Laine
HV71  and Teemu Laine have come to an agreement. Laine stays in HV71 for two more years. -"Laine is an important player for us and we're happy he stays," Sporting Director Johan Hult says.
16 Jul 2015, 14:22 | The new season begins!
Yesterday three friendly games opened the 2015-16 of icehockey! Threre were games in Belarus, Kazakhstan and France: chack all the result on the most complete collection of pre-season games on eurohockey
15 Jul 2015, 21:46 | New York Rangers happy with Jesper Fast
New York Rangers announced today that they have agreed to terms with RFA forward Jesper Fast. Rangers selected Fast in the sixth round, (157th overall), of the 2010 NHL Entry Draft.
15 Jul 2015, 21:05 | VIK Västerås Hockey signed college forward
VIK Västerås Hockey, HockeyAllsvenskan, have signed college forward Cody Murphy, 24. The contract is signed to one year. -"He's going to play in our first or second line," Västerås Sporting Director, Niklas Johansson said to vik.se.
15 Jul 2015, 20:11 | Bobby Butler to MODO Hockey
Former NHL star Bobby Butler have signed with MODO Hockey. The contract is signed to two years. -"We got something interesting going on," MODO's General Manager Per Svartvadet says to modohockey.se
15 Jul 2015, 07:37 | Landshut denied last chance to stay in DEL2
As we reported last week, EV Landshut of Germany's DEL2, didn't comply with the license requirements of the league. Last efforts to get the necessary financial guarantees by its main shareholder Rainer Beck gave the club new hope. Now the league made clear that Landshut missed all the important dates and deadlines to get the licence and is out 100% for the 2015-16 season. If Landshut can start in third-tier Oberliga stays uncertain.
14 Jul 2015, 22:28 | Rögle BK signed two new players
Rögle BK have signed AHL-Forward Alex Aleardi and at the same time Kelsey Tessier. Both contracts is signed to one year.
14 Jul 2015, 09:27 | Graz 99ers sign Danish international
Austrian EBEL side Graz 99ers have made a big signing by bringing Danish national team forward Morten H. Poulsen to Central Europe for the 2015-16 season. Poulsen has played in 118 national team games for Denmark and was last playing for IK Oskarshamn in Sweden's 2nd division HockeyAllsvenskan.
13 Jul 2015, 20:35 | Heilbronner Falken apply to DEL2 license
Relegated Heilbronner Falken apply to the licensing procedure for participation in next DEL2, replacing EV Landshut, unable to grant license. Date for the final decision isn't still known
10 Jul 2015, 11:37 | Donbas returns to play
After one year of hiatus due to the political situation in East Ukraine, HC Donbas submitted application to play in next Ukraine League as confirmed by General Director Alexei Braga. Due to the damages of Druzhba Arena in Donets'k, Donbas will play home games at Altair Arena, in the city of Druzhkivka, 90 km from Donets'k. Another dormant club, 2013-14 silver medallist Bilyỹ Bars Bila Tserkva, expressed interest in rejoining the league next season.
10 Jul 2015, 10:47 | No license for EV Landshut
EV Landshut won't play in next DEL2. The Supervisory Board of DEL2 confirmed the club didn't complied with the license requirements "despite great efforts" and is out from next season. "That is really bad. Bud we have set out guidelines. This must apply to all" said DEL2 CEO René Rudorisch.
Relegated Heilbronner Falken and the finalists of Oberliga playoffs Füchse Duisburg and EV Regensburg are the candidates to replace Landshut
10 Jul 2015, 10:38 | Feedback form functioning again
We have had a problem with the form for feedback on profile pages. If you have sent us information about an error which we haven't changed or commented please fill in the form again as it's working again now.
08 Jul 2015, 17:52 | Viking Tallinn not accepted in Latvian League
The request of Viking Tallinn to play in next Latvian League was rejected as reported by newspaper Delfi. Expelled by Estonian Meistriliga after the regular season for debts belonging to ceased club Viking Sport but that the club had promised to pay.
"We have been negotiating with representatives of the Latvian Ice Hockey Federation for performing in the Latvian League - said Viking representative Anatoli Sizov - A few days ago we received a reply from Riga. Unfortunately, we won't play in the championship of Latvia because our request was denied"
Expelled from Estonia League and rejected by Latvia, Sizov admits the club still doesn't know where to play next season: "The preparation for the new season will start probably in late July Where we are going to play? We are looking for options."
05 Jul 2015, 21:32 | New coach to Dinamo Riga
The Finnish coach Kari Heikkilä will take over the Latvian KHL team Dinamo Riga. Heikkilä has earlier coached four other KHL clubs: Lokomotiv (2008-10), Metallurg Magnitogorsk (2010-11), Dinamo Minsk (2012) and Neftekhimik (2013-14).
05 Jul 2015, 10:34 | Sapporo will host Olympic Pre-Qualification Group J
The Tsukisamu Gymnasium in Sapporo will be the venue for Group J of the Olympic Pre-Qualification for the 2018 Olympic men's ice hockey tournament, scheduled for 11 to 14 February 2016. Japan, Ukraine, Croatia and Romania will battle for a spot in the Final Olympic Qualification held 1-4 September 2016 in three groups.
Built for 1972 Olympics, Tsukisamu has a 5831 capacity and normally hosts Asia League games. Hosted the IHWC Division Ib in 2008 and last March the World Women's Curling Championship
03 Jul 2015, 15:58 | Kristall Saratov and Dizel Penza will play in VHL, Kuban is out
New moviments in VHL: contrary to the allegations made by VHL Managing Director German Skoropupov last week, Dizel Penza will play in next VHL, along with the return of Kristall Saratov, not played in VHL last season for financial reasons. After much uncertainty,it's now official the withdrawal of Kuban Krasnodar: "We all believed until the last second that will be able to solve the financial issues and to play in VHL, but the economic situation in the country and in the region, not allowed to do it." said Kuban CEO Viktor Babenko
30 Jun 2015, 16:13 | KHL schedule announced
The KHL schedule for 2015-16 can now be found in our games database.
29 Jun 2015, 15:30 | HS Rīga '98 will play in Latvian Virsiliga
Latvian 1 Liga finalist HS Rīga '98 will play next season in Virsliga, lead by coaches Leonids Beresnevs and Andrejs Ignatovičs. The roster will be composed mostly by 1997 and 1998 born players
27 Jun 2015, 08:08 | New Manchester Storm replaces Stingrays
- eliteleague.co.uk release
Ice hockey's Manchester Storm are back and when the puck drops in September, they will be playing in the top flight of British ice hockey - the Elite Ice Hockey League.
The Storm will be owned and operated by The Ice Rink Company Ltd, spearheaded by Mark Johnson, and will play out of Silverblades Ice Rink Altrincham.
The rebirth of the Storm keeps the EIHL at 10 strong teams for the upcoming campaign, as Manchester effectively replace Hull Stingrays in all competitions.
The Elite Ice Hockey League approached the new bosses of the Storm a week ago when it emerged that new circumstances meant that the participation of the Hull Stingrays in season 2015-16 was in jeopardy.
Earlier today it was confirmed that Hull would not be taking part in the upcoming campaign.
Manchester Storm were represented at an EIHL board meeting today and were unanimously welcomed into the league.
Mark Johnson, director of the Storm, said: "These are exciting times for ice hockey in the Manchester area and when we were approached by the EIHL to join the league, we pulled out all the stops to make it happen.
26 Jun 2015, 15:07 | Former KH Sanok president faces charges
Former President of KH Sanok Piotr Krysiak will face a total of three charges - false declaration and double transgression of the Commercial Companies Code - later this month. If guilty, he can expect a sentence from 6 months to 8 years in prison.
The investigation covered the period from July 2011 to May 2013. The prosecutor's office has determined that the former president had at that time signed fake contracts with 27 players, two coaches and an employee of the club.
Krysiak has pleaded not guilty
26 Jun 2015, 14:09 | Nove Zamky won't play in MOL Liga next season
Slovakia Hockey Federation does not allow HC Nove Zamky to play in MOL Liga anymore. "Thursday after I spoke with the President of the Federation, it became clear that there is no chance to play in MOL League - said Ferenc Sucharda - so I immediately informed the league. Now we will work to return in MOL Liga in 2016." Nove Zamky entered into MOL Liga in 2012-13, winning the title in 2013-2014 season. MOL Liga has currently 9 teams, with the addition of MAC Budapest and SAPA Fehervar 2 for the next season
22 Jun 2015, 12:35 | Rastislav Stana not to return for next season
Sparta Praha Slovak goalie Rastislav Stana, who prematurely ended last season due to heart problems,won't be back for next saeason. Stana at the moment can't play sports neither at recreational level.
Last December doctors diagnosed Stana a pneumonia. Further examination revealed a weakened heart function and inflammation of the heart muscle
"I decided to skip next season. Let's see how my health will and if doctors allow me to play" said Stana at Radio Slovakia.
18 Jun 2015, 21:59 | Vladimir Vujtek switches Slovakia for Czech Republic
Resigned as Slovakia coach after four years, Vladimir Vujtek finds a new bench in his homeland Czech Republic and will lead national team until the end of 2016 World Championship. Despite being Czech, Vujtek never had the opportunity to coach senior national team (coached U20 team from 1993 to 1995) until now, as the successor of resigned Vladimir Ruzicka, stepped down from the function after accusations of corruption when he was at Slavia Praha.
Next month details of contract and names of assistants will be announced
17 Jun 2015, 12:02 | Triglav and Bled give up on INL
The patrol of Slovenian teams in the next Inter-National League dropped to three as only Jesenice, Celje and Slavija will partecipate. Triglav Kranj and Bled decided to partecipate only in domestic league.
"We have currently only nine players plus the juniors left in the roster. With such a young team not worth to play in INL, because we can't be competitive. So we decided to play only in the domestic league" explained Triglav coach Gorazd Drinovec
17 Jun 2015, 11:37 | Berkut Karaganda renamed
Sary Arka farm team Berkut will be renamed Temirtau in connection with the relocation of team from Karaganda to Temirtau where will replace folded Arystan
17 Jun 2015, 11:05 | Aleksandrs Belavskis leaves Latvia
Aleksandrs Belavskis is no longer the coach of Latvia national team. The Latvian Hockey Federation decided not to renew his contract after the 13th place at the last World Champioship which was not considered a satisfactory result
14 Jun 2015, 11:11 | Ivan Hlinka Memorial won't be in Piestany
For the first time since 1997, this season the Ivan Hlinka Memorial will not play in Piestany due to problems with the ice surface.
"It was a difficult decision because host a tournament like the Ivan Hlinka Memorial was an honor for us, since it is one of the best youth tournaments in the world. Unfortunately, the current situation regarding reconstruction of ice equipement is in a legal procedures we cannot control" said president of Piestany Jaroslav Lušňák.
The prestigious U18 tournament is looking for a new venue.
12 Jun 2015, 19:43 | Nik Zupancic new coach of Slovenia
Former player Nik Zupancic, 46, was named new headcoach of Slovenia as successor of Matjaz Kopitar, resigned after the last World Championship where Slovenia was relegated. Zupancic was assistant coach to Kopitar in the last four-and-a-half years, including in the Sochi 2014 campaign, when Slovenia reached quarter-finals.
09 Jun 2015, 13:19 | Dmitry Kurbatov appointed Executive Director of Russian Federation
As part of restructuring and improving the efficiency, Russian Hockey Federation appointed former vice-president of the KHL Dmitry Kurbatov as new Executive Director, with the task to oversee the main issues of the organization, the development of new strategies and the interaction with players, regional policy, as well as the questions of funding and administrative management. Kurbatov replaces Valery Fesyuk, who served since 2008, who asked to be relieved from his post due to the commitments in the preparation of home World Championship, which will be held from 6 to 22 May 2016 in Moscow and St. Petersburg.
09 Jun 2015, 12:39 | Jokerit back at Spengler Cup
Jokerit Helsinki will be the sixth partecipant in next Spengler Cup, from 26 to 31 December in Davos. Finnish team played also last season, when finished without victories.
04 Jun 2015, 12:24 | Arystan won't play next season
It's now official: Arystan Temirtau won't play in next Kazakhstan League as confirmed by executive secretary of Federation Gleb Karataev: "we have no team in Temirtau next season, the budget of Karaganda region can not finance three cities with three clubs and three junior teams. I am confident that the economic situation is temporary, soon everything will return back on track again and we will see an hockey team from Temirtau."
After the folding of Arystan, initially Sary Arka expressed the intention to transfer its farm team to Temirtau but the plan remained on paper.
04 Jun 2015, 12:13 | Benoit Doucet is the new coach in Bremerhaven
DEL2 silver medalist Fischtown Bremerhaven announced the hiring of 52-year-old Canadian, with German passport, Benoit Doucet as new headcoach. After a successful career as player in DEL and with Germany national team, this will be the first experence as coach
03 Jun 2015, 17:30 | Avtomobilist Ekaterinburg at Spengler Cup
KHL team Avtomobilist Ekaterinburg will make its debut to next Spengler Cup as fifth team invited besides HC Davos, HC Lugano, Team Canada and Adler Mannheim
01 Jun 2015, 08:58 | Oshawa wins Memorial Cup
Oshawa Generals won Memorial Cup last night after beating Kelowna Rockets 2-1 in the final. Oshawa had one European player on the roster: Tobias Lindberg of Sweden who lead the team in scoring with three goals and two assists.
The German forward of Kelowna Rockets, Leon Draisaitl, was the Memorial Cup top scorer with four goals and three assists.
30 May 2015, 20:42 | Johansson left HV71
Head coach Andreas Johansson left Swedish HV71 on Friday. The announcement came after a series of news reports about internal problems in the club. Both the managers Johan Davidsson and Johan Hult and many players have been reported to be unhappy with Johansson's leadership which finally made him to leave the club. HV71 is currently looking for a new head coach.
30 May 2015, 09:54 | Belarus U18 will play in MHL
According to Belarus Federation site, U18 national team will play in MHL next season. RCOP Raubichi coaching duo Sergey Belov and assistant Alexander Orlenko will lead the team. A training camp to select the roster will be held in Minsk from 18 to 23 June
29 May 2015, 09:44 | Tretiak: KHL clubs are not interested in Champions League
Vladislav Tretiak, head of Hockey Russia, told that Russian clubs are not interested in playing in the Champions League.

"KHL clubs are not very interested in this competition. They have five Austrian teams there, three Finnish teams... Logically, our clubs are not eager to play them. They were ready to play in final stages, but CL's officials were against it.
This tournament is not very popular. Of course, participation of KHL club would help with it. But if we do participate, we won't have time for national team." - Tretiak said in his interview to Soviet Sport newspaper.
27 May 2015, 11:50 | Lugano will play Spengler Cup
HC Lugano is the 4th team to partecipate at 89th edition of Spengler Cup besides HC Davos, Team Canada and Adler Mannheim
27 May 2015, 11:36 | HC Kremenchuk applies to partecipate in Continental Cup
Ukraine silver medalist HC Kremenchuk applied to partecipate in next Continental Cup hosting one group in its arena. Kremenchuk won the regular season of Ukraine League, losing finals against ATEK Kyiv. The draw for 2015-16 Continental Cup will take place on June 20. Recall last season Ukraine representative Companion Kyiv withdrawn from competition due to the political situation
26 May 2015, 10:56 | Hungary Federation President resigned
After five years and two terms, Hungary Ice Hockey President Miklós Németh resigned. Federation has 60 days to find a new boss
"You have to step aside when you are on top" commented Nemeth
26 May 2015, 10:34 | Almaty will host Asian Cup 2016
The city of Almaty, Kazakhstan, will host the traditional Asian Cup in August 2016. U20 teams of Kazakhstan, Japan, South Korea and a club from Russian MHL have confirmed their participation. China and North Korea have not yet decided to participate
22 May 2015, 16:19 | Atlant Moscow Oblast won't play in next KHL season
As reported by website Chempionat.ru KHL President Dmitri Chernyshenko has officially confirmed that Atlant Moscow Oblast will not participate in the next season of KHL due to financial problems. "Because of the financial problems Atlant won't be on ice next season. We' ll see what will happen next"- said mr. Chernyshenko. Junior teams, including Mytischi Atlantes of the MHL, continue to operate regularly
21 May 2015, 23:33 | KHL All-Star Team
The KHL All-Star Team was announced today:

Goalie: Anders Nilsson, Ak Bars Kazan
Defensemen: Maxim Chudinov, SKA St. Petersburg, Nikita Zaitsev, CSKA Moskva
Forwards: Artemy Panarin, SKA St. Petersburg, Alexander Radulov, CSKA Moskva, Steve Moses, Jokerit
21 May 2015, 12:11 | Vladimir Ruzicka signed for ten years with Chomutov
Czech Republic national team headcoch Vladimir Ruzicka signed a ten years contract with Extraliga newly promoted Chomutov Pirates putting an end to the rumours about his sign with Avangard Omsk. Former coach Břetislav Kopřiva and Jan Stastny will be the assistants. Until now Ruzicka coached only Slavia Praha and Czech National Team
21 May 2015, 10:45 | End of season awards in Hungary
The Hungarian Ice Hockey Federation announced their end of season awards for the 2014-15 season.
Gábor Ocskay Award - Best Forward: Dániel Kóger (Fehérvár AV19)
Vedres Cup - Best Goalie: Miklós Rajna (Fehérvár AV19)
Miklós Cup - Most technical players: István Bartalis (Fehérvár AV19)
Kósa Cup - Rookie of the Year: Balázs Sebők (Hokki, Finland)
Leveles Cup - Best youth player: Máté Gáspár (EHC Linz, Austria)
Miklós Séra Award - Best youth coach: Tyler Dietrich (Fehérvár AV19)

Male player of the year: Zoltán Hetényi (Fehérvár AV19)
Female player of the year: Anikó Németh (KMH Budapest)
Inline player of the year: Zoltán Revák (Ferencváros)
20 May 2015, 18:48 | Medvedev goes to Philadelphia
Ak Bars Kazan d-man Evgeny Medvedev terminated his contract with KHL side in order to sign with Philadelphia Flyers. Medvedev, 32 years old, won two Gagarin Cups in the KHL. He was a UFA in the NHL.
19 May 2015, 18:32 | KHL trade union against Barys Astana
The head of KHL players' trade union, Andrey Kovalenko, said that union will insist on excluding Barys Astana from next KHL season. Players and staff of Kazakh received their last salaries in January, and only 80% of it. If debt is not closed until May 30, trade union will be insisting on stopping Astana participation in the tournament.
18 May 2015, 19:10 | CSKA Moscow applies to allign a team in VHL
CSKA Moscow should enter a team in next VHL, based in Chekhov and called Zvezda (star).
VHL Managing Director Nikolai Karpovich and Head of the Department of the competition Dmitry Ichetovkina and Head of Communications Sergey Mozhayeva inspected the Palace of Sports "Vityaz" for compliance with the requirements of VHL regulations.
"Today we have almost all the necessary documents, including financial guarantees. Inspection has shown that this arena will be one of the best in the league, perhaps the most comfortable. I hope that Zvedza take root in this arena." said Deputy Managing Director of the VHL Nikolai Karpovich.
The official decision about the participation of the club will be taken at the general meeting of the League, next May 28
16 May 2015, 16:48 | Sjögren wins Peter Forsberg Trophy
Mattias Sjögren has been awarded with the Peter Forsberg Trophy as the best Swedish forward in SHL. Sjögren who was also one of the best players in Team Sweden at the WC won the award with the following motivation. "A strong, physical and creative player. Very loyal with the team and with a strong will to win. Had an enourmous development and took many steps forward the last season".
16 May 2015, 10:27 | Turkmenistan approved as IIHF associate member
The IIHF Congress admitted Turkmenistan as associate member, the 74th country to enter in the hockey family, the third Central Asia country after Kazakhstan (1992) and Kyrgyzstan (2011).
Turkmenistan has currently three rinks including the 10.000 seats Winter Sports Palace in Ashgabat and launched the first domestic league last season, won by Galkan. The 2014-15 edition is underway
15 May 2015, 16:25 | World Championships 2019 and 2020 assigned
The 2015 IIHF Annual Congress assigned the organization of World Championship 2019 to Slovakia, in the cities of Bratislava and Kosice, and 2020 to Switzerland, venues will be Zurich and Lausanne. Both countries were the only applicants.
World championship will be back in Switzerland after the last edition in 2009 when Bern and Zurich-Kloten hosted the competition. Slovakia organized the 2011 World Championship in 2011 in the same venues
12 May 2015, 11:23 | Medveščak confirms to continue with KHL for 2015-16
Ranko Vucinic, Communication Director of Medveščak Zagreb, confirms the organization will play KHL also in the 2015-16 season. "We never had any doubts about Medveščak`s participation in the KHL," Vucinic says.
11 May 2015, 12:30 | Adler Mannheim third team to participate at Spengler Cup
According to the Spengler Cup media announcement, the Adler Mannheim of the German DEL will be the third team (HC Davos and Team Canada are the other two) to participate at this years Spengler Cup edition. It will be the 8th time the Germans participate at the New Years tournament. In 2012 they reached the final after beating an NHL-packed team Canada 5-2 but fell short to Swiss Hockey Club Fribourg-Gottéron in the final. Mannheim feel honoured to represent the DEL in the highly regarded Club tournament. Further participants will be announced.
10 May 2015, 22:54 | Axel Holmström Swedish Junior of the Year
Axel Holmström of Skellefteå AIK in SHL was named Swedish Junior of the Year 2014/2015. He set a new league record in playoff points when he was noted for 18 points during the SHL playoffs.
07 May 2015, 16:05 | Hadamczik becomes new head coach of Brno
Czech coach Alois Hadamczik, 62, takes over a Czech Extraliga club of Kometa Brno. So far, Hadamczik earned seven Extraliga medals with three organizations - Vítkovice, Třinec and Sparta. His last appearance in club hockey is five years old already, when he was in charge of Vítkovice between 2008 and 2010. After then, Hadamczik was the head coach of the national team of Czech Republic (2010-14).
30 Apr 2015, 11:47 | Swiss former player Duri Camichel died in a car accident
Former EV Zug captain Duri Camichel, 33, died in a car accident while travellling in South America, along with fitness coach Harry Andereggen. Retired in 2014 after 15 season and 693 games in NLA, almost with EV Zug, Camichel played also at World Championship 2007 with Switzerland.
"We are very sad and shocked. On behalf of Swiss Ice Hockey I extend my condolences to the families" said in a brief note Swiss Ice Hockey CEO Florian Kohler
28 Apr 2015, 14:44 | Awards in Belarus
After the end of Extraliga, Federation, through the votes of captains and coaches, determined the winners of seasonal awards.
Best goalkeeper - Maxim Malyutin (Shakhtar Soligorsk)
Best defender - Andrei Korshunov (Neman Grodno)
Best Forward - Victor Andruschenko (Shakhtar Soligorsk)
Top scorer - Jakub Cerny (Yunost Minsk)
Best young player - Christian Henkel (Yunost Minsk)
Best referee - Maksim Sidorenko
Best arena - Chizhovka Arena Minsk
Special prize for his great contribution to the development of hockey in Belarus was awarded the Governor of Minsk region Semyon Shapiro.
the winner of best coach prize will be determined after the end of the World Championship in Czech Republic
28 Apr 2015, 13:17 | Kazakhstan League awards determined
Kazakhstan Ice Hockey Federation announces the seasonal awards for 2014-2015

Kazakhstan League Best Goaltender: Anton Todykov (Gornyak Rudny)
Kazakhstan League Best Defender: Aleksei Shorokhov (Arlan Kokshetau)
Kazakhstan League Best Forward: Ivan Kiselyov (HK Astana)
27 Apr 2015, 09:23 | New name, coach and team for Torpedo Ust-Kamenogorsk
Next season Torpedo Ust-Kamenogorsk will allign a team in MHL, as announced by Governor of East Kazakhstan region Daniyal Akhmetov. In the same press conference was also announced that team will be back at original name Torpedo Ust-Kamenogorsk, even if company Kazzinc will continue to support the club. Finally was announced former assistant coach Alexei Fetisov as new headcoach
25 Apr 2015, 15:02 | Ukraine relegated
In the first game of the last day of the Div. IA Championships in Cracow, Ukraine was defeated by the team of Japan with the score 3:1. This means that Ukraine is relegated to division IB.
21 Apr 2015, 14:25 | Ertis confirms title in Kazakhstan
Ertis Pavlodar won third consecutive title in Kazakhstan beating Arlan Kokshetau 4-1 in the final series. ertis won also Kazakhstan Cup and played in Continental Cup superfinals this season
17 Apr 2015, 18:44 | Sary Arka farm will play in Temirtau
The farm team of Sary Arka Karaganda will play the next Kazakhstan League based in Temirtau, replacing Arystan, folded due to financial difficulties, ensuring the continuity of hockey in the city. The team will continue using the name Arystan (Lions). It's still unclear the future of current Sary Arka farm tem, Berkut. Rumours are about a possible partecipation in MHL
16 Apr 2015, 14:53 | Beybarys will allign a team in MHL-B
Kazakhstan will have another team on Russian Junior Leagues: Beybarys Atyrau announced the club will compete next season in MHL-B as a youth league next year will likely not be created in the country
16 Apr 2015, 14:19 | Jesenice wins title in Slovenia
A goal on power play by Miha Brus gives Jesenice the victory 2-1 in finals game #4 against arch-rival HDD Olimpija Ljubljana, the 3-1 in the series and the Slovenian title for the team heir of Acroni Jesenice, folded two years ago.
11 Apr 2015, 17:52 | Swedish Female Player of the year named
Emilia Andersson of Linköping has been named Swedish Female Player of the year. She was by many considered the best Swedish player of the Women's World Champinship and she won the Swedish championship with Linköping. Andersson is a defensemen with great defensive as well as offensive skills.
09 Apr 2015, 11:27 | CH Jaca is Spanish champion
Club Hielo Jaca won its 12th title beating 5-1 GC Puigcerdà in game #5 of the finals at home in front of 1600 spectators. It's the 4th title in last six years for the club, became the most successful in the country.
08 Apr 2015, 12:24 | Movements of coaches in France
Ligue Magnus ended last week but teams are already building rosters for next season, beginning from the bench: after a brilliant playoffs campaign Dijon lost coach Jarmo Tolvanen, signed in Norway by Stjernen, and promote to headcoach former assistant Jonathan Paredes. Grenoble not renewed the contract with Canadian Richard Martell, replacing him with former Briançon coach Edo Terglav. Rouen named headcoach former goalie Fabrice Lhenry. Finally, Tom Hartogs (Morzine) and François Dusseau (Lyon) were confirmed for one season more
07 Apr 2015, 13:21 | ATEK Kyiv wins Ukranian League
ATEK Kyiv surprisingly wins 2014-2015 Ukranian League beating 4-3 in a dramatic game #3 of finals regular season winner and favourite HC Kremenchuk. Decisive goal was scored at 77:46 in the overtime by Belarusian Evgeny Krivomaz. Kremenchuk won 4-2 game #1 of final series in Kyiv but lost 3-2 game #2 and 4-3 game #3 at home.
It's the second title for ATEK after that won in 2006-207 season. Then club was inactive from 2008-09 to 2014-2015. ATEK forward Pavel Dvoretsky was named League MVP. Started in February after a difficult preparation, Ukraine League alligned just four teams and lasts two months. Kremenchuk proposed the dispute of another tournament in May, named Ukraine Cup, to ensure some games more for the teams.
05 Apr 2015, 22:57 | Kazakhstan promoted
Kazakhstan beat Great Britain 2-0 in Dumfries Ice Bowl to win World Women's Championship Div. 2A.
05 Apr 2015, 22:21 | Coventry wins EIHL playoffs
Coventry Blaze beat Sheffield Steelers 4-2 in the final to win the EIHL playoffs. Belfast Giants beat Hull Stingrays for the third place. Sheffield Steelers are EIHL champions as they won the regular season.
03 Apr 2015, 22:15 | Germany relegated
Japan beat Germany in overtime in both relegation games of the Women's World Championship. That means that Japan stays in the elite division while Germany are relegated.
03 Apr 2015, 15:06 | Bordeaux promoted to Ligue Magnus
A goal at overtime by Thomas Decock gives Bordeaux the victory 4-3 in game #4 of the finals against Anglet, the title of French Division 1, the second level of French hockey, and th promotion to Ligue Magnus. Game #4 was re-played after the stoppage of the match, originally played on first of April, due to a problem with the ice of Anglet arena.
During the summer Bordeaux, after the defeat in the finals of the past season, adopted a professional structure and began the league as the favourite.
In Ligue Magnus, Bordeaux replaces relegated Caen
31 Mar 2015, 12:38 | Swedish U18 roster
Sweden named today its roster for the upcoming World U18 Championship in Switzerland. Find it here with player profiles.
29 Mar 2015, 23:58 | Kalev-Valk is Estonian champion
Kalev-Valk Tartu won Estonian League two years after the last title crushing PSK Narva 12-5 and 10-0 in two games of finals. Kalev began the campaign with two forfeit against Viking and Panter because team didn't show up due to problems with roster but finished the season triumphantly. After the disqualification of champion Viking Tallinn for financial matters, Kalev was considered the favourite and had no problems to take back title. PSK Narva Russian forward Alexander Bogdanov was the top scorer of the league with 31 points (18+13) in 16 games
28 Mar 2015, 17:23 | Tycoons win title in Hong Kong
Finished last in the regular season, Hong Kong Tycoons caused a big surprise beating regular season winner Macau Aces in the semifinal and title holder Kowloon Warriors 6-5 at overtime in a dramatic final with decisive goal by Canadian Jonathan Szychta at 61:06 to win the first tile of CIHL Hong Kong. Tycoons forward Brad Smith was the top scorer of the league
28 Mar 2015, 12:32 | First title for Dunarea in Romania
Dunarea Galati wins for the first time Romanian league by beating 3-1 in game four of final series, played in Brasov, titles-record holder Steaua Bucharest. Dunarea finished regular season in second place but loaned for playoffs some players from MOL Liga SC Miercurea Ciuc, knocking out in the semifinals favourite Corona Brasov. Progym Gheorgheni finished third beating in bronze finals Corona Brasov.
"It's totally unexpected for me. I still can not believe. It's a dream come true " said Dunarea forward Mircea Necula
27 Mar 2015, 09:29 | Mexico will host again Panamericano
Mexican Federation announced the II Pan American Ice Hockey Tournament will held in June from 03 to 07 at the Icedome Rink in Mexico City.
Last season Mexico hosted the first edition of the tournament, won by Canada
26 Mar 2015, 15:39 | New rink in Panevezys approved
The municipality of Panevezys signed an agreement through the Panevezys Physical Education and Sports Centre (PKKSC) with the Lithuanian National Hockey League (NLRL) for the building of an ice rink with a roof.

According to the agreement PKKSC will cover the expenses for the installation of the roof, NLRL will pay the artificial refrigeration equipment and the walls of the building.

The estimated deadline for the delivery of the ice rink is next 30 September.

"The project will be implemented the hockey in Lithuania and the city will apear on the hockey map"- said NLRL Executive Director Remigijus Valickas.

While the city of Panevezys is preparing to open a hockey school, ice rink will be open also for figure skating and speed skating.
In Lithuania currently operates eight icerink with artificial refrigeration
26 Mar 2015, 07:21 | MODO stays in SHL
MODO avoided relegation from SHL after winning four consecutive games against Vita Hästen in the SHL qualification series. The winning results were 3-0 (h), 2-0 (a), 4-1 (h) and 4-1 (a)
25 Mar 2015, 13:30 | Voracek to play WC
According to Vladimir Ruzicka, head coach of the Czech national team, Jakub Voracek, one of the top scorers in the NHL, will join the team for the upcoming World Championship reports the World Championship Facebook page.
24 Mar 2015, 16:06 | SA Akureyri wins title in Iceland
By beating arch rival and regular season winner SR Reykjavik 4-1 in the final series and 7-0 in the decisive game, SA Akureyri wins the title of Icelandic League for the third consecutive year, confirming its domination on domestic hockey with 5 titles in last 6 years. As last season, SA American forward Ben DiMarco was the top scorer with 49 points (33+16) in 24 games.
24 Mar 2015, 15:19 | Tohoku Free Blades wins championship
Tohoku Free Blades of Japan beat Anyang Halla of South Korea for the third consecutive game to win the Asia League title.
22 Mar 2015, 22:12 | Delovaja Rus confirms title in Lithuania
Russian team Delovaja Rus Kaliningrad confirms the title of Lithuanian league won last year by beating 5-2 in the final, played in Elektrenai, Kauno Baltų ainių from Kaunas. Delovaja dominated regular season, losing one game at overtime and two by forfait. Player/coach Pavel Fominych is the top scorer with 68 points (36+32) in 21 games.
Juodupės LRK from the small town of Juodupė - 2000 inhabitants - won the bronze medal, the first ever title for the club - beating 7-2 Elektrėnų Lokiai-Poseidonas.
Individual awards:
Best goalie: Lukas Jakšys (Kauno Baltų)
Best Defender: Artūras Katulis (Juodupes)
Best forward: Konstantin Isaev (Delovaja Rus)
MVP: Jurij Aleksejev (Delovaja Rus)
20 Mar 2015, 18:29 | Turkish U18 team promoted
The Turkish under-18 team beat Hong Kong 9-1 and the home team New Zealand 5-4 to win promotion from Division III Group B, the lowest level of IIHF's U18 World Championships.
19 Mar 2015, 16:48 | Junior Minsk won Belarus Second division
By beating 4-1 regular season champion Metallurg Zhlobin-2 in the final series, Junior Minsk keeps the title of Belarus Second Division. It's the third championship in last four years and the fifth total for Yunost Minsk farm club. Khimik-SKA-2 Novopolotsk forward Vitali Raparovich finished as top scorer with 70 points (29+41) in 28 games played.
19 Mar 2015, 15:05 | Kirill Dvurechensky appointed interim coach at Sary Arka
Sary Arka General Manager Kirill Dvurechensky will replace as interim headcoach current coach Leonīds Tambijevs. Due to health problems Tambijevs must undergo medical examinations. Sary Arka is currently playing VHL playoffs quarter finals against Ermak Angarsk
19 Mar 2015, 11:47 | Honken Trophy to Lassinantti
Luleå's goalie Joel Lassinantti, 22, has been awarded Honken Trophy as the best goalie in Swedish ice hockey 2014/15.
15 Mar 2015, 23:52 | Medvescak dominates again in Croatia
Medvescak Zagreb won the seventh consecutive title in Croatia, beating 3-0 in the final series (7-2 ; 6-5 and 10-3) Mladost Zagreb. As usual Medvescak competed in regular season with reserve team, but played playoffs with various players from KHL team.
Awards:
League MVP: Ivan Janković (KHL Zagreb)
Best Goalie: Ivan Štimac Rojtinić (Mladost Zagreb)
Best Forward: Tadija Mirić (Mladost Zagreb)

15 Mar 2015, 18:46 | Partizan win 19th title in Serbia
By beating HK Beostar 6-8 and 7-3 in two-games final series, Partizan Beograd won the 2014-2015 edition of Serbian League, continuing to dominate domestic hockey scene: it's title number 19, the 10th consecutive, for Partizan. Beostar Ukrainian forward Dmitri Gnitko was the top scorer of the league with 37 points (19+18) in 12 games of regular season
07 Mar 2015, 22:27 | Gomel and Yunost set a record
It needs 6 overtimes for a total of 165 minutes to determine the winner of Semifinals game #1 in Belarus Extraliga playoffs between Gomel and Yunost Minsk, a new record for the country and one of longest hockey game in a professional league. With score of 1-1 after regular time, Vitaly Kiryushchenkov rocks the boat at 165:11 to give Yunost 1-0 advantage in the series. Yunost goalie Aleksandr Borodulya recorded a 108-shots stopped
04 Mar 2015, 13:18 | Anders Jespersen to coach Sydney Ice Dogs
New experience for the wandering goalie: Danish Anders Jespersen is the new headcoach of Sydney Ice Dogs of Australian Icehockey League, replacing Andrew Petrie, moved to Newcastle North Stars last September. Jespersen start the season as Oman National team headcoach, before to move in Serbia, where worked as goalies' coach at Crvena Zvezda
01 Mar 2015, 12:25 | Caen relegated
After five seasons in Ligue Magnus, Caen was relegated in 1 Division after being sweeped 4-0 by Lyon in playouts series. Caen lost 5-7 at home game #4 of the serie
26 Feb 2015, 14:48 | HC Yverdon ask relegation
Saved by winning the playouts series against HC Moutier, Swiss 1 Liga HC Yverdon announces club asked the voluntary relegation to 2.Liga for next season.
"The current conditions, both sporting and financial, set by Swiss Federation are no longer bearable for the majority of clubs in amateur leagues. This decision, carefully considered, is certainly difficult, but especially responsible" said the club
26 Feb 2015, 11:51 | Kevin DeVergilio received 8-games suspension
After the tumultuous game #2 of playoffs quarterfinals between Appiano and Asiago, the Disciplinary Committee of Italian Federation fined Asiago forward Kevin DeVergilio with eight games-suspension for hitting intentionally an opponent with the stick, seriously wounding him. For other fights Appiano's Marc Olivier Vallerand received three games suspension and Matteo Tessari (Asiago) and Michael Messner (Appiano) one game.
25 Feb 2015, 15:02 | Andrei Kirdyashov resigned from Yuzhny Ural Orsk
After failing to qualify for the post-season - team finished 18th out of 24 - Andrei Kirdyashov resigned from his post of headcoach at Yuzhny Ural Orsk where he arrived in December 2013.
24 Feb 2015, 21:24 | Vienna Capitals fired coach Tom Pokel
The last place in the pick up round and a disappointing season are the reasons cited by Vienna Capitals to announce the firing of American coach Tom Pokel, EBEL champion last season on Bolzano Foxes bench. "We need to shake the team before the playoffs" said Capitals GM Franz Kalla.
The new coach is Giacinto "Jim" Boni, former coach of Capitals from 2003 to 2007, in the last seasons working as Sports Manager at current DEL champion ERC Ingolstadt
23 Feb 2015, 14:50 | Bochenski will receive citizenship of Kazakhstan
Barys Astana captain Brandon Bochenski will soon complete the process to receive citizenship of Kazakhstan and should be compete for his new country at the World Championship Division Ia in Poland next April.
"I hope that the issue will be resolved soon, all the paperwork takes time. Why decided to play for the national team of Kazakhstan? Here I have a lot of friends, I'm playing in this country and I feel part of it. And I would be honored to represent Kazakhstan." said Bochenski, at Barys from 2011.
Bochenski rapresented native USA at 2007 World Championship
19 Feb 2015, 00:16 | New KHL record for goals scored
Steve Moses of Jokerit scored his 36th KHL goal of the season. No player has scored more than 35 before. See Goals leaders by season here.
18 Feb 2015, 15:30 | Lundqvist signs contract
Frölunda signed a new 3-year contract with their captain Joel Lundqvist.
16 Feb 2015, 08:46 | Herning wins Danish Cup
Herning beat SønderjyskE 2-1 in the final of Metal Cup to repeat last season's victory.
14 Feb 2015, 23:26 | NLB playoffs
The Swiss NLB playoffs started yesterday with wins for HC La Chaux-de-Fonds, HC Ajoie, SC Langnau Tigers and EHC Olten in game one of the best-of-7 quarter finals.
11 Feb 2015, 22:24 | CSKA sets new KHL record for biggest win
CSKA Moscow beat Slovan Bratislava 12-0 today. This was the largest win in the history of KHL.
10 Feb 2015, 10:13 | Valpellice fired coach Pyle
After a disappointing last month of bad results, after in December the team had reached the first place, Valpellice decided to fire American coach Jeff Pyle. Assistant coach and GM Fabio Armani will lead the team in the playoffs while the club is searching a new coach
10 Feb 2015, 10:02 | Don MacAdam new coach of Bolzano
Bolzano Foxes found the replacement for coach Mario Simioni, fired last week: it's Canadian Don MacAdam, this season on Caldaro bench in Serie A. MacAdam left Caldaro after team failed to reach playoffs
06 Feb 2015, 13:41 | GEC Ritter Nordhorn in financial troubles
With a short statement GEC Ritter Nordhorn announced the club won't partecipate in Oberliga nord playoffs because of financial insolvency and must thus conclude the season after the regular season. According to Federation rules, a club can't partecipate in the playoffs, as long as a bankruptcy application has been made and the decision is still pending, as in the Ritter case.
"With great sadness we have to announce that at present is not possible for GEC to play in the post-season.
We have tried to provide an explanation of the current situation, to reach the "clemency" in DEB. Unfortunately, there is no way to "break" the rule so for our team is not possible to play the pre-playoffs." said the note
06 Feb 2015, 12:44 | Bolzano Foxes fired coach
Mario Simioni is no longer the coach of Bolzano Foxes after the current EBEL champion missed the top six and will play the Qualification round.
"The dismissal of coach Simioni, who did not meet the expectations of the club in carrying out its tasks, it is a necessary consequence that comes for the good of HC Bolzano, and the players" says sports director and CEO Dieter Knoll.
The new coach will be appointed in next days, rumours are about a return of former coach Adolf insam
06 Feb 2015, 12:30 | Kazakhstan Hockey Federation awarded
Kazakhstan Icehockey Federation was awarded with a diploma for its contribution to the development of sport in Kazakhstan during a cerimony at the Ministry of Culture and Sports.
"We are very pleased to receive this recognition. I would like to share it with all hockey community of the country" commented General Secretary Gleb Karataev
01 Feb 2015, 10:18 | West beat East in MHL Challenge Cup
The West team snatched the victory 3-2 (0:1, 2:0, 0:1, 0:0, 1:0) at the shootouts from the East in the MHL Challenge Cup League,played in Cherepovets. Decisive penalty was scored by Kamil Shiafotdinov (Atlanty). Game MVP were: West captain Roman Manukhov and Alexander Akmaldinov.
After this victory West has four Challenge Cup won, East just two
31 Jan 2015, 17:00 | Yugra fired coach
Yugra Khanty-Mansiysk announced head coach Dmitry Yushkevich and assistants Anatoly Semyonov and Andrei Emelin were suspended from work due to unsatisfactory results of the team. General Manager Andrei Potaichuk was named interim coach. His assistants will be Dmitri Gogolev and Rudolf Pejchar
30 Jan 2015, 16:46 | Three games suspension for Frolo
Tomáš Frolo, a Litvínov defender, has been suspended for the next three Czech Extraliga games. The penalty comes from the Extraliga Disciplinary Committee after Frolo's intentional elbow-hit to the face of the Třinec forward Michal Růžička. Directly during the game on Jan 27 Frolo received a game misconduct penalty from the on-ice referee, which in combination with another previous major penalty, meant an one game stop. The Disciplinary Committee decided to add two more games suspension on top of that.
30 Jan 2015, 14:33 | Petropavlovsk will participate in Kazakhstan league
Next season the city of Petropavlovsk will allign a team in the Kazakhstan League, according to North Kazakhstan region Governor Erik Sultanov: "This year we will complete the construction of the Palace of Sports: A team from the city will play in the Premier League and I'm sure it will be good. Petropavlovsk and North Kazakhstan has always been a leader, we need to regain the title." said Mr. Sultanov
30 Jan 2015, 11:39 | Sergei Zvyagin named new goalies coach at Metallurg
Former goalie Sergei Zvyagin is the new goaltenders coach of Metallurg Magnitogorsk. He replaced Swedish Tomas Bjuhr, whose contract was terminated by mutual consent. After retiring Zvyagin worked as goalies coach at Barys Astana
29 Jan 2015, 14:54 | HK Brest changes coach
For the second time, HK Brest remained without coach: Ukranian Dmitri Yakushin terminates contract by mutual consent of the parties. Assistant coach Alexander Ivanenko will be headcoach until end of season
27 Jan 2015, 13:43 | Rouen won Coupe de France
Ninth final for Dragons Rouen and fifth victory of Coupe de France: by winning Amiens - played its first final - 5-3 in Marseille in front of 3500 spectators, Rouen won its first trophy in the season. Julien Desrosiers was awarded as MVP of the game
26 Jan 2015, 11:37 | Renon/Ritten won Coppa Italia
In a beautiful atmosphere, in front of 3.600 spectators in Milan, SV Renon keep Coppa Italia won last season by beating Milano Rossoblu 4-2. It's the third national cup for current Italian champion. Renon won 3-2 at overtime against Val Pusteria in the semifinal, while Milano Rossoblu earns a spot in the final winning 6-2 against Valpellice
25 Jan 2015, 17:29 | Nove Zamky changes coach
Nove Zamky head coach Slavomir Chlebec resigned from his post citing health reasons. Club named player Lubomir Hurtaj new headcoach with Peter Udvardy as assistant.
"We decided to entrust the team to Ľubomir Hurtaj who knows exactly what the team needs in order to prepare for the playoffs. Lubomir has the full support of the management, the entire executive team and the players themselves. We believe it was the right decision and Lubo meet the expectations" said the club
24 Jan 2015, 22:12 | Toros fired coach
After six defeats in last seven games, Toros Neftekamsk announces the dismissal of coaching staff, headcoach Ruslan Suleymanov and assistant Nikolai Zavarukhin. The coaching duo of MHL-B team Batyr will replace them: Konstantin Polozov as headcoach and Pavel Lazarev as assitant.
Toros is currently 10th in the standing, 26 points behind leader Sary Arka
22 Jan 2015, 13:04 | Euro Ice Hockey Challenge: Romania replaces Kazakhstan
Romania national team will replace the national team of Kazakhstan on the Polish stage of Euro Ice Hockey Challenge (EIHC), scheduled in Torun, Poland, from 05 to 08 February.
Kazakhstan withdrew its participation due to financial problems and injured players. Poland, Hungary and Ukraine are the other participant
22 Jan 2015, 11:28 | Oremus and Šimíček are new coaches of Košice
On last Monday, Jan 19, Slovak Extraliga club Košice removed Anton Tomko and Pavel Zůbek from the positions as the team coaches. From now on, the new men on the player's bench are Pavel Oremus and Roman Šimíček, who recently lead together the Czech club Vítkovice. Oremus and Šimíček come to the Košice Steelers while being the first, but after 5 losses in the last 7 games.
21 Jan 2015, 16:33 | Andrei Sryubko new GM of Ukraine
Former defender Andrei Sryubko was named new General Manager of Ukraine national team. After retirement in 2013 Sryubko,40, worked as assistant coach at MHK Dmitrov in MHL and for Ukraine U20 team
21 Jan 2015, 10:38 | New coaches in DEL2
Resigned a week ago from SC Riessersee, Anton Krinner surprisingly signed as new headcoch of EV Landshut replacing Ewald Steiger who remains as assistant coach.
Some hours after the news from Landshut, Riessersee announces new headcoach: Italo-Canadian Maurizio Mansi, until December assistant coach at Nürnberg Ice Tigers.
"We would like to express my thanks for the fast and efficient help of Nürnberg Ice Tigers"says Riessersee CEO Ralph Bader. Curiously next sunday SC Riessersee will play at home against Landshut
20 Jan 2015, 21:03 | Vampola is suspended for diving
Liberec forward Petr Vampola, 32, has been penalized by the Czech Disciplinary Committee with a fine and a one game suspension for diving. The committee decided for the game suspension because earlier this season Vampola was fined for the same violation of rules twice already. His third diving of the season occurred during the game in Mladá Boleslav on Jan 18.
20 Jan 2015, 15:55 | Future of Energie in MHL is still unclear
The future of the only Czech member in the junior league MHL is still unclear. From yesterday's meeting of representatives of both the club and the league outcomes it is the league's priority to help to Energie to finish the season. Final decision about the situation will be announced no later than Friday so the club could depart to Russia for the weekend's games. During the last week, Karlovy Vary informed they interrupt its appearance in MHL  due to financial issues. In result of that, several games have been postponed already.
20 Jan 2015, 13:46 | Jukka Jalonen to coach Finland U20
52-year-old Jukka Jalonen is the new coach of Finland U20 team, replacing Hannu Jortikka who resigned after disappointing WJC in Canada. Jalonen coached Finland national team between 2009 and 2013, winning the gold medal at 2011 World Championship and the bronze medal in Vancouver 2010 before to coach SKA St. Petersburg until last season. The contract was signed until January 2016, after the WJC Finalnd will play at home
18 Jan 2015, 18:10 | Barcelona win Copa del Rey
FC Barcelona won for the fifth time, the first since 1996-97, Spanish Copa del Rey by beating 6-2 in the final arch-rival CG Puigcerdà at Jaca. In the semifinals, played on Saturday, Barcelona won 7-6 at overtime Txuri Urdin, while Puigcerdà won 5-3 hosts Jaca. Its the first trophy for Barcelona coach Danylo Didkovsky
18 Jan 2015, 13:57 | Karlovy Vary interrupts its appearance in MHL
Due to financial troubles, the only Czech participant the Energie Karlovy Vary interrupts its appearance in  MHL. The nearest planned games of Energie in Belarus are thus cancelled. In a statement published on the club's website the organization hoped some solution for the situation outcomes of the planned meeting with MHL's management which will take place on next Monday in Prague.
17 Jan 2015, 15:31 | Arystan Temirtau cancel games
Due to financial difficulties of the team, Arystan Temirtau cancelled the games against Beybarys Atyrau, scheduled for 18 and 19 January for Kazakhstan League
12 Jan 2015, 21:11 | Wild up and down game in Czech Extraliga goes for Třinec
Two recent games of Hradec Králové were postponed due to flu epidemy. One of the two  in Třinec had its substitutional term today. During a wild game full of goals Třinec grabbed a quick 2-goals lead in the 1st and 2nd period, but Hradec tied it up twice. As two goals lead appearently was not big enough, in start of the third period Třinec better scored four-times to make it 8-5. Also this time Mountfield was looking for the equalizer, but weren't able to score more than twice. Thus final score of the game which brought 4 powerplay and 2 shorthanded goals was 8-6
11 Jan 2015, 22:44 | France up, Japan down
The French Under-18 girls are promoted to the 2016 World Women's U18 Championship after they won Division 1 undefeated this week.
Japan is relegated from the Elite Division after losing two relegation games against Switzerland.
06 Jan 2015, 09:10 | Groups for WJC Helsinki 2016
The 2016 IIHF World Junior Championship will be played from 25th December 2015 to 5th January 2016 in Helsinki, Finland
Group A
Canada
Sweden
USA
Denmark
Switzerland
Group B
Russia
Slovakia
Czech Republic
Finland
Belarus
03 Jan 2015, 02:51 | Jim Vandermeer suspended 6 games
The disciplinary committee of Swiss Ice Hockey Federation ruled a six-game suspension for Kloten Flyers defender Jim Vandermeer for the charge against the head of Mathieu Tschantré during the match of December 22, 2014 between HC Biel and Kloten. In addition, a fine of CHF 1,500 was imposed on the Canadian defender.
02 Jan 2015, 06:13 | Swiss Yannick Rathgeb suspended two games
The IIHF Disciplinary Panel has suspended Swiss defenceman and team captain Yannick Rathgeb for the next two games of the 2015 IIHF World Junior Championshipas a result of a violation that occurred at 32:02 of the game between Switzerland and Sweden, when Rathgeb delivered a hit on Swedish forward Anton Blidh. This mean Rathgeb will miss the relegation series Switzerland will play against Germany.Rathgeb would be eligible to return if the relegation round series goes to three games.
01 Jan 2015, 05:10 | Quarter-finals set at WJC
After the end of preliminary round, all quarter-finals pairs are now set:
02 January 13:00 United States vs Russia @ Montreal
02 January 15:00 Sweden vs Finland@ Toronto
02 January 17:00 Czech Republic vs Slovakia @ Montreal
02 January 20:00 Canada vs Denmark @ Toronto
Germany and Switzerland will play a relegation series best of three in Toronto, on day 02 and 03 January (05 if necessary)
31 Dec 2014, 05:55 | Buran changes coach
Buran Voronezh announces coach Viktor Bogatyrev resigned from his charge. Club promotes junior team Rossosh coach Sergei Kary. New coach of Rossosh will be mr. Kary assistant Oleg Rudakov. Kary already coached Buran from 2006 to 2010
31 Dec 2014, 03:47 | Grenoble won Coupe de la Ligue
In front of 2500 spectators in Meribel, Grenoble won its fourth Coupe de la Ligue winning 3-2 against traditional rival Rouen, equalizing club from Normandy in Ligue Cup won.
"My players have made sacrifices, blocked shots and worked hard in the defensive zone. They deserved the win" said Canadian Grenoble coach Richard Martel
29 Dec 2014, 20:39 | Anatoli Golyshev suspended one game
The IIHF Disciplinary Panel has handed down a one-game suspension to Russian forward Anatoli Golyshev for his hit on Switzerland's Phil Baltisberger during the preliminary round game Russia won 7-0 yesterday. Swiss defender was removed from the ice but already yesterday the hypothesis of a concussion has been ruled out. Baltisberger joined this morning his teammates. If his condition permits,he will test on the ice tomorrow morning.
29 Dec 2014, 02:23 | Cernak suspended
Slovak defenceman Erik Cernak will be suspended one game at the World Junior Championship due to a check against the head and neck area of Finland's Mikko Rantanen.
28 Dec 2014, 04:44 | Bulgaria withdraws from the U20 Ice Hockey World Championship
The Bulgarian Ice Hockey Federation has informed IIHF that U20 team won't travel to Dunedin, New Zealand to compete at the 2015 Under-20 Ice Hockey World Championship - Division III.
This means that the tournament will have 5 teams instead of 6. The number of games will be reduced from 15 to 10. New Zealand, China, Mexico, South Africa and Turkey are the participants
The tournament will now start a day later on Tuesday January 20th, 2015.
25 Dec 2014, 20:15 | Arlan Kokshetau fined
The Kazakh Federation has fined Arlan Kokshetau 250,000 tenge due to the comments made by head coach Surenkin following their 22.12 match with Gornyak Rudny. Kokshetau won the match 2:1 but Surenkin was still unhappy with the officials.
23 Dec 2014, 10:57 | Marco Maurer plays Spengler Cup with Jokerit
HC Lugano announced defender Marco Maurer will play Spengler Cup on loan to Jokerit Helsinki. Maurer played Spengler also in 2012 edition with Adler Mannheim (on loan from Rapperswil, his club at that time)
22 Dec 2014, 12:25 | Pre-WJC games
Four pre-competition games with the U20 national teams preparing for the World Juniors in Toronto and Montreal were played last night. Canada-Sweden 5-2, Slovakia-Switzerland 3-2, Germany-USA 2-5 and Finland-Russia 3-2(PS).
The World Juniors start on Friday. Follow it with Eurohockey.com at http://eurohockey.com/league/878-wjc.html.
21 Dec 2014, 23:09 | Corona Brasov wins Romania Cup
With a comeback from 0-2 after first period, Corona Brasov won 2015 edition of Romania Cup, beating 3-2 arch rival SC Miercurea Ciuc in front of 2000 fans at home rink. In september Miercurea Ciuc won 2014 edition, beating 2-1 Brasov at overtime
20 Dec 2014, 11:33 | Dmitri Yakushin new coach at Brest
Brest finally found a replacement for coach Aleksandr Gavrilenok, fired in mid-november: it's Ukranian Dmitri Yakushin, two seasons ago on Dynamo Kharkiv bench
19 Dec 2014, 22:02 | Croatia promoted
The Croatian U20 team beat Spain 3-2 in the last game of the World Juniors Division 2B to win promotion.
19 Dec 2014, 13:00 | Sean Simpson takes over as new coach of Kloten Flyers
As communicated in a press release by the Flyers organisation, Felix Hollenstein and assistant Kimmo Rintanen (Fin) have been releaved of their positions and replaced by Sean Simpson and his long time assistant Colin Muller. Both signed long year contracts. In addition, Simpson will take over the position of the Team Manager while André Rötheli who had the position will move to the Elite A Junior Team as Head Coach after Marco Bayer ends his stint at the end of the season. The mediocre results from the start of the season have haunted the coaching duo since and speculations had been ongoing in the last few weeks.
16 Dec 2014, 08:01 | No Burakovsky at WJC
The Swedish forward André Burakovsky won't play for Sweden at the upcoming World Juniors since his club Washington Capitals won't let him leave the team to play the tournament.
15 Dec 2014, 20:09 | Roman Sykora leaves Piestany
Coach Roman Sykora resigned from his charge at SHK 37 Piestany due to the recent poor results of the team. "I feel responsible for this bad momentum and I want to give the players a boost" said Sykora. His successor is still unknown
15 Dec 2014, 18:07 | Sigurdarson and Sveinsdóttir named 2014 Iceland Players of the Year
Bjorn Robert Sigurdarson of Aberdeen Wings (NAHL) and Skautafélag Akureyri forward Linda Sveinsdóttir were named 2014 Iceland Players of the Year.
Sigurdason, 20, had a positive first season in US, scoring 13 goals (with 25 assists) in 54 games, playing for Iceland national team in U18 and U20 World Championships.
Linda Sveinsdóttir, 24, played in three World Championships and won 7 titles with SA Akureyri
"She is a great example for all Icelandic women and girls" reports the official motivation
15 Dec 2014, 11:47 | Fredrik Pettersson and Linus Klasen declined national team call
Fredrik Pettersson and Linus Klasen won't partecipate at Channel One Cup in Sochi with Sweden from 18 to 21 December, despite the call from coach Pär Mårts. Their club HC Lugano asked players to remain in Switzerland to focus on 22-23 December NLA round.
"I'm sad about this situation but I will not force the hand, it is their right to refuse the call" said Mårts at TT Nyhetsbyrån
15 Dec 2014, 00:26 | U20 World Juniors Div1A started
The U20 World Championship Division I Group A started today in Asiago. The winners on the opening day were Belarus, Latvia and Norway.
14 Dec 2014, 11:52 | Six goals, one scorer
Delovaja Rus Kaliningrad forward Artem Nekerov scored all six goals of his team in the 6-5 victory against Lokiai-Poseidonas Elektrenai in the Lithuanian League. Nekerov also missed a penalty shot at 26:40. Delovaja Rus is currently third in the standing but with several games less than other teams
14 Dec 2014, 09:56 | British juniors promoted
Great Britain won the U20 World Championship Division IIA in Tallinn, Estonia to promote to Division IB. The British team that was lead by the top line Bobby Chamberlain-Lewis Hook-Jordan Cownie won all five games.
12 Dec 2014, 19:35 | Jesse Joensuu transferred from Edmonton Oilers to SC Bern
According to the official twitter channel of the Edmonton Oilers (@edmontonoilers) Jesse Joensuu has been transferred to SC Bern of the Swiss National League A with immediate effect. The 27 year old Finland native should replace injured Chuck Kobasew. Joensuu played 124 NHL games with the Oilers organisation and should have an lively effect with his stature (193cm, 95kg).
12 Dec 2014, 19:22 | Damien Brunner signs with HC Lugano of Swiss NLA
According to various media outlets Damien Brunner of the New Jersey Devils has signed a contract with Swiss Team HC Lugano of the National League A throughout the 2018/2019 season after mutually terminating the 2.5 Million USD contract that left him with one more year.
10 Dec 2014, 12:37 | Heikki Leime to coach Olten
EHC Olten announced Finnish Heikki Leime as new head coach. Leime, 52, on French Amiens Gothiques bench last season, replaced Scott Beattie, fired on 21 November after six consecutive defeats. Interim coach Dino Stecher will remain as assistant coach
09 Dec 2014, 18:02 | Heilbronner Falken fire Pavlovs
The Heilbronner Falken have fired head coach Igors Pavlovs today after the club has slipped down into last in DEL2, winning just one match in their last 12 while dropping 8 straight. Club manager Attila Eren said he personnally regrets the decisions but the athletic and mental downward spiral of the club made this step necessary. Gerd Wittmann will act as the clubs interim head coach.
09 Dec 2014, 18:00 | Arystan Temirtau given forfeits
Arystan Temirtau had two matches against Arlan Kokshetau postponed while the club sorted out their financial situation. The club in the end was saved however they refused to show up for the matches against Arlan and now the Federation has ruled 5:0 technical victories to Arlan.
08 Dec 2014, 09:17 | European Women´s Champions Cup second round
The three groups of the second round of the European Women´s Champions Cup were played this past weekend. HC SKIF Nizhny Novgorod, HC Lugano, Linköpings HC and Espoo Blues qualified for the Final Tournament that will be played February 20-22.
02 Dec 2014, 23:31 | Rouen and Grenoble reached Coupe de la Ligue final
Dragons Rouen and Grenoble Brûleurs de Loups qualified for Coupe de la Ligue final, held in Meribel next 30 Dicember. Since the creation of the competition in 2007, teams wil battle for the third time to win the trophy: in 2007 Grenoble won 2-1, in 2010 Rouen won 6-4.
In the semifinals Rouen lost first game 2-1 but crashed 6-0 Gap in 2nd leg, while Grenoble won 3-1 at Epinal and lost 4-5 in return match against Epinal advancing for goal difference
02 Dec 2014, 19:11 | MHL game postponed
Today's MHL game Yugra Mammoths - Kuznetsk Bears has been postponed because 14 of the Bears players are sick. A new date for the game is not yet decided.
01 Dec 2014, 00:07 | Change of coach in Bardejov
"The inadequate results of the team, especially the four games lost on home ice this season, are the reason for termination of cooperation" said HC 46 Bardejov manager Andrej Gmitter announcing the firing of coach Branislav Kohutiar
Miroslav Ihnačák, recently resigned from Corona Brasov, was announced as new headcoach. He signed until end of season
24 Nov 2014, 18:52 | Two hockey legends pass away
Today sad news arrived about the death of two coaching legends.
This morning it was announced that former longtime head coach of the Soviet national team and CSKA Moscow, Viktor Tikhonov, passed away in a hospital in Moscow early Monday after a long illness. Tikhonov led the Soviet Union to Olympic Gold in 1984, 1988 and 1992, to 8 World Championships between 1978 and 1990 and a Canada Cup win. With CSKA Moscow he won 13 Soviet league titles and 13 European championships between 1977-1990. He is a member of both the IIHF Hall of Fame and the Russian Hall of Fame.
Later today the NHL informed about the death of Canadian Pat Quinn who had died on Sunday at age 71 after a long illness in Vancouver. The former long time NHL player had his biggest success behind the bench as head coach of the gold winning 2002 Olympic team of Canada. He also won the 2004 World Cup of Hockey, and the U18 and U20 gold medals at World Championships with his native country.
23 Nov 2014, 18:43 | Straubing and head coach Wilson part ways
On Saturday German club Straubing Tigers, last in the DEL standings with a large deficit towards the pre-playoff spots, decided to fire their head coach Rob Wilson. The 46 year old born Canadian who represented Great Britain on the international level only arrived this summer in Germany after four years in Italy, winning the Italian championship with Renon in 2014 as the highlight. Straubing had only won 3 of their first 21 regular season games.
19 Nov 2014, 13:04 | Five clubs interested in promotion in NLB
Five clubs of NLB have submitted the application to play in the NLA in case of on promotion this season: HC La Chaux-de-Fonds, HC Visp SC Langnau Tigers, HC Olten and SC Langenthal Olten.
These clubs will play the promotion/relegation series against last club of NLA as winner of NLB
18 Nov 2014, 11:15 | Schwenninger Wild Wings fire coach Mair
After two and a half years Stefan Mair was fired from his post of headcoach at Schwenninger Wild Wings
"It was a really difficult decision, because we have learned to appreciate the work of Stefan Mair in the last almost two and a half years. He has always worked very meticulous and committed, but the last series of eight defeats in a row have matured our decision to set a new impulse to "shake" the team" said in a short statement the Manager Thomas Burger.
Arrived in 2012/13 season, Italian Stefan Mair led Schwenningen to Bundesliga (now DEL2) finals, earning the promotion to German elite league last season.
Sports manager Alexander Hunter and assistant coach Dave Chambers will coach the team until a new coach will be find
18 Nov 2014, 10:46 | Crvena Zvedza - Partizan game declared invalid
The Serbian League match Crvena Zvezda - Partizan played on October 26th was declared friendly, both by teams and Competition Director, since it was played at the very begining of the season with Crvena Zvezda had only couple of days on the ice back then. The stats and the 3 points earned by Partizan, that won the game 82, were cancelled since the it was never registered by the Competition Director.
17 Nov 2014, 21:54 | Ludek Bukac new coach at Egna
Egna/Neumarkt announces Czech Ludek Bukac, 47, as new headcoach, replacing fired Mike Flanagan. Bukac, recently lead Czech Republic at WJC U18, is back in Egna where he coached team for a couple of seasons at the begin of the century.
17 Nov 2014, 14:28 | HK Brest fired coach
Due to the poor performances of the team - 13 points after 23 rounds - Aleksandr Gavrilenok was fired as head coach of HK Brest removed from his position. Assistant coach Aleksandr Ivanenko was named interim coach
16 Nov 2014, 22:33 | Former Hungarian international Attila Rajz passed away during a game
Hungarian hockey mourns the sudden death of former international Attila Rajz, passed away while was playing a game of OB-III, an amateur league in Hungary. Raiz, 38, retired from professional hockey in 2010 after almost 300 games in Hungarian League/MOL Liga with Alba Volan Székesfehérvár and Ferencvaros and two titles (2007-08 and 2008-09). He played also 43 games for Hungary.
According to jegkorongblog.hu Rajz played the first period and was in the locker room, because he felt bad. Then sat on the team bench, where they became ill shortly before the end of the match. Despite every attempt, doctors were not able to save his life
16 Nov 2014, 13:03 | Milan Kolena seriously injured in a car accident
MHC Mountfield Martin forward Milan Kolena suffered a serious car accident on saturday morning near the village of Turčianska Štiavnička. According to club Facebook page Kolena underwent surgery. Site Turiec.sme.sk reported the player was in a car along with other three passengers, two men and a woman, all serious injured. "Circumstances and causes of the accident are under investigation" said regional police spokesman Radko Moravčík. Kolena was the captain of Slovakia U20 at the last World Championship and returned to Martin after starting the season at Kosice
12 Nov 2014, 12:38 | Krikunov resigned as Belarus coach and goes to Neftekhimik
Lasted a little over a month the experience of Vladimir Krikunov at the helm of Belarus national team. Russian coach resigned after a meeting with new Federation President Igor Rachovsky. In EIHC in Slovenia, played last weekend, Belarus lost all three games.
Some hours after the dismissal, Krikunov was announced as new coach of Neftekhimik Nizhnekamsk
11 Nov 2014, 22:53 | Finland and Sweden dominate CHL
When it is time for quarter finals in Champions Hockey League only teams of Finland and Sweden remain. IFK Helsinki, Lukko Rauma, SaiPa Lappeenranta and Kärpat Oulu from Finland and Linköpings HC, Frölunda Indians, Skellefteå AIK and Luleå HF from Sweden. The quarter finals are played December 2 and 9.
11 Nov 2014, 17:14 | Japan qualifies for WWC
Japan beat Czech Republic 2-1 to qualify for the 2015 IIHF Ice Hockey Women's World Championship in Malmö, Sweden.
07 Nov 2014, 14:51 | Polish Cup in Krakow
Krakow Arena will host the final four of 2014 Polish Cup, on December 27 and 28. The Federations intends to use this event as a test for upcoming World Championship Division Ia, held in Krakow in April.
"We are aware that an event of this magnitude must be properly organized. Polish Cup will be our test event before the championships. We will be able to test the venue in every aspect, and this is extremely important" said Dawid Chwałka, President of Federation, at portal hokej.net
06 Nov 2014, 00:11 | Egna fired coach
Neumarkt/Egna fired Canadian coach Mike Flanagan after four victories in 14 games of Italian Serie A. Flagan arrived this season at Egna after two years as Valpellice coach. Junior coach Martin Ekrt was named interim coach
04 Nov 2014, 19:15 | Robert Spisak new coach at Katowice
Slovak Robert Spisak is the new head coach of GKS Katowice, replacing Maksymilian Lebek. Spisak, 55, won MOL Liga last season with Nove Zamky but was fired in October by Slovak club. Katowice lost all 13 games played in Polska Hokej Liga
03 Nov 2014, 18:05 | Peter Oremus left Vitkovice
After two seasons Peter Oremus left his charge of head coach at Vitkovice after Sunday's defeat with Zlin.
"We had to take this decision: the team lost twelve of the eighteen matches, it's logical" says general manager Petr Husička.
"Our results were poor despite invaluably beginning of the season. Unfortunately the roster was plagued by injuries, we lost few matches in the last minutes. I'm agree with the decision of the board. I spent two wonderful years here in Vitkovice" commented Peter Oremus
03 Nov 2014, 16:54 | Arlan finally announces coach
After firing Vladimir Klinga in mid-September, Arlan finally finds a new coach: Finnish Vesa Surenkin, inactive since 2012, will coach Kazakh team with Russian Dmitri Shalabanov, assistant coach for the last three seasons at Sary Arka Karaganda.
02 Nov 2014, 23:38 | Sergei Pushkov to coach Karelia
VMF Karelia announces the appointment of Sergei Pushkov as new head coach, replacing Sergei Shendelev. Pushkov, 50, played for SKA from 1991 to 1995 before to coach in Belarus and Norway. Last season he worked as assistant coach at team Poland
02 Nov 2014, 16:51 | World Championship Division 1a start postponed
Polish Federation announces the start of World Championship Division 1a, originally scheduled for April 18, 2015, will be postponed by one day due to a show of singer Robbie Williams, which will take place at Krakow Arena on day 17. According to the new plan the tournament will begin on 19 April 2015 and end on Saturday 25 April. Host Poland will face Hungary, Japan, Ukraine, Kazakhstan and Italy
02 Nov 2014, 13:39 | Txuri Urdin score 42 goals
Night of big scores in Spanish Nacional Liga: the biggest one was in Valdemoro, Madrid district, where Txuri Urdin San Sebastian destroyed 42-0 Steel Acorns Valdemoro with Ignacio Solorzano (6 goals and 5 assists as best scorer). Txuri had 135 shots on goal, Valdemoro just 4
31 Oct 2014, 17:25 | Kazzinc Torpedo temporarily replaces headcoach
Assistant coach Igor Dorokhin was named Kazzinc Torpedo Ust Kamenogorsk interim headcoach to replace Nikolai Myshagin after he suffered a suspected pre-stroke when team arrived in Krasnodar to play against local Kuban. Myshagin was taken to the Regional Clinical Hospital of Krasnodar: there is no danger to life. The coach will remain under medical supervision for the next 7-8 days. It is also necessary to clarify the diagnosis and the possibility of adjusting the treatment.
30 Oct 2014, 16:47 | Arystan Temirtau in financial crisis
Arystan Temirtau has informed their players and the league that the club will not be making the trip to Kokshetau to take on Arlan on 2-3.November due to their financial situation. The clubs players will stay with the club for the moment and keep training should the situation change, however, if nothing does in the next week, the club will be disbanded.
29 Oct 2014, 18:52 | Sary Arka, Ariada and Sputnik change coach
Movements on the benches of the VHL:
Russian coach Alexei Fetisov resigned from his post at Sary Arka at his own request. Assistant Leonids Tambijevs was named new head coach. Sary Arka is the reigning champion of VHL and currently 7th in the standing.
Ivan Tsarev replaced Igor Zilinsky at Ariada Volzhsk after nine consecutive defeats.
Former Neftekhimik Nizhnekamsk coach Vladimir Golubovich is the new coach of Sputnik Nizhny Tagil replacing Evgeny Galkin
23 Oct 2014, 18:20 | Luca Cereda named in Switzerland U20 coaching staff
Luca Cereda is the new assistant of coach John Fust at Swizerland U20 team. Cereda replaces Gerd Zenhäusern, who was recently appointed head coach of HC Fribourg-Gotteron. After his retirement, Cereda works as assistant coach at Switzerland U18 and as head coach of Ambri Piotta Elite Junior A team
23 Oct 2014, 16:59 | Nikolishin to coach Traktor
As rumoured, Andrei Nikolishin was named new coach at Traktor Chelyabinsk, replacing fired Karri Kivi.
Anwar Gatiyatulin Vladimir Tsyplakov and Fredrik Mikko also entered in the coachinf staff
23 Oct 2014, 11:50 | Gomel announces new coach
Former Dinamo Minsk Alexander Andrievski is the new coach of Gomel, replacing Valeri Voronin resigned at the beginning of October
22 Oct 2014, 22:00 | Traktor fires coach
Today 2-3 defeat against Dinamo Minsk, the eighth in the league, means the end of the adventure on Traktor Chelyabinsk bench for Karri Kivi. Finnish coach was fired at the end of the game. Rumours indicate Andrei Nikolishin as new coach
22 Oct 2014, 14:51 | Frank González new President of Spanish Ice Sports Federation
Former player Frank Gonzalez, IIHF Council Member, was elected new President of Spanish Ice Sports Federation (FEDH), where he was the Vice President and the responsible for ice hockey.
"Now I have the satisfaction to be the second president of the FEDH (after María Teresa Samaranch), although at the time to address the Assembly I was really excited and almost could not even talk, but now it's already time to work" said Gonzalez after the election. Two hockey players, national team captain Salva Barnola (CG Puigcerdà) and Guillermo Betrán (CH Jaca), were named in the Commission of Deputies
19 Oct 2014, 16:28 | AIHL says no to Rhinos comeback
Some days ago icehockeynewsaustralia.com reported the intention of Central Coast Rhinos to rejoin Australian Ice Hockey League (AIHL) after a five years hiatus. But AIHL Annual General Meeting rejected the request without further explanations
18 Oct 2014, 18:48 | IIHF ruled about Continental Cup format
After withdrawal of Companion Kyiv from Continental Cup, IIHF announced the changement in competition format, ruling Kompanion Kyiv will be replaced in Group E of the third round to take place 21-23 November 2014 in Angers, France, by the second-placed team of Group B or C with the better record from their three games in their second-round group played 17-19 October
16 Oct 2014, 23:14 | CSKA Sofia signed Russian veterans for Continental Cup
CSKA Sofia certainly won't travel to Bremerhaven for Continental Cup second round as underdog: Bulgarian team has strengthened the roster with the addition of five Russian players among which stand out former stars as Oleg Kvasha and Vladimir Antipov, both retired after last season. Other veterans contracted are: defender Mikhail Lyubushin and forwards Dmitry Vlasenkov and Dmitry Bykov.
Cska will play first game friday night against host Fischtown Pinguins Bremerhaven
15 Oct 2014, 18:34 | Energija Elektrénai fired coach
Energija Elektrénai fired Belarusian coach Dmitri Ovsyannikov after ten games and only four victories in Belarus Second League. Assistant coach Dovydas Kulevičius will be interim coach.
"Basically, it was a question of difference between the expectations and the potential. Dmitri is a great man and a good coach, we wish him the best in future works. Who will coach the team until the end of the season, it's still an open question - says club director Rolandas Aliukonis
11 Oct 2014, 16:19 | Two technical losses for Kalev-Valk, Viking approved
Estonian League started with some problems: the first two games of Kalev-Välk are considered 5-0 technical losses because the team didn't show up. Viking Tallinn and Panter/Purikad earn three points without playing
Federation also approved the HC Viking membership application. The new team replaced HK Viiking Sport Tallinn, folded after last season in debt, but it does not consider as the legal successor so can not require the payment of the debts of the other club to the new one
11 Oct 2014, 14:49 | Swedish duo on Brasov bench
Corona Brasov finds a new coach after the resignation of Miroslav Ihnacak:
Former Troja-Ljungby coach and general manager Jerry Andersson signed for MOL League vice-champion, along with Håkan Nygren, fired by Ferencvaros some weeks ago, as assistant coach.
10 Oct 2014, 13:35 | U18 schedule announced
Today the game schedule of the 2015 IIHF Ice Hockey U18 World Championship in Zug and Luzern was announced. You can find it here or on the tournament's website.
10 Oct 2014, 12:34 | Valeri Karpov passed away
Former Russian player Valeri Karpov died at 44 for the consequences of a domestic incident (a bad fall down the stairs) suffered last July. After two months in coma, Karpov suffered three operations, but was never able to recover. In September was transported from Chelyabinsk to Berezovsky, to follow specific rehabilitation in a hospital.
Drafted by Anaheim, Karpov played 76 games in NHL and 523 in Soviet/Russian League with a title in 1999 with Metallurg Magnitogorsk. He won a World Championship in 1993 and a silver in 2002 with Russia. He was inducted into the Russian and Soviet Hockey Hall of Fame in 1993. Before the accident, Karpov signed as Chelmet Chelyabinsk assistant coach
06 Oct 2014, 15:45 | KHL record by Wolski
Wojtek Wolski scored today the fastest hat-trick in the history of KHL. He scored three goals in 1:46 when his Torpedo Nizhny-Novgorod beat Sibir Novosibirsk 3-2.
04 Oct 2014, 10:27 | Josef Dobos new coach at Unia Oswiecim
Czech Josef Dobos, 53, is the new coach of Unia Oswiecim after the leaving of Peter Mikula. Dobos began season as Opava assistant coach in Czech Republic. He comes back on Oswiecim bench after a short stint in 2009-10 season
03 Oct 2014, 23:21 | Peter Mikula to coach Zilina
Two days after leaving Unia Oswiecim, Peter Mikula has already found a new bench: Slovak coach signed for Zilina to replace resigned Jozef Zavadil.
03 Oct 2014, 19:23 | Gomel coach resigns
HK Gomel coach Valeri Voronin resigned today citing family reasons. Former assistant Aleksandr Polischuk will replace him, with Aleksandr Shumidub as assitant. After 10 games, Gomel is 7th in Belarus Extraliga
02 Oct 2014, 18:45 | Jan Vodicka passed away
Fomer Czech goalie Jan Vodicka passed away at 82 after losing a battle with severe disease. Vodicka was the first goalie in Czechoslovakia to use a glove and a pionner in using mask. He played 12 seasons for Ceske Budejovice and three in TJ Tankista Praha. Vodicka also earned 12 caps with national team, playing at 1956 Winter Olympics in Cortina
02 Oct 2014, 14:21 | Andrew Petrie new coach at Newcastle
British Andrew Petrie is the new coach of Newcastle North Stars, replacing Garry Doré that will remain in North Stars organization as General Manager. Petrie coached Sydney Ice Dogs last season
02 Oct 2014, 10:52 | Peter Mikula leaves Oswiecim
"Maintaining coach Mikula was a priority for us" said the president of Unia Oswiecim Artur Januszyk last April signing a contract extension for Slovak coach. Yesterday with a short statement mr. Januszyk simply announced: "Peter Mikula is no longer coach of the club per mutual agreement.Thus, we begin the search for a new coach." Mikula arrived in Oswiecim last season replacing Evgeny Lebedev after the 2012-13 title with Zvolen, leading Unia at semifinals
01 Oct 2014, 10:49 | Rauno Parras new President of Estonian Federation
Rauno Parras, 41, was elected the new President of Estonian Hockey Federation during the general meeting held in Tallinn. For the first time a former player takes this charge. Retired after 2012-13 season, Parras previously worked as commercial director at Estonian Air. Another player, Veiko Süvaoja, entered in the Board. Former President Jaan Melder will continue to work in the Federation Board along with Oleg Litvyakov, Vahur Glaase, Urmas Kuusk and Aivar Riisalu.
30 Sep 2014, 15:05 | Jozef Zavadil resigned from Zilina
Citing health reasons, Czech coach Jozef Zavadil asked to terminate contract with Zilina after eight games. Zavadil arrived in Zilina last July
30 Sep 2014, 14:16 | Dukla Trencin retired Oto Hascak's jersey
During a ceremony last sunday, Dukla Trencin retired jersey #10 in honor of Oto Hascak. The 50-years-old native of Martin played 326 games with Dukla, starting and closing career with Trencin. Drafted by Boston Bruins in 1989, he played the entire career in Europe, in Sweden, Germany, Czech Republic and Finland, winning a title with Vsetin and two bronze medal at World Championship with Czechoslovakia. Hascak currently works as European scout for New York Rangers
30 Sep 2014, 13:09 | Ferencvaros sacked coaching duo
Another MOL Liga team decided to replace coach: after Brasov, also Ferencvaros announced the club sacked Swedish coach Håkan Nygren and his assistant Tamas Dobos after the last game, lost 3-5 against Ujpest. Last season the duo had the same function with the roles reversed, with Dobos as head coach and Nygren as assistant.Nygren was also Technical Director.
Youth team coach Ferenc Szakács has been named the interim head coach with former player György Orbán as assistant.
29 Sep 2014, 15:47 | Miroslav Ihnacak left Brasov
Less then one month after the start of MOL liga, vice-champion Corona Brasov lost its coach: Slovak Miroslav Ihnacak, 52, resigned for familiar reasons. "We decided together that it is the best decision for everyone, he decided to return home to stay with his family. I'm sorry to have to break up." said president of hockey section, Zoltan Olti-Pascal. Former coach Laszlo Kovacs will be the interim coach.
28 Sep 2014, 11:05 | Lokomotiv Yaroslavl fires coach Simpson
After 9 rounds, a record of 3-6 and an anonimous 12th placein the Western Conference standings, Lokomotiv Yaroslavl decided to fire former Switzerland coach Sean Simpson, along with his assistant Colin Muller
Anatoly Khomenko has been appointed as interim head coach.
27 Sep 2014, 17:43 | KAC fire coach four games into the season
Austrian powerhouse Klagenfurter AC fired head coach Martin Stloukal and assistant coach Gerald Ressmann just four games into the new season. The record title holder in Austrian history lost three of their opening four games, conceding a 0-9 loss to Linz at home in their last game on Thursday. That was KACs biggest loss in club history.
22 Sep 2014, 18:15 | Schedule for Spengler Cup 2014 unveiled
The 88th edition of the Spengler Cup will open with the Genève Servette agains the KHL Team Salavat Yulaef Ufa. The evening game will show case two fan favourites: HC Davos will face Team Canada. Here are the two groups and all the games:
Group Torriani: Genève Servette, Salavat Yulaef Ufa, Jokerit Helsinki
Group Cattini: HC Davos, Team Canada, Medvescak Zagreb
Friday, 26.12.2014:
G 1: Genéve Servette-Salavat Yulaef Ufa / G 2: HC Davos-Team Canada
Saturday, 27.12.2014:
G 3: Jokerit Helsinki-Looser Game 1 / G 4: Medvescak Zagreb- Looser Game 2
Sunday, 28.12.2014:
G 5: Winner Game 1-Jokerit Helsinki / G 6: Winner Game 2-Medvescak Zagreb
Monday, 29.12.2014:
G 7: 2. Group Torriani-3. Group Cattini / G 8: 2. Group Cattini-3. Group Torriani
Tuesday, 30.12.2014:
G 9: 1. Group Cattini-Winner Game 7 / G 10: 1. Group Torriani-Winner Game 8
Wednesday, 31.12.2014:
G 11: Winner Game 9-Winner Game 10
22 Sep 2014, 17:46 | Rod Hinks passed away
Former player Rod Hinks passed away last Thursday at 41 due to a suspected heart attack at his residence.Drafted to the New York Islanders in 1993, Hinks played most of his professional career in Europe, skating in Italy, Austria, Switzerland, Germany, Hungary and Great Britain. He won a title in Austria with Villach in 2001-2002 season
20 Sep 2014, 12:16 | Val Pusteria won Supercoppa
A goal by Canadian Philip Devos at 59:45 gives Val Pusteria Wolves the first trophy of the season in Italy. Wolves won Supercoppa at Collalbo Arena beating 4-3 national champion SV Renon
19 Sep 2014, 17:51 | Dunarea Galati fired coach Rauhanen
The moving of Finnish coach Kari Rauhanen from MOL vice champion Corona Brasov to Dunarea Galati of Romanian League was the shocking transfer of the summer for Romanian hockey. After three months and only two official games played in Romanian Cup (one victory one loss), Dunarea announced Rauhanen was fired without further comments
18 Sep 2014, 11:58 | World Championship to Poland
IIHF announced today that Krakow, Poland will host the 2015 IIHF Ice Hockey Division I Group A World Championship.
Ukraine was originally supposed to host the championship but withdrew due to the political situation in the country.
15 Sep 2014, 11:17 | SC Miercurea Ciuc won Romania Cup
A goal by Ede Mihaly in the overtime gives 2-1 victory and the Romanian Cup to SC Miercurea Ciuc in the final played in Galati against Corona Brasov
15 Sep 2014, 11:05 | Neman replaces coach
Belarus champion Neman Grodno sacked Latvian coach Aigars Cipruss due to the poor start in Extraliga and replaces him with Russian Vasili Spiridonov, 63, until 2013 on Metallurg Zhlobin bench with whom he won the league in 2011-2012 season. Cipruss arrived in Grodno last June and won Belarus Cup some weeks ago
13 Sep 2014, 15:57 | NLB game cancelled
The NLB game between HC Red Ice Martigny and the SC Langenthal today Saturday is postponed.
At least twelve of the Martigny players suffer from food poisoning.
13 Sep 2014, 13:26 | Riley Emmerson received 10-games ban
The Elite League's Department of Player Safety has handed Edinburgh Capitals Riley Emmerson a 10-match ban and fined the club £1,000 because of the injury sustained by Belfast Giants Kevin Phillips as a result of a Emmerson boarding check during the Capitals home game on Sunday 7th September 2014.
Edinburgh have been fined £1,000 for failure to supply the matchnight footage required
13 Sep 2014, 13:10 | Only three teams apply to participate in Ukraine League
An official letter from Ice Hockey Federation of Ukraine, reported by Sport.ua, says that three hockey teams - HC Kremenchug, Generals Kyiv and Vityaz Kharkov - confirmed the intention to participate in the championship.
Federation will consider the creation of a league at least with one team more.
13 Sep 2014, 13:00 | Arlan fire coach
Kazakhstan vice-champion and national cup finalist Arlan Kokshetau sacked Slovakian coach Vladimir Klinga after a bad start in Kazakhstan League (1-3 record after 4 games), even if Arlan won last game 14-1 against Torpedo Ust-Kamenogorsk. Andrei Psarev was named interim coach
11 Sep 2014, 23:19 | Rain of goals in Romanian Cup
Romanian Cup, started yesterday in Galati, saw big scores in first games. Sportul Studentesc Bucharest lost 0-30 and 1-22 against Corona Brasov and Steaua Bucharest, while home team Dunarea Galati won 16-0 against Progym. Dunarea signed Austrian stars Andre Lakos and Oliver Setzinger for the competition but lost first game 2-7 against SC Miercurea Ciuc. Follow Romanian Cup on eurohockey.com
11 Sep 2014, 23:02 | MHL reaches 5,000
Today was the 5,000th game of KHL's junior league MHL played. MHK Spartak Moscow beat Dinamo St. Petersburg 4-3 in a shootout game in this historic event.
MHL started in 2009 and is now in its sixth season.
11 Sep 2014, 21:17 | Igor Chibirev to coach Ukraine U20
Ukraine Federation announced the appointment of Igor Chibiriev as head coach of U20 national team, with Andrei Sryubko as assistant. Chibiriev, 46, worked as assistant coach at Molodaya Gvardia Donetsk, while Sryubko held a similar position at Dmitrov.
"The most important thing is that we have a common vision of what needs to be done to achieve a result" said Igor Chibiriev. Ukraine U20 will compete in WJC U20 Division IB in Dunaujvaros, Hungary, next December against Poland, Kazakhstan, France, Japan and Hungary.
09 Sep 2014, 09:58 | 2015 IIHF IHWC mascot introduction
The mascot of the 2015 IIHF World Championship will today be introduced in a press conference that you can follow here from 11.30 (CET).
07 Sep 2014, 13:01 | Memory day in KHL
On the 7th of September KHL games are paused in memory of the crash of a plane that carried HC Lokomotiv Yaroslavl three years ago, on 7 of September 2011. Flight attendant Alexander Sizov was the only one who survived in a crash, while 26 players, 4 coaches, 7 club staff members and 7 members of plane crew died.
04 Sep 2014, 14:13 | Beroun faces problems
Traditional participant of the Czech 1.liga (2nd-level competition) Medvědi Beroun struggles with financial issues which could lead to closing down the organization as whole. According to information from the Czech Ice Hockey Association (CIHA), Beroun owes the total amount of app. € 18,000 to players on wages and it seems to be unable to even out its liabilities by September 5, which has been stated as the final deadline by CIHA. The club, which finished in the last spot of the 1.liga last year and was relegated to 2.liga (3rd-level competition), is now threatened even by losing of its 2.liga license and by total extinction.
02 Sep 2014, 15:26 | Slavutich will not participate in the Belarus Extraliga
Slavutich Smolensk won't play in Belarus Extraliga in 2014-15 season. The club, acting in Russian 3rd league, applied to join Belarus Extraliga and the Belarusian Federation accepted the proposal, but, despite a verbal agreement wih Russian Hockey Federation, the bureaucratic procedure was not successful because only the Executive Committee of the Federation has the right to allow the move, but the date of his nearest Convocation is no earlier than September 25th, after the begin of Extraliga
02 Sep 2014, 14:10 | Mass brawl causes premature end of a warmup game in Trenčín
Yesterday's warmup game full of fights between junior teams of Dukla Trenčín and Vsetín ended up prematurely in the 56th minute due to a mass fight. In the moment of the final whistle, the current score was 2-2. Altogether, 336 penalty minutes were registered into the penalty summary of the game.
02 Sep 2014, 09:35 | Ertis won Kazakhstan Cup
By beating cup holder Arlan Kokshetau 4-1 in the final played in Temirtau, national champion Ertis Pavlodar won for the first time the Kazakhstan Cup. Nomad Astana captured bronze medal defeating 2-1 at overtime Beybarys Atyrau. Tournament awards were assigned to Marek Pinc (Ertis) as best goalie, Aleksei Petushkov (Arystan Temirtau) as best defender and Maxim Bogatyrenko (Berkut Karaganda) as best forward
01 Sep 2014, 18:07 | Finland wins U20 tournament in Jönköping
The Finnish U20 team won a 4-nation tournament in Jönköping, Sweden the past weekend. They started off with a 2-1 shootout win to Russia and continued with 5-1 aganist Sweden and 7-1 against Czech Republic. Sweden finished second beating the Czechs 7-2 and the Russians 2-1. Russia beat Czech Republic 7-0 to finsih third.
Finland's Jesse Puljujärvi scored 3+3 points to finish as top scorer of the tournament in Kinnarps Arena.
01 Sep 2014, 00:09 | Neman Grodno won Belarus Cup
National champion Neman Grodno won its first Belarus Cup crushing 5-0 Yunost Minsk in the final, played at Chizhovka Arena in Minsk in front of 1.900 spectators.
"Despite the score, the match was tight. The first two quick goals played a major role in our victory." said Neman captain Andrei Korshunov
"We wanted to win. Fans always remember the first place, if the result gave us the silver, it is not important" commented Yunost Anatoly Protasenya
31 Aug 2014, 11:36 | Energija Elektrénai announced new coach
Energija Elektrénai, playing in Belarusian second division,  announced Belarusian Dmitri Ovsyannikov as new headcoach. Ovsyannikov, 44, worked at HK Lida-2 last season
31 Aug 2014, 11:16 | Medvescak releases Shawn Belle
Medvescak Zagreb announces the club terminates contract with Canadian defender Shawn Belle for mediacal reasons: "Few days after his arrival appeared problems arising from an old injury. The club and player agreed that priority is to take care of his body and health. He understands that with our small budget we have to have every player be able and count on him 100%. We wish him all the best for the future and hope he will soon be at top" said Medvescak athletic director Aaron Fox. Belle, 29, signed with Medvescak from Swedish Farjestad last June
30 Aug 2014, 19:02 | Yunost and Neman for the Cup
After three consecutive years Metallurg Zhlobin won't play in Belarus Cup final. The last act, next Sunday, will see Cup holder Yunost Minsk face Extraliga champion Neman Grodno, qualified to final just for a better goal difference compared to Yunost MHL team.
30 Aug 2014, 18:38 | Ertis and Arlan will face off in Kazakhstan Cup final
The 2014 edition of Kazakhstan Cup will have the same final of last year: cup holder Arlan Kokshetau and national champion Ertis Pavlodar dueling on Sunday at Termitau Ice Arena. Teams won their respective groups, while Nomad Astana and Beybarys Atyrau will play for bronze medal. Arlan won Kazakhstan Cup in last two editions
29 Aug 2014, 12:45 | GKS Katowice and Krynica approved
Polish Federation Commission on Licensing approved - even after the deadline - the applications of GKS Katowice to play in Polska Hokej Liga and Krynica for the 2nd League. Krynica also received a license for women team.
29 Aug 2014, 12:23 | Angers won Jacques Lacarrière trophy
after losing the playoffs finals last season, Angers took its revenge on Briançon winning the Match of Champions (Jacques Lacarrière Trophy), the trophy which opens the season in France between the Ligue Magnus champion and the winner of Cup of France. Angers won 4-1 (1-0, 0-0,3-1) at home in front of 1100 spectators. Goals were scored by Yannick Tifu,Tim Crowder, Guillaume Lefebvre and Brian Henderson for Angers and Marc-Andre Bernier for Briançon.
Angers goalie Alexis Neau was named MVP.
28 Aug 2014, 15:50 | Creation of Polish-Slovak team postponed
According to portal hokej.net, the Polish-Slovak project to enter a joint team called HC Jackals Poland into Russian Junior League MHL, has been postponed to next year.
26 Aug 2014, 12:08 | Kazakhstan and French Cup de la Ligue started
Last wekend other two 2014-15 season competitions started: Kazakhstan Cup and Coupe de la Ligue in France. Follow them with complete eurohockey.com coverage!
26 Aug 2014, 00:24 | Jeff Pyle named new coach of Valpellice
American Jeff Pyle, 55, is the new headcoach of Valpellice. Pyle comes back to Europe where he closed player's career and began coaching in Germany. Last season he missed playoffs with Evansville Icemen in ECHL
25 Aug 2014, 00:30 | SønderjyskE player suspended
Kristoffer Mohr of the Danish team SønderjyskE has been suspended for four games of Champions Hockey League after a knee check against Skellefteå's Mikko Lehtonen on Saturday.
22 Aug 2014, 10:35 | All Extraliga teams' licenses approved by the federation
Slovakian Federation announced all ten clubs partecipating in 2014-2015 had licenses approved. Also SKP Poprad received license after having fulfilled their obligations to coaches and players for past season, one of the conditions for granting the license
21 Aug 2014, 21:50 | Arizona Sundogs and Denver Cutthroats suspend operations
In few hours the Central Hockey League announced that the Denver Cutthroats and the arizona sundogs have suspended operations, effective immediately, and will not compete in the 2014-15 season. Both teams will look to secure additional investors with the hope of returning for the 2015-16 campaign. With the latter defections, following that of St. Charles Chill announced in June, the CHL remains with seven teams, the smallest number since the league's re-birth in 1992.
21 Aug 2014, 15:52 | Belarus Cup started
The 2014 edition of Belarus Cup, dedicated to the memory of Ruslan Salei, started yesterday with the two groups first round. Cup holder Yunost minsk defeated 5-2 HK Lida, while Irek Khafizov scored the first official goal for Dinamo Maladzyechna, in team's 3-1 defeat against Shakhtar Soligorsk. Check all results, stats and boxscores on eurohockey.com page
21 Aug 2014, 11:19 | Slavutich can join Belarus League
Russian team Slavutich Smolensk can join Belarus League in the next season according to Belarussian tribuna.com. Slavutich won Russian Hockey League - Russian third division -  last season.
21 Aug 2014, 09:45 | Hamburg forward Madsen out for up to 8 weeks
Danish international Morten Madsen who plays for German elite team Hamburg Freezers will miss between 6 and 8 weeks with the team and thus the start of Champions Hockey League and Deutsche Eishockey Liga. On Sunday, Madsen suffered a torn muscle fibre in right thigh while playing in a test game against DEL2 side Fischtown Penguins. With 41 points in a total of 62 games he was one of Hamburgs top scorers in the last DEL season.
19 Aug 2014, 13:24 | Don MacAdam new coach at Caldaro
Caldaro announces the appointment of Canadian Don MacAdam as new coach for upcoming season. MacAdam has a long coaching career in Canada and Japan. his last job was in 2009-10 season at Lewiston MAINEiacs, where he was also Club president. In 2006 MacAdam was inducted in native Prince edward Island Hall of Fame
19 Aug 2014, 12:23 | World Championship press conference
The official game schedule of the 2015 IIHF Ice Hockey World Championship in Prague and Ostrava was presented today at the official press conference in Prague as well as a complete overview of ticket information. Read the coverage from this press conference here.
19 Aug 2014, 12:03 | World Championship schedule
The schedule of the 2015 IIHF World Championship has been released today. Find all games here.
19 Aug 2014, 10:39 | Erwin Kostner to coach Italy U20
SHC Fassa coach Erwin Kostner was appointed as new coach of Italy U20, replacing Robert Ghizzali, resigned for personal reasons. After being promoted last year, Italy will play WJC U20 Division Ia at home, in Asiago, 14 to 20 December 2014 against Norway, Latvia, Belarus, Austria and Slovenia.
15 Aug 2014, 21:32 | Canada and Czech Republic to Ivan Hlinka final
Canada and Czech Republic won today's semi finals of Ivan Hlinka Memorial Cup for U18 national teams and are qualified for the final tomorrow in Breclav.
Canada beat USA 11-5 and the Czech Republic eliminated Sweden 4-3. Russia beat Slovakia 5-2 in the 7th place game and Finland ended 5th thanks to a 9-3 win over Switzerland.
15 Aug 2014, 17:15 | Finnish super talent sent home
One of Finland's best talents born 1998, Patrik Laine was sent home from the Ivan Hlinka Memorial after showing the Finnish coach the finger and also making a death threat against the Finnish head coach
12 Aug 2014, 10:58 | Ivan Hlinka Memorial Cup starts
The prestigeous U18 tournament Ivan Hlinka Memorial Cup started yesterday in Breclav and Piestany. Canada, Finland, Sweden and Czech Republic were the day 1 winners. Follow today's games at http://www.eurolivescores.com/.
08 Aug 2014, 21:47 | U20 Challenge Cup of Asia
MHL Red Stars (represented by the new MHL team Sakhalin Sharks) won the U20 Challenge Cup of Asia in Yuzhno-Sakhalinsk. They beat Japan 8-3, South Korea 12-0 and Kazakhstan 3-1.
05 Aug 2014, 17:56 | Arturs Irbe named goalies coach at Sabres
Buffalo Sabres announced club signed former goalie Arturs Irbe as goaltending coach. Irbe worked in the same position at Washington Capitals from 2009 to 2011
05 Aug 2014, 12:20 | Jacek Plachta to coach Poland
Jacek Plachta, 45, is the new headcoach of Poland national team. He worked as Igor Zakharkin assistant coach in last two years, winning the World Championship Division IB last season. Plachta worked as headcoach at GKS Katowice, Tychy and last season at KTH Krynica. Plachta assistant will be Russian Sergei Pushkov, last season at Neman Grodno until January
05 Aug 2014, 09:25 | Mario Simioni at Bolzano
Italo-canadian Mario Simioni is the new headcoach of Bolzano Foxes. Simioni not coached last season after a successful career in Denmark, where he won 4 titles and 3 national cup during his eight-years stay at SønderjyskE.
"We trust in Mario - says CEO Dieter Knoll - and we believe they will be able to recreate that atmosphere of compactness and unity that has brought many good results last season. He has qualities of great motivator and worker"
05 Aug 2014, 09:18 | Kazzinc-Torpedo will be the farm club of Metallurg Novokuznetsk
Metallurg Novokuznetsk announces the signing of a farm-team agreement with kazakh club Kazzinc-Torpedo Ust Kamenogorsk for one season
04 Aug 2014, 16:52 | Poland U20 has new coach
Swedish Torbjörn Johansson, 41, was named new headcoach of Poland U20 national team. After a 265 Elitserien games career, Johansson worked in past seasons as coach in Leksand junior department. He replaced Russian Andrei Parfyonov. Like Pefyonov, also Johansson will coach also U18 national team and the sport school SMS Sosnowiec, competing in polish 2nd division
01 Aug 2014, 15:41 | Dinamo and Neman cease cooperation
Dinamo Minsk announces the end of cooperation with Neman Grodno. The Belarus Extraliga champion will no longer be the farm team of Dinamo in the domestic competitions
01 Aug 2014, 14:30 | Patrick Curcio is the new headcoach of Milano
American Patrick Curcio is the new headcoach of Milano Rossoblu, replacing Adolf Insam. Curcio played for Milano in 1995/96 during his first season in Europe. In 2012 he owned and coached the ECHL franchise San Francisco Bulls, but the club folded in 2013.
29 Jul 2014, 10:51 | Marty Raymond new coach at Renon
A week after leaving SAPA Fehervar, Canadian Marty Raymond was announced as new headcoach of Italian champion SV Renon
25 Jul 2014, 19:55 | Evgeny Mukhin new coach of Debreceni
MOL Liga newcomer HK Debreceni announced the appointment of 46-years-old Russian Evgeny Mukhin as new headcoach. Club previously confirmed last year coach Vladimir Shcheglov but after the entrance in MOL Liga Debreceni Manager Lajos Kosa opted for a more experienced coach. Mukhin coached Avto Yekaterinburg in MHL last season
25 Jul 2014, 18:39 | Marty Raymond leaves SAPA Fehervar
Canadian Marty Raymond announces he leaves immediately his charge as SAPA Fehervar headcoach because of late payment of bonus from 2013-2014 season. Former assistant coaches Rob Pallin and Sille Tamás are the candidates to replace Raymond
25 Jul 2014, 14:48 | Philippe Bozon will coach Epinal
French Philippe Bozon, 47, is the new coach of Epinal. Club previously signed Dan Brooks but later American coach chose the position of assistant coach at SC Bern. Bozon coached France U20 last season
25 Jul 2014, 14:35 | Montpellier withdrawn, Villard de Lans back in Division 2
Montpellier application for partecipation in next Division 1 (French Second division) wasn't validated by the Federation for lacking of economic hedging, so the team will play in Division 3 - the last level of French hockey - next season.
Villard-de-Lans, withdrawn from Magnus Ligue for economic problems, will restart from Division 2 (third level)
23 Jul 2014, 22:14 | Paek accepts position as Head Coach of South Korea
The Grand Rapids Griffins announced that longtime assistant coach Jim Paek has accepted a position as the director of hockey for the Korea Ice Hockey Association (KIHA) and head coach of the Korean Men's National Team. In April 2015, Korea will compete at 2015 IIHF Ice Hockey World Championship Division I Group B in Eindhoven, Netherlands
22 Jul 2014, 15:16 | Donbass Donetsk leaves Ukrainian league
Donbass Donetsk has announced that they will not be taking part in the Ukrainian League as planned due to a lack of clubs. After just five clubs submitted they were taking apart, two of which are associated with Donbass, Druzhkivka Altair and Bilyỹ Bars Bila Tserkva, the club felt it was illogical to keep their players within the club. Donbass will cease all operations at the senior level for this season and let its players find new clubs in stronger leagues before they will return for the 15/16 season in the KHL. The club will use this season to work more closely with the children and youth squads.
21 Jul 2014, 10:56 | AIHL team in bus crash
Adelaide Adrenaline's two AIHL games this weekend were cancelled after the team was involved in a bus crash near Canberra. All but one of the Adelaide Adrenaline players and staff have returned safely to Adelaide now. The Swede Måns Lindgren is still in hospital but is expected to return home shortly.
19 Jul 2014, 21:13 | Club changes in GET-Ligaen
After Rosenborg IHK were denied their licence due to lack of funds, 1.divisjon Champion Manglerud Star were asked to submit their application and today have been approved to move up. On Wednesday night, Tønsberg Vikings informed the NIHF that they wish to move back down to 1.divisjon due to a lack of funds. The 1.divisjon Vice-Champions, Kongsvinger IL, have now submitted their application for promotion.
16 Jul 2014, 18:30 | Cape Breton Screaming Eagles to Ufa
Cape Breton Screaming Eagles will represent Canada at the Junior Club World Cup in Ufa and not Quebec Remparts as earlier was announced.
14 Jul 2014, 11:18 | Defender Artem Sokolov passed away
Russian defender Artem Sokolov, 32, passed away on July 13 during the training camp of Yermak Angarsk. Sokolov, recently moved to Yermak after two consecutive titles at Ertis Pavlodar in Kazakhstan, completed a nine-kilometers cross-country before getting sick. Sokolov was taken to the hospital where he died in the night. According to hospital Sokolov suffered a sunstroke. Temperatures in Irkutsk region this week reached anomalous 35 degrees. The day before, all players have passed medical tests.
VHL Director German Skoropupov said the league will conduct its own investigation about the death.
03 Jul 2014, 13:52 | Torpedo goes to Western Conference
KHL announced that Torpedo Nizhny Novgorod will move from the Eastern Conference to the Western Conference. Lada Togliatti will take Torpedo's spot in the East.
02 Jul 2014, 19:21 | NHL-approved Referee for Swiss NLA
According to tagesanzeiger.ch, swedish Head Referee Marcus Vinnerberg has signed a multi-year contract in the Swiss NLA. He will join a Team of 5 Pro-Referees and is widely looked as a great addition. In 2010 Vinnerberg transferred from the Swedish Elite League to the NHL and AHL where he refereed for two seasons as the first european Referee to do so. In the past, Vinnerberg has been voted best Referee in Sweden by the Players and has officiated World Championship Finals.
02 Jul 2014, 17:22 | CHL import draft
The CHL import draft is currently in progress. Pavel Zacha of Czech Republic was the first player to be selected. Sarnia Sting of OHL picked him.
Detailed report will follow later.
02 Jul 2014, 12:31 | Miroslav Ihnacak signs at Brasov
MOL Liga vice-champion Corona Brasov Wolves announced the sign of 52-years-old Slovakian Miroslav Ihnacak, last season on Polonia Bytom bench, as new head coach. Ihnacak replaces Finnish Kari Rauhanen, who signed last week for Dunarea Galati
02 Jul 2014, 11:57 | Igor Zhilinsky new coach of Ariada
Ariada Volzhsk announced the appointment of Igor Zhilinsky as new head coach. 51-years-old Zhilinsky coached Lada Togliatti last season
01 Jul 2014, 08:04 | HC Lev Praha future still uncertain
According to HC Lev Praha's official twitter, there still is no information about club's future. Previously it was reported that final decision about Lev's participation in KHL would be made on June 30th.
26 Jun 2014, 17:49 | KHL calendar will be ready in two weeks
KHL vice-president Dmitry Kurbatov said that schedule of the league will be ready no sooner than in two weeks.
26 Jun 2014, 17:48 | Dunarea Galati hires Kari Rauhanen
Kari Rauhanen, the Finnish coach who lead Corona Brasov to MOL Liga finals last season, surprisingly signed with Romanian League team Dunarea Galati
"The goal is to be one of Romania's leading hockey teams in 2-3 years, it is not an easy task, but if you really want something, you just have to work for it a lot" said the coach
Last month Galati submitted the request to enter into MOL Liga but wasn't accepted.
"our goal is still the participation in MOL League." said Rauhanen
25 Jun 2014, 18:40 | Lev Praha confirms financial problems
KHL's Lev Praha owners Petr Speychal and Yevgeny Myshkovsky confirmed that "there are funding problems and there is a possibility that the club will not play in the KHL next season. The situation is being intensely examined, and the final verdict will be announced on Monday, June 30th. All other information on the future of the club is, at this time, only speculation." Their statement appeared on Lev's official website.
25 Jun 2014, 13:33 | Lada will play on NHL-sized rink
Lada Togliatti will play on rink of NHL size (60x26 m.) in order for spectators to have better overlook of the rink, as was announced by the club's official website.
24 Jun 2014, 10:25 | Luc Tardif re-elected
Luc Tardif was re-elected for the third time President of French Ice Hockey Federation during the General Assembly. Mr.Tardif was the only candidate. During the press conference he stressed the converging point of the new fou-years term will be the World Championship in 2017 jointly organized in Koln and Paris.
23 Jun 2014, 22:22 | NLB Team EHC Basel Sharks declare bankruptcy
It came as a bit of a suprise for the National League when they informed today that the NLB Team from Basel had to turn over the financial statements to the commercial court. One of many reasons might have been that the average attendance was less than 1'400 fans per game. This made a cost-covering business more than difficult. This means there's a chance the coming NLB season will be played by 9 teams only. You can find the full statement in german on www.nationalleague.ch.
23 Jun 2014, 11:40 | Calder Cup winner returns to Sweden
The goalie Christopher Nilstorp who just won the Calder Cup with Texas Stars has signed a 2-year contract with Växjö Lakers of SHL.
22 Jun 2014, 21:45 | Danish Cup draw
The first round of Metalcuppen has been drawn: Hvidovre IK - Rungsted Ishockey, Herlev Eagles - Esbjerg Energy, Bulldogs Odense - Gentofte Stars, Amager Jets - Rødovre Mighty Bulls. It will be played September 5.
The quarter finals will be played September 12 and 13 and then the four top seeds SønderjyskE, Blue Fox Herning, Aalborg Pirates and Frederikshavn White Hawks will enter the competition.
22 Jun 2014, 14:53 | Chelmet and Neftyanik announce new coach
Former assistant coach Alexei Tertyshny is the new headcoach of Chelmet Chelyabinsk. He replaced Evgeny Galkin, moved on Sputnik Nizhny Tagil bench. Oleg Davydov and Valery Karpov will work as assistants.
Yuri Mordvintsev, last two seasons on CSK VVS Samara bench, is the new coach of Neftyanik Almetyevsk
21 Jun 2014, 19:34 | Brest back in Magnus Ligue
After the auto-relegation of Villard de Lens, French Federation announced Albatros Brest will play again in Magnus Ligue. Brest finished 13th last season and lost playout series against Caen
21 Jun 2014, 13:28 | Tallinn Viking Sport suspended in the Continental Cup
IIHF announced the Estonian champion Vikiing Sport Tallinn received a 20.000 Swiss francs (about 16,000 euros) fee and was banned for a year from Continental Cup. In September last year the club won the first round of the Continental Cup in Belgrade, but wasn't able to partecipate in Second Round because almost all imports haven't British visas.
21 Jun 2014, 13:22 | Jozef Zavadil new coach of Zilina
Zilina announces appointment of 66-years-old Jozef Zavadil as new head coach. Cech Zavadil worked in last years in HC Brumov-Bylnice, a club from Czech Republic regional Leagues
19 Jun 2014, 18:36 | KHL expects Donbas to come back
Ukrainian club acquired a stake in KHL Ltd and rights for its players and coaches will have the terms of their contracts frozen for one year. For season 2014/2015 Donbas players and coaches may conclude one-year contracts with other clubs. This is done to make Donbas's participation in KHL possible when political and military crisis in the Eastern Ukraine is solved.
18 Jun 2014, 23:17 | Texas Stars win Calder Cup
Texas Stars beat St. John's IceCaps 4-3 in overtime to win the AHL finals 4-1.
Patrik Nemeth scored the winning goal at 74:30.
Travis Morin was named playoffs MVP.
18 Jun 2014, 14:14 | Tretiak keeps his position
Today Vladislav Tretiak was re-elected as president of Russian Hockey Federation. Work of federation was characterized as "satisfactory" despite terrible performance in Sochi.
18 Jun 2014, 12:53 | Donbas will miss KHL season
On Tuesday June 17th Donbas Donets'k president Boris Kolesnikov met KHL president Alexander Medvedev. They agreed that Donbas will miss KHL season 2014/2015. It's junior team Molodaya Gvardiya will also miss MHL season. Both teams will take part in Ukrainian League which is now being re-organized.
17 Jun 2014, 13:20 | More teams in Riksserien
The Swedish women's top league Riksserien will from the season 2015/2016 consist of ten teams. Now there are eight.
17 Jun 2014, 11:04 | Club from Sochi chose a name
Dmitriy Kurbatov, KHL vice-president, told that new-born KHL club will be named HC Sochi. Necessary legal entities are now being created and registered. Previously club was thought to be called Sochi Leopards.
15 Jun 2014, 22:08 | United Arab Emirates 2014 Gulf Cup champion
For the third time in a row United Arab Emirates has won the Gulf Cup. In the final in Kuwait City they beat the host Kuwait 5-0.
Qatar finished third after a 7-2 win over Oman in the bronze medal game.
14 Jun 2014, 15:54 | Spartak Moscow's juniors will play in MHL
MHK Spartak Moscow (junior team of Spartak Moscow) provided financial guarantees and will participate in MHL (Molodezhnaya Hockey League) in season 2014/2015. At the same time, HC Spartak Moscow is almost certain to be excluded from KHL because of financial problems.
13 Jun 2014, 09:11 | Donbas may sell its leaders
Andrei Nazarov, head coach of Donbas Donets'k and Team Ukraine said that Donbas is likely to sell some of team's best players because of club's uncertain future. Evgeny Dadonov, one of Donbas best forwards was already traded to SKA
12 Jun 2014, 21:40 | No license for Rosenborg
For economic reasons Rosenborg gets no license to participate in Norwegian GET-ligaen next season. It is still not decided if they will be replaced with another team.
12 Jun 2014, 09:59 | Medvedev supports Fetisov
President of KHL Alexander Medvedev supported Vyacheslav Fetisov, who recently registered as candidate for President of Russian Hockey Federation.
"I support Fetisov. I hope elections will be fair. It is struggle between old and new. Some people feel comfortable living in the old way, doing nothing and being responsible for nothing. But Fetisov will carry responsibility for what he will be doing"  - Medeved told to R-Sport
11 Jun 2014, 14:25 | Donbas started repairing of Arena Druzhba
Donbas Donets'k started repairing of Arena Druzhba, which was burnt by pro-Russian terrorists on May 27th. Ukrainian club plans to have its arena repaired by September 1st, however it was said by KHL officials that Donbas will have to start KHL season on another home arena.
11 Jun 2014, 12:52 | British Under-20 league proposal
Members of the Ice Hockey UK board have met to discuss how to take forward and implement the development of talent in the UK.
A part of the proposal is to form an under-20 league of the UK's young players.
10 Jun 2014, 15:05 | Fetisov to compete with Tretiak
Vyacheslav Fetisov has completed the registration procedure and now he is another candidate for the President of Russian Hockey Federation office. His only competitor is current president Vladislav Tretiak. Other candidates can register themselves by June 12th, and elections will be held at June 18th.
10 Jun 2014, 15:04 | Christiansen resigns
Great Britain men's national team head coach Doug Christiansen has resigned.
10 Jun 2014, 10:24 | Markusson retires
Johan Markusson, captain of Växjö Lakers in SHL, has decided to retire.
10 Jun 2014, 09:27 | Kurbatov tells about problematic clubs
KHL's managing director Dmitriy Kurbatov said that KHL schedule depends largely on Donbas Donets'k. It has to find location to play home games, otherwise Ukrainian side won't be able to take part in KHL 7th season. Previously it was reported that Donbas had some options in Slovakia. Arena Druzhba, home arena for Donbas, was burnt by pro-Russian terrorists in May, and situation in Donets'k is not safe enough for KHL games.
When mr. Kurbatov was asked about Lev Praha, who were reported to have some problems with accumulating finances, he said "No comments".
09 Jun 2014, 17:39 | KHL will come up with participants soon
KHL's official website reports that within few days all participants of the season 2014/2015 will be named. The league has newcomers like Lada Togliatti, Jokerit Helsinki and Sochi Leopards, but it is likely to lose Spartak Moscow.
08 Jun 2014, 17:04 | Selänne close to retirement
Daren Millard from Rogers Sportsnet reports that Teemu Selänne is going to meet Jokerit Helsinki managers to discuss a possible transfer to KHL for season 2014/2015, but now Teemu thinks he will rather end his career.
07 Jun 2014, 13:26 | Spartak's young players go to SKA
16 players from Spartak Moscow, including 2 goalkeepers, 4 defensmen and 10 forwards transferred to SKA system. Among them there are players from KHL and MHL. Spartak's MHL team is current owner of MHL's main trophy - Kharlamov Cup, but judging on this massive transfer, it will be disbanded as well as KHL's Spartak Moscow.
06 Jun 2014, 10:01 | Hockey Russia moves deadline
Russian Hockey Federation gave 6 more days for candidates to register in the elections of President. The deadline was moved from June 6th to June 12th and elections will be held on June 18th. Federation officials reported that by June 5th current president Vladislav Tretiak was the only registered candidate.
05 Jun 2014, 14:25 | Slovakia offers help for Donbass Donetsk
Slovakian media report that Donbass Donets'k, whose arena was burnt by pro-Russian terrorists in May, received offers from Slovakian cities of Žilina and Poprad to move there until the situation in Donetsk becomes safe enough for KHL games. According to Sport.sk, Ukrainian side will have a preseason camp in Žilina from July 15th to August 12th. According to Poprad.sk, mayor of Poprad offered Donbas to rent local arena for symbolic fee.
04 Jun 2014, 14:10 | Davidsson honored
HV71 will honor their former captain Johan Davidsson by raising his jersey (#76) to the rafters at the SHL game against Skellefteå September 27.
Davidsson had to retire due to injury and now works as assistant sports director for the club.
04 Jun 2014, 12:28 | Omsk and Krasnoyarsk agreed on cooperation
KHL's Avangard Omsk and VHL's Sokol Krasnoyarsk concluded an agreement on cooperation in season 2014/2015, reports Avangard oficial website. Now Sokol will be a farm club for Avangard. Last season Omsk had his farm at Yermak Angarsk and Sokol was a farm of Spartak Moscow.
03 Jun 2014, 21:23 | Sondre Olden named Player of the Year in Norway
Vålerenga's Sondre Olden has been voted GET-Ligaen Player of the Year by the players. The 21-year old forward scored 25 goals and 33 assists in 43 games during the season.
For next season Olden has signed with Brynäs of the Swedish top league SHL.
03 Jun 2014, 18:41 | World Juniors schedule released
The 2015 IIHF World Junior Hockey Championship schedule has been officially released. Find it here and here.
The championship will be played in Toronto and Montreal. It starts December 26 and ends January 5.
03 Jun 2014, 17:22 | Will Rautakorpi go to Prague?
HC Lev Praha, though still uncertain to participate in KHL season 2014/2015, has already negotiated with a new head coach according to R-Sport. In case the Czech club takes part in the competition, it will be headed by Jukka Rautakorpi, who has been working with Tappara for two seasons.
03 Jun 2014, 08:28 | Khabibulin admits financial problems in Lev Praha
Rashid Khabibulin, GM of KHL's Lev Praha, admitted that his club is having financial problems: "Yes, the problem exists, but we are trying to solve it. I am in contact with the president of the club. Alexander Medvedev, KHL President is involved too. Is there a possibility that Lev misses next season? Can't say anything, let's wait. In a week it might be clear" - Khabibulin said in his interview to Soviet Sport.
Lev Praha, who suprisingly reached Gagarin Cup final in 2014, was previously reported to have difficulties with accumulating finances for the next season.
02 Jun 2014, 16:58 | Tretiak may leave Russian Hockey Federation
Vladislav Tretiak in his interview to Russian newspaper "Soviet Sport" says that at the moment he is the only registered candidate for the office of President of Russian Hockey Federation. Elections are to be held on the June 18th, and candidates have to register themselves by June 6th.
Tretiak, who heads organization since 2006, is criticized in Russia because of poor performances on the Olympic Games in Vancouver and Sochi, and is likely to leave the post. Rumours say that new President of Russian Hockey Federation will be Rashid Nurgaliev, former Secretary of the Interior, who is supposedly supported by Kremlin. Another probable candidate is Arkadiy Rotenberg, who has his share in Dynamo Moscow and Jokerit Helsinki and is also closely connected with Russian authorities.
02 Jun 2014, 16:57 | Brandon Bochenski named Kazakhstan Player of the Year
Eurohockey European Player of the Month for November 2013, American Brandon Bochenski (Barys Astana), was named the best hockey player of Kazakhstan by TV and newspapers journalists. It was just the second time from 1992 that the award was given to a foreign, after the victory of Canadian Kevin Dallman in 2009. Last year winner Roman Starchenko finished in second place before Evgeny Rymarev
02 Jun 2014, 16:08 | JKH Jastrzebie announces new coach
Slovak Robert Kalaber was announced as the new coach of JKH Jastrzebie. 45-years-old Kalaber lead Zilina in Slovak Extraliga last season
02 Jun 2014, 11:33 | Aigars Cipruss named new coach of Neman Grodno
Latvian Aigars Cipruss, 42, is the new coach of Belarusian champion Neman Grodno. Last season Cipruss headed Baltica Vilnius in MHL before the team was disbanded and Kurbads in Latvian League, winning the silver medal. He worked also as assistant coach at national team of Lithuania in last IHWC Division Ib
27 May 2014, 17:54 | Hanlon leaves Belarus for Switzerland
Switzerland has signed Glen Hanlon as head coach of the men's national team.
John Fust will be his assistant coach and also head coach of the U20 team.
Both signed two-year contracts.
27 May 2014, 17:32 | KHL arena burned and robbed
The Druzhba Arena in Donetsk, home arena of KHL's Donbass, has been destroyed and robbed by pro-Russian separatists.
The Donbass head coach Andrei Nazarov gives the following statement:
"The entire hockey community, coaching staff and players of the hockey club 'Donbass' are indignant by the events that occurred this night at the Arena 'Druzhba', as well as by its cynical arson. Management of the HC 'Donbass' repeatedly emphasized that sport has always been out of politics, but it has not stopped those who carried out the attack. I am sure that despite what happened, the Arena 'Druzhba' will be restored in the shortest terms and the HC 'Donbass' will be preparing for the Championship of the Kontinental Hockey League".
27 May 2014, 11:46 | All DEL clubs presented documents in time
All 14 clubs applied for next DEL season submitted requested documents in time
By the end of June, the documents will be checked and then will decide on the granting of licenses for the individual clubs.
The announcement of the calendar for the 2014/15 season, which starts on 12 September, takes place immediately afterwards.
The regular season will end on March 1, 2015, the championship will be decided no later than the seventh playoff final game on April 24, 2015.
26 May 2014, 17:41 | Edmonton Oil Kings wins Memorial Cup
Edmonton Oil Kings with the European players Henrik Samuelsson, Mads Eller and Edgars Kulda has won Memorial Cup, the Canadian junior championship.
25 May 2014, 18:20 | Tom Pokel is the new head coach of Vienna Capitals
Vienna Capitals announces American Tom Pokel as new head coach. Pokel, 46, sensetionally won EBEL with beginner Bolzano Foxes and was Italy head coach at last IHWC in Minsk where Blue Team can't avoid relegation. Philippe Horsky will remain as assistant
"The Capitals are one of the top team where to work, so it was a chance you have to take absolutely. I've noticed that the fans are one hundred percent behind their team, I'm really looking forward to the great atmosphere" said Pokel
20 May 2014, 23:22 | Slovak Jozef Salajka passed away
Slovak defender Jozef Salajka passed away today in a motorcycle accident near Senica. Salajka, 31, played for Dukla Senica, Dubnica and Zilina in Slovakia and Prerov, Opava and Hodonin in Czech Republic
20 May 2014, 22:38 | World Championship quarter-finals
The quarter-final match-ups of the World Championship in Minsk is now decided after the group stage has ended. USA will play Czech Republic in the first game. Then follow Russia-France, Canada-Finland and Sweden-Belarus. All four will be played on Thursday.
13 May 2014, 13:36 | Andersén replaces injured Rahimi
Sweden's defenseman Daniel Rahimi suffered an injury during the World Championship game against Czech Republic. He has already left Minsk and will be replaced with Niclas Andersén.
13 May 2014, 11:57 | Dmitri Orlov forced to leave Russia
Washington Capitals defender Dmitri Orlov broke his arm during the second period of the match against the United States and was forced to leave the team
"For Orlov the World Championship is over - said Russia GM Andrei Safronov - Today he will fly to Washington. For the Russian team is more than a serious loss. It is a pity that in three consecutive games we lose players "
12 May 2014, 15:28 | New Swedish U18 coach
Jim Brithén will be new coach of the Swedish U18 national team.
He will be assisted by Stefan Bergkvist. Maciej Szwoch will be goalie coach.
11 May 2014, 14:32 | Russia and Czech Republic replace injured players
Avangard Omsk forward Sergei Kalinin replaces injured Andrei Loktionov in the Russian roster at the 2014 World Championships in Minsk. Loktionov left the team because of a shoulder injury suffered during opening game against Switzerland.
Charlotte Checkers defender Michal Jordan will replace Roman Polak in Czech Republic making his debut at World Championship. also Polak suffered a shoulder injury
11 May 2014, 07:33 | Wennberg named Junior of the Year
Alexander Wennberg of Frölunda HC has been named Swedish Junior of the year 2013/2014.
"A very skilled player, who has good understanding of the game and a very good shot. He is predicted a brilliant future", are the words from the jury.
10 May 2014, 17:55 | Switzerland loses Sven Bärtschi
Switzerland forward Sven Bärtschi suffered a broken rib during the match against Russia. He will be out for several weeks and will be no longer aligned during the World Championships.
According to several sources, he will be replaced in the lineup by Benjamin Plüss.
09 May 2014, 19:02 | INL expands to 16 clubs
The Inter-National League has expanded to 16 clubs for this season, joining the league will be Austrian sides EC Kitzbühel and HC Steelers Kapfenberg. However, Italian club HC Merano will not be taking part. The league is made up of six Austrian clubs, six Slovenian and four Italian.
09 May 2014, 08:19 | Sydney Ice Dogs named Petrie as new coach
Champion Sydney Ice Dogs named English Andrew Petrie as new head coach, replacing Ron Kuprowsky, resigned in April. In last weeks team was headed by interim player-coach Dion Dunwoodie
08 May 2014, 18:38 | Spengler Cup participants unveiled
Cup holder Genève-Servette, Team Canada, Salavat Yulaev Ufa, Jokerit Helsinki, Medvescak Zagreb and Davos are the teams that will compete in next Spengler Cup, as announced by tournament organization. Croatia will debut in Spengler Cup, while Jokerit Helsinki will return in Switzerland after 11 years.
08 May 2014, 18:26 | Rubin Tyumen represent Russia in Continental Cup
VHL finalist Rubin Tyumen will represent Russia in next Continental Cup.
" VHL informed that our club will represent Russia in the Continental Cup as the best Russian club in VHL. We are ready for this" said Rubin Director Igor Efremenko.
VHL champion is Kazakh team Sary Arka Karaganda, but country will be represented by domestic champion Ertis Pavlodar
08 May 2014, 11:42 | New coaching staff at Skalica
New HK36 Skalica GM Tibor Martincic announced the coaching staff for next season: former assistant coach Stefan Mega will be the new head coach, assisted by former club player Michal Ruzicka
07 May 2014, 20:11 | Sochi club to have 7 imports, Expansion draft on 17 Jun
Second KHL Expansion draft will be held at June 17. It would be a draft consisted of 5 rounds, where new club from Sochi will take 1st, 2nd, 3rd and 4th in every round, 5th pick goes to Lada Togliatti. Every club (except foreign clubs and Lokomotiv Yaroslval) should make a list of 2 players which must be older than 1993 y,o.b. Also Sochi and Lada should pay to the club 30% of player salary at season-2014/15.

Lada will have 5 import players for a new season, when Sochi could bring 7 players.
07 May 2014, 07:48 | Hans Wallson named Coach of the Year
Hans Wallson, coach of the 2014 Swedish Champion Skellefteå, has been named Swedish Coach of the Year by the hockey journalists.
04 May 2014, 18:26 | Mississippi Surge suspends operations
After five years, the Mississippi Surge of SPHL will indefinitely suspend hockey operations.
"We have done everything we can to keep hockey here" owner Jimmy Hodge said.

A steady but steep decline in revenue over the past five years effectively forced team ownership into the position of indefinite suspension. "We are still seeking opportunities for the following year, and if the right situation arises, hockey could return to Biloxi."
02 May 2014, 22:25 | Germany beats Switzerland
Germany defeated Switzerland 2-0 in SAP Arena Mannheim tonight.
Daniel Pietta and Tobias Rieder scored the goals while Robert Zepp in the net made 24 saves.
01 May 2014, 18:13 | Poland bid for IHWC 2015
Polish Federation made an application to host the World Championship Division IA in 2015 in Krakow
"I hope that in a few weeks we will have another nice information for the Polish hockey fans - says David Chwałka, president of the Polish Ice Hockey Association. - We believe that for the 90th anniversary of the Federation, which will happen next year, we will organize a big hockey festival."
The City of Krakow built a new arena with a new infrastructure. Krakow seems to be a very good idea for the Olympics in 2022 and the promotion of hockey.
29 Apr 2014, 19:04 | Spartak champion
MHK Spartak Moscow won KHL's junior league MHL.
Today they beat Red Army Moscow 3-2 in game seven of the finals.
25 Apr 2014, 22:15 | Sweden - Norway interrupted
The men's national team game between Sweden and Norway that was played in Sundsvall tonight was interrupted at the score 1-0 after one period due to bad ice.
After nine minutes of play there was a long break since commercial text was coming up from under the ice. The arena crew tried without success to repair it with water and a carbon dioxide fire extinguisher. The players then had to leave the ice for the locker rooms. After 50 minutes the game could continue, but when the second period was about to start the ice had not frozen, an edge had formed on the ice and there were still problems with the commercials under the ice.
The game was decided in a shoot-out that Sweden won 1-0. Niklas Olausson scored both the winning shot and the only goal in the first period.
24 Apr 2014, 11:37 | CSKA part ways with John Torchetti
US head coach John Torchetti won't live another day with the CSKA as they don't intend to extend his contract. He is to be replaced by former Boston Bruins wing Dmitri Kvartalnov. Details of the new deal remain unknown.
Torchetti was appointed last July and was charged to bring back the glory days of the Soviet dominance. CSKA still seek their first Gagarin Cup title, this season they were swept in the first round by SKA St. Petersburg.
24 Apr 2014, 09:06 | No more Shootouts in NLA Playoffs?
According to blick.ch the National League Clubs and the Swiss Ice Hockey League want to get rid of the Shootout during future Playoffs. Team Managers from SC Bern, ZCS Lions or the Kloten Flyers have made statements all pointing in the same direction. André Rötheli, Team Manager for the Flyers mentioned that "maybe the Shootout would have to be limited to decisive games during the Playofffs".
The League and the Clubs will come together in June at their regular Assembly and discuss further. The League would require a 2/3 majority to introduce a new format which would see Playoff games being played in an overtime until the first goal is scored, similar to how the NHL plays now.
A few questions remain though. Concerns were raised as to how the Swiss Television (SRF) would react to this decision and if they might take any steps to intervene with the Swiss Ice Hockey League due to time constraints on TV-Time that may occur.
There are many points to be discussed but it's going in the right direction. From many athletes point of view, a decision by Shootout isn't justified and they would rather have a game winning goal scored during an overtime. Same goes for the Club owners and Managers.
It remains to be seen if the fans and TV viewers will embrace the idea should it get a majority of the votes.
20 Apr 2014, 22:26 | Dinamo Minsk will have three farm clubs
In the next season Dinamo Minsk will have three farm clubs in Belarus Extraliga
Besides continuation of cooperation with current champion Neman Grodno, also Shakthar Soligorsk will get back the status of farm club after some years. Previously it was reported Dinamo will create a team in Maladzečna where promising young players will play in domestic league
19 Apr 2014, 21:10 | Ruslan Fedotenko will miss World Championship, Belukhin in
Donbas forward Ruslan Fedotenko will not be able to skate for Ukraine at the World Championship Division I in Korea due to injury.
"The doctor said Ruslan needs 4-6 weeks to recover from his MRI injury, so he flew home and won't play with us in Korea. The good news is Evgeny Belukhin got a Ukrainian passport and come tomorrow" said the head coach of Ukraine Andrei Nazarov.
19 Apr 2014, 21:06 | Pavel Bure becomes Vice-President of Sochi club
Former star Pavel Bure will be the Vice-President of newly estabilished club Sochi Leopards. Previously rumours indicated Bure as new club GM.
Bure told he will work closely with the manager and the head coach
17 Apr 2014, 08:58 | Germany lose two key players for 2014 WC
The list of players that are not able to participate for Germany during the 2014 IIHF World Championship in Minsk in May, becomes longer and longer. Yesterday news were published by the German federation that NHL players Christian Ehrhoff and Alexander Sulzer (both Buffalo Sabres, NHL) told the head coach of the national team, Pat Cortina, that they won't be able to play due to injuries (concussions in both cases). Before already Michael Wolf (foot injury) and David Wolf (banned by federation for violence) were not able to play.
12 Apr 2014, 11:21 | Ertis confirms title
Ertis Pavlodar sweeps Arlan Kokshetau 4-0 in the playoffs series confirming title of Kazakhstan League.
Two Czech players from champion team, goalie Marek Pinc and forward Tomas Vak were nominated best goalie and best forward, while English Ben O'Connor from Arlan Kokshetau were awarded as best defender. Arystan Temirtau won bronze medal by beating Beybarys Atryau 3-2 in the series, with a decisive 4-5 at overtime.
Canadian Yanick Riendeau (Arlan) was League Topscorer
06 Apr 2014, 10:19 | Vita Hästen promoted - Björklöven stays
Vita Hästen from Norrköping has won promotion from Division 1 to HockeyAllsvenskan, the second level of Swedish ice hockey.
Troja-Ljungby are relegated after losing the decising game 3-0 to Björklöven.
04 Apr 2014, 16:09 | Olimpija Ljubljana won Slovenian title
Olimpija Ljubljana confirmed Slovenian title by beating twice Team Jesenice 1-5 and 6-3. This season Slovenian league was played after the end of INL and EBEL. It's the third cnsecutive title for Green Dragons
02 Apr 2014, 23:00 | Vålerenga-Stavanger in the Norwegian finals
BothVålerenga Ishockey and Stavanger Oilers won game seven of the semi finals to qualify for the GET-ligaen finals.
Vålerenga beat Storhamar 2-1 in the decisive game while Stavanger got a 6-2 win over Lillehammer.
The first final will be played on Friday.
31 Mar 2014, 17:48 | Villach fires John Hughes
VSV Villach announces club has immediately fired Canadian forward John Hughes after the defeat against Bolzano that ended the season. Several witnesses confirmed that John Hughes has extensively celebrated on the evening before the game. The existing contract has been terminated and the club withdrawn the offer of a contract for next season to EBEL Top Scorer
30 Mar 2014, 20:49 | Viiking Sport confirmed title in Estonia
With a spectacular comeback from 0-3 in game #3 of playoffs finals, Viiking Sport Tallinn won 4-3 at overtime and closed the series winning 3-0 over Kalev Valk Tartu, confirming the title won for the first time last season. it was a perfect season in Estonian Meistriliiga for Viiking that won all the games in regular season and playoffs.
"I suppose we were a bit better prepared physically," said forard Ragnar Hindrek Russ. "It is always good to win. Guys are very happy and we have a good feeling."
28 Mar 2014, 15:13 | Harijs Vitolins will coach Dynamo Moscow
Dynamo Moscow CEO Andrei Safronov announces during a press conference reported by RIA Novosti that Harijs Vitolins will be the new head coach of Dynamo, replacing Olegs Znarks, appointed as new head coach of Russia
Vitolins was Znaroks' assistant in last three seasons at Dynamo
27 Mar 2014, 14:28 | Andreas Johansson new head coach of HV71
Andreas Johansson was today named head coach of HV71. He signed a 2-year contract. The former NHL and Tre Kronor player was this season coach of Södertälje SK in HockeyAllsvenskan.
25 Mar 2014, 12:45 | Bipolo Vitoria win (also) Copa del Rey
Closing a dominating season, League champion Bipolo Vitoria captured Copa del Rey (Spanish National Cup) - the first ever in club history - last weekend by beating 4-1 CG Puigcerdà in the final, played in Barcelona in a repeat of recent League final series.
24 Mar 2014, 11:27 | Harold Kreis new coach of EV Zug
EV Zug announces German Harold Kreis as new head coach for two next seasons. Fired by Adler Mannheim in December, Kreis, 55, is back in Switzerland where he won two titles, with Lugano (2005-06) and ZSC Lions (2007-08).
23 Mar 2014, 20:53 | Austrian girls promoted
Austria won the World Women's U18 Championship Div. I Qualification in Krynica, Poland undefeated.
This means that Austria is promoted to the 2015 IIHF Ice Hockey U18 Womens World Championship Division I.
Outstanding scoring leader of the competition was Poland's Kamila Wieczorek who recorded nine goals and two assists in the four games.
20 Mar 2014, 22:14 | Polish finals
GKS Tychy beat Aksam Unia 1-0 tonight to win the semi final series 4-2 and qualify for the finals against Ciarko PBS Bank. Josef Vitek scored the goal early in the third period.
Ciarko PBS Bank from Sanok had earlier knocked out JKH GKS Jastrzębie 4-1.
19 Mar 2014, 15:10 | KHL increase number of foreigners per team to 7
According to Russian website rsport.ru the foreigner limit for the KHL teams which was 5 so far, has been extended to 7 players per team. In a meeting of the KHL clubs in Moscow on Wednesday all but 2 teams voted in favour of the foreigner increase. It was only decided to play the 2014-15 season with 7 foreigners as a compromise as most teams want no limit at all similar to the NHL where a team could consists of 100% foreign players in theory.
The change in the foreigner limit has to be allowed by the KHL until 15 April 2014 to be valid for next season.
There are different regulations for non-Russian expansion teams who can sign a larger number of foreigners to be competitive with the Russian teams.
17 Mar 2014, 10:57 | Bipolo Vitoria wins Spanish League
Bipolo Vitoria/Gasteiz confirms its dominion over the Spanish hockey scene winning the second consecutive title after beating 5-2 in playoffs finals game #4 CG Puigcerdà. With just 5 games lost in last two regular seasons and a 4-lines roster (not common in Spain where usually teams play with two lines), Bipolo swept opponents allowing Puigcerdà a victory in the series. Catalan team submitted a protest after the first two games of finals alleging three Bipolo imports - Evan Mackintosh, Vitaly Kulikov and Dmitry Gnitko - were alligned unevenly, but Federation rejected the requestNow Bipolo can seal another perfect season grabbing also Copa del Rey that will be played in Barcelona next week, with Bipolo as favourite
17 Mar 2014, 03:59 | Fan brawl in Geleen
The final round robin match in the Larry van Wieren Cup had to be abandoned at the 45 minute mark after a brawl in the stands had broken out. According to IJshockey the atmosphere inside the arena had been unpleasent for some time and a hit finally set things off. The father of ref Ramon Sterkens and Eindhoven back-up goalkeeper Michael Sterkens was hit that set both of them off, Ramon tried to get off the ice to help his father, while Michael climbed up onto the glass. The NIJB gave the victory to Eindhoven who was leading 5:1 at the time. Both Eindhoven and Geleen will see each other in the Finals next weekend.
Video of the fight can be seen here
16 Mar 2014, 19:39 | Donetsk-Riga series relocated to Bratislava
The KHL today announced that game 7 of the Western Conference quarterfinals series between Donbass Donetsk and Dinamo Riga has been moved from Donetsk, Ukraine, to Bratislava, Slovakia. This comes after the security risk in the unstable East of Ukraine which is highly affected by the Crimea crisis, is too high to organize such an event without any risks. Slovan won't need their home arena after losing round one of Nadezhda Cup against Dinamo Minsk. The game is played on Monday, 17 March 2014, at 19.00 CET.
15 Mar 2014, 09:57 | Fiery Crusaders Tbilisi continues on top of Georgian League after spring stage
Fiery Crusaders Tbilisi stay at the top of Georgian League after the end of spring stage, played in the city of Batumi, where is located one of two regular size rink of the country. Last December the icerink roof collapsed due to the abundant snowfall endangering the activities, but local government repair it in some weeks.
Before the last stage, helding in May, Fiery Crusaders is one point ahead of Mimino Bakuriani and Grey Wolves Tbilisi, while champion Ice Knights is last, 10 points behind Fiery Crusaders
14 Mar 2014, 17:42 | Taticek suspended after attacking linesman in game 2 of 1/4 final series against Kloten
According to the Swiss Ice Hockey Federation, Reto Steinmann, judge for the National League decided to hand out a 7 game suspension and a fine of CHF 1'500 to HC Davos player Petr Taticek after his attack on the linesman before starting a brawl with Micki Dupont of the Kloten Flyers. He points
out that Taticeks behaviour saw the linesman as an object in his way and pushed him away. As a consequence, the linesman fell to the ice but wasn't injured.


As attacks on officials are recognised as a crass offence, the judge saw his decision justified. Taticek will be available to
play for his team in the semifinals at the earliest.

Both teams meet again on Saturday in Kloten for the 3rd game, Davos leads 2:0.
14 Mar 2014, 11:42 | HC Lada to have 7 imports
Hockey club Lada is on the way to return to KHL. "We have an agreement with KHL president Alexander Medvedev that we will have 7 imports and will have a re-draft procedure" said the press-officer of Sport Minister of Samara Pavel Seshchenko on Twitter.
14 Mar 2014, 10:50 | Chinese women win in Harbin
China won the 2014 Women's Challenge Cup of Asia after beating North Korea 2-1 at home in Harbin.
South Korea captured the third place after a 2-1 overtime win over Australia.
14 Mar 2014, 08:48 | Bardejov won Slovak 1 Liga
By beating Dukla Michalovce 5-2 in playoffs finals game #5, Bardejov closed the series 4-1 and becomesf Slovak 1. Liga champion for third year in a row. Now Bardejov will face Zilina, finished last in Extraliga, in a best-of-seven promotion/relegation series
13 Mar 2014, 12:45 | Saginaw Spirit player found dead
20-year old Canadian Terry Trafford was found dead by Michigan Police in his truck on Tuesday evening in what seems to be a case of suicide. The center of OHL team Saginaw Spirit had been suspended by his team for smoking marijuana, a violation of the rules of conduct of the club and wasn't seen since 3 March 2014. According to his longtime girlfriend the Toronto native suffered from depressions and threatened to take his life after his suspension.
13 Mar 2014, 08:07 | 2014 Wilson Cup Schedule Announced
Following on from the announcement that the Australian Wilson Cup will be returning in March, the full schedule for the tournament has been released. The tournament will involve the three New South Wales AIHL teams with each team playing the other once, before the top two face off in the final. Of note Game Two will be held at the Erina Ice Arena, home of the Central Coast Rhinos. The Rhinos who are absent from this edition of the tournament won the last Wilson Cup back in 2009.
The schedule is as follows:
Game 1: Newcastle North Stars v Sydney Bears (17:00, 16 March 2014, Hunter Ice Skating Stadium, Newcastle)
Game 2: Sydney Ice Dogs v Newcastle North Stars (17:45, 22 March 2014, Erina Ice Arena, Erina)
Game 3: Sydney Bears v Sydney Ice Dogs (17:45, 29 March 2014, Sydney Ice Arena, Baulkham Hills)
Final: Team 1 v Team 2 (17:45, 5 April 2014, Sydney Ice Arena, Baulkham Hills)
You find the original article here!
11 Mar 2014, 14:10 | Christer Dreberg named HSC Csikszereda new coach
Swedish Christer Dreberg is the new HSC Csikszereda head coach. The 50-year-old will lead team in Romanian League playoffs then the club will decide if offers a contract for next season. Dreberg worked at Comet Halden, in Norwegian 2nd league, this season, finishing third
This year HSC Csikszereda missed MOL Liga playoffs
08 Mar 2014, 09:04 | DEL with new attendance record
The 364 regular season games in Germany's top ice hockey league were attended by a total of 2,308,736 spectators for a new regular season record in the 20th DEL season. This makes 6,343 fans per game. This comes after an average attendance of 6,172 spectators in the previous regular season. The growth is even more stable considering that in the 2012-13 season there was the 1st ever DEL Winter Game with 55,000 spectators in Nürnberg.
07 Mar 2014, 12:30 | Bilyaletdinov new Ak Bars vice president and GM
Zinetula Bilyaletdinov returns to his former club Ak Bars Kazan. The 2009 and 2010 Gagarin Cup champions announced that the veteran hockey coach signs a contract as the new vice president and general manager of the KHL team. This comes after Bilyaletdinov served as the head coach of Team Russia during the last three years, winning the World Championship in 2012 with the team. His contract was not extended after a disappoiting quarterfinal loss against Finland during the 2014 Olympic Winter Games in Sochi.
07 Mar 2014, 11:42 | Mongolia will have first indoor rink
Finally Mongolia will have its first ice hockey indoor rink: Goverment decided to implement a project on building a winter sports house to develop winter sports in the country, especially, speed skating, short-track speed skating, ice hockey and curling and to have international joint training.
The country has currently two indoor rinks, in Ulaanbaatar and Bulgan
05 Mar 2014, 23:32 | Donbass to play playoffs in Donetsk
Vladimir Shalaev, vice president of KHL, told Russian news website sports-express.ru that there are no plans to reschedule the first playoff round between Donbass Donetsk and Dinamo Riga despite the political crisis between Russia and Ukraine and protests in Donetsk. This comes after a visit by a special committee to the Eastern Ukrainian city.
05 Mar 2014, 21:50 | Hamburg head coach stays till 2015
Benoit Laporte, head coach of DEL's 2013-14 regular season winners Hamburg Freezers, extends his contract for another year till summer 2015. The 53 year old Canadian-French dual citizen who participated for France in the 1992 and 1994 Olympic Winter Games, is in charge of the German side already since December 2010 and reached the playoffs in 3 of the 4 seaons.
04 Mar 2014, 09:38 | Canada wins Colombia in Pan-American debut
In the only game of the day, Canada opens its Pan-American tournament in Mexico with a 9-3 victory against Colombia. Former Ohio University and Idaho Steelheads Kyle Reed and former EV Landshut Marc Rancourt both scored three goals.
28 Feb 2014, 17:43 | Zvolen appoints Josef Turek as new headcoach
Slovak champion HKM Zvolen announced Czech Josef Turek as head coach following the resignation of Julius Supler. Joseph Turek started the season in HK36 Skalica, before to move to Chomutov from November to January. With Zvolen Turek signed a contract until the end of next season.
27 Feb 2014, 11:49 | Julius Šupler resigned as coach of HKM Zvolen
Julius Šupler resigned as coach of Zvolen: 63-year-old coach arrived on Zvolen bench in mid-October, when he replaced Cech Lubomir Oslizla. At the time of his arrival Extraliga reigning champion was in 10 place, currently, the team is in 7th with 66 points and three rounds to play, not yey sure of playoffs qualification.
"Perhaps my departure would be a good incentive for players and clubs to mobilize targets and dragged to the desired state. I would hate if my party should be the cause of the failure. I gave all players a chance to show their own potential. It is not an escape from the sinking ship. I did everything in my power: players are well prepared, they can play hockey, now it's up to them how" said in a statement Šupler.
27 Feb 2014, 11:24 | INL playoff pairings chosen
The Inter-National-League (INL), joint competition of teams from Austria, Italy and Slovenia, has a fixed schedule for the upcoming quarterfinals. Jesenice beat Caldaro 4:3ot in the decisive game for the last playoff ticket. Immediately afterwards, the first teams picked their opponent for quarterfinals. The pairings are: Gherdeina – Jesenice, Appiano – Bregenzerwald, Egna – Feldkirch, Zell am See – Lustenau. All best-of-five series start on March 1.
24 Feb 2014, 22:13 | Macau and Kyrgyzstan win in Day #1 of Asian Challenge
Challenge Cup of Asia Division I opened today in Bishkek, Kyrgyzstan. In first day of tournament Macau routed India 12-0 while host Kyrgyzstan won 6-3 vs Singapore
23 Feb 2014, 13:00 | NHL won't allow Swedish players to celebrate in Stockholm
Swedish NHL players are not allowed to celebrate the results of the team at home in Stockholm.
A few hours after the final match they will take a special flight to bring back remaining NHL players in North America.
Even if Sweden will win the gold medal, players, all in the roster except Jimmie Ericsson, will not be released for a ceremony in Sweden. Earlier Swedish hockey players had planned to negotiate with their clubs to come to their location a day later, but the NHL decided otherwise.
23 Feb 2014, 12:55 | 42% of Finns watched game vs USA
According to the Finnish press, bronze medal match between Finland and the United States was watched in Finland by 2.28 million people, about 42 percent of the total population.
22 Feb 2014, 10:34 | Defender Paul Martin out for Bronze Final
US defender Paul Martin won't play tonight in he final for Bronze medal against Finland due to hand injury. According to preliminary informations, Pittsburgh Penguins defender will be sidelined for one month and return for the begin of NHl playoffs.
21 Feb 2014, 20:26 | Zetterberg out for 8 weeks, Zuccarello for 4
The Tre Kronor and Detroit Red Wings captain Henrik Zetterberg had back surgery today and will be out of play for about 8 weeks.
New York Rangers forward Mats Zuccarello will miss 3-4 weeks with non-a displaced fracture in his left hand sustained while playing for Norway at the 2014 Sochi Olympics.
21 Feb 2014, 11:44 | DEG announce new GM
German DEL club Düsseldorfer EG announced signing a contract with a prominent new General Manager - Jochen A. Rotthaus. The 47 year old who holds a degree in business administration previously earned himself a name as football executive. He was responsable for the marketing of Bundesliga side VfB Stuttgart before he was the GM of 1899 Hoffenheim from 2006 to 2013, a club he led form 4th thier Regionalliga to 1. Bundesliga, the highest German football competition. He will start his new job 1 May 2014 and will subsitute the duo Jörn Klocke (sponsoring) and Paul Specht (finances) who were only in office since summer and who will return to their old jobs with DEG.
19 Feb 2014, 21:30 | John Tavares out for semifinal
Hit from Arturs Kulda into the boards during the second period John Tavares suffered a leg injury during Canada's 2-1 quarterfinal victory against Latvia and will miss the remainder of the Olympic tournament.
17 Feb 2014, 21:45 | Ajoie fires coach Tlacil
Czech coach Jan Tlacil was fired today by Ajoie after the club failed to reach playoffs in Swiss NLB. Tlacil should remain in Ajoie organization. Talks are ongoing with former club player and current HC Franches-Montagnes coach Martin Bergeron
17 Feb 2014, 17:37 | GKS Katowice refuses to play as protest
GKS Katovice players refused to play Polish League game against JKH GKS Jastrzębie to protest for the diffficult financial situation at club.
"Today the whole team took this difficult decision. We know that we are here to play and we have great fans. We are sorry but we have done this step, because the situation is very difficult. We have dealt with the payment of September, and it already affects our lives. Many of us have trouble keeping the family. We do not want to hurt anyone, and we know that there is a problem with finding sponsors and the lack of money in the club" players said in a statement
16 Feb 2014, 10:37 | South Africa promoted
South Africa earns promotion from the lowest U18 World Championship level, Division 3B, after beating Hong Kong and Turkey in Izmit.
16 Feb 2014, 10:25 | Bipolo Vitoria wins regular season in Spain
Champion Bipolo Vitoria finished ahead the regular season of Spanish League with a 18-2-0 record and 54 points, 12 more then runner-up Puigcerdà.
Bipolo - Jaca and Puigcerdà - Txuri Urdin will be the playoffs semifinals pairs.
Puigcerdà Slovak Jan Simko is the top scorer with 56 points (37+19)
15 Feb 2014, 09:08 | USA - Russia: starting goalies announced
In late night both coach announced the starting goalies for big match USA - Russia: Johathan Quick will defend US cage as in debut against Slovakia, while Columbus Blue Jackets' Sergei Bobrovski will replace Semyon Varlamov in Russia
13 Feb 2014, 19:20 | Zetterberg with back problems
Sweden's Henrik Zetterberg didn't turn up for today's photo session and practice and is reported to have problems with his back again. Zetterberg has missed several NHL games due to an injury and now he might miss games at the Olympic Tournaments as well. Sweden plays Switzerland tomorrow, Friday.
11 Feb 2014, 15:12 | Coventry Blaze fired coach Söderström
Coventry Blaze announced Mathias Söderström has been replaced as head coach by Sheffield Steelers assistant coach Marc LeFebvre. Sodestrom was appointed head coach during the summer after spending a couple of season as assistant.
Blaze chairman Andy Buxton said: "Marc is coming in as head coach until the end of the season. We wanted someone who knows the Elite League, knows the way the club works, knows the opposition teams and knows our players - someone who can hit the ground running. It's not easy to make a coaching change mid-season but Marc is a very bright young coach who has already shown he knows how to run a professional team and knows how to win. He now has a chance to show us what he can do."
10 Feb 2014, 23:10 | Liège Bulldogs capture Belgian Cup
The two best clubs in Belgium meet in the final, first place White Caps Turnhout took on Liège Bulldogs IHC at the sold out Médiacité. A fast paced back and forth afair had the scoreline opened late in the 1st period with a goal from Alexandre Bremer. A breakaway for Filip Orescanin leveled the scoreline before Krzak and P.Camelbeeck pushed the Bulldogs up 2 at the end of two. Turnhout made things interesting in the 3rd but Liège held on to capture thir first ever title.
09 Feb 2014, 22:13 | Switzerland replaces Furrer
Switzerland coach waited until the last second before to announce the replacement for injured Philippe Furrer: it's Kloten Flyers defender Patrick von Gunten, who will play his second Olympics
09 Feb 2014, 22:07 | Russia - Switzerland friendly match cancelled
Swiss Federation announced the friendly game against Russia, scheduled for today, was cancelled due the lack of an appropriate icerink in Sochi. Before the announcement from Swiss Federation, Russia press officer Mikhail Zakharov said the game "was canceled without explanation by Switzerland" and that Russia will hold a training session instead. Some days ago Noway announced the cancellation of preparation game against Switzerland, scheduled for February 10.
09 Feb 2014, 10:15 | Starosta to replace Visnovsky
Yugra Khanty-Mansiysk defender Tomas Starosta, 32, is the player chosen by Slovakia coach Vladimir Vujtek to replace injured Lubomir Visnovsky. Starosta will play his first Olympics
08 Feb 2014, 16:32 | U17: 396 penalty minutes in Russia-USA game
USA and Russia participate in a U17 tournament in Sundsvall, Sweden. USA won today's game 6-4, but it all ended with a big fight. Russia's Egor Volkov got a major penalty for Checking to the head. In the following "war" another 13 players got major Roughing or Fisticuffs penalties.
In total Russia got 199 penalty minutes and USA 197.
07 Feb 2014, 21:27 | SC Riessersee abandoned match
In a DEL2 match, SC Riessersee abandoned their match against Starbulls Rosenheim three minutes into the match. After Riessersee had asked for the match to be postponed due to their goalkeepers all being out from injury (Hogan and Treutle) or illness (Sertl, Schmidt), Rosenheim didnt agree to reschedule the match. Riessersee was forced to play 19-year old Forward Markus Eberhardt in goal. But after Rosenheim scored 02:47 into the first period, Riessersee left the ice.
06 Feb 2014, 17:27 | Martin St. Louis replaces Stamkos in Canada roster
Hockey Canada announced Tampa Bay forward Martin St. Louis will replace injured Lightning centre Steven Stamkos in the Olympic men's hockey team. St-Louis played once for Canada at Olympics, in Turin 2006
06 Feb 2014, 08:21 | Oleg Khmyl get into Yunost staff
Yunost Minsk announced Oleg Khmyl, currently coaching farm team Junior minsk, will enter in Yunost staff as assistant of headcoach Mikhail Zakharov. He will be replaced at Junior by Oleg Runets
06 Feb 2014, 08:05 | Steven Stamkos out from team Canada
No Olympics for Tampa Bay Lightning Canadian forward Steven Stamkos. The player broke the tibia on November 11 in a match with Boston and has not been medically cleared to play.
Today is obviously very disappointing for me," Stamkos said in a short staement. "I honestly believe that we did everything possible in order to have my injured leg ready in time for the Olympics, but I realize you can't force healing. I know, in the best interest of my long-term health, I cannot represent Canada in Sochi, as much as I would like to."
Team Canada will announce the replacement in next 48 hour
05 Feb 2014, 16:59 | Adam Baginski named Tychy athlete of the year
GKS Tychy forward Adam Baginski won the Tyskie Laury Sportowe 2013, a survey organized by Municipal Sports and Recreation Department and the newspaper "Twoje Tychy" (Your Tychy) to choose the city's most popular athletes
05 Feb 2014, 16:47 | Norway - Switzerland cancelled
Preparation game Norway - Switzerland, scheduled for February 10 in Sochi was cancelled as per Norway Federation request. Coach Johansen decided to have one more training session instead. Switzerland confirmed the friendly game against Russia on February 9
05 Feb 2014, 16:17 | Rookie Fredrik Lystad Jacobsen replaces injured Holtet in Norway
Storhamar Dragons 23-years-old Fredrik Lystad Jacobsen was chosen to replace injured Marius Holtet in Norway roster at Sochi Olympics. Lystad Jacobsen played for Norway Juniors teams and in exhibition games with senior team, but is a debutant in an official IIHF event
05 Feb 2014, 08:26 | Martin Erat for Sobotka
Czech Republic Federation announced the name of player to replace injured Vladimir Sobota in the roster for Olympics: it's Washington Capitals Martin Erat. The 32-years-old will play his third Olympics after Turin and Vancouver
04 Feb 2014, 08:26 | Gustav Nyquist to replace Franzen
Sweden Hockey Federation announced injured Johan Franzen will be replaced in Olympics roster by his teammate at Detroit Red Wings Gustav Nyquist.
03 Feb 2014, 18:43 | Dave King is the new coach of Lokomotiv Yaroslavl
Just a day after the resignation of Pyotr Vorobyov for health reasons, Lokomotiv Yaroslavl announced Canadian Dave King as new headcoach. King, currently working as Development Coach at Phoenik Coyotes, returned to Russia after 2006-07 season when he coached Metallurg Magnitogorsk for one season, winning the Spengler Cup, becoming the first ever North American coach in the Russian Superleague. King's assistants will be Oleg Petrov and Dmitri Yuskevich
02 Feb 2014, 10:58 | Pyotr Vorobyov resigned as Lokomotiv coach
Pyotr Vorobyov resigned from his post as Lokomotiv Yaroslavl headcoach alleging health problems
"On behalf of Lokomotiv and all the fans of Yaroslavl hockey we thank Pyotr Vorobyov for his work and wish primarily health" - said the club in a statement on the website.
President of Lokomotiv Yuri Yakovlev said to Inter-TASS agency: "All this happened very recently, so talk about who will be the new head coach and when is premature"
Responding to a question about how serious Vorobyev's health problems are, Yakovlev answered: "I cannot say more than is written on the official statement"
02 Feb 2014, 10:43 | No Olympics for Sobotka
St. Louis Blues and Czech Republic forward Vladimir Sobotka suffered a knee injury (fractured patella)82 seconds before the end of the match against Carolina Hurricanes and will miss Olympic Games in Sochi, the first one for twenty-six years-old player. In this season Sobotka has 25 points (7 goals and 18 assists) in 46 games. Coach Alois Hadamczik will decide the name of the substitute next week before departure to Sochi. Calgary Flames' Jiri Hudler is the main candidate
31 Jan 2014, 18:44 | Róbert Kaláber leaves Zilina
Headcoach Róbert Kaláber left his post at Zilina for unspecified personal reasons. Kalaber arrived on Zilina bench in early December to replace Jan Neliba. Assistant Martin Groma will lead team until end of season
30 Jan 2014, 23:13 | No Sochi for Johan Franzen
Sweden won't count on Detroit Red Wings forward Johan Franzen at the Sochi Olympics because of a concussion. The 34-year-old forward played at the 2006 Turin Olympics, where Sweden won gold, and at Vancouver 2010.
Gustav Nyquist (Detroit Red Wings), Marcus Johansson (Washington Capitals) and Patric Hörnqvist (Nashville Predators) are the most probable subsitutes.
30 Jan 2014, 10:48 | Philippe Furrer won't travel to Sochi
SC Bern defender Philippe Furrer, named in Switzerland roster for Sochi Olympics, won't travel to Russia due his recurring head and neck pains resulting from a concussion suffered in early September. Back from a medical exam in a clinic in Atlanta, USA, specialists have diagnosed malfunctions in the brain. This implies that Furrer may return to training when symptoms have completely disappeared.
Possible replacements are Goran Bezina (Genève-Servette) and Luca Sbisa (Anaheim Ducks).
30 Jan 2014, 08:13 | Vanek named Austria captain at Sochi
Thomas Vanek will be the captain for Austria's team at the 2014 Sochi Olympics. Thomas Koch will be an alternate captain, along with Matthias Trattnig.
"Vanek is a star player for us and also in the NHL. That's enough to make him captain. He is a role model for all young players in Austria" said coach Manny Viveiros
30 Jan 2014, 08:05 | Sandis Ozolins will carry Latvian flag at Sochi
Dinamo Riga captain Sandis Ozolins will be the Latvian delegation standard-bearer at the opening ceremony in Sochi.
For 41-year-old hockey player upcoming Olympics will be the third in his career. Ozolins is the fourth hockey player to carry national flag after Leonīds Vedējs (1936), Harijs Vītoliņš (2002) and Artūrs Irbe (2006)
29 Jan 2014, 14:11 | Zelepukin appointed sports director of Metallurg Novokuznetsk
Valeri Zelepukin became sports director of Metallurg Novokuznetsk. Zelepukin will work again with the head coach German Titov as in Khimik Voskresensk in the past
29 Jan 2014, 13:53 | IIHF blocked Starkov transfer
Some days ago Red Ice Martigny announced the sign of Danish forward Kirill Starkov. The player had been released by his club Esjberg at the beginning of the year following a matches-fixing scandal
IIHF did not accept the transfer because of this case. The situation will remain unchanged throughout the procedure.
28 Jan 2014, 16:59 | Storhamar Dragons deduction 15pts
The Storhamar Dragons become the second club this season in Norway to be deducted points after Lørenskog IK started with -20pts. Storhamar will lose their 15pts because the clubs financial sitatuion has not improved when the Board decided to impose the point deduction on the club back in November. The lose in points for the club moves them down to 6th and now with 47pts. 
28 Jan 2014, 11:23 | Sergei Kostitsyn received Russian citizenship
Avangard Omsk forward Sergei Kostitsyn received Russian citizenship. He applied for Russian citizenship in December 2013.
Russian citizenship issued with a residence permit and residence registration. This means that in the new passport Kostitsyn is registered as Omsk resident
Kostitsyn continues to play for the national team of Belarus.
28 Jan 2014, 11:10 | Lida defender suspended for five games
HK Lida defender Evgeny Zhilinsky received a five games suspension after the major penalty taken for insulting the referees in the 3-1 game against Brest, played on January 21
28 Jan 2014, 08:23 | Austria made changes in Olympic roster
Due to injuries, Austria is forced to make changes in Olympic roster: goalkeeper Fabian Weinhandl was replaced with Mathias Lange (Iserlohn Roosters GER). Forward Andreas Kristler was replaced by Andreas Nodl (Red Bulls Salzburg)
28 Jan 2014, 08:16 | San Francisco Bulls fold
The San Francisco Bulls cease operations immediately after failing to complete a change in ownership that they hoped would sustain the team. Team disappear after a season and a half in ECHL
"Bringing hockey to San Francisco was a dream; we have great talent on our team, and had a great vision for what the team could be. Things didn't pan out the way we had hoped. It's sad, and disconcerting, but we're unfortunately left with no other choice at this point." said President and Head Coach Pat Curcio
27 Jan 2014, 18:39 | Alexander Svitov to replace Kokarev
Russian Federation announced Ak Bars Kazan forward Alexander Svitov will replace injured Denis Kokarev in Olympics roster
27 Jan 2014, 18:29 | Guy Boucher new coach at Bern
SC Bern, currently 9th in Swiss NLA, decided to change coach again: Lars Leuenberger, promoted as headcoach after the firing of Antti Tormanen in November, will return to work as assitant coach and Canadian Guy Boucher will be the new headcoach. Boucher, 42, was headcoach of Tampa Bay Lightning from 2010 to 2013. As Canada coach won 3 World Championships with U18 team and one title with U20.
27 Jan 2014, 18:21 | Chaux-de-Fonds changes coach
Canadian Kevin Primeau was fired from his charge of headcoach at Chaux-de-Fonds. Assistant Bernard Bauer and Alex Reinhard, last season at Langnau Tigers, were named as new headcoaches
27 Jan 2014, 12:48 | Vipiteno fires coach
Vipiteno Broncos fired coach Zdenek Travnicek due to lack of feeling with some players. He was replaced by U20 team coach Michael Pohl. Vipiteno is currently 7th in Italian Elite A
26 Jan 2014, 21:13 | Vydareny and Jurcina to replace injured players in Slovakia roster
Slovakian Federation announced coach Vladimir Vujtej called defenders René Vydarený (32, Hradec Kralove CZE) and Milan Jurcina (30, TPS Turku FIN) to replace injured Michal Šeršeň and Dominik Graňák. Vydareny will play his first Olympics, while Milan Jurcina will rapresent Slovakia in Olympics Games for third time after Turin 2006 and Vancouver 2010.
25 Jan 2014, 11:39 | Dominik Graňák out from Olympics
Slovak defender Dominik Graňák broke his leg in Dynamo Moscow 2-4 home defeat against Dinamo Riga yesterday and thus can't be represent Slovakia at Olympics. "Graňák has a displaced fracture. This means goodbye to the Olympics" said after the game Dynamo coach Olegs Znaroks.
24 Jan 2014, 17:28 | Match-fixing scandal in Denmark
Esbjerg fires three players for betting that their opponent Rungsted would score in the first period in a game January 3. Rungsted scored three goals in the first period and won the game 7-4. The fired players are Dennis Jensen, Kirill Starkov and Tyler Mosienko.
24 Jan 2014, 14:38 | Sergei Pushkov appointed as Neman Grodno headcoach
Russian Sergei Pushkov is the new coach of Neman Grodno after the resignation of Dmitry Kravchenko. 49-years-old coached Petersburg SKA-1946, Gruner in Norway and Belarusian Khimik-SKA Novopolotsk. He began this season at Tønsberg Vikings, but was fired in mid-November
24 Jan 2014, 14:32 | Spartak Moscow demote in VHL?
Spartak Moscow will leave the KHL and will apply to play in VHL at the end of the current season, reports Championat.ru.
KHL is not going to save the team, as speculated, because League plans to expand in the West, and the disappearance of Spartak will make room for a new club
22 Jan 2014, 12:13 | Rudolf Rohacek extends contract with Cracovia
Croacovia Krakow Czech headcoach Rudolf Rohacek extended his contract with club for three years. Rohacek worked at Cracovia from 2004-05 season and won 5 titles and a Polish club, marking the most successful era at the club.
I am very happy that I could continue coaching this team. I have a great feeling with club and the city - admits Rudolf Rohacek
"Coach Rohacek has proven repeatedly that he is a great expert - says Cracovia vice-president Jakub Tabisz - Extension of the agreement is a great news for all of us. We can say that Rohacek is the Sir Alex Ferguson of Polish hockey. It's been with us for nearly a decade, probably the best in the history of the club - adds Tabisz.
21 Jan 2014, 16:24 | Fribourg will have a new arena in 2017
In agreement with the city, HC Fribourg-Gotteron discarded the project of a renovation of Saint-Léonard Arena and have decided in favor of building a new facility.
From several years the arena requires renovation. Built in 1982, it has no longer sufficient safety standards and does not offer enough seats (6800 seats/standing)
According to studies, the construction of a new venue will cost 10-20% more than a renovation. That is why club and the city have decided to build a new arena.
Currently, two projects are being developed. The club hopes to move into its new home for the season 2017/2018.
21 Jan 2014, 15:45 | Lida coach resigns
HK Lida coach Vladimir Deev resigned after the defeat 5-2 against bottom team Mogilev. Deev will remain in Lida coaching staff. Assistant Vladimir Martynov was named nterim coach. "I resigned. Team became unmanageable. Let the other person will come and see this, and then also to resign" said Deev in a press conference
20 Jan 2014, 17:53 | Reserve player awarded as MVP
A curious episode occurred during last round of Belarus Extraliga: Yunost Minsk back-up Oleg Oreshko was indicated as team MVP in the Yunost 6-1 defeat against Gomel. What's wrong? Oreshko didn't play a single minute in the game: the decision was made by Yunost coaching staff as protest for the poor performance of the team
18 Jan 2014, 16:44 | Fiery Crusaders Tbilisi won Georgian League winter stage
Fiery Crusaders Tbilisi won the Georgian Championship Winter Stage played in the town of Bakuriani. Tbilisi team finished with same points of Grey Wolves Tbilisi and home team Mimino, but is ahead due a better goal difference. Champion Ice Knights finished last with just one victory. Next round will be played in March in Batumi
17 Jan 2014, 21:41 | Injured Sergei Soin will miss Sochi Olympics
Dynamo Moscow forward Sergei Soin won't play at Sochi Olympics with Russia due to an injury suffered during game against SKA St. Petersburg.First diagnosed suspected rupture of the anterior cruciate ligament, with a recover expected in 6 weeks. Aleksandr Svitov, Dmitry Obukhov and Aleksandr Semin are among the candidates to replace Soin in the roster
17 Jan 2014, 21:32 | New coach at Yermak
Viktor Laukhin was appointed as ew head coach of Yermak Angarsk, currently 20th in VHL. Former coach Mikhail Komarov will remain as assistant coach
Laukhin already worked at Ermak in the 2010/11 season.
17 Jan 2014, 20:36 | Dukla Michalovce fire coach
After 19 games - and only nine victories - as team's headcoach, Ladislav Spisiak was fired by Dukla Michalovce. Assistant Peter Tirpák will end the season as headcoach
"The reasons are probably obvious to everyone. These are disappointing results and also unconvincing performances Once we play well, once badly..." said Dukla Michalovce President Alexander Černega
16 Jan 2014, 14:12 | DESTIL Trappers Tilburg Dutch Cup Champions
The Dutch Cup will be staying in Tilburg for another season as the club defeated UNIS Flyers Heerenveen 2:1 in Eindhoven infront of 2000 fans. A pair of powerplay goals from Bob Teunissen and Diederick Hagemeijer mid-way through the first period was enough for the Trappers, Tony Demelinne made things interesting mid-way through the third but it wasnt enough. Tilburg has earned their 13th Dutch Cup.
16 Jan 2014, 09:02 | Piestany received money to build a new arena
Prime Minister of Slovakia donated one million euros to build a new training hall of the National Hockey Center in Piestany. In exchange for it, the City will rent 10 years for free the arena for Slovakia national teams
13 Jan 2014, 08:37 | Indian national championships underway
The 5th National Indian Ice Hockey championships - Men and Women tournaments - is underway until 16th January at Karzoo Ice rink in Leh. Teams participating J& (Red), J&K (Blue), Kargil. LWSC, Army. HAWS, Maharashtra, Ex Servicemen and ITBP Haryana
11 Jan 2014, 09:54 | Vityaz fires coach Leonov
Vityaz Podolsk fires coach Yuri Leonov. Assistant Oleg Orekhovski will act as interim head coach
10 Jan 2014, 13:41 | Mario Richer is the new coach of Val Pusteria
Canadian Mario Richer, 48, is the new coach of Val Pusteria Wolves. He replaced temporary coach Oly Hicks after the firing of Mike Busniuk. Richer started season at Graz 99ers of EBEL, but was fired in the late October
10 Jan 2014, 12:43 | Government helps Banska Bystrica to renovate arena
The city of Banska Bystrica received one million euros by the end of last year from the budgetary reserve of the Prime Minister for the reconstruction of the north grandstand of ice rink is intended grant. As is clear from the contract between the Office of the Government and Banska Bystrica, the city must grant to use money exclusively for this purpose and reconciled by the end of 2015.
09 Jan 2014, 16:37 | Vehanen declined invite to play KHL All Star game
Invited to play KHL All Star Game to replace injured Alexander Yeryomenko, Lev Prague goalie Petri Vehanen declined the proposal, explaining that he "did not feel ready at 100%."
08 Jan 2014, 08:49 | Petri Vehanen joins Team West
Lev Praha goalie Petri Vehanen will join Team West for this coming weekend's All-Star Weekend in Bratislava. The fans' first chioce, Dynamo Moscow's Alexander Yeryomenko, is injured and therefore was forced to withdraw from the event.
07 Jan 2014, 10:35 | Rouen wins Coupe de la Ligue
By winning 6-4 against underdog Chamonix in Meribel in front of 2500 spectators, the Rouen Dragons won 2013-14 French Coupe de la Ligue. It is the fourth cup for the club, and the second consecutive. Rouen forward Anthony Rech was named MVP of the final game.
06 Jan 2014, 09:35 | Groups for 2015 World Junior Championship
The 2015 IIHF World Junior Championship will be played in Toronto and Mointreal from 26 December 2014 to 5 January 2015. Based on the final rankings of the 2014 championship the groups are now decided:
Group A in Montreal
Finland (1), Canada (4), USA (5), Slovakia (8), Germany (9)
Group B in Toronto
Sweden (2), Russia (3), Czech Republic (6), Switzerland (7), Denmark (10)
05 Jan 2014, 12:06 | Pettersson suspended - will miss gold medal game
Sweden's Jesper Pettersson is suspended for leaving the penalty box to engage a Russian player after the final whistle of yesterday's World Juniors semi final where Sweden beat Russia 2-1.
02 Jan 2014, 23:23 | Important win for HV71
HV71 took two important points after a 4-3 OT win away at AIK. A hard blow for AIK who was the better team and had the lead 3-1 and also got a 4-3 goal disallowed. AIK is last (12th) in SHL, now five points behind HV71 who are in 10th place.
30 Dec 2013, 14:41 | Draisaitl suspended
Germany's captain Leon Draisaitl will be suspended for today's WJC game against the Czech Republic. He got a match penalty for a check in the back of American player Andrew Copp yesterday.
29 Dec 2013, 23:21 | Brandon Bochenski Finishes the Year as KHL's Leading Goal Scorer
First-team KHL All-star and Barys Astana forward Brandon Bochenski will enter 2014 with the league lead in goals.  He scored a hat trick against Admiral on 26 December, only to top that effort two days later with two goals and three assists against Amur.  His 23 goals is a league best and 47 points is tied for second.
He was Eurohockey.com's November Player of the Month for similar performances.  Our interview with Brandon Bochenski can be seen here (full audio/text summary).
29 Dec 2013, 19:10 | Plutnar under review
The IIHF Disciplinary Panel is conducting an official review of an incident in the Canada-Czech Republic game at the World Junior Championship in Malmö involving Czech defenceman Michal Plutnar who brought down linesman Eduard Metalnikov.
Update: Plutnar will be suspended for one game.
29 Dec 2013, 13:22 | Gold medals to Hong Kong
Hong Kong won the first version of the Women's Challenge Cup of Asia Division 1 at home in Mega Ice.
They won all three games: Singapore 7-1, Thailand 4-0 and United Arab Emirates 9-0.
27 Dec 2013, 23:56 | Sokil Kyiv games postponed
Games between Sokil Kyiv and Levy L'viv, scheduled to take place December 27th and 28th have been postponed. Sokil Kyiv has failed to pay the rent at ATEK Sport Complex and the venue has refused the club from using the ice.
27 Dec 2013, 17:09 | Four players added to KHL All-Star rosters
Forwards Evgeny Kuznetsov (Traktor Chelyabinsk), Geoff Platt (Dinamo Minsk), Jakub Klepis (Lev Prague) and Denis Parshin (Torpedo Nizhny Novgorod) were invited to KHL All Stars game,  which will be held January 11 in Bratislava.
26 Dec 2013, 09:32 | Hockey team will be created in Sochi
Russia's sports Minister Vitali Mutko said at radio Echo of Moscow that Sochi will have a hockey club, which will be called "Dolphins" and will play at the Olympic Stadium Bolshoi. It is possible that the team will play in the KHL.
25 Dec 2013, 14:10 | Jortikka back in the KHL
Finnish coach Hannu Jortikka, who left Admiral at the beginning of this month, has joined Yugra Khanty-Mansiysk as an associate coach.
25 Dec 2013, 10:31 | Sergei Fedorov back on ice for Spengler
Sergei Fedorov will play in the Spengler Cup with CSKA Moscow at age 44. The former player, and current GM of CSKA, began to train some weeks ago and will play in the annual tournament. Fedorov retired in 2012 after 1248 NHL games.
20 Dec 2013, 22:19 | Russia beats France again
For the second night in a row the Russian B team beats France. This time the game ended 6-3. Daniil Apalkov of Lokomotiv Yaroslavl scored three goals for Russia.
20 Dec 2013, 21:48 | Russian juniors beat Dynamo
The Russian U20 team today beat Dynamo Moscow 3-2.
20 Dec 2013, 12:26 | Pavel Kubina retires
Czech defenceman Pavel Kubina, 36, has announced his retirement after 3 World Championships and 970 games in the NHL and a Stanley Cup in 2004. "The main reason is my family. My older daughter Tereza is in second grade in Tampa and she doesn't want to move," said Kubina.
20 Dec 2013, 11:35 | Servette and Vitkovice add players for Spengler
Geneve Servette announces the addition of goalie Robert Mayer (Hamilton Bulldogs), Finnish defenceman Markus Nordlund and forward Inti Pestoni - both from Ambrì-Piotta - for the upcoming Spengler Cup. Also, Czech club Vitkovice will have a Swiss player for the tournament, Kloten Flyers' defenceman Gian-Andrea Randegger.
19 Dec 2013, 22:41 | Russia beats France
While the Russian national team is playing the Channel One Cup, the Russian B team is visiting France for two games. The first game was played tonight in Marseille and Russia won it 2-1 on goals by Vasily Tokranov and Maxim Karpov.
19 Dec 2013, 15:13 | Three times Finland
The U16 teams of Finland and Sweden played three games this week. All times with Finland as winner; 4-1, 4-3 SO and 7-3.
19 Dec 2013, 13:00 | New attendance record in German Oberliga
The Sunday match between city rivals Hannover Scorpions - who sold their DEL license earlier this year to the Schwenniger Wild Wings - and Hannover Indians - who were relegated from 2. Bundesliga after not being able to fulfill the financial regulations - set a new attendance record for the Oberliga - the third thier in German ice hockey. All in all 7619 spectators came to TUI Arena to follow the 4-1 win of the Scorpions who manged to get the first position in Oberliga Nord.
19 Dec 2013, 12:09 | Servette retires Daniel Clerc's number
Geneve Servette announces club will retire former goalie Daniel Clerc's number 0 during 23 December game against Rapperswil. Clerc played for Servette from 1964 to 1974, winning a Swiss Cup in 1972. He counts also 38 caps with Switzerland national team
18 Dec 2013, 22:46 | Luleå loans players
The reigning European Trophy champion Luleå misses four players during the Red Bulls Salute. Linus Klasen, Peter Cehlárik and Lucas Wallmark are playing with national teams and Johan Forsberg is injured. Instead Luleå loan Marcus Fagerudd, Emil Bejmo and Patrik Näslund from Asplöven of HockeyAllsvenskan.
18 Dec 2013, 22:28 | German revenge
After yesterday's loss to Latvia, the German national team today won 4-0 against the same opponent.
David Wolf scored twice and Daryl Boyle and Matthias Plachta got a goal each in Essen.
18 Dec 2013, 18:06 | Swedish WJC player injured
Gustav Possler, MODO Hockey, got a knee injury and can't participate in the World Juniors.
Possler is third in SHL in scoring amongst juniors with eight goals and seven assists in twenty-two games.
18 Dec 2013, 08:56 | Jokerit fire Tomi Lämsä
Jokerit Helsinki have fired head coach Tom Lämsä and replaced him with current assistant Tomek Valtonen. "During the autumn the club did not play according to its potential. In making this decision, we hope to give the team a boost because it has the potential to be champion," said general manager Jari Kurri. The club also announced the addition of Pasi Nurminen to the coaching staff.
18 Dec 2013, 08:22 | Davos add players for Spengler
HC Davos has received three players, all from Rapperswil Lakers, for the Spengler Cup: Swedish forwards Nicklas Danielsson and Niklas Persson and Slovak Peter Sejna.
17 Dec 2013, 23:52 | Latvia beats Germany
Latvia visited Germany in Herne today and won the game 4-3 after a shoot-out. Andris Dzerins scored a late equaliser and Mikelis Redlihs decided the shoot-out.
The teams will play again tomorrow in Essen.
16 Dec 2013, 20:22 | Elias Lindholm to WJC in Malmö
Carolna Hurricanes' forward Elias Lindholm has been allowed by the Hurricanes to join Team Sweden for the World Juniors in Malmö.
16 Dec 2013, 15:23 | Opening of Chizhovka Arena postponed to December 25
Another postponement of the inauguration of Chizhovka Arena in Minsk: the next deadline should be no earlier than December 25. During the last two years the date of inauguration has been moved several times. Initially planned for mid-2011, then the deadline was moved to the middle of 2013. Last July, it was announced that civil works would be completed in September or October, in November pre-commissioning would be conducted , and in early December Chizhovka Arena was to be inaugurated. At a meeting on the preparation for the World Championship, Chairman of Minsk City Executive Committee Nikolai Ladutko  promised the president of Belarus that the complex would put in operation by December 15, but today a further delay was announced.
14 Dec 2013, 12:31 | Valery Belousov named in Russia coaching staff
With a short statement, Russian Federation announced Traktor Chelyabinsk coach Valery Belousov entered in national team coaching staff
14 Dec 2013, 12:02 | Alexander Andrievski will work at Yunost
Former coach of Dinamo Minsk Alexander Andrievski will work at Yunost. It's still unknown what position Andrievski will take in the club. In a separate move, Yunost goalie coach Alexei Sheblanov was hired by Dinamo Minsk.
13 Dec 2013, 13:43 | CSKA Sofia wins Cup of Bulgaria
By beating arch-rival 8-2, CSKA Sofia closed with perfect record the first round of Bulgarian League and automatically also wins Cup of Bulgaria. Slovak Igor Kaikl - 2 goals - and Stanislav Mukhachev Stanislav (BUL) - 2 goals and 1 assists - along with young goalie Nikola Nikolov were the key players
12 Dec 2013, 16:35 | Lubomir Pokovic confirmed as Dinamo Minsk coach
Dinamo Minsk has officially confirmed the appointment as head coach of Slovak specialist Lubomir Pokovic, who had been in charge of the team on an interim basis since the departure of previous head coach Alexander Andriyevsky on the 23rd of November this year.
12 Dec 2013, 15:20 | Two milestones reached in Belarus League
The last round of Belarus Extraliga saw reach two milestones: scoring the fifth goal in Gomel 7-1 victory against Vitebsk, Artem Bozhko noted the 2.400th goal for the club in the Extraliga, making Gomel the third most prolific club, after Neman (2629) and Yunost (2571). In the game of Metallurg Zhlobin against Khimik SKA, Egor Egorov scored the 1.400 goal of the club, not enough to avoid his club defeat
11 Dec 2013, 22:27 | Brasov fired Lindqvist
Latest Corona Brasov poor performances  in MOL Liga cost the job for Kjell G. Lindqvist: Swedish coach was fired and will be replaced by 51 years old Finnish Kari Rauhanen, last season on Lustenau bench
10 Dec 2013, 22:19 | Aleksandr Pavlovich suspended 7 games
Neman Grodno forward Aleksandr Pavlovich has received a 7-game suspension after earning 57 penalty minutes during Neman\'s  2-1 victory against Shakhtar Soligorsk. Pavlovich received 2+10 minutes, but then add 20 minutes for unsportsmanlike conduct and another 25 for abuse of officials.
09 Dec 2013, 17:33 | Val Pusteria fires coach Mike Busniuk
For the first time since 2001 Val Pusteria changes coach during the season: club from Brunico fired coack Mike Busnuik after the last poor performances of the team. Former coach and current assistant Oly Hicks will act as interim coach
08 Dec 2013, 20:03 | European Women's Champions Cup second stage
The second stage of the European Women's Champions Cup was played this weekend.
From Group E in Bad Tölz, Tornado Moscow Region (RUS) and ESC Planegg (GER) qualified for the Final Tournament in March.
AIK (SWE) and Espoo Blues (FIN) advanced from Group F in Lohja, Finland.
07 Dec 2013, 19:09 | Zilina changes coach
MsHK DOXXbet Žilina announced the end of cooperation with headcoach Jan Neliba, due to poor performances of the team: "We have 30 points after 28 games: these statistics speak for themselves" said General Manager of the club Imre Valasek. The new coach is Robert Kaláber, recently fired by Dukla Trencin
02 Dec 2013, 19:16 | Voskresensk Ice Palace dedicated to Nikolai Epstein
Voskresensk District Administration has decided to remember Honored Coach of the USSR, and honorary citizen of Voskresensk Nikolai Epstein by dedicating the Ice Palace of Sports simply known as Podmoskoe (suburbs).
Epstein led Khimik for 22 years. Under his leadership the team won twice the bronze medal in the championship of the USSR. Among Epstein alumni are stars as Valeri Kamensky, Igor Larionov, Valery Zelepukin and Sergei Berezin. The ceremony will held on December 14, when club celebrates its 60th anniversary.
02 Dec 2013, 09:31 | Renon won Coppa Italia
SV Renon won its second Coppa Italia by beating on home ice Val Pusteria 4-3SO with decisive penalty scored by Massimo Ansoldi. It's the second Coppa Italia for Renon that won the trophy also in 2009-10, curiously always against Val Pusteria.
In the semifinals Renon won 2-1 against trophy holder Valpellice, while Val Pusteria defeated 3-1 Asiago.
Renon's Lorenz Daccordo was awarded as game MVP
01 Dec 2013, 08:36 | Haydamaky Vinnytsya - Sokil game postponed indefinitely
After two consecutive Haydamaky Vinnytsya "no-show" in the games against Levy L'Viv, Ukraine Federation decided to postponed Haydamaky Vinnytsya - Sokil Kyiv games, scheduled for December 02 and 03. The dates and time of postponed matches will be announced later
01 Dec 2013, 08:04 | Satan back in Slovan
Slovak forward Miroslav Satan returned to Slovan Bratislava. Contract with 39-year-old striker lasts until the end of the season 2013/14.
Satan played for Slovan in 2012-13, but at the end of season did not renew the contract.
29 Nov 2013, 15:22 | New coach at Ural Orsk
Andrei Kirdyashov was appointed as new headcoach at Yuzhny Ural Orsk, replacing Anatoli Chistyakov, resigned on November 28. Kirdyashov lead Sary Arka Karaganda to playoffs finals last season and previously was on Yuzhny Ural Orsk from 2008 to 2010
29 Nov 2013, 09:37 | Melbourne Ice announces new coaching panel
Melbourne Ice announces Brent Laver as new head coach and Johan Steenberg as assistant, along with player Glen Mayer
Laver is a long time Victorian ice hockey player and has extensive coaching experience in football and hockey. He has been involved with Melbourne Ice for several years as a sponsor and supporter.
Steenberg is a Swedish national who is married to an Australian and has recently moved to Melbourne. He played as a goalkeeper in the Swedish First Division until the age of 25, and has coached extensively in Sweden and the U.K.
New season of Australian Ice Hockey League begins on April 12 2014
26 Nov 2013, 22:47 | ECHL approves expansion team in Indianapolis
The ECHL announced that the Board of Governors has approved the Expansion Membership application of the Indianapolis Fuel for admission to the league.
Indianapolis will begin play in October, 2014 when the ECHL opens its 27th season.
"We are proud to welcome Indianapolis as the newest Member of the ECHL," Commissioner Brian McKenna said. "The city has a rich hockey tradition and is an ideal addition to our mid-west geography"
With the addition of Indianapolis, the ECHL will welcome 23 teams for the 2014-15 season.
25 Nov 2013, 21:24 | Kent Johansson takes over Örebro
As we reported earlier rumours said that Kent Johansson would take over as Örebro's head coach after Patrik Ross who resigned. Now it's confirmed and Johansson will join Örebro for practice on Tuesday.
25 Nov 2013, 17:44 | Nikolai Zherdev signs a contract with Severstal
Russian hockey player Nikolai Zherdev signs a contract with Severstal.
The last club of the technical mastery striker was Spartak Moscow where Zherdev spent 16 games, scored 7 (0+7) points with a rating of -6.
Zherdev will play in Severstal till the end of the season. He comes out on the ice at number 87.
23 Nov 2013, 18:27 | SC Bern fired coach
After the 4-1 defeat in derby against EHC Biel, SC Bern decided to fire Finnish coach Antti Tormanen. despite a title and a second place in two seasons on Bern bench, Tormanen paid the bad start in the NLA: the club from the capital is currently 9th with 29 points in 24 matches. Assistant coach Lars Leuenberger will be the interim coach. Rumours point former Switzerland and edmonton Oilers coach Ralph Kruger as next coach
After the game against Biel, GM Marc Lüthi said he could not sack all players and so was forced to take this decision
21 Nov 2013, 23:35 | Igors Pavlovs is new Heilbronner Falken coach
Heilbronner Falken announced Igors Pavlovs as new headcoach: 48-years old Russian/Latvian Pavlovs replaces Gerd Wittmann who requested more time to care his wife, ill.
20 Nov 2013, 18:13 | Kirill Sachivko received 10 games suspension
For the brawl after Neman - Vitebsk game, played last Monday, Belarus Extraliga Disciplinary Committee decided to suspend Vitebsk defender Kirill Sachivko for 10 games. His teammate Pavel Taran received 3 games suspension
20 Nov 2013, 18:07 | Belarus Federation named new General Secretary
Egor Golovanev is the new General Secretary of Belarus Hockey Federation. A graduate of the Belarusian State Economic University in 2009, Golovanev, 24, worked for the Belarusian Fecderation in the last few years as manager of national teams of all ages up to the national.
18 Nov 2013, 18:58 | Montén assistant coach for Sweden U20
Tomas Montén, currently coach for Linköping's juniors and earlier coach of Djurgården and Timrå will be assistant coach for Team Sweden during the World U20 Championship at home ice in Malmö.
16 Nov 2013, 11:04 | Polish linesman passed away
Former Zaglebie Sosnowiec player and linesman Marek Wieruszewski passed away at 35 while training with amateur team THC Sielec Sosnowiec. Wieruszewski suddenly fainted, and then fell to the ice. Despite a rapid try, the resuscitation failed. Deepest condolences to family from Eurohockey.com
15 Nov 2013, 09:36 | Storm wins Cape Town League
With a 9-0 victory against past champion Penguins in the last game, Cape Town Storm won Western Province Ice Hockey League 2013 for the first time. Storm player/coach Deen Magmoed was the top scorer with 52 points (37 goals and 15 assists)
Check all the Western Province League stats on Eurohockey.com page!
13 Nov 2013, 17:33 | Sabres fire coach and GM
Buffalo Sabres announces club fire headcoach Ron Rolston and General Manager Darcy Regier. Ted Nolan will serve as interim coach
13 Nov 2013, 12:10 | Evgeny Koreshkov left Metallurg Magnitogorsk
Metallurg Magnitogorsk terminated the contract with Mike Keenan's assistant coach Evgeny Koreshkov by mutual consent of the parties. Koreshkov worked at the club since March. Previously, he led the Magnitogorsk MHL Steel Fox, which in 2010 became the winner of the regular season and the Cup Kharlamov.
"We terminated the contract with the club by mutual agreement. I need to focus on WJC U20 Championship, so I'll spend a lot of time in the national team. We decided it would be more correct to prioritize the work with the national team" said Koreshkov
12 Nov 2013, 17:05 | Dinamo loans 5 players to Neman Grodno for Continental Cup
Dinamo Minsk announced club will loan five players - goalie Yan Shelepnyov, defenders Ivan Usenko and Evgeny Lisovets and forwards Alexander Pavlovich and Anatoly Protasenya - to farm team Neman Grodno to play Continental Cup semifinals on November 22-24. "A Successful performance of Neman in the Continental Cup is one of the priorities of Dinamo Minsk this season", said in a statement the club
11 Nov 2013, 17:26 | Swedish U18 victory
Sweden won an U18 tournament in Turku, Finland. The Swedes opened with a 3-2 win over USA but then lost 2-1 to Switzerland in the second game. The third game was won 2-1 against Finland. USA finished second after an overtime win against Finland and a clear victory over Switzerland. Find standings and results at U18 National team games.
10 Nov 2013, 21:51 | Poland wins EIHC tournament in Hungary
Poland only lost the first game against tournament hosts Hungary (1-2 SO) before going on to beat Ukraine (5-2) and Romania (6-0) to win their respective EIHC tournament with a total of 7 points. Ukraine (6 pts), Hungary (5 pts) and a chanceless Romania - 1:17 goals - (0 pts) followed in the standings.
10 Nov 2013, 08:36 | Canada wins in Lake Placid
Canada beat Finland 6-3 in the final of the 2013 Women's Four Nations Cup. USA defeated Sweden 8-1 to finish third. Top scorer of the tournament was Kelli Stack of USA who recorded four goals and three assists in four games.
Final standings at National team games (Women).
09 Nov 2013, 21:20 | Double wins for Denmark
Denmark visited Norway for two games in Stavanger. The guests won both games - 4-3 on Friday and 3-2 on Saturday.
09 Nov 2013, 18:35 | New coaches in Extraliga
Two teams changed coach in Slovak Extraliga: Andrej Výboh replaced Josef Turek, moved to Czech Chomutov, at HK 36 Skalica, while former Sanok and Kosice coach Milan Staš is the new head coach of Dukla Trencin, replacing fired Robert Kaláber. Earlier in mid October also champion Zvolen hired Julius Supler as new coach for dismissed Lubomir Oslizlo
09 Nov 2013, 11:48 | Finnish women beats USA
The Finnish women's national team surprised USA with a 3-1 win at the Four Nations Cup in Lake Placid. Finland qualifies for the final while USA will play Sweden for the third place,
09 Nov 2013, 00:05 | Kaufbeuren needs a new stadium
According to local media German DEL2 club ESV Kaufbeuren needs a new ice stadium until 2017 the latest. The current stadium has a reduced capacity of 2500 after several months of repairs that cost 1.7 million euro. In less than four years the final approval to hold games there ends. Plans for a modern arena are estimated to be as high as 15 million euro. Where the new arena is to be built and if the citizens of Kaubeuren will vote for the project is still uncertain.
08 Nov 2013, 14:25 | Vadim Shipachyov injured
Russian national team forward Vadim Shipachyov injured his hand during the first period of the Karjala Tournament opener against Finland.
He won't play more in the tournament.
07 Nov 2013, 19:13 | IIHF forbid Neman to use players from other teams in Continental Cup
IIHF has forbidden Neman Grodno to claim players from other teams during Continental Cup semifinals, threatening forfeited all the games played.
Thus, Grodno can only allign players from its structure, including farm, as well as heading team Dinamo Minsk players. The final application of Neman for the tournament will be submit in mid-November. Last season Metallurg Zhlobin called Alexei Efimenko from Shakhtar Soligorsk during Continental Cup
07 Nov 2013, 19:08 | Yunost Minsk General Director resigns
Eduard Zotov, General Director of Yunost Minsk, announced his resignation. Reason wasn't disclosed but rumours appoint the delay in Chizhovka-Arena construction as cause
03 Nov 2013, 18:17 | More roster changes for Sweden
Niclas Burström, Daniel Bång and Dennis Rasmussen will replace Simon Bertilsson, Tom Wandell and William Karlsson in Sweden's roster for Karjala Tournament. Tobias Viklund was first suppose to replace Bertilsson but was later also replaced.
02 Nov 2013, 23:02 | Danish game interrupted
Tonight's game between Herlev and Rødovre in the Danish league was interrupted at 28:03 when Herlev had a 3-0 lead. The reason why the game was not finished was a hole in the ice, where you can see all the way down to the concrete.
01 Nov 2013, 17:49 | Rödin replaces Pettersson
Brynäs' forward Anton Rödin replaces Fredrik Pettersson in Team Sweden at Karjala Tournament.
30 Oct 2013, 17:24 | Dusan Gregor is the new Sary Arka coach
Slovak Dusan Gregor was named new head coach at Sary Arka Karaganda. He replaced Evgeny Zinoviev, resigned in mid-October
29 Oct 2013, 16:09 | Sputnik Nizhny Tagil changed coach
With his team penultimate, Alexei Fetisov resigned as head coach of Sputnik Nizhny Tagil. Club named current assistant coach Alexander Chelushkin as replacement
27 Oct 2013, 17:03 | Georgian Federation re-elected the Board
During the congress members of Georgian Ice Hockey Federation have re-elected the Board and its 5 members: Nugzar Paikidze, Zakaria Khechuashvili, Alexander Vashakidze, Ilia Davidov, Mamuka Shergilashvili. According to the by-law the Board was eligible and therefore voted to elect President (Mr. Nugzar Paikidze), Vice-President (Zakaria Khechuashvili) and General Secretary (Mr. Alexander Vashakidze) of the Federation.
24 Oct 2013, 10:34 | EHC Visp replaces coach
EHC Visp fired coach Michel Zeiter after the last defeat against Langnau Tigers. Canadian Kim Collins, last season on HC Sierre bench, is the new coach until end of season
21 Oct 2013, 10:34 | One team more in Ukranian League
Surprises never ending in Ukranian pre-season: after having announced the start of the league with five team, Federation has now published the calendar of first round where appears also Generals Kyiv as sixth team partecipating
18 Oct 2013, 11:09 | Asiago won Italian Supercoppa
A lonely goal scored in the first period by Kevin DeVergilio is enough for champion Asiago to win its second Supercoppa (the game between national champion and the winner of Coppa Italia) - the first one was in 2003 against Milano - in front of its fans at Palaodegar against HC Valpellice. During the first break was conducted the draw for Coppa Italia, here the pairs for quarter-finals (home and away matches and a third game if necessary):
Val Pusteria - Cortina
Asiago-Vipiteno
Valpellice-Milano Rossoblù
The Final Four will be played at Collalbo on 30 November, with host SV Renon already qualified
Ritten Sport - winner Valpellice-Milano Rossoblu
Val Pusteria/Cortina - Asiago/Vipiteno
17 Oct 2013, 11:40 | Russia signed a cooperation agreement with Armenia Hockey Federation
During a visit in Armenia, President of the Russian Hockey Federation Vladislav Tretiak announced the Russian Federation signed a cooperation agreement with the Ice Hockey Armenia.
"I met Armenia Hockey Federation board also as IIHF member. We have a program of assistance to the countries where hockey is not very well developed. I met with the president of the country, with the Minister of Sports. There was talk about the development of winter sports, in particular hockey. There will be exchange of information and junior hockey coaches" - said Tretiak
16 Oct 2013, 11:02 | Coupe de la ligue first round completed
The coupe de la ligue first round is now completed. In groups A (Angers, Rouen) & C (Grenoble, Briançon), the top favorites emerged and advanced to the quarter finals. In groups B and D, it was a 3 team fight to get to the next level. The big surprise was finally in group B with qualifications of Epinal and Strasbourg while the top favorite Amiens is eliminated. In group C, Dijon ended up first while Chamonix and Morzine were tied for 2nd. Chamonix finally advance thanks to a better goal difference. The quarter final match-ups will be the following : Strasbourg - Angers ; Rouen - Épinal ; Briançon - Dijon ; Grenoble - Chamonix
15 Oct 2013, 16:39 | Langnau replaced Tomas Tamfal with Bengt-Ake Gustafsson
SC Langnau tigers announces the club fired head coach Tomas Tamfal and his assistant Urs Bärtschi, replacing them with a Swedish duo: Bengt-Ake Gustafsson as new head coach and Peter Andersson as assistant. Gustafsson coached Langnau between 1999 and 2001 and will have his son Anton in the roster. Peter Andersson worked recently as assistant coach at MODO
14 Oct 2013, 23:13 | Dinamo Minsk club issues popcorn and candy bar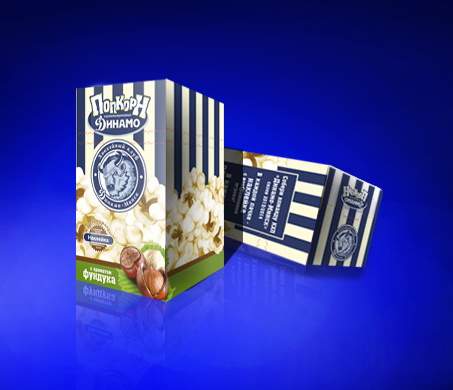 Fans of Dinamo Minsk will during the next home games of the team be able to purchase popcorn with flavor of hazelnut and hematogen issued under the name Dinamo. This new production of Minsk "Dinamo", will appear on the shelves next to the previously released chips and crackers "Dinamo".
In every pack fans will be able to find cards and stickers featuring players of Dinamo Minsk.
14 Oct 2013, 23:07 | Belarus launched the sale of tickets for the second phase of the ticket program for the 2014 WC
October 14 in Belarus, the sale of season tickets for the matches of the 2014 World Cup, for which it will be possible to visit all the games of any team. Also the owners of such tickets can choose whether to visit all the matches of the group round in each of the arenas of the World Cup finals or all games on the "Minsk-Arena".
Everyone can buy season tickets for hockey games at all retail sales outlets or online at the official World Cup ticketing operator "Tiketpro" as well as through dealer network.
14 Oct 2013, 18:46 | Sary Arka fires coach
Two days after Kazzinc Torpedo, also the second Kazakh team acting in VHL fired coach. With a short statement on its website, Sary Arka Karaganda announced the resignation of Evgeny Zinoviev. Berkut Karaganda - farm team of Sary Arka - coach Mikhail Pikalov, was named interim coach
12 Oct 2013, 10:18 | Beginning of Ukraine League delayed again
The Beginning of the championship of Ukraine will once again be postponed to a later date. According to channel Hockey on October 9 just two teams - Companion Kyiv and Bily Bars Bila Tserkva - signed the agreement to participate in the national championship.
12 Oct 2013, 10:03 | Kazzinc Torpedo changes coach
Kazzinc Torpedo Ust Kamenogorsk announces Vladimir Belyaev as new head coach, replacing fired Vladimir Plyuschev. New assistant coaches will be Sergei Belkin, previously served as manager for the development of junior hockey, and former player Aleksandr Rozhnev, also working in Kazzinc-Torpedo hockey school. Belyaev coached Kazzinc Torpedo several times in the past. Last season he was on HK Astana bench. Torpedo also released five players: Ivan Bazyleev, Mikhail Plugarev, Aleksei Vyatkin, Aleksandr Gerasimov and Kirill Kitsyn
10 Oct 2013, 19:38 | Mladost scored 31 goals against Sisak
Big score in Croatian League round #2: Mladost Zagreb won 31-2 against Sisak. Mladost forward Miro Smerdelj was the top scorer of the night with 8 goals and 4 assists.
04 Oct 2013, 10:31 | Unia Oswiecim signs cooperation agreement
Unia Oswiecim signs a cooperation agreement with 2nd league UKH Debica to send its players with less minutes in Polish Extraliga to Debica
03 Oct 2013, 19:10 | Platt and Lalande can play for Belarus
Goalkeeper Kevin Lalande and forward Geoff Platt, both playing for Dinamo Minsk, have received official permission from the IIHF to play for the national team of Belarus.
Canadian born Geoff Platt and Kevin Lalande got Belarusian citizenship in December 2011.
03 Oct 2013, 14:33 | Medvescak lost by forfeit in Croatian League opening game
The Croatian League started with a surprise: multi-champion Medveščak Zagreb didn't provide medical team for the opening game against KHL Sisak, so it couldn't be played. Thus the game is registered as a Sisak 5-0 win. In the other match, KHL Zagreb defeated silver medalist Mladost 9-7.
Follow Croatian League on eurohockey!
02 Oct 2013, 00:28 | Pretoria won South African title
Pretoria Capitals won the South African Interclub Championship, considered the national championship, played in Cape Town. Capitals won the round robin preceding Cape town Storm and Johannesburg Wildcats. Forward Cameron Birrell was the top scorer with 11 goals and two assists
Review the South African Interclub on eurohockey.com!
29 Sep 2013, 12:14 | Unexpected loss for CSKA
CSKA Sofia unexpectedly lost 5-3 (1-0,1-1,3-2) the second game of Continental Cup First Round against host Partizan Beograd and have now to win against Tallinn Viiking Sport in last game of tournament to advance
28 Sep 2013, 18:52 | Viiking Sport keeps perfect record
Tallinn Viiking Sport keeps perfect record in Continental Cup First Round by beating 5-2 (2-1,3-1,0-0) and eliminating Spanish Bipolo Vitoria. Tonight CSKA Sofia and Partizan close the second day of competition
27 Sep 2013, 21:59 | Tallinn Viiking Sport crushed Partizan
Estonian champion Tallinn Viiking Sport successfully debut in Continental Cup first round crushing host Partizan Beograd 8-3 (4-1,0-1,4-1). Tomorrow Viiking will face spanish Bipolo Vitoria, while Partizan play against CSKA Sofia
27 Sep 2013, 18:20 | CSKA Sofia won Continental Cup opening game
CSKA Sofia earned first points in Continental Cup Group A playing in Beograd by winning 4-1 (2-1,2-0,0-0) Spanish champion Bipolo Vitoria. Tonight host Partizan Beograd will face Estonian Vikiing Tallinn
27 Sep 2013, 11:52 | No Patriot in MHL
MHL announces that Patriot Budapest will not take part in the Russian Youth Hockey League (MHL) in the season 2013-2014.
27 Sep 2013, 11:39 | Ovechkin leaves Washington
The captain of Washington Capitals Alexander Ovechkin will leave the location of the club and will miss an exhibition game because of participation in the ceremony of the lighting of the Olympic flame of the Winter Games in Sochi.
The ceremony will be held in Greece on September 29. Ovechkin becomes the first Russian Olympic torchbearer of the event.
27 Sep 2013, 11:33 | 2014 World Cup Hockey will be insured for 60 million euro?
The organizers of the World Cup in 2014 and the IIHF have been negotiating on the amount by which the World Cup will be insured. The International Ice Hockey Federation put the number at 60 million euro. However, the insurance contract is not signed yet, and Belarusians continue to negotiate with the IIHF.
In addition, it was reported that each of the participants in the World Cup will be insured for 50,000 euro.
27 Sep 2013, 09:36 | All fans who purchased tickets for the 2014 World Championship games will be able to stay in Belarus from 9 to 25 May
The organizers of the World Championship explained that there will be visa-free entry to Belarus for fans during the championship games.
"On the State Border Committee was agreed upon and developed a system. Fans can buy an e-ticket, print it or order an original ticket and get it in the mail. We also provide a border guards database, which will be carried out in accordance with the entry and exit from the country.
If a person buys a certificate for a package that includes a few games, nothing changes. Just been in the arena he will need to exchange it for a ticket, "- said General Director of JV" TiketPro "Cyril Sushchinskii at a meeting with journalists.
27 Sep 2013, 09:34 | At the time of the 2014 World Cup in Minsk hotels prices will not rise
The cost of living in Minsk hotels during the World Championship in 2014 will remain at the same level, and the prices will not rise.
Between hotels memorandum of that at the time of the World Cup accommodation prices do not increase.
27 Sep 2013, 09:31 | Doping tests at the 2014 World Cup will fly from Minsk to Moscow
Doping samples from participants of the 2014 World Cup, will be tested at Minsk and Moscow. The fact is that Belarus has not a certified laboratory, and for this reason all doping tests will be sent from Minsk to Moscow.
"We will take back the sample to Moscow, and this takes time. Transportation will be by air, "- said the chairman of FHRB Eugene Vorsin.
27 Sep 2013, 09:29 | Chizhovka-Arena will be completed Nov. 7, 2013
The second most important Ice Arena 2014 World Cup in hockey, "Chizhovka-Arena", will be completed Nov. 7 of this year.
Chizhovka-Arena is not put into operation, but all the work will be completed on time. Final date for completion - November 7, 2013, "- said at a press conference in Minsk, the head of the Belarus Ice Hockey Federation Yevgeny Vorsin.
According to him, the organization of the 2014 World Cup all goes according to plan.
26 Sep 2013, 11:03 | Unia Oswiecim fires coach
Unia Oswiecim fired Russian coach Evgeny Lebedev replacing him with Slovak Peter Mikula. Unia also terminated contract with two imports Sergei Khomko and Kirill Nikulin.
Mikula, 58, was champion of Extraliga with Zvolen last season
26 Sep 2013, 08:55 | Journalists will pay 50 to 75 euro for internet in Minsk during the World Championship
The organizers of the World Championship 2014 to be held in Minsk (Belarus) found the cost of Internet use by journalists. It will be 50-75 euro. Belarusians said they took into account the experience of Sweden and Finland, where the cost of Internet use was twice as high - 150 Euro, which led to complaints of journalists. The organizers of the 2014 World Cup have promised that for the price of half ready to provide the media the most comfortable conditions for work.
26 Sep 2013, 08:52 | Journalists of Russia was invited to the press tour in Belarus
In Minsk these days takes a three-day press tour place for Russian journalists familiar with the terms, regarding the 2014 World Cup Championship.
23 Sep 2013, 17:55 | Referees with microphones
The referees of SHL will wear microphones - so the audience can hear what they say.
"It will be introduced for a trial period and then evaluated", says the referee supervisor Peter Andersson to Aftonbladet.
19 Sep 2013, 22:50 | Georgia is back
Georgia will re-enter the IIHF Ice Hockey World Championship program and play in Division III.
19 Sep 2013, 22:49 | Girls go to Hungary
Hungary will host the 2014 IIHF Ice Hockey U18 Women's World Championship in Budapest.
18 Sep 2013, 22:37 | Starts season with three shutouts
Karlskrona HK of the Swedish second league, HockeyAllsvenskan, started the season with three shutouts. 6-0 against Asplöven, 4-0 against Rögle and tonight 4-0 at home to Södertälje.
The Danish national team goalie Patrick Galbraith guarded the net on all three occasions.
17 Sep 2013, 22:59 | Danish Cup quarter finals
Today the second games of the Danish Cup quarter finals were played and Herning, Frederikshavn, Odense and SønderjyskE advanced to the semis.
17 Sep 2013, 19:08 | Belarus insures World Championship in case of boycott
After the statement by European Parliament, Belarus Federation announced the World Championship to be held in May 2014, will be insured the case of boycott, transfer or withdrawal, according to a decree of the President of Belarus. Directorate for the championship this decree ordered to "conclude with an insurance company resident in the Republic of Belarus an insurance contract for possibly lost profits and in the event of cancellation or postponement or the boycott of the tournament due to force majeure both in their favor and in favor of the International Ice Hockey Federation
16 Sep 2013, 22:29 | Tim Thomas accepted try-out at Panthers
Florida Panthers announced on twitter account former Boston Bruins goalie Tim Thomas accepts a PTO contract and will practice with the team from Tuesday
15 Sep 2013, 14:23 | Champion Escor Bakh Vitoria won Supercopa
After the 9-1 victory in first leg final, it was just a proforma for Escor Bakh Vitoria to take home the Spanish Supercopa, the new opening season trophy raffling between League winner and Copa del Rey holder.
In front of its fans, Escor Bakh won against CH Jaca 6-2 (2-2,2-0,2-0)
1-0 Juan Brabo (David Balazs, Jakub Bauer) 0:46
1-1 Jose Antonio Biec (Desiderio Perez, Charles Strauss) 02:17
1-2 Jose Antonio Biec (Charles Strauss, Guillermo Betran)PP 08:10
2-2 Jakub Bauer (David Balazs, Miroslav Oravec)PP 09:23
3-2 Tommy Mannerma (Juan Muñoz, Michael Klepac)SH 29:18
4-2 David Balazs (Jakub Bauer, Alejandro Hernandez)PP 35:36
5-2 Juan Muñoz (Miroslav Oravec, Tommy Mannerma) 44:54
6-2 Miroslav Oravec (Jakub Bauer, David Balazs)PP 51:44
SOG: 44-25 PIM: 6x2 - 9x2+1x10(Ubieto) Att: 342
14 Sep 2013, 20:53 | Gullpucken to Haugen and Dalen
Gullpucken is the oldest and most prestigious individual award handed out in Norwegian hockey. It is awarded to the Norwegian player who through the season is the top performer in his/her club and the national team.
For the season 2012/2013 it is awarded to Lars Haugen and Andrea Dalen.
11 Sep 2013, 19:25 | Canada beat Russia twice
The Canadian and Russian women's national team played two games in Sochi. Canada won the first game 6-1 and the second 9-1.
10 Sep 2013, 09:28 | KHL All-Star Game will be held in Bratislava
KHL agreed to postpone the KHL Star Game in 2014 in Bratislava. The game will take place on January 11. Originally the Star Game was to be held in Prague on the "O2 Arena", accommodating 17,000 spectators.
"The problem is that the new owners of O2-Arena can not share the palace with others. So spend the All-Star game there - a huge risk.", - KHL vice-president Ilya Kochevrin commented.
10 Sep 2013, 09:26 | School in Yaroslavl was named in honor of Ivan Tkachenko
Secondary school number 9 in Yaroslavl was named after Ivan Tkachenko. A lot of pupils of Sports School "Locomotive" caters to this school. The ceremony was held September 7th.
Ten hockey players from this school were among victims of the Lokomotiv Yaroslavl tragedy 2 years ago. Nowadays a monument with their names are behind memory lane.
The parents of Ivan Tkachenko and the director of youth Lokomotiv Vladimir Samylin attended the ceremony marking the opening of the monument.
10 Sep 2013, 09:25 | Ak Bars has released a promotional video of the season 2013/14
Ak Bars produced club promo for the sixth KHL season.
http://www.youtube.com/watch?v=dgyy0ie98QU
08 Sep 2013, 17:02 | Kochevrin: the entry of Milan and Gdansk in KHL is unlikely
KHL Commerce and Communications Vice-President Ilya Kochevrin told to R-Sport the entry of Milan and Gdansk in KHL "is unlikely"
"To join the KHL, the desire is not enough. Look at Medvescak example: they invest money, found sponsors, build the team, and then convince everyone that it is necessary to come to the game. Here then is the result. We need "locomotives", as the president of Medveščak Damir Gojanović
It should be understood that the necessary minimum for entry into the KHL is difficult to perform. Plank is very high for any European club: they need budget, infrastructure and marketing" said Kochevrin.
08 Sep 2013, 00:30 | Champion Escor Bakh Vitoria trashed Jaca in Supercopa first leg
The first edition of Supercopa - the challenge between league champion and Copa del Rey winner - is on the way to Vitoria after the first leg: Escor Bakh hammered Jaca 9-1 and will now defend this advantage at home next Saturday
CH Jaca - Escor Bakh Vitoria 1-9 (0-1,0-5,1-3)
0-1 Txetxu Gavilanes (David Balazs, Jakub Bauer) 02:55
0-2 Miroslav Oravec (David Balazs) 20:52
0-3 Evan Mackintosh (Juan Muñoz) 28:10
0-4 Miroslav Oravec (Juan Brabo, David Balazs) 29:45
0-5 Juan Brabo (Jakub Bauer, Michael Klepac) 33:17
0-6 Adrian Sosa (Evan Mackintosh) 38:00
0-7 David Balazs (Vitaly Kulikov) 41:11
0-8 Tommy Mannerma (Eneko Lopez, Juha Saikko) 49:45
0-9 Juha Saikko (Eneko Lopez) 51:26
1-9 Charles Strauss (Pablo Pantoja) 53:50
PIM: 22-14 SOG: 26-48 Att: 750
08 Sep 2013, 00:13 | Briançon open French season winning Champions Trophy
Briançon won first seasonal trophy in France, winning 4-2 against Rouen at Rinkla Stadium in Brest and grabbing Champions Trophy, the prize awarded in the game opposing national champion and Coupe de France winner
Dragons Rouen - Briançon Diables Rouges 2-4 (0-1,2-1,0-2)
0-1 Florian Chakiachvili (Damien Raux) 07:02
1-1 Marc-Andre Thinel (Miroslav Guren)PP 24:54
1-2 Denny Kearney (Pierre-Antoine Devin, Marc-Andre Bernier)PP 25:59
2-2 Juraj Stefanka (Lauri Lahesalu, Jonathan Janil)PP 33:38
2-3 Florian Chakiachvili (Pierre-Antoine Devin)PP 53:59
2-4 Marc-Andre Bernier EN 59:14
PIM: 30-12 SOG: 31-29
06 Sep 2013, 16:25 | Dinamo Riga buys Arena Riga
Dinamo Riga home arena becomes property of the club.
The company Glesum Investments bought the complex from the
"AR Entertainment Limited" becoming 100% owner of the facility
The company "Glesum Investments" belongs to the owners of Dinamo, Juris Savickis and Igor Makarov.
05 Sep 2013, 17:40 | City saved HK Spisska Nova Ves
With the club on the verge of dismantling and the General Assembly having voted for the withdrawal of senior team, the City Council of Nova Ves decided to intervene supporting the team.
"There was a promise by the City to set up club finances, plus extra money to start the season. A-team has opted out of the first league, but the next few days we will see how is the situation of roster and under what conditions to play" said one of the founders of the club Ján Magdoško
05 Sep 2013, 16:11 | World Championship schedule
Today the schedule for the 2014 World Championship was released. Group A will play in the new Chizhovka Arena and Group B in the Minsk Arena.
Find the complete group stage schedule here.
04 Sep 2013, 18:24 | Olaf Kolzig named goaltender coach at Capitals
The Washington Capitals announced to have promoted former team's goalie Olaf Kolzig to head goaltender coach.
After retirement Kolzig worked as associate goaltender coach for Capitals
"Olie has a wealth of knowledge and experience and we believe with him spending the past two seasons as the associate goaltending coach he is ready to take the next step in his coaching career," said General Manager George McPhee.
02 Sep 2013, 17:26 | Nikolai Zherdev left LEV Praha
"Nikolai came to us with a request to terminate the contract, in Prague is separated from his family and wants to return to Russia. After a discussion with the President of the club and the coaching staff, we decided to please him" With this short declaration LEV Prague Sports Director Rashid Chabibulin announced the termination of the contract with Russian forward Nikolai Zherdev, one month after the sign of one-year contract with Czech club
01 Sep 2013, 20:48 | Yunost cup winner
Yunost Minsk won the Belarus Cup, now named Salei Cup, after beating Metallurg Zhlobin 6-0 in the final.
01 Sep 2013, 13:45 | Belfast Giants and Lugano retires numbers
HC Lugano retired yesterday the jersey #33 of Finnish defender Petteri Nummelin during a farewell match against Lukko Rauma. Nummelin left Lugano after 12 seasons to sign a two-years contract with Lukko (except 2006-2008 seasons with Minnesota Wild) after 2 championships won (2003, 2006), 423 games, 139 goals and 322 assists, a title of MVP of the NLA in 2003, when he was the best scorer of the league and four titles as defender with the highest amount of points in NLA (2003, 2004, 2005, 2006). "The retirement of a jersey is more important then a World title for a player" said Nummelin during the ceremony.
Also Belfast Giants retires yesterday the shirt #44 honouring its current GM Todd Kelman during home winning debut against Italian HC Bolzano. Kelman played eight seasons for the Giants with 419 caps, the all-time leader in games played as well as the leading scoring defenceman in the organisation's history with 73 goals and 141 assists. As GM Kelman won 4 titles for the Giants. "I'm happy to now call this wonderful city mine & my family's city. Belfast has been very good to me and I love the people here." said Kelman
31 Aug 2013, 16:27 | Aleksei Ponikarovsky received Russian citizenship
Ukranian SKA St. Petersburg forward Aleksei Ponikarovsky received Russian citizenship, announced SKA president Gennady Timchenko during the presentation ceremony of the team.
Ponikarovsky announced his intention to get a Russian passport immediately after the transition from New Jersey Devils to SKA.
29 Aug 2013, 14:51 | Medveščak - CSKA sold out
Less than 10 minutes was needed for Medveščak to sell all the tickets for their KHL opening match with CSKA! Ticket sale began August 28th at 14:00 CET and 10 minutes later all the tickets were gone. Moreover, the tickets were being sold for all of their first 4 KHL games and were all sold out in less than 60 minutes. Due to enormous interest for the 2nd best hockey league in the world, additional 150 season tickets were put on sale.
Medveščak vs. CSKA is scheduled for September 6th.
27 Aug 2013, 23:40 | Agreement between the KHL and Spengler Cup
The KHL and the direction of the Spengler Cup reached an agreement to avoid organizational problems in case of participation of a KHL team in the tournament.
The KHL Director of porting events Dmitri Kurbatov explained that the agreement was a framework containing no obligation for either party, but it was intended to avoid a KHL team to change its schedule to participate in the Swiss competition. There is therefore no question of any financial obligation.
Thus, negotiations involving KHL club to participate in the Spengler Cup should be done before the publication of KHL schedule, in the spring before the edition of the tournament in question. A window will then be freed for the team at the end of the calendar year.
"The collaboration between the Spengler Cup and the KHL is now back on track"said Kurbatov
27 Aug 2013, 12:03 | Changes in Tre Kronor
Johan Backlund, Daniel Rahimi and Oscar Möller won't play for Sweden in the upcoming Czech Hockey Games (EHT).
They are replaced with Linus Ullmark, Mario Kempe and Viktor Arvidsson.
26 Aug 2013, 23:26 | Chamonix big beat France U20 in Coupe de la Ligue opening
Chamonix thrashed 13-3 France U20 in the first game of Coupe de la Ligue, even without their best players, serving the national team. New Canadian Kévin Gadoury, signed from 2nd Division Courbevoie, was the star of the game scoring three goals and serving four assists.
coupe de la Ligue is organized in four preliminary groups based on geographic proximity. Chamonix and France U20 are in Group D along with Morzine- and Dijon.
Follow Coupe de la Ligue on eurohockey.com!
26 Aug 2013, 07:56 | MHL teams open JCWC in style
All three teams of MHL won their opening game of the Junior Club World Cup yesterday. HK Riga beat Dubuque Fighting Saints 5-2, Dinamo-Shinnik Bobruisk beat Sudbury Wolves 5-1 and Omsk Hawks got a 5-1 win over Vitkovice.
In the fourth game Finnish HPK beat Swedish Frölunda 4-3.
26 Aug 2013, 00:39 | France won again against Ukraine
Three goals advantage against France wasn't enough for Ukraine to achieve the first victory under new coach Andrei Nazarov. Also the second friendly in Donets'k ends with guests' victory at shoot-out as in the first match. Ukraine lead game 3-0 but a great comeback by France gives "blues" the victory.
Ukraine - France 3:4 (1:0, 2:2, 0:1, 0:1)
1-0 Blagoy (Toryanik) 07:13
2:0 Blagoy (Silnitsky)PP 20:28
3-0 P.Borisenko (Cherdak) 21:55
3:1 Claireaux (Serer) 25:49
3:2 Gutierrez 32:41
3:3 Dieude Fauvel (Janil)PP
3:4 Henderson SO
Ukraine: 1.Seliverstov. 5.Razin - 8.Silnitsky, 24.Blagoy - 27.Belukhin - 18.Toryanik, 7.Kugut - 14.Pobedonostsev, 21.Kasyanchuk - 12.Varlamov - 23.Kvitchenko, 26.Petrukhno - 15.Aleksyuk, 17. Morozov - 25.Shalimov - 9.Nimenko, 10.R.Borisenko - 22.Skripets, 13. P.Borisenko - 4.Zakharov - 11.Cherdak
France: 30.Fouquerel .5.Baazzi - 38.Roussel, 26.Serer - 25.Ritz - 12.Claireaux, 14.Dieude Fauvel - 55.Janil, 71.Guttig - 22.Henderson - 57.Albert, 91.Dusseau - 90.Moisand, 8. Gutierrez - 19.Lamperier - 11.Gaborit, 47.Chakiachvili - 17.Kara, 54.Terrier - 74.Thillet - 81.Rech
25 Aug 2013, 13:51 | France won Ukraine in a friendly match
The debut of new Ukraine coach Andrei Nazarov is not lucky: Ukraine lost 2-1 at shotouts against France in Donets'k
Today the rematch
Ukraine - France 1:2so (0:0, 1:0, 0:1, 0:0, 0:1)
1-0 Kvitchenko (Varlamov, Lyutkevich) - 29:55
1:1 Albert (Lamperier, Guttig) - 49:17
1:2 Lamperier SO
Ukraine: 1.Seliverstov. 5.Razin - 8.Silnitsky, 24.Blagoy - 27.Belukhin - 18.Toryanik, 7.Kugut - 26.Petrukhno, 21.Kasyanchuk - 12.Varlamov - 23.Kvitchenko, 14.Pobedonostsev - 15.Aleksyuk, 17. Morozov - 25.Shalimov - 9.Nimenko, 10.Borisenko R. - 28.Lyutkevich, 13.Borisenko P. - 4.Zakharov - 11.Cherdak.
France: 49.Hardy. 5.Baazzi - 38.Roussel, 26.Serer - 25.Ritz - 12.Claireaux, 14.Dieude Fauvel - 55.Janil, 71.Guttig - 22.Henderson - 57.Albert, 91.Dusseau - 90.Moisand, 8. Gutierrez - 19.Lamperier - 11.Gaborit, 47.Chakiachvili - 17.Kara, 54.Terrier - 74.Thillet - 81.Rech
25 Aug 2013, 13:31 | Vladimir Országh named Slovakia assistant coach
The Executive Committee of Slovakia Federation named Vladimir Országh as Vladimir Vujtka's second assistant coach in the national team besides Petr Oremus.
"I was very happy when Secretary Otto Sykora approached me and offered this charge in the national team. It's a great honor and also a great school. I am a young coach who still has a lot to learn" said Vladimir Országh
25 Aug 2013, 12:38 | Kristall Saratov arena admitted conditionally in VHL
Saratov Ice Palace could not host VHL matches if Kristall and Saratov city don't renovate it before the begin of VHL on September 9.
In last years locker room of the home team and the referee, have been upgraded, video cube was installed and lights were improved, but there are problems in facilities: safety glasses are dirty, as there is no proper ventilation system in the locker room. "Club has to replace the pits for the penalty box, the benches, regularize halls and foyer of the palace of sports, as well as to a number of other organizational and technical measures" said deputy managing director of the VHL Nikholai Karpovich during a visit in the Arena. The club's management has assured that it will fulfill all the tasks on time
24 Aug 2013, 15:16 | Glen Henlon named Belarus coaching staff
Belarus national team coach Glen Henlon named Eduard Zankovets and Oleg Mikulchik as assistant coaches.
Zankovets has served as head coach of the national team in the 2010-2011 season, as well as an assistant coach from 2005 to 2009. At World Championship in 2005, 2006 and 2009 Eduard Zankovets helped same Glen Hanlon.
From 2005 to 2007 Zankovets lead the Belarus U-20 team.
Oleg Mikulchik worked as assisstant coach and later in the 2010-2011 season as head coach of Belarus U20 before to spent two seasons in Ukraine at Donbas-2 winning twice the Ukranian title
24 Aug 2013, 09:56 | Vyacheslav Buravchikov suspend career due to heart problems
26-year-old CSKA Moscow defender Vyacheslav Buravchikov has to suspend his professional career due to heart problems. Buravchikov arrived at CSKA in 2010 from AK Bars Kazan. At the WJC U20 in 2007 he was the captain of the Russian team that won silver medals.
22 Aug 2013, 10:45 | Dizel Penza may be excluded from VHL
The decision to move the youth team Dizelist from the MHL-B to RHL (Russian 3rd League) may cost Dizel Penza the exclusion from next VHL season for failure to fulfill obligations to ensure the participation of a youth team in MHL. Firstly the club will be fined with 100,000 and then 200,000 rubles. If within 30 days after the application of penalties youth team does not participate in MHL, the senior team will be withdraw from VHL.
20 Aug 2013, 13:10 | Today starts National Cup in Kazakhstan and Belarus
National Cups start today in Kazakhstan and Belarus: follow the competitions on eurohockey.com !
19 Aug 2013, 18:41 | Spengler Cup participants officially announced
Genève-Servette, Rochester Americans, HC Vitkovice Steel, Team Canada, HC Davos and CSKA Moscow were officially announced as participants at the 87th Spengler Cup, held in Davos (SUI) from 26 to 31 December 2013.
18 Aug 2013, 18:21 | Sydney Ice Dogs and Newcastle North Stars advances to AIHL Finals.
After the 8-0 victories against Canberra Knights and 5-3 against champion Melbourne Ice respectively, the Sydney Ice Dogs and the Newcastle North Stars are the first teams to qualify for the 2013 AIHL Finals held in Melbourne September 7th-8th at the Medibank Icehouse. Follow Australian League stats and results on Eurohockey.com !
18 Aug 2013, 16:56 | Russian U16 victory
The Russian U16 team won Red Bull Ice Hockey Rookies Cup in Austria win straight wins against Slovakia (4-0), Austria U17 (9-3) and Czech Republic (8-2).
18 Aug 2013, 10:28 | Another Swedish defender retires
A few days ago Lars Jonsson announced his retirement due to injury now also Färjestad's Sanny Lindström has been forced to retire after a concussion he suffered in a European Trophy game against Jokerit on October 28.
17 Aug 2013, 10:18 | Ben Eaves retires
The American Jokerit center Ben Eaves is forced to retire. He suffers from a head injury.
Eaves was injured during last year's European Trophy after a hard check.
"I've reached the point where I can no longer play without migraines and dizziness", he tells Jokerit's web site.
17 Aug 2013, 10:05 | Four points by Figren
Robin Figren scored 2 goals and 2 assists when Frölunda beat HIFK 5-1 in one of Friday's three European Trophy games.
Adler Mannheim entered the competition with a 2-5 loss at home to ZSC Lions. Plzen beat Salzburg 3-2.
15 Aug 2013, 21:24 | Lars Jonsson retires
The Brynäs defender Lars Jonsson retires due to problems with arthritis.
"The goal was to come back, so of course I've been sad", he says to gd.se.
14 Aug 2013, 16:54 | Latvian League with 6 or 7 teams
Six teams confirmed their participation at the next Latvian League: HK Kurbads, Dinamo/Juniores (new name of HK Juniores) HK JLSS Zemgale, HS Riga/Prizma, HK Daugavpils and Ozolnieki/Monarch. HK Tukums' participation is still in doubt.

Last champion SMS Credit isn't in the starting grid after having waived the participation at next Continental Cup. Also Riga '97 and Liepaja Metalurgs won't play in next edition beginning September 7.
14 Aug 2013, 15:13 | Ladislav Lubina new coach at Nove Zamky
HK Nove Zamky announces the hiring of Czech Ladislav Lubina as new headcoach for the upcoming MOL Liga. Lubina was assistant coach at Pardubice in last seasons
13 Aug 2013, 23:59 | Three times Russia
The Russian women's team beat Czech Republic three times. Today's game was won 6-1 while they won 3-2 on Friday and 2-1 on Saturday.
13 Aug 2013, 10:57 | Metalurgs Liepaja won't play in 2013-14
Latvian Federation Sports Director Mārtiņš Pagodkins announces Liepaja Metalurgs will be inactive in next season, not competing in any category.
Last spring team's main sponsor, steel company Metalurgs, decided to cease the support for senior hockey team and to abandon Belarus Open League and MHL-B. However, the club at that time assured they were determined to grant a team in Latvian League. But plans for participation at the league did not materialize due to economic problems of Metalurgs
12 Aug 2013, 10:07 | Boork to coach Sweden in the Olympics
The Swedish Ice Hockey Federation announced today that Leif Boork will be assistant coach for the Swedish women's team in the Sochi Olympics. Head coach is Niclas Högberg.
11 Aug 2013, 10:14 | Thunder and Devils reach the NZIHL final
Both Dunedin Thunder and Canterbury Red Devils needed a win in the last round of the NZIHL to get past Botany Swarm to qualify for the finals. Thunder beat Admirals 10-2 and Red Devils got a 3-1 win over Stampede.
09 Aug 2013, 23:59 | Second day of European Trophy
On the second day of European Trophy EV Zug beat ZSC Lions 1-0. Rob Schremp scored the only goal.
Slovan Bratislava beat Vienna Capitals 6-2.
09 Aug 2013, 22:38 | Aleksandr Kulikov new coach at Bilyy Bars Bila Tserkva
Bilyy Bars Bila Tserkva announces Aleksandr Kulikov as new head coach. Kulikov - one of the most experienced Ukrainian coach, led Ukraine national team in past two years winning the gold medal in Group B and the promotion. He won twice the domestic league: in 2001 with Berkut Kyiv and in 2011 with Donetsk Donbass.
Next season Bilyy Bars will be Donbas Donets'k farm team
09 Aug 2013, 11:53 | Russia will play against Switzerland on the way to Sochi
Russian Federation announces one more friendly match as preparation to Sochi Olympics: in addition to a gameagainst Latvia, scheduled for February 8, Russia will play against Switzerland on February 9, four days before the Olympic debut against Slovenia on February 13.
08 Aug 2013, 17:01 | Ilves Tampere fined for inappropriate ads
Ilves Tampere has been fined 2,000€ and ordered to take down the ads they posted on facebook and at Helsinki City Centre aimed at Jokerit. The club posted their logo winking ontop of the Jokerit logo with the words Karulahti, Hallis, Loppu posted underneath it.
08 Aug 2013, 09:18 | Swedish juniors win again
The Swedish U20 team earned the third straight victory at the National Junior Evaluation Camp in Lake Placid. After wins against USA White and USA Blue the Swedes last night beat the combined American team 4-0.
Canada beat Finland 5-3.
08 Aug 2013, 00:51 | Anaheim Ducks sign affiliation with Utah Grizzlies
NHL's Anaheim Ducks announced today that the team has reached an affiliation agreement with the ECHL's Utah Grizzlies.
The Grizzlies will serve as the ECHL affiliate of the Ducks and will also work with their AHL affiliate the Norfolk Admirals.
In last four years Grizzlies were affiliated with Calgary Flames
07 Aug 2013, 12:11 | Phoenix Coyotes will be renamed Arizona
Phoenix Coyotes will be renamed "Arizona" from season 2014/15, according to the North American media. The team will keep the nickname "Coyotes" and will be based in Glendale for at least the next five years. For the upcoming season Phoenix will have with the same name.
06 Aug 2013, 16:50 | HK Kurbads will play in Latvian Virsliga
HK Kurbads from Riga will enter for the first time in next Latvian Virsliga.
"HK Kurbads is in the Latvian hockey business from more than 16 years. Now is the right time to take this step for the club and become one of the Latvian championship participants. Teams will be composed of several well-known and experienced hockey players, but the place will definitely be given to new players. Our goal in the first season will win the championship" said Manager Edgars Svencis
Team will be coached by former Juniors Riga coach Aigars Razgals
05 Aug 2013, 18:29 | Junior Evaluation Camp started
TheJunior Evaluation Camp in the Olympic Center of Lake Placid started last night with two games.
Sweden beat USA White 4-2 and then Finland beat USA White 6-5 in overtime.
03 Aug 2013, 23:01 | Preparing for Hlinka Memorial
Two U18 exhibition games were played today as preparation for the 2013 Ivan Hlinka Memorial that is played August 5-10.
USA beat Czech Republic 1-0 and Canada beat Slovakia 3-1.
01 Aug 2013, 12:05 | Bernard le Feuvre passed away
Rouen Hockey mourns one of its founder: Bernard le Feuvre passed away at 81.
At the end of 1967 when a removable ice rink was built by Jean-Jacques Calvé in the expo space of Ile Lacroix, Mr. Le Feuvre met Calvè suggesting to create an hockey club.
The idea was finalized in April 1970 when the Statute of Rouen Olympic Club was deposited.
31 Jul 2013, 22:32 | NY Islanders sign affiliation with Stockton Thunder
The New York Islanders and the Stockton Thunder of the ECHL and have reached a one year affiliation agreement for the 2013-14 season.
The Thunder previously had an NHL affiliation with the Edmonton Oilers (2006-13), San Jose Sharks (2010-12) and Phoenix Coyotes (2005-06).
30 Jul 2013, 16:52 | Alleghe out from Serie A
It's now official: through a press-release Alleghe announces that the team won't participate in next Elite A. The club tried to raise funds during the summer after the abandonment of the main sponsor, but was unable to produce financial guarantees. All the junior teams will continue to exist while the senior team will compete in Serie B. The other club in jeopardy, SHC Fassa, confirmed its participation.
29 Jul 2013, 15:46 | Epinal will play in Magnus Ligue
Épinal has been validated to play in Ligue Magnus under conditions of signing financial targets which includes them paying a fine.
28 Jul 2013, 11:44 | Texas Tornado sold and relocated
The North American Hockey League (NAHL) has announced that the Texas Tornado membership has been sold and relocated to North Richland Hills, Texas, and will become the Lone Star Brahmas.
27 Jul 2013, 11:04 | New assistant coach for Poland U20
Piotr Sarnik, who retired as active player after the last season, was named the new assistant coach of the Polish U20 team. He will work along with Marek Batkiewicz and head coach Andrei Parfyonov. Poland U20 will have its training camp in Opole from August 5 to 21 before partecipating in the Alexei Cherepanov Memorial in Elektrenai, Lithuania. During the camp, Poland will play four exhibition games.
27 Jul 2013, 00:02 | No Kazakhstan League for Shakhtar Prokopyevsk
Russian club Shakhtar Prokopyevsk has officially refused to take part in the Kazakhstan League. The club's management reported that it could not fulfill all the conditions of Regulation imposed by the Kazakhstan Federation.
26 Jul 2013, 23:59 | Aigars Cipruss new coach of Lithuania U20
Latvian Aigars Cipruss was named new head coach of Lithuania U20 national team. Cipruss is currently the head coach of MHL-B team Baltica Vilnius and will keep his job at club.
Lithuania will compete at 2014 IIHF U20 World Championship Division II Group A in Miskolc, Hungary from 15 to 21 December 2013 along with Croatia, Hungary, Romania, Netherlands and Estonia
25 Jul 2013, 22:36 | Kazzinc-Torpedo-2 renamed Torpedo
Also the last remaining farm team participating in Kazakhstan League was renamed as per Federation rule. Kazzinc-Torpedo-2 was renamed Torpedo Ust Kamenogorsk. Team logo and colours remain the same.

Previously Barys-2 became Nomad Astana and Sary-Arka 2 was renamed Berkut.
25 Jul 2013, 22:07 | Lada Arena will open August 9
The new 6500 places Lada Arena in Togliatti will open on August 9 on the occasion of the Day of the Athlete and the traditional hockey tournament Lada Cup. The Governor of the Samara region, Nikolai Merkushin and Russian Sports Minister Vitaly Mutko will attend the event
25 Jul 2013, 17:24 | U.S. Hockey Hall of Fame Inductees Announced
It was announced today, six new members will be inducted into the U.S. Hockey Hall of Fame:
Cindy Curley - A Pioneer of women's Hockey
Bill Guerin - An NHL Veteran
Peter Karmanos - A hockey and arena franchise owner
Ron Mason - A top ranked college coach
Doug Weight - An NHL Veteran
25 Jul 2013, 16:46 | Kevin Lalande wants to play for Belarus in the WC-2014
Goalkeeper Kevin Lalande hopes he has a chance to play for Belarus in World Championship-2014.
"Nobody talks to me about the possibility to play for Belarus" - he told during the interview for pressball.by. "Of course, I know that the next World Championship will be held in Minsk. And if I'm given a chance to participate in the tournament, it would be a pretty cool experience!"
Kevin Lalande plays for "Dynamo" Minsk in KHL and has Canadian and Belorussian nationality.
24 Jul 2013, 09:49 | Paul Heavey Named as U20's Assistant GB Coach
Former player and GB Senior men's  assistant coach has been named as the U20's Assistant coach for the upcoming international season.  Heavey will be working with Coach Pete Russell and fellow Assistant Tom Watkins.
Heavey had spells in Glasgow, Murrayfield, Solihull, Peterborough as a player and coached Ayr Scottish Eagles, Manchester Phoenix, Paisley Pirates and Sheffield Steelers.  1994-2000 he coached Cardiff Devils where he won coach of the year 1995-1996 and a Superleague Title in 1996-1997.
He was also assistant coach for the Men's Senior GB squad from 1996-1999.
24 Jul 2013, 01:05 | New coach at Energija Elektrenai
Lithuanian champion Energija Elektrenai announced 44-years-old Erikas Steponaitis as new head-coach.
Former Energija player, Steponaitis is a graduate of Lithuanian Academy of Physical Education at his first season as coach.
He will be assisted by player-coach Dovydas Kulevičius and former coach Sergejus Krumkač
Energija in the coming season will play in domestic league and in Belarus second division
23 Jul 2013, 11:33 | Toronto Maple Leafs add Solar Bears as affiliate
The Toronto Maple Leafs announced today that they have added the Orlando Solar Bears and Toronto Marlies (AHL) as ECHL affiliates. The Solar Bears will enter the 2013-14 season with dual affiliates. Toronto will join the Minnesota Wild and Iowa Wild in supplying prospects to the Solar Bears roster.
"We are pleased to have reached an agreement with the Solar Bears," said Leafs Vice President and Assistant General Manager Claude Loiselle. "As an organization, we are confident that our Toronto Maple Leafs prospects will accelerate their professional development in Orlando."
22 Jul 2013, 22:38 | Jagr to New Jersey?
Various sources say that Jaromir Jagr will soon be announced to have signed with the New Jersey Devils.
22 Jul 2013, 07:25 | Paul Burton named as GB Women's Coach
It was announced today that Paul Burton was named as coach of the Senior Women's team.  He is the current coach of the Bracknell Queen Bees, who have won the Women's Premier League for the past 2 years.
His assistants were named as Sam Phillips, Cheryl Smith and Michelle Smith.
21 Jul 2013, 14:36 | U20 games in Arosa
The Swiss and German U20 teams played three games in Arosa July 17-20. Germany won the first game 3-1. Switzerland the second 3-1. The last game was won 7-4 by the visiting Germans.
20 Jul 2013, 22:51 | Iserlohn Roosters with a new main sponsor
Iserlohn Roosters of Germany's top ice hockey league DEL introduced their new main sponsor. The well-known German brewery Krombacher signed a sponsoring contract with the club valid for the next six years until 30 June 2019. They follow the footsteps of Stadtwerke Iserlohn, last year's sponsor.
18 Jul 2013, 21:56 | Neilson and Russell as GB Assistant Coaches
It was announced today that Corey Neilson and Pete Russell have been named as Assistant Coaches for Team GB under previously announced Doug Christiansen.
Nelson is player/coach of the Nottingham Panthers, leading them to 3 playoff titles and 1 Elite league title since taking the helm in 2008.  Nelson has also played on Team GB in the 2011 and 2012 international campaigns.
Russell has extensive junior coaching with the u16, u18 and u20 squads and is currently the coach of the U20 squad.
17 Jul 2013, 08:42 | Neman hire Clement Jodoin as consultant coach
Former Hamilton Bulldogs coach Clément Jodoin will work as consultant coach for Neman Grodno.
It is expected that Jodoin will arrive at the location of the team next week. The exact task in the team and the lenght of contract is still unknown.
17 Jul 2013, 08:30 | Vasily Spiridonov left Metallurg Zhlobin
By mutual agreement Vasily Spiridonov terminated his contract with Metallurg Zhlobin while the club is experiencing a financial crisis. Spiridonov arrived at Metallurg in January 2010, leading the club to its most successful era, winning Belarus League bronze in 2011, gold in 2012 and silver in 2013, Cup of Belarus in 2011 and silver medal at Continental Cup Super Final. His assistant, 40-years-old Pavel Zubov, will be new Metallurg coach
16 Jul 2013, 12:11 | Swiss prospects popular with NHL teams
Switzerland is earning itself more and more the status of the 4th most important European market for NHL teams after Sweden, Finland and Russia due to great investments into youth hockey. First fruits were collected when Team Switzerland became vice champions at the 2013 World Championship. Now another prospect could make it to the NHL. 20 year old Sven Andrighetto - currently playing for QMJHL's Rouyn-Noranda Huskies - signed a three year entry level deal with the Montreal Canadiens who selected him in the 2013 NHL Entry Draft (3rd round - 86th position).   
16 Jul 2013, 12:01 | Geoffrion retires from hockey at age 25
A wave of serious head injuries in the hockey world in recent years led to many heated discussions how to prevent them but still players get injured on a regular basis. Now Blake Geoffrion of NHL's Montreal Canadiens was forced to retire with only 25 years from professional hockey as a consequence of a depressed skull fracture he received in a game for Canadiens affiliate Hamilton Bulldogs (AHL) last November.
13 Jul 2013, 16:28 | Pontebba to play in Kaertner Liga
Relegated last season from Serie A, Aquile Pontebba decided to play in Kaertner Liga, an Austrian Regional League.
Slovenian Miha Zbontar will be the head coach.
Another team from Italy, Dobbiaco Icebreakers, plays in the same league
13 Jul 2013, 10:20 | Dzieduszycki out with hand surgery
DEL's Grizzly Adams Wolfsburg announced that Matt Dzieduszycki, one of their key players, will miss the whole preparation for the next season due to a recent hand surgery. The injury that led to the surgery happened already during the playoffs in April but didn't heal as expected. The coaches expect the center who scored 31 goals 2012-13 back during the first matchdays of the DEL campaign.
11 Jul 2013, 18:34 | Lokomotiv creates a new team for MHL-B
Lokomotiv Yaroslavl announced it was created a new team to play in upcoming season in MHL-B. The team will be known as Loko-Junior and consist of students of hockey schools Lokomotiv and Lokomotiv 2004 born in 1996-97.
Head coach of new team will be Andrei Kapranov, last season worked as assistant coach at Loko (MHL).
09 Jul 2013, 12:30 | Freezers give Schubert contract extansion / Green signs with SERC
Christoph Schubert, former NHL player and currently the team captain of DEL's Hamburg Freezers, had still two years of his contract left but decided together with the club to extend his contract for two more years until 2017. The 31 year old German national team player has earned 62 points (11 goals, 51 assists) in 115 DEL matches for his team so far.
DEL newcomers SERC Wild Wings also had good news for their fans as they signed 32 year old international Morten Green who was captain of Team Denmark at the last three World Cups and played last year for Hannover Scorpions who sold their DEL license to Schwenningen - his new team.
07 Jul 2013, 20:12 | Jagr to Montreal?
Jaromir Jagr want to play in Montreal. His agent Petr Svoboda told journalists about negotiating with Canadiens.
"Jaromir always thinsk about Montreal and dream to play there. Now his dreams may come true" - he said.
06 Jul 2013, 00:14 | Alfredsson leaves Ottawa after 17 years
After playing with the Ottawa Senators since 1995 Daniel Alfredsson has decided to leave the club for a last chance to win the Stanley Cup. Instead he has signed a year deal with Detroit Red Wings.
05 Jul 2013, 23:52 | Good news for Bolzano
As both EBEL and HC Bolzano confirmed today via press releases, negotiations about a possible league change by the Italian side were long yesterday but in the end Bolzano made a huge step towards EBEL by finally accepting all the financial conditions by the Austrian-based multi-national league. Now the other 11 teams of the league will have to make a vote until Monday but everything looks like EBEL has 12 teams next year. We keep you updated with a long article after the decision.
04 Jul 2013, 23:32 | Floods in Halle (Saale) might lead to new arena
The floods in Eastern Germany and Bavaria in June caused high damages in the affected areas. One of the cities with the highest damages is Halle (Saale) whose ice arena was hit badly and has to be demolished and newly build. Costs around 20 mio euo are expected by the city who wants to use money of a relief fund by the government for the project. 3rd tier (Oberliga Ost) team MEC Halle 04 will play in a temporary ice rink during the next two years.
04 Jul 2013, 23:25 | Bolzano not in EBEL?
Italian team HC Bolzano wasn't able to deliver financial guarantees until the deadline this morning at 10.00 CET to join EBEL. Still the Austrian based league gave them another chance to give complete information until 16.00 CET of the same day. It is not yet known if Bolzano had success and there was no official confirmation about the outcome of the negotiations. Eurohockey.com keeps you updated.
03 Jul 2013, 15:16 | Coyotes escape relocation
NHL's Phoenix Coyotes stay in Glendale, Arizona, at least for the near future but have to change their name to Arizona Coyotes as a compromise with the city of Glendale. The Glendale City Council