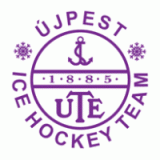 Ujpesti TE
Name in original language: Újpesti Torna Egylet
Year of foundation: 1930
Colours: purple, white
Club status: active (The Club was founded in 1885, while the ice hockey department was founded in 1930 and refounded in 1955)
Address: Megyeri út 13
1044 Budapest
Phone: +36 1 272-1272
Email: info@utehoki.hu, utehoki@utehoki.hu
WWW: Ujpesti TE
Did you find any incorrect or incomplete information? Please, let us know.
Season 2017-2018
Current roster
season 2017-2018
* no longer in the club
Adress: Megyeri úti jégcsarnok
Megyeri út 13
1044 Budapest
Phone: +36 1 369-7333
Capacity: 2200
Opened in: 2004
from 1950 to 1957: Budapesti Dózsa SE
from 1957 to 1991: Újpesti Dózsa SC
from 1991 to present: Ujpesti TE
from 1899 to present: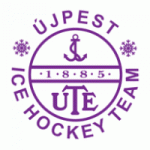 DVTK Jegesmedvék Miskolc win Hungarian Cup
Erste Liga champion DVTK Jegesmedvék Miskolc win its second Hungarian Cup, after two consecutive finals lost, by beating 4-0 Ujpest Budapest in the final, played at home rink. DVTK played its sixth final in the last seven editions of the tournament. In the semifinals, DVTK beat easily 5-1 Ferencvarosi, while Ujpest surprisingly won 5-4 at overtime against MAC Budapest, ewinner of last edition
(20 Jan 2018)
MOL Liga Monday Night Recap - Miskolc Locks in 2nd Seed
All three teams with something to play for won tonight in MOL Liga action.  In the first game, ASC Corona Brasov shutout Ujpest TE 6-0.  Josh Bonar continued his strong season with a goal and three assists.  Levente Zsok added two goals and an assist, and Kevin Wehrs also scored one goal and added two assists.  Brasov remains three points out of a playoff spot with three games to play.
Miskolc Jegesmedvek easily handled Ferencvaros 7-2 and locked up the second seed for the playoffs.  This guaranttes them home-ice advantage in the first round.  Vladimir Dubek and Szabolcs Fodor each had two goals, and Martin Saluga added to his league leading scoring total with three assists.
Nove Zamky won a lopsided 6-1 victory over Dunaujvaros Acelbikak, one of the few in DAB Docler's amazing run his season.  Lubos Dobry had a goal and three assists on the evening and Miroslav Stefanka added two assists.  Nove Zamky holds the final spot of the playoffs by three points and is only two points away from moving into the third seed over HSC Csikszereda.
HSC Csikszereda did not play tonight, but lost the most ground with Nove Zamky and Brasov both winning.  On Friday, the two Romanian sides will play what is a must win game for both teams as Csikszereda, Brasov and Nove Zamky are all looking to clinch the final two playoff spots with three games left to play.
(18 Feb 2013)
Historic rosters:
Historic statistics:
Past results:
League standings:
Fast facts
season 2017-2018
Cardiff Devils won by one-goal-difference against home side Grenoble and advances to the Continental Cup Superfinals along with Nomad Astana Read more»
Kazakh champion closes the Continental Cup semifinals round with a perfect record, by beating HK Zemgale in the last game Read more»