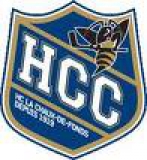 HC La Chaux-de-Fonds
Short name: Chaux-de-Fonds
Year of foundation: 1919
Colours: white,blue,yellow
Club status: active
Address: Rue des Mélèzes 2-4
CP 2251
2302 La Chaux-de-Fonds
Phone: +41 032 913 21 24
Fax: +41 032 913 21 28
Email: office@hccnet.ch
WWW: HC La Chaux-de-Fonds
Did you find any incorrect or incomplete information? Please, let us know.
Season 2022-2023
Current roster
season 2022-2023
* no longer in the club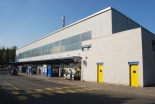 Adress: Patinoire des Mélèzes
Rue des Mélèzes 2-4
CH-2300 La Chaux-de-Fonds
Phone: +41 032 967 62 98
Capacity: 7200
Opened in: 1953
Retired numbers
10 - Michel Turler
2 - René Huguenin
17 - Gaston Pelletier
14 - Guy Dubois
Notable players:
NLB Championships: 1955, 1965, 1996, 2000
League winners:
from 1919 to 2010: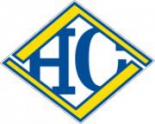 from 2010 to present: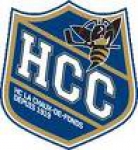 Five clubs interested in promotion in NLB
Five clubs of NLB have submitted the application to play in the NLA in case of on promotion this season: HC La Chaux-de-Fonds, HC Visp SC Langnau Tigers, HC Olten and SC Langenthal Olten.
These clubs will play the promotion/relegation series against last club of NLA as winner of NLB
(19 Nov 2014)
Chaux-de-Fonds changes coach
Canadian Kevin Primeau was fired from his charge of headcoach at Chaux-de-Fonds. Assistant Bernard Bauer and Alex Reinhard, last season at Langnau Tigers, were named as new headcoaches
(27 Jan 2014)
New coaches at Martigny and La Chaux-de-Fonds
Two NLB teams announces new coach for next season: Red Ice Martigny added a new Russian staff member besides former coach and now Sports Director Albert Malgin and Assistant Coach Igor Fedulov: new head coach is 53 years-old Petr Malkov, until January coach of Kuban Krasnodar in VHL.
La Chaux-de-Fonds hires Canadian Kevin Primeau as new Headcoach. He was fired in last October from Sapa Fehervar of EBEL
(15 Apr 2013)
NLB All-Star team
The first NLB All-Star Team was elected this week.
The players were initially selected by an online vote, then the Sports Directors, the head coaches, the captain and a media determined by the club could choose their favorite players except players from their own club.
The winners in the five categories are:
Best goalkeeper: Marc Eichmann, SC Langenthal
Best Defender: Sami El Assaoui, HC La Chaux-de-Fonds
Best Forward: Marco Truttmann, HC Olten
Best coach: January Tlacil, HC Ajoie
MVP: James Desmarais, HC Ajoie
(12 Feb 2013)
Five teams interested in NLA promotion
At the 31 january deadline, five Swiss NLB clubs expressed interest to enter in NLA if playoffs champion: HCC La Chaux-de-Fonds, SC Langenthal,  Lausanne HC, EHC Olten and EHC Visp
(16 Feb 2012)
Historic rosters:
Historic statistics:
Past results:
League standings:
Fast facts
season 2022-2023
Cardiff Devils won by one-goal-difference against home side Grenoble and advances to the Continental Cup Superfinals along with Nomad Astana Read more»
Kazakh champion closes the Continental Cup semifinals round with a perfect record, by beating HK Zemgale in the last game Read more»