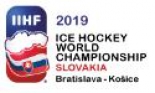 World Championship
League status: Active
Administered by: IIHF
Head manager: Rene Fasel
Year of start: 1930
Did you find any incorrect or incomplete information? Please, let us know.
GROUP: Group A - Steel Arena
GROUP: Group B - Ondrej Nepela Arena
#
Club
G
W
W-OT
L-OT
L
Score
P
1
Russia
7
7
0
0
0
36:7
21
2
Czech Republic
7
6
0
0
1
39:14
18
3
Sweden
7
5
0
0
2
41:21
15
4
Switzerland
7
4
0
0
3
27:14
12
5
Latvia
7
3
0
0
4
21:20
9
6
Norway
7
2
0
0
5
19:33
6
7
Italy
7
0
1
0
6
5:48
2
8
Austria
7
0
0
1
6
9:40
1

France and Austria are relegated to the 2020 IIHF Ice Hockey World Championship Division I Group A

Quarter Finals
Canada - Switzerland 3-2 OT
Russia - USA 4-3
Finland - Sweden 5-4 OT
Czech Republic - Germany 5-1

Semi Finals
Russia - Finland
Canada - Czech Republic

Bronze Medal Game

Final
Last updated: 21 May 2019, 22:32
From 2012 a new championship format is introduced and 16 teams will play in two preliminary round groups with eight teams in each. The top four teams in each preliminary round group will advance to the quarterfinals.
The teams that finish last in each group will be relegated to Division I. Teams placed 5-8 will have no more games.
Slovakia, USA and Canada wins pre-WHC games
With the World Championship three days away three tournament preparing games was played today. The World Championship host Slovakia beat Norway 3-2 in overtime. USA beat Germany 5-2 and Canada beat Austria 7-5 (7-6 after overtime).
(07 May 2019)
Belarus changes Head Coach
After three losses in the opening of the World Championship Belarus changes coach. Sergei Pushkov replaces Dave Lewis.
(08 May 2018)
World Championship schedule
The 2018 World Championship schedule is now available here. The tournament is played in Denmark May 4-20.
(13 Aug 2017)
Miroslav Šatan named new GM of Slovakia
Miroslav Šatan is the new GM of Slovakia national team. The former hockey player signed a one-year contract with an option for the next one.
"I am glad that Miro has agreed with our offer. We believe that this is the best opportunity for Slovak hockey" said President Martin Kohút.
(29 Jun 2017)
Sweden will play in Belarus
Belarus and Sweden will play two friendly games in preparation for World Championship 2017. Both games will be held in Grodno, at the Ice Sports Palace, on on Friday and Saturday, 21 and 22 April 2017
(17 Jan 2017)
Gennady Tsygurov passed away
Former Russian coach Gennady Tsygurov passed away at 75. Known for winning titles of second division - with Torpedo Nizhny Novgorod in 2003, MVD in 2005 and Traktor Chelyabinsk in 2006 - Tsygurov coached Traktor, Avangard Omsk, Kazan and Lada during the career. In 1995-1996 and from 1998 to 2000 was assistant coach of Russia National Team. In 1999 he lead Russia U20 to the victory in WJC defeating Canada 3-2 at overtime in Winnipeg, in front of 13.000 spectators. He was also assistant coach of Kazakhstan in 3 World Championships and at Olympics in Turin 2006
(15 Dec 2016)
Swedish NHL players join the WC team
Forward Andre Burakovsky and defenseman Mattias Ekholm joins the Swedish World Championship squad. Nicklas Bäckström, Johnny  Oduya and Filip Forsberg says no to participating.
Defender John Klingberg might join the team later is the doctors let him.
(13 May 2016)
Ovechkin joins Team Russia
The Russian national team announced today that Alexander Ovechkin of Washington Capitals will join the team for the rest of the 2016 IIHF Ice Hockey World Championship.
So will his teammates defenceman Dmitry Orlov and forward Evgeny Kuznetsov.
(11 May 2016)
World Championship preparation
The World Championship in Russia starts in three days. Four pre-tournament games were played today. Canada beat Czech Republic 3-0 and Kazakhstan beat France 6-3. Finland-USA (3-2) and Switzerland - Germany (4-3) were both decided in overtime.
(03 May 2016)
Leonids Beresnevs named new Latvian national team coach
Experienced coach Leonids Beresnevs was named new headcoach of Latvian national team during a board meeting of the Latvian Federation. Beresņevs, 57, coached Latvia several times in the past, both senior and junior level. After two seasons at Arlan Kokshetau in Kazakhstan, Beresņevs was back at Latvia to coach HS Riga.
"The contract with mr Beresņevs was signed until the end of the World Championship in Russia. If the coach will fulfill the goals, then the contract will be extended until the end of season, including the Olympic qualifications in September. If Latvia will earn a ticket to Korea 2018, the contract will automatically be extended for two years" said Federation President Kirovs Lipmans.
(10 Feb 2016)
Past league results:
League standings:
Historic statistic:
Individuals records:
Fast facts
season 2018-2019
Youngest player: Jack Hughes (18 years)
Oldest player: Ladislav Nagy (40 years)
Shortest player: Kristaps Zīle (167 cm)
Tallest player: Marko Anttila (203 cm)
Nationalities: Austria (25), Canada (30), Czech Republic (25), Denmark (25), Finland (25), France (25), Great Britain (20), Germany (25), Italy (25), Latvia (25), Norway (25), Russia (25), Switzerland (25), Slovakia (25), Sweden (25), USA (25)
Season average attendance: 7358
All the awards for the season were assigned during the General Assembly of the Federation Read more»
Hockey is one of the most popular sports and a great source of income for players and advertisers. The sport has found its way to the gambling world in different ways. Fans can place bets while watching a live match or ... Read more»