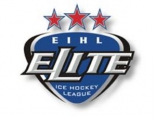 EIHL
League status: Active
Administered by: Elite Ice Hockey League
Head manager: Andy French
Year of start: 2003
Did you find any incorrect or incomplete information? Please, let us know.
Last updated: 03 Aug 2015, 19:10
The league champion is determined based on regular season. Top eight teams advance to play-offs, fighting for a separate play-off trophy.
from 2003 to present: EIHL
Short EIHL summary
The Elite League in the UK has been running for two weeks now but a mixture of regular league games and Challenge Cup games does not give a very clear indication of early pacesetters. However, making the early running in the EIHL are Belfast Giants even though they have only played once. The picture with the Challenge Cup is much clearer. In one conference Braehead are out in front with a 100% record whilst in the Erhardt conference Sheffield Steelers last evening trounced leaders Cardiff Devils to take second place.
(14 Sep 2015)
New Manchester Storm replaces Stingrays
- eliteleague.co.uk release
Ice hockey's Manchester Storm are back and when the puck drops in September, they will be playing in the top flight of British ice hockey - the Elite Ice Hockey League.
The Storm will be owned and operated by The Ice Rink Company Ltd, spearheaded by Mark Johnson, and will play out of Silverblades Ice Rink Altrincham.
The rebirth of the Storm keeps the EIHL at 10 strong teams for the upcoming campaign, as Manchester effectively replace Hull Stingrays in all competitions.
The Elite Ice Hockey League approached the new bosses of the Storm a week ago when it emerged that new circumstances meant that the participation of the Hull Stingrays in season 2015-16 was in jeopardy.
Earlier today it was confirmed that Hull would not be taking part in the upcoming campaign.
Manchester Storm were represented at an EIHL board meeting today and were unanimously welcomed into the league.
Mark Johnson, director of the Storm, said: "These are exciting times for ice hockey in the Manchester area and when we were approached by the EIHL to join the league, we pulled out all the stops to make it happen.
(27 Jun 2015)
Coventry wins EIHL playoffs
Coventry Blaze beat Sheffield Steelers 4-2 in the final to win the EIHL playoffs. Belfast Giants beat Hull Stingrays for the third place. Sheffield Steelers are EIHL champions as they won the regular season.
(05 Apr 2015)
Riley Emmerson received 10-games ban
The Elite League's Department of Player Safety has handed Edinburgh Capitals Riley Emmerson a 10-match ban and fined the club £1,000 because of the injury sustained by Belfast Giants Kevin Phillips as a result of a Emmerson boarding check during the Capitals home game on Sunday 7th September 2014.
Edinburgh have been fined £1,000 for failure to supply the matchnight footage required
(13 Sep 2014)
Coventry Blaze fired coach Söderström
Coventry Blaze announced Mathias Söderström has been replaced as head coach by Sheffield Steelers assistant coach Marc LeFebvre. Sodestrom was appointed head coach during the summer after spending a couple of season as assistant.
Blaze chairman Andy Buxton said: "Marc is coming in as head coach until the end of the season. We wanted someone who knows the Elite League, knows the way the club works, knows the opposition teams and knows our players - someone who can hit the ground running. It's not easy to make a coaching change mid-season but Marc is a very bright young coach who has already shown he knows how to run a professional team and knows how to win. He now has a chance to show us what he can do."
(11 Feb 2014)
Belfast Giants and Lugano retires numbers
HC Lugano retired yesterday the jersey #33 of Finnish defender Petteri Nummelin during a farewell match against Lukko Rauma. Nummelin left Lugano after 12 seasons to sign a two-years contract with Lukko (except 2006-2008 seasons with Minnesota Wild) after 2 championships won (2003, 2006), 423 games, 139 goals and 322 assists, a title of MVP of the NLA in 2003, when he was the best scorer of the league and four titles as defender with the highest amount of points in NLA (2003, 2004, 2005, 2006). "The retirement of a jersey is more important then a World title for a player" said Nummelin during the ceremony.
Also Belfast Giants retires yesterday the shirt #44 honouring its current GM Todd Kelman during home winning debut against Italian HC Bolzano. Kelman played eight seasons for the Giants with 419 caps, the all-time leader in games played as well as the leading scoring defenceman in the organisation's history with 73 goals and 141 assists. As GM Kelman won 4 titles for the Giants. "I'm happy to now call this wonderful city mine & my family's city. Belfast has been very good to me and I love the people here." said Kelman
(01 Sep 2013)
Ryan Finnerty to coach Braehead Clan
Canadian Ryan Finnerty is the new coach of Braehead Clan. The former Sheffield Steelers coach signed a two-years contract.
"Glasgow is a blue collared hard working city and we want a team that will emulate that on the ice. We will have a good mixture of skill and toughness." said Finnerty
(25 Apr 2013)
Paul Gardner on Clan bench
Braehead Clan announces Canadian Paul Gardner as new head coach. He replaced resigned Jordan Krestanovich. Gardner, 56, was assistant coach at the Nashville Predators, as well as being head coach in the AHL, CHL, Hamburg Freezers in the DEL and Lokomotiv Yaroslavl in KHL.
(16 Jan 2013)
Brad Leeb receives 3-games suspension for punch
Coventry Blaze forward Brad Leeb has received a three-match ban for his sucker punch during his side's challenge match at Sheffield Steelers on Saturday 1st September 2012.
Leeb will miss three matches, one of which has already been served, against Sheffield Steelers, Cardiff Devils
and Dundee Stars
(04 Sep 2012)
Rapid Solicitors and EIHL continue partnership
In a press release the top professional ice hockey league in the United Kingdom, the EIHL, announced that the law firm Rapid Solicitors will continue also in the 2012-13 season as league sponsor. The official name of the league therefore stays "Rapid Solicitors Elite Ice Hockey League". Martin Ward, the commercial manager of Rapid Soliciors, told eliteleague.co.uk: "Ice hockey fans will know Rapid from watching the games around the UK and on Sky. We hope they'll support us in return. We need that to continue our investment."
(16 Aug 2012)
Past league results:
League standings:
Historic statistic:
Individuals records:
Fast facts
season 2007-2008
All the DEL action from yesterday's games. Read more»
All 10 clubs were in action on Saturday night and all five matches went down to the wire. Read more»