This profile is sponsored by: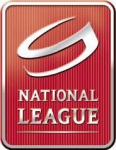 NLA
League status: Active
English name: Swiss National League A
Administered by: Schweizerische Eishockey Nationalliga GmbH
Year of start: 1938
Did you find any incorrect or incomplete information? Please, let us know.
Last updated: 12 Mar 2014, 23:35
Lugano hire Serie A head coach as new assistant
Pat Curcio, until yesterday head coach of Italian top league club HC Valpellice, has accepted an offer of struggling Swiss NLA member HC Lugano. Lugano, after a tough start into the season, repositioned their coaching staff, signing Doug Shedden as the new boss on the bench. Curcio will help Shedden in his new role as the team's assistant coach.
(01 Nov 2015)
Swiss goalie injured
The 22-year-old keeper of Kloten Flyers, Luca Boltshauser, was injured on Friday during the preseason game against Schwenninger Wild Wings. His shoulder needs surgery. He will be out of play for 4 to 5 months.
(24 Aug 2015)
Klotens Luca Boltshauser out 4-5 months
According to the Kloten Flyers, newly acquired goalie, Luca Boltshauser, injured his shoulder and will be out after surgery for 4-5 months. He injured himself in a friendly game at home against the Schwenninger Wild Wings.
(24 Aug 2015)
Marcel Jenni won't play for the Kloten Flyers this season
Both Jenni, who turned 41 years old this year as well as the Flyers Management decided not to extend his contract for the coming season. Jenni who had been a member of the Flyers since the 2005-2006 season had previously won championship titles with HC Lugano of the Swiss National League A as well as Färjestads BK of the Swedish Hockey League. It remains unkown if he will continue his career elswewhere. In 658 NLA games he produced 461 points, in 224 SHL games 126 points. The Kloten Flyers will bid Jenni good bye at a home game this coming October.
(10 Aug 2015)
Swiss former player Duri Camichel died in a car accident
Former EV Zug captain Duri Camichel, 33, died in a car accident while travellling in South America, along with fitness coach Harry Andereggen. Retired in 2014 after 15 season and 693 games in NLA, almost with EV Zug, Camichel played also at World Championship 2007 with Switzerland.
"We are very sad and shocked. On behalf of Swiss Ice Hockey I extend my condolences to the families" said in a brief note Swiss Ice Hockey CEO Florian Kohler
(30 Apr 2015)
Jim Vandermeer suspended 6 games
The disciplinary committee of Swiss Ice Hockey Federation ruled a six-game suspension for Kloten Flyers defender Jim Vandermeer for the charge against the head of Mathieu Tschantré during the match of December 22, 2014 between HC Biel and Kloten. In addition, a fine of CHF 1,500 was imposed on the Canadian defender.
(03 Jan 2015)
Sean Simpson takes over as new coach of Kloten Flyers
As communicated in a press release by the Flyers organisation, Felix Hollenstein and assistant Kimmo Rintanen (Fin) have been releaved of their positions and replaced by Sean Simpson and his long time assistant Colin Muller. Both signed long year contracts. In addition, Simpson will take over the position of the Team Manager while André Rötheli who had the position will move to the Elite A Junior Team as Head Coach after Marco Bayer ends his stint at the end of the season. The mediocre results from the start of the season have haunted the coaching duo since and speculations had been ongoing in the last few weeks.
(19 Dec 2014)
Fredrik Pettersson and Linus Klasen declined national team call
Fredrik Pettersson and Linus Klasen won't partecipate at Channel One Cup in Sochi with Sweden from 18 to 21 December, despite the call from coach Pär Mårts. Their club HC Lugano asked players to remain in Switzerland to focus on 22-23 December NLA round.
"I'm sad about this situation but I will not force the hand, it is their right to refuse the call" said Mårts at TT Nyhetsbyrån
(15 Dec 2014)
Five clubs interested in promotion in NLB
Five clubs of NLB have submitted the application to play in the NLA in case of on promotion this season: HC La Chaux-de-Fonds, HC Visp SC Langnau Tigers, HC Olten and SC Langenthal Olten.
These clubs will play the promotion/relegation series against last club of NLA as winner of NLB
(19 Nov 2014)
NHL-approved Referee for Swiss NLA
According to tagesanzeiger.ch, swedish Head Referee Marcus Vinnerberg has signed a multi-year contract in the Swiss NLA. He will join a Team of 5 Pro-Referees and is widely looked as a great addition. In 2010 Vinnerberg transferred from the Swedish Elite League to the NHL and AHL where he refereed for two seasons as the first european Referee to do so. In the past, Vinnerberg has been voted best Referee in Sweden by the Players and has officiated World Championship Finals.
(02 Jul 2014)
Past league results:
League standings:
Historic statistic:
Individuals records:
Fast facts
season 2012-2013
Youngest player: Ludovic Waeber (17 years)
Oldest player: Paul Di Pietro (43 years)
Shortest player: Lino Martschini (167 cm)
Tallest player: Philipp Wetzel (198 cm)
Nationalities: Austria (3), Belarus (1), Canada (52), Czech Republic (12), Denmark (1), Finland (7), France (5), Italy (1), Latvia (3), Russia (1), Switzerland (317), Slovakia (2), Sweden (5), USA (15)
Highest win: Kloten Flyers - Rapperswil-Jona Lakers 12-0
Season average attendance: 6621
The Continental Cup Second Round, played in the weekend, ended without surprises Read more»
Saturday's game day in Liiga saw a couple of unexpected results. Teams with hot streaks were slowed down, while others could gain some long awaited momentum. Read more»