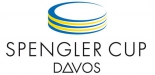 Spengler Cup
League status: Active
Year of start: 1923
Did you find any incorrect or incomplete information? Please, let us know.
GROUP: Group Torriani
GROUP: Group Cattini
#
Club
G
W
W-OT
L-OT
L
Score
P
1
Team Canada
2
1
0
1
0
6:2
4
2
HC Davos
2
1
0
0
1
6:7
3
3
Adler Mannheim
2
0
1
0
1
4:7
2

Quarter-finals
HC Fribourg-Gottéron - Adler Mannheim 5-2
HC Davos - Salavat Yulayev Ufa 7-5

Semi-finals
Team Canada - HC Fribourg-Gottéron 5-1
HC Vitkovice Steel - HC Davos 4-5

Final
Team Canada - HC Davos 7-2

Top scorer
Patrick Kane (HC Davos) 4+1
Last updated: 28 Dec 2012, 23:56
Spengler Cup is an annual tournament held in Davos, Switzerland. It is played between Christmas and New Year's Day and was first held in 1923.
Adler Mannheim third team to participate at Spengler Cup
According to the Spengler Cup media announcement, the Adler Mannheim of the German DEL will be the third team (HC Davos and Team Canada are the other two) to participate at this years Spengler Cup edition. It will be the 8th time the Germans participate at the New Years tournament. In 2012 they reached the final after beating an NHL-packed team Canada 5-2 but fell short to Swiss Hockey Club Fribourg-Gottéron in the final. Mannheim feel honoured to represent the DEL in the highly regarded Club tournament. Further participants will be announced.
(11 May 2015)
Marco Maurer plays Spengler Cup with Jokerit
HC Lugano announced defender Marco Maurer will play Spengler Cup on loan to Jokerit Helsinki. Maurer played Spengler also in 2012 edition with Adler Mannheim (on loan from Rapperswil, his club at that time)
(23 Dec 2014)
Schedule for Spengler Cup 2014 unveiled
The 88th edition of the Spengler Cup will open with the Genève Servette agains the KHL Team Salavat Yulaef Ufa. The evening game will show case two fan favourites: HC Davos will face Team Canada. Here are the two groups and all the games:
Group Torriani: Genève Servette, Salavat Yulaef Ufa, Jokerit Helsinki
Group Cattini: HC Davos, Team Canada, Medvescak Zagreb
Friday, 26.12.2014:
G 1: Genéve Servette-Salavat Yulaef Ufa / G 2: HC Davos-Team Canada
Saturday, 27.12.2014:
G 3: Jokerit Helsinki-Looser Game 1 / G 4: Medvescak Zagreb- Looser Game 2
Sunday, 28.12.2014:
G 5: Winner Game 1-Jokerit Helsinki / G 6: Winner Game 2-Medvescak Zagreb
Monday, 29.12.2014:
G 7: 2. Group Torriani-3. Group Cattini / G 8: 2. Group Cattini-3. Group Torriani
Tuesday, 30.12.2014:
G 9: 1. Group Cattini-Winner Game 7 / G 10: 1. Group Torriani-Winner Game 8
Wednesday, 31.12.2014:
G 11: Winner Game 9-Winner Game 10
(22 Sep 2014)
Spengler Cup participants unveiled
Cup holder Genève-Servette, Team Canada, Salavat Yulaev Ufa, Jokerit Helsinki, Medvescak Zagreb and Davos are the teams that will compete in next Spengler Cup, as announced by tournament organization. Croatia will debut in Spengler Cup, while Jokerit Helsinki will return in Switzerland after 11 years.
(08 May 2014)
Sergei Fedorov back on ice for Spengler
Sergei Fedorov will play in the Spengler Cup with CSKA Moscow at age 44. The former player, and current GM of CSKA, began to train some weeks ago and will play in the annual tournament. Fedorov retired in 2012 after 1248 NHL games.
(25 Dec 2013)
Servette and Vitkovice add players for Spengler
Geneve Servette announces the addition of goalie Robert Mayer (Hamilton Bulldogs), Finnish defenceman Markus Nordlund and forward Inti Pestoni - both from Ambrì-Piotta - for the upcoming Spengler Cup. Also, Czech club Vitkovice will have a Swiss player for the tournament, Kloten Flyers' defenceman Gian-Andrea Randegger.
(20 Dec 2013)
Davos add players for Spengler
HC Davos has received three players, all from Rapperswil Lakers, for the Spengler Cup: Swedish forwards Nicklas Danielsson and Niklas Persson and Slovak Peter Sejna.
(18 Dec 2013)
Agreement between the KHL and Spengler Cup
The KHL and the direction of the Spengler Cup reached an agreement to avoid organizational problems in case of participation of a KHL team in the tournament.
The KHL Director of porting events Dmitri Kurbatov explained that the agreement was a framework containing no obligation for either party, but it was intended to avoid a KHL team to change its schedule to participate in the Swiss competition. There is therefore no question of any financial obligation.
Thus, negotiations involving KHL club to participate in the Spengler Cup should be done before the publication of KHL schedule, in the spring before the edition of the tournament in question. A window will then be freed for the team at the end of the calendar year.
"The collaboration between the Spengler Cup and the KHL is now back on track"said Kurbatov
(27 Aug 2013)
Spengler Cup participants officially announced
Genève-Servette, Rochester Americans, HC Vitkovice Steel, Team Canada, HC Davos and CSKA Moscow were officially announced as participants at the 87th Spengler Cup, held in Davos (SUI) from 26 to 31 December 2013.
(19 Aug 2013)
Barys Astana won't be at Spengler Cup
Is now official: Barys Astana won't participate in next Spengler Cup as previously reported. Barys press service informs that, due to the Olympic season, the KHL is not able to provide a "window" on the calendar for two clubs, and at the end the choice was made ​​in favor of CSKA Moscow, which submitted firstly the application.
(27 Jun 2013)
Past league results:
League standings:
Historic statistic:
Individuals records:
Fast facts
season 2012-2013
On Thursday, May 21, KHL season-ending ceremony was held in Russia. Read more»
German Ice Hockey Federation decided not to renew the contract with national team coach Read more»