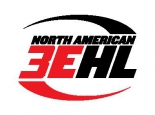 NA3EHL
League status: Not active
Youth league: yes, U20
English name: North American 3 Eastern Hockey League
Administered by: North American 3 Eastern Hockey League
Head manager: Wayne Sheehan
Year of start: 2012
Did you find any incorrect or incomplete information? Please, let us know.
from 2011 to 2014: NSHL - Northern States Hockey League
from 2014 to present: NA3EHL
North American 3 Eastern Hockey League (NA3EHL) is a USA Hockey-sanctioned Tier III Junior A ice hockey league.
The Northern States Hockey League (NSHL) formed in Spring 2012 and became the second league to be sanctioned by the Amateur Athletic Union (AAU) and its United Hockey Union program. Several existing programs from the defunct International Junior Hockey League (IJHL) joined new franchises to form a seven team league. The initial teams included the Cape Cod Islanders, the Eastern Kodiaks, the Junior Mariners, the Lake George Fighting Spirit, the New England Stars, the Syracuse Stampede, and the Trenton Habs.
For the 2013-14 season the league added the Maine Moose, the Maine Wild, and the Wilkes-Barre Miners. In addition, two teams relocated and changed names when the Lake George Fighting Spirit moved to Waterville Valley, New Hampshire and became known as American Hockey Institute Fighting Spirit and the Trenton Habs were renamed the Jersey Shore Wildcats when they moved their operations to Wall Township, New Jersey. The league also lost the Eastern Kodiaks when the team moved operations to Jamestown, New York shortly before folding.
The NSHL continued growth for the 2014-15 season when the league has announced three new teams, the Roc City Royals, Central New York Stallions, and the Lockport Express for the 2014-15 season. Two franchises announced relocation and name change plans. The Maine Moose franchise was sold and renamed the Maine Timberwolves along with a relocation to China Village, Maine. In March 2014, the AHI Fighting Spirit announced a move to Laconia, New Hampshire and changed their name to the New Hampshire Fighting Spirit for the 2014-15 season. The league also organized the 12 teams into two divisions of six teams each.
When the NSHL released it's 2014-15 schedule in August, the CNY Stallions were not included in the schedule reducing the west division to five teams and the league to eleven teams. The NSHL briefly joined the United Hockey Union, but quit under promise of USA Hockey sanctioning. The league changed its name to the North American 3 Eastern Hockey League.
On March 4, 2016, it was formally announced that the NA3EHL would be added to the North American Hockey League's other Tier III league, the North American 3 Hockey League (NA3HL), beginning with the 2016-17 season. The former NA3EHL teams are set to become two new divisions within the NA3HL.
Past league results:
League standings:
Historic statistic:
Individuals records:
Winning 2-1 against host Rungsted, Yunost keeps the perfect record proposing as favourite for the Superfinals Read more»
The final continental cup group game took place in Rungsted between Sheffield Steelers of Great Britain and Kurbads Riga of Latvia. Read more»