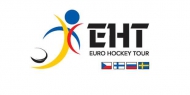 First tournament win for Sweden with Johan Garpenlöv as head coach. Read more»
09 Dec 2019 | Thailand was outstanding at the Southeast Asian Games in Manila, Philippines, beating Singapore 8-0 in the final. Read more»

04 Dec 2019 | First held at the 1920 Summer Olympics, the IIHF Ice Hockey World Championship is an annual tournament and one of the most exciting ones as well. The high-profile tournament was formed in 1908 and first held in 1920. In the beginning, it was part of the Olympic hockey tournament, with the first individual World Championship being held in 1930. Read more»

03 Dec 2019 | Rosters are changed throughout ice hockey for several reasons: the player didn't settle well in a new country, he was deemed not to be a good fit for the team etc etc. So this is not just unique to the EIHL but this is the league we are concentrating on today. Read more»
One in One out at Sheffield
Sheffield Steelers (EIHL)head coach Aaron Fox has confirmed that the club has signed defenceman Josef Hrabal from Prereov.
Hrabal will arrive in Sheffield on Friday and the club hopes to have the international transfer paperwork completed ahead of Saturday's home game against Fife Flyers.
Earlier tonight the Steelers announced that Mikko Kuukka would be leaving the club after his trial period and heading back to the Finnish Liiga
"It was a difficult decision to return home to Finland, I have been so pleased to play in Sheffield and was surprised how good and profession the team was. I wish everyone here the best" said Mikko
Aaron Fox confirmed the roster situation "We always knew that Mikko would be a short term signing, in fact I think we were lucky to keep him as long as we did. He really enjoyed his time here and I think it was a tougher decision for him that he thought it was going to be.
"We leave on good terms and you never know if our paths will cross again.
(12 Dec 2019)
Sheffield Steelers add injury cover
With long term injuries afflicting Sheffield Steelers (EIHL) they signed Finnish forward Janne Koelhmainen. He has signed until the end of the season and makes his debut this Friday night in Belfast.
(05 Dec 2019)
SV Renon won Supercoppa
Third consecutive Supercoppa for SV Renon: Italian champion easily won 7-2 against Coppa Italia holder SV Caldaro in the first official trophy in Italy. With 5 victories Renon is the major winner of the trophy
(14 Sep 2019)
Fehervar win Hungarian Super Cup
EBEL team Fehervar AV19 Szekesfehervar win the first edition of Hungarian Super Cup by beating Erste Liga champion Ferencvarosi 4-3 at Tüskecsarnok Arena in Budapest
Gamesheet here
(31 Aug 2019)
Altai Torpedo retains Kazakhstan Cup
A goal by Maxim Khudyakov at minute 56 gives the second consecutive Kazakhstan Cup to Altai Torpedo Ust-Kamenogorsk, in the final, played in Almaty, against Kulager Petropavlovsk. The Torpedo farm club won the qualifying Group A despite a loss 1-0 SO in a dramatic match agaist national champion Beybarys Atyrau, the bronze winner in the consolation final against home team HK Almaty, unexpectedly lost the qualification, beaten 2-1 in the last game of the group against already eliminated HK Temirtau.
The best players of the competition are:
Best goalkeeper - Andrei Yankov, Kulager
Best defender - Adil Beketaev, Altai Torpedo
Best striker - Ilya Akhmetov, Kulager
Best young player - Demid Eremeev , HK Temirtau
(25 Aug 2019)
Southern Stampede win the New Zealand IHL finals
Souuthern Stampede took revenge, and their 6th championship, when they defeated last years winners West Auckland Admirals in the finals of the New Zealand Ice Hockey League.
They got the better of their opponents twice to win the best of three series, their goals coming from Liam Stewart and Colin McIntosh who finished top of the play off standings.
(16 Aug 2019)
U17 National team games
Finland and Russia U17 played three games this weekend with the results 3-4 (OT), 3-2 (SO) and 2-6.
Next week an U17 tournament will be played in Füssen with Germany, Slovakia, Czech Republic, Switzerland and USA.
(11 Aug 2019)
U18 Hlinka Gretzky Cup, Day 4 - Russia and Canada to play the final
Alexander Pashin scored three goals when Russia beat Finland 4-1 in one of today's semi finals of the prestigeous U18 tournament in Czech Republic and Slovakia. In the other semi final Canada beat Sweden 3-2 in a shootout game. Cole Perfetti scored all Canadian goals.
Czech Republic beat USA 4-3 for place five while Slovakia beat Switzerland 7-5 in the 7th place game.
(09 Aug 2019)
Do you know that you can support us and show your support for your favourite player or club at the same time. Find the profile of your favourite and click the link to buy a sponsorship of the profile.

Staff wanted
A large group of hockey fans from around world has helped build this site. We are always looking for more people that want to help out. It doesn't matter if you want to write articles, work with player stats or just want to help out with something else. If you're interested in helping us making this site even better, please contact us at
info@eurohockey.com.
Online Casinos Resources
Check out CasinoFever.ca for the best comparison of Canadian casinos online.
Forums are great

Discuss your favourite team or player with other fans on one of our discussion boards!

Czech Rep.: Tipsport extraliga | 1.liga | 2.liga

Slovakia: Tipsport Extraliga | 1.liga

Sweden: SHL | HockeyAllsvenskan
Other: EBEL | Belarus | Croatia | Denmark | Estonia | France | Great Britain | Iceland | Italy | Latvia | Lithuania | MOL-liga | Norway | Poland | Romania | Serbia | Slovenia | Spain | NHL | AHL |
League standings
Game fixtures
League leaders