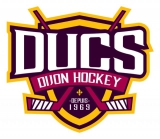 Dijon HC Les Ducs
Name in original language: Club des Patineurs et Hockeyeurs Dijonnais
Nickname: Les Ducs
Year of foundation: 1969
Colours: white,blue,yellow
Club status: active
Address: Dijon Hockey Club
1, Boulevard Trimolet
21 000 Dijon
Phone: +33 03 80 65 23 88
Fax: +33 03 80 52 74 45
Email: contact@dijonhockey.fr, jf@dijonhockey.fr (Press office)
Dijon HC Les Ducs is major league affiliate of:
Dijon HC 2
Did you find any incorrect or incomplete information? Please, let us know.
Season 2016-2017
Current roster
season 2016-2017
* no longer in the club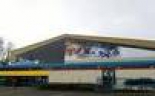 Adress: Patinoire municipale
Boulevard Trimolet
21000 Dijon
Phone: +33 03 80 48 80 40
Capacity: 1200
Opened in: 1972
from 2011 to 2016: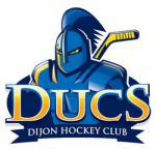 from 2016 to present:
Chamonix/Morzine relegated
The merge between Morzine-Avoriaz and Chamonix, occurred last summer, should have created a more competitive team in Magnus Ligue, according to the purpose of management: but things did not go just like that: last after the regular season with just 13 points, Morzine-Chamonix Pionniers were relegated in the Division 1 with a round still to play in the relegation round, played along with Strasbourg, Dijon and Nice
(15 Mar 2017)
Movements of coaches in France
Ligue Magnus ended last week but teams are already building rosters for next season, beginning from the bench: after a brilliant playoffs campaign Dijon lost coach Jarmo Tolvanen, signed in Norway by Stjernen, and promote to headcoach former assistant Jonathan Paredes. Grenoble not renewed the contract with Canadian Richard Martell, replacing him with former Briançon coach Edo Terglav. Rouen named headcoach former goalie Fabrice Lhenry. Finally, Tom Hartogs (Morzine) and François Dusseau (Lyon) were confirmed for one season more
(08 Apr 2015)
Coupe de la ligue first round completed
The coupe de la ligue first round is now completed. In groups A (Angers, Rouen) & C (Grenoble, Briançon), the top favorites emerged and advanced to the quarter finals. In groups B and D, it was a 3 team fight to get to the next level. The big surprise was finally in group B with qualifications of Epinal and Strasbourg while the top favorite Amiens is eliminated. In group C, Dijon ended up first while Chamonix and Morzine were tied for 2nd. Chamonix finally advance thanks to a better goal difference. The quarter final match-ups will be the following : Strasbourg - Angers ; Rouen - Épinal ; Briançon - Dijon ; Grenoble - Chamonix
(16 Oct 2013)
Rouen wins Match des Champions
French champion Dragons de Rouen won the Match des Champions on Saturday evening in Cholet against the 2012 Coupe de France winner Ducs de Dijon with 3-1 (0-0, 2-0, 1-1). Rouen had earned a three-goal lead through Jonathan Janil, Ilpo Salmivirta and David Fredriksson. At 58:57 Peter Valier only could score the consolidation goal for Dijon. For Rouen it was the second Match des Champions won after 2010.
(09 Sep 2012)
Match des champions in Cholet
France Federation announces the Match des Champions between the French champion Rouen Dragons and the winner of French Cup Dijon Les Ducs will be played in Cholet the next September 08
(06 Sep 2012)
Coupe de la Ligue starts
French League Cup started with two games between Dijon and France U20. Ligue Magnus team won yesterday 5-2 and today with same score. Follow Coupe de la Ligue stats and results here
(04 Sep 2012)
Thomas Decock sidelined with cancer
Dijon announce that assistant captain Thomas Decock who signed an extension 12 days ago wont be ready to play come August. Decock was diagnosed with cancer and will be under going treatment for the time being, Dijon will welcome Decock back with open arms when he is ready to return to the line-up.
(03 May 2012)
Dijon keeps the coach
After a very positive season, Finnish coach Jarmo Tolvanen decided to extend his contract with Dijon Les Ducs for the next season, with an option for 2013-14
(20 Apr 2012)
Leagues awards in France
Amazing Dijon Les Ducs campaign (2nd places in regular season behind Rouen and victory on Coupe de France) reflectes on Sport newspaper "L'Equipe" votation for season's MVP: Dijon captain Canadian Martin Gascon,30, and his teammate Anthony Guttig,23, were elected respectively Best Foreign and Best French Player in annual votation among sport medias.  Gascon finishes regular season as League Top Scorer. Briançon 21 years-old Spanish goalie Ander Alcaine was elected rookie of the year. Alcaine, arrived in Briançon Diables Rouges from FC Barcelona, preceded Dijon's Nicolas Ritz and Rouen's Anthony Rech
(27 Feb 2012)
Dijon won French Cup in a thrilling final
Dijon won its second Coupe de France beating Continental Cup champion and current Cup holder Rouen in a thrilling final at Paris Bercy in front of 13.362 spectators. Rouen played without its star goalie Fabrice Lhenry and France national team defender Jonathan Janil, both injured. Regular time ends with a unusual score of 6-6. Young Dijonnais Nicolas Ritz scores decisive goal after 01.24 in overtime. Dijon forward Yannick Riendeau, scoring 3 goals, was named game MVP
(30 Jan 2012)
Historic rosters:
Historic statistics:
Past results:
League standings:
Fast facts
season 2016-2017
Sweden got a 2-1 shoot-out win over Canada in Sunday's World Championship final in Lanxess Arena, Cologne. Read more»
IIHF has announced the groups for the next World Championship. The 2018 tournament will be played in Denmark with Group A in Copenhagen and Group B in Herning. Read more»