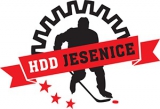 HDD Jesenice
Year of foundation: 2013
Colours: red, black
Club status: active
Address: Celovska Cesta 25
1000 Ljubljana
Phone: +386 12313121
Fax: + 386 12313121
Email: info@hokej.si
WWW: HDD Jesenice
Did you find any incorrect or incomplete information? Please, let us know.
Season 2017-2018
Current roster
season 2017-2018
* no longer in the club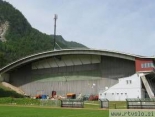 Adress: Ledarska 4,
4270 Jesenice

Phone: +386 (04) 5863 364
Email: zsj.jesenice@siol.net
Capacity: 5500
Opened in: 1978
from 2014 to present: HDD Jesenice
from 2013 to 2014: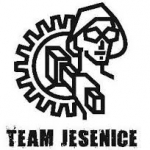 from 2014 to present: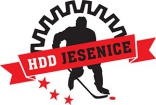 Slovenian Cup stats available
THe complete statistics for 2017 Slovenian Cup, played in September in Celje, are now available on eurohockey, don't miss the last episode of eternal rivalry between Jesenice and Olimpija
(15 Oct 2017)
Nik Zupančič to coach Jesenice
HDD Jesenice announces the head coach for the next season in the newly formed Alps Hockey League: national team coach Nik Zupančič will be back on club bench after leaving in 2015 to take the lead of the national team, promoted to Elite Division last April. He will remain also on Slovenia bench.
"I don't see problems in combining the two positions, I can say that it is good for the coach to constantly be in the rhythm of work. My duties at the club will not interfere with the representative and vice versa - says Zupancic.
Jesenice is the only Slovenan club playing in Alps League
(20 Jun 2016)
Olimpija Ljubljana captured Slovenian title
Olimpija Ljubljana win Slovenian League beating 2-0 rival Jesenice in game #5 of finals, bringing title back to the capital after the victory of Jesenice last year. The final series had a particular trend, with four out of five games ended with a shutout for the goalie of winning team: 3-1, 0-1,0-1,3-0 and 2-0.
This is the 15th title for Olimpija; Jesenice won other 10, nine as defunct Acroni Jesenice and one with current name HDD Jesenice. HK Slavija Ljubljana won bronze by beating 1-0 HK Celje
(12 Apr 2016)
Olimpija win Slovenian Cup blanking Jesenice
Olimpija Ljubljana won the first edition of Slovenian Cup by beating 4-0 traditional rival of HDD Jesenice in the final played at Jesenice in front of a sold-out 2500 spectators with goals by Pešut, Kalan, Pem and Kaspitz. Jesenice assistant coach Anze Terlikar was dressed as player due to several injuries in home team roster
(02 Dec 2015)
Olimpija and Jesenice will battle for Slovenian Cup
Archrivals Jesenice and Olimpija Ljubljana will compete for the first edition of Slovenian Cup, playing the final on December, 1 in Jesenice. Olimpija won 5-1 the city derby against Slavija Ljubljana, while Jesenice prevailed 2-1 over HK Celje
(15 Nov 2015)
Jesenice wins title in Slovenia
A goal on power play by Miha Brus gives Jesenice the victory 2-1 in finals game #4 against arch-rival HDD Olimpija Ljubljana, the 3-1 in the series and the Slovenian title for the team heir of Acroni Jesenice, folded two years ago.
(16 Apr 2015)
Olimpija Ljubljana won Slovenian title
Olimpija Ljubljana confirmed Slovenian title by beating twice Team Jesenice 1-5 and 6-3. This season Slovenian league was played after the end of INL and EBEL. It's the third cnsecutive title for Green Dragons
(04 Apr 2014)
INL playoff pairings chosen
The Inter-National-League (INL), joint competition of teams from Austria, Italy and Slovenia, has a fixed schedule for the upcoming quarterfinals. Jesenice beat Caldaro 4:3ot in the decisive game for the last playoff ticket. Immediately afterwards, the first teams picked their opponent for quarterfinals. The pairings are: Gherdeina – Jesenice, Appiano – Bregenzerwald, Egna – Feldkirch, Zell am See – Lustenau. All best-of-five series start on March 1.
(27 Feb 2014)
Historic rosters:
Historic statistics:
Past results:
League standings:
Fast facts
season 2017-2018
Winning 2-1 against host Rungsted, Yunost keeps the perfect record proposing as favourite for the Superfinals Read more»
The final continental cup group game took place in Rungsted between Sheffield Steelers of Great Britain and Kurbads Riga of Latvia. Read more»