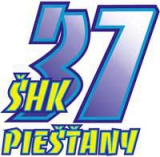 SHK 37 Piestany
Year of foundation: 1937
Colours: Blue, Yellow
Club status: active
Address: Hokejový klub ŠHK 37 Piešťany, s.r.o.
Hlboká 92
921 01 Piešťany
Phone: +421 33 7723751
Fax: +421 33 7718928
Email: shk37@shk37.sk
WWW: ŠHK 37 Piešťany
Did you find any incorrect or incomplete information? Please, let us know.
Season 2012-2013
Current roster
season 2012-2013
* no longer in the club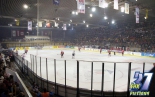 Adress: Hlboká 92
921 01 Piešťany
Phone: +421 911 946005
Capacity: 3500
Opened in: 1986
from 1937 to 2010: HK Piestany
from 2010 to 2011: SHK 37 Patricia Piestany
from 2011 to present: SHK 37 Piestany
from 2011 to present: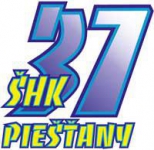 Dusan Gregor new coach at Piestany
Dusan Gregor, 54, is the new coach of Slovakian Extraliga club SHK Piestany. He replaced fired Leo Gudas. "Dušan Gregor was one of the coaches, which we were interested in before the season. We knew that he was still free, so we call him and we agreed. I believe this is the right choice" said club President Jaroslav Lušňák. Gregor coached Dukla Trencin, Martin,Košice and Žilina in his homeland, Liberec and Slavia Praha - his last commitment - in Czech Republic, Sokol Krasnoyarsk and Saryarka Karaganda in VHL and Admiral Vladivostok in KHL.
Branislav Janos will serve as assistant coach
(03 Feb 2016)
Piestany fired coaching duo
SHK 37 Piestany announced the club fired coach Leo Gudas and his assistant Jozef Krisak after a period of poor results beginning in December. The name of new coach will be announced shortly. Gudas arrived on Piestany bench in December 2014 and held team to playoffs quarterfinals last season
(01 Feb 2016)
Ivan Hlinka Memorial won't be in Piestany
For the first time since 1997, this season the Ivan Hlinka Memorial will not play in Piestany due to problems with the ice surface.
"It was a difficult decision because host a tournament like the Ivan Hlinka Memorial was an honor for us, since it is one of the best youth tournaments in the world. Unfortunately, the current situation regarding reconstruction of ice equipement is in a legal procedures we cannot control" said president of Piestany Jaroslav Lušňák.
The prestigious U18 tournament is looking for a new venue.
(14 Jun 2015)
Roman Sykora leaves Piestany
Coach Roman Sykora resigned from his charge at SHK 37 Piestany due to the recent poor results of the team. "I feel responsible for this bad momentum and I want to give the players a boost" said Sykora. His successor is still unknown
(15 Dec 2014)
Piestany received money to build a new arena
Prime Minister of Slovakia donated one million euros to build a new training hall of the National Hockey Center in Piestany. In exchange for it, the City will rent 10 years for free the arena for Slovakia national teams
(16 Jan 2014)
Richard Lintner looks for contract
Slovak defenseman Richard Lintner, after two games for the extra-league rookie team SHK 37 Piestany is still without another contract. The experienced 34-year old defenseman said in Tuesday's interview with SITA that he looks for Finland or Czech teams.
(24 Oct 2012)
Historic rosters:
Historic statistics:
Past results:
League standings:
Fast facts
season 2012-2013
Belarus Federation announced candidature for 2021, Bashkortostan expressed interest for a strong bid in near future Read more»
The Elite league teams continued to build for the coming season with one of them, Sheffield Steelers completing their roster. Read more»