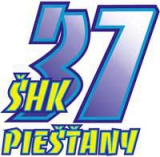 SHK 37 Piestany
Year of foundation: 1937
Colours: Blue, Yellow
Club status: active
Address: Hokejový klub ŠHK 37 Piešťany, s.r.o.
Hlboká 92
921 01 Piešťany
Phone: +421 33 7723751
Fax: +421 33 7718928
Email: shk37@shk37.sk
WWW: ŠHK 37 Piešťany
Did you find any incorrect or incomplete information? Please, let us know.
Season 2012-2013
Current roster
season 2012-2013
* no longer in the club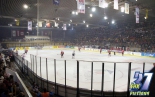 Adress: Hlboká 92
921 01 Piešťany
Phone: +421 911 946005
Capacity: 3500
Opened in: 1986
from 1937 to 2010: HK Piestany
from 2010 to 2011: SHK 37 Patricia Piestany
from 2011 to present: SHK 37 Piestany
from 2011 to present: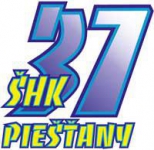 Roman Sykora leaves Piestany
Coach Roman Sykora resigned from his charge at SHK 37 Piestany due to the recent poor results of the team. "I feel responsible for this bad momentum and I want to give the players a boost" said Sykora. His successor is still unknown
(15 Dec 2014)
Piestany received money to build a new arena
Prime Minister of Slovakia donated one million euros to build a new training hall of the National Hockey Center in Piestany. In exchange for it, the City will rent 10 years for free the arena for Slovakia national teams
(16 Jan 2014)
Richard Lintner looks for contract
Slovak defenseman Richard Lintner, after two games for the extra-league rookie team SHK 37 Piestany is still without another contract. The experienced 34-year old defenseman said in Tuesday's interview with SITA that he looks for Finland or Czech teams.
(24 Oct 2012)
Historic rosters:
Historic statistics:
Past results:
League standings:
Fast facts
season 2012-2013
The cities of Astana and Kokshetau will host the national cup in August Read more»
The General Meeting of the VHL summed up the season and outlined guidelines for the future. Read more»