Erzurum Gençlik Spor Kulübü
Colours: light blue, white
Club status: active
Address: Yakutiye Spor Kampusu, Aziziye yolu üzeri
25100 Yakutiye / ERZURUM
Phone: +90 0442 328 02 20 - 25
Fax: +90 0442 328 00 45
Did you find any incorrect or incomplete information? Please, let us know.
Season 2016-2017
Current roster
season 2016-2017
* no longer in the club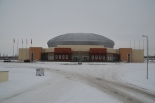 Adress: Yakutiye Spor Kampusu
Aziziye yolu üzeri
Yakutiye / ERZURUM
Phone: +90 0442 328 01 00
Email: erzurum@gsb.gov.tr
Capacity: 3000
Opened in: 2009
from 1999 to present: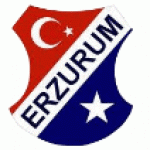 Baskent Yildizlari is Turkish League champion
Baskent Yildizlari from Ankara wins its third consecutive Turkish League title taking advantage of a strange play-offs format
For the playoffs, the top 4 teams in the league (Baskent, Izmir, Kocaeli, and Erzurum) keep the regular season points from the games between themselves. So Baskent had 18 points, Izmir had 12 points, and Kocaeli and Erzurum had 3 points each. Then every team plays each other twice, total of 6 games.
So Baskent only needed to win any 2 games and beat Izmir in one of the two games against them. If Baskent did and lost everything else, would be tied with Izmir, but win on the tie breaker of head to head total wins.
So on March 30th, Baskent played and beat Izmir 6-3 in Kocaeli. After that, none of the games actually mattered, including the last one, a kind of playoffs final, when Izmir beats Baskent 8-6
Baskent Slovakian forward Dennis Legersky was the League top scorer with 75 points (42 goals, 33 assists)
(10 Apr 2013)
Bethel University arrives in Turkey
Bethel University arrived in Erzuurm, Turkey for a four game series against Erzurum Genclick Sports Club. Bethel University is in first place in the MIAC College Hockey League. This is the highest level club team ever play in Turkey. The teams will play December 25, 26, 27 and 28, 2012 in Erzuurm.
(25 Dec 2012)
Georgia will have a training camp in Turkey
Genclik Spor Club announces that club and Georgia National Ice Hockey Team will do a joint training camp from September 15 to October 10.
"I think this is a great opportunity for both clubs" said Genclik coach Keith McAdams. "We will practice separately and play scrimmage or game each night"
(28 Aug 2012)
Historic rosters:
Historic statistics:
Past results:
League standings:
Fast facts
season 2016-2017
Despite material disadvantages, Georgia's hockey team is moving up the charts. Read more»
The 9 and 10 October saw Game Day 5, the penultimate round of the group stage this year's Champions Hockey League. Each team played the first of a back to back meeting with the same opponent as the group stage of ... Read more»