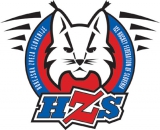 Slovenia
Year of foundation: 1992
Colours: blue, white, red
Club status: active
Address: Ice Hockey Federation of Slovenia
Celovska 25
1000 Ljubljana
Slovenia
Phone: +386 1 430 64 80
Fax: +386 1 231 31 21
Email: hzs@hokejska-zveza.si
WWW: http://www.hzs.si/
Did you find any incorrect or incomplete information? Please, let us know.
Season 2016-2017
Current roster
season 2016-2017
* no longer in the club
from 1990 to present: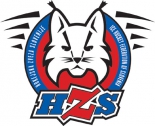 Kopitar behind Slovenian win
Anze Kopitar had 3 assists when his Slovenia beat Italy 4-0 on the first day of the EIHC tournament in Ljubljana. France beat Austria 2-0.
(08 Nov 2012)
Historic rosters:
Historic statistics:
Past results:
League standings:
Fast facts
season 2016-2017
Winning 2-1 against host Rungsted, Yunost keeps the perfect record proposing as favourite for the Superfinals Read more»
The final continental cup group game took place in Rungsted between Sheffield Steelers of Great Britain and Kurbads Riga of Latvia. Read more»