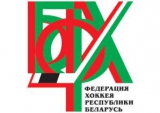 Belarus
Year of foundation: 1992
Colours: red, green, white
Club status: active
Address: Belarusian Ice Hockey Association
Pobeditelei Avenue, 20/3
220020 Minsk
Belarus
Phone: +375 172 50 2593
Fax: +375 172 54 58 42
Email: BIHA@Hockey.by
Did you find any incorrect or incomplete information? Please, let us know.
Season 1999-2000
Current roster
season 1999-2000
* no longer in the club
from 1991 to present: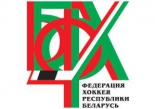 Belarus changes Head Coach
After three losses in the opening of the World Championship Belarus changes coach. Sergei Pushkov replaces Dave Lewis.
(08 May 2018)
Russia beats Belarus
Kirill Kaprizov scored twice and Pavel Datsyuk added a third goal when Russia beat Belarus 3-0 today in Moscow.
(30 Jan 2018)
World Juniors quarter finals
The World Junior Championship quarter finals will be played on Tuesday:
Czech Republic - Finland
Canada - Switzerland
Sweden - Slovakia
USA - Russia
Belarus and Denmark will play three games to decide who relegates.
(01 Jan 2018)
Sweden will play in Belarus
Belarus and Sweden will play two friendly games in preparation for World Championship 2017. Both games will be held in Grodno, at the Ice Sports Palace, on on Friday and Saturday, 21 and 22 April 2017
(17 Jan 2017)
U20 World Juniors Div1A started
The U20 World Championship Division I Group A started today in Asiago. The winners on the opening day were Belarus, Latvia and Norway.
(15 Dec 2014)
Krikunov resigned as Belarus coach and goes to Neftekhimik
Lasted a little over a month the experience of Vladimir Krikunov at the helm of Belarus national team. Russian coach resigned after a meeting with new Federation President Igor Rachovsky. In EIHC in Slovenia, played last weekend, Belarus lost all three games.
Some hours after the dismissal, Krikunov was announced as new coach of Neftekhimik Nizhnekamsk
(12 Nov 2014)
World Championship quarter-finals
The quarter-final match-ups of the World Championship in Minsk is now decided after the group stage has ended. USA will play Czech Republic in the first game. Then follow Russia-France, Canada-Finland and Sweden-Belarus. All four will be played on Thursday.
(20 May 2014)
Platt and Lalande can play for Belarus
Goalkeeper Kevin Lalande and forward Geoff Platt, both playing for Dinamo Minsk, have received official permission from the IIHF to play for the national team of Belarus.
Canadian born Geoff Platt and Kevin Lalande got Belarusian citizenship in December 2011.
(03 Oct 2013)
Glen Henlon named Belarus coaching staff
Belarus national team coach Glen Henlon named Eduard Zankovets and Oleg Mikulchik as assistant coaches.
Zankovets has served as head coach of the national team in the 2010-2011 season, as well as an assistant coach from 2005 to 2009. At World Championship in 2005, 2006 and 2009 Eduard Zankovets helped same Glen Hanlon.
From 2005 to 2007 Zankovets lead the Belarus U-20 team.
Oleg Mikulchik worked as assisstant coach and later in the 2010-2011 season as head coach of Belarus U20 before to spent two seasons in Ukraine at Donbas-2 winning twice the Ukranian title
(24 Aug 2013)
New coaches in Belarus
Pavel Perepehin is named the head coach of Belarus U20 team. Vladimir Sinitsyn is new head coach of Belarus U18 team. And Eugene Butskevich is a head coach of Belarus U17 team.
(01 Jul 2013)
Historic rosters:
Historic statistics:
Past results:
League standings:
Fast facts
season 1999-2000
After nine goals scored against SA Akureyeri, tonight Kurbads trashes Txuri Urdin Read more»
An injury to outstanding goalie Beukeboom in the decisive period helps Donbas to win a tricky game Read more»