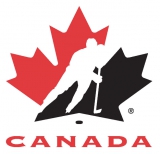 Canada
Year of foundation: 1920
Colours: red, white, black
Club status: active
Address: Hockey Canada
2424 University Drive N.W.
Calgary, Alberta T2N 3Y9
Canada
Phone: +1 403 777 36 33
Fax: +1 403 777 36 35
Email: jwasilew@hockeycanada.ca
Did you find any incorrect or incomplete information? Please, let us know.
Season 2018-2019
Current roster
season 2018-2019
* no longer in the club
from 1899 to present: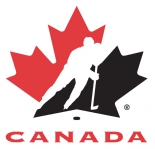 Slovakia, USA and Canada wins pre-WHC games
With the World Championship three days away three tournament preparing games was played today. The World Championship host Slovakia beat Norway 3-2 in overtime. USA beat Germany 5-2 and Canada beat Austria 7-5 (7-6 after overtime).
(07 May 2019)
World Juniors Quarter finals
The quarter final match-ups of the World Junior Championship in Canada is decided after the end of the Preliminary Round:
Sweden - Switzerland
Canada - Finland
USA - Czech Republic
Russia - Slovakia
(01 Jan 2019)
McIsaac suspended
The IIHF Disciplinary Panel has issued a one-game suspension to Team Canada defenceman Jared McIsaac. McIsaac will miss his Canada's final preliminary round game on New Year's Eve against Russia.
(31 Dec 2018)
World Juniors quarter finals
The World Junior Championship quarter finals will be played on Tuesday:
Czech Republic - Finland
Canada - Switzerland
Sweden - Slovakia
USA - Russia
Belarus and Denmark will play three games to decide who relegates.
(01 Jan 2018)
Big wins on Ivan Hlinka Memorial opening day
Three of the four games on the first day of Ivan Hlinka Memorial in Breclav, Czech Republic and Bratislava, Slovakia ended with big wins. First Lukas Wernblom and Samuel Fagemo scored two goals each when Sweden beat USA 6-1 in Breclav. In the second game in Breclav Czech Republic beat Switzerland 6-2 after two goals by Jan Jenik and two by Jakub Lauko.
In Bratislava Ruslan Iskhatov scored the winner when Russia beat Canada 4-3 after a shootout. Rasmus Kupari had two goals and three assists when Finland got an easy 6-1 win over Slovakia.
(07 Aug 2017)
World Cup rosters update
There are some updates in the rosters for upcoming World Cup:
Canada announces two changes: San Jose Sharks forward Logan Couture replaces the captain of the Dallas Stars Jamie Benn, out due the recover after a muscle surgery.
Also defender Duncan Keith will miss the tournament due the rehabilitation on a knee injury: he will replaced by Jay Bouwmeester
In Sweden roster Anaheim Ducks' defenseman Hampus Lindholm will replace injured Detroit Red Wings' defenseman Niklas Kronwall In the net, Jhonas Enroth will replace injured Robin Lehner of the Buffalo Sabres,
(26 Aug 2016)
World Championship preparation
The World Championship in Russia starts in three days. Four pre-tournament games were played today. Canada beat Czech Republic 3-0 and Kazakhstan beat France 6-3. Finland-USA (3-2) and Switzerland - Germany (4-3) were both decided in overtime.
(03 May 2016)
Women's national team tournaments
Today started two national team tournaments for women. In Sundsvall, Sweden Canada beat Finland 2-0 and the home team lost 2-6 to USA. In Czech Republic Russia beat Switzerland 4-1 and Germany beat Slovakia 4-2.
(04 Nov 2015)
Ivan Hlinka Memorial starts tomorrow
The prestigeous U18 tournament starts tomorrow in Breclav and Bratislava. Yesterday two pre-tournament friendlies were played: Slovakia-Canada 1-12 and Czech Repubic - USA 2-1.
(09 Aug 2015)
World Championship quarter-finals
The quarter-final match-ups of the World Championship in Minsk is now decided after the group stage has ended. USA will play Czech Republic in the first game. Then follow Russia-France, Canada-Finland and Sweden-Belarus. All four will be played on Thursday.
(20 May 2014)
Historic rosters:
Historic statistics:
Past results:
League standings:
Fast facts
season 2018-2019
Canada participates in season 2018-2019: National team games, Winter Universiade, World Championship, World Women's Championship, U20 National team games, WJC, U18 National team games, WJC18, U17 National team games, World Women's U18 Championship, National team games (Women), Winter Universiade (women)
After 20 years Winter Olympics are back in Italy. IOC assigned today the organization to Milan-Cortina Read more»
The former Pan-American Tournament will host the international debut for Jamaica and Puerto Rico in September Read more»