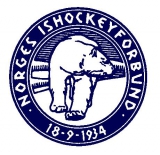 Norway
Year of foundation: 1935
Colours: red, white, blue
Club status: active
Address: Norwegian Ice Hockey Association
Sognsveien 75 J
0840 Oslo
Norway
Phone: +47 2102 90 00
Fax: +47 2102 96 31
Email: hockey@hockey.no
Did you find any incorrect or incomplete information? Please, let us know.
Season 2016-2017
Current roster
season 2016-2017
* no longer in the club
from 1899 to present: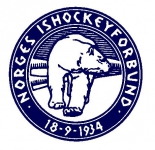 Double losses for Norway
Both the Norwegian boys and girls (U16) lost on the opening day of the Youth Olympics in Lillehammer. The boys were beaten 11-0 by Finland. The girls were closer but lost 1-2 to Slovakia.
(12 Feb 2016)
U20 World Juniors Div1A started
The U20 World Championship Division I Group A started today in Asiago. The winners on the opening day were Belarus, Latvia and Norway.
(15 Dec 2014)
Sweden - Norway interrupted
The men's national team game between Sweden and Norway that was played in Sundsvall tonight was interrupted at the score 1-0 after one period due to bad ice.
After nine minutes of play there was a long break since commercial text was coming up from under the ice. The arena crew tried without success to repair it with water and a carbon dioxide fire extinguisher. The players then had to leave the ice for the locker rooms. After 50 minutes the game could continue, but when the second period was about to start the ice had not frozen, an edge had formed on the ice and there were still problems with the commercials under the ice.
The game was decided in a shoot-out that Sweden won 1-0. Niklas Olausson scored both the winning shot and the only goal in the first period.
(25 Apr 2014)
Norway - Switzerland cancelled
Preparation game Norway - Switzerland, scheduled for February 10 in Sochi was cancelled as per Norway Federation request. Coach Johansen decided to have one more training session instead. Switzerland confirmed the friendly game against Russia on February 9
(05 Feb 2014)
Double wins for Denmark
Denmark visited Norway for two games in Stavanger. The guests won both games - 4-3 on Friday and 3-2 on Saturday.
(09 Nov 2013)
Gullpucken to Haugen and Dalen
Gullpucken is the oldest and most prestigious individual award handed out in Norwegian hockey. It is awarded to the Norwegian player who through the season is the top performer in his/her club and the national team.
For the season 2012/2013 it is awarded to Lars Haugen and Andrea Dalen.
(14 Sep 2013)
Norway wins in Stavanger
Norway, Slovakia and Switzerland played a 3-nation tournament in Stavanger this weekend. Norway beat Slovakia 4-2 and Switzerland 4-1 to win the tournament. The game Switzerland-Slovakia ended 1-2. Top scorer of the tournament was Slovakia's Kristian Kudroc who got a goal and two assists.
(10 Feb 2013)
Denmark - Norway 0-4
Norway beat Denmark 4-0 in the first of three games between the teams this week. Jonas Holøs, Lars Erik Spets, Niklas Roest and Mats Frøshaug scored the goals.
(07 Nov 2012)
World Junior Club Cup - Day 5
Joshua Leivo scored a hat-trick with only short-handed goals when Sudbury Wolves beat Denmark 7-2 in the World Junior Club Cup. In the other game in Group B HIFK beat HK Riga 3-2. Linköping and Sudbury have qualified for the semis.
Group A is still open. After today's games Waterloo Black Hawks - Norway 5-3 and Karlovy Vary - Dinamo-Shinnik 3-2 four teams are tied with 6 points.
(22 Aug 2012)
World Junior Club Cup - Day 3
The North American teams, Waterloo Black Hawks and Sudbury Wolves, both won big in their first game of the World Junior Club Cup in Omsk. But in the second game both lost.
Today Omsk, Linköping, Dinamo-Shinnik and HK Riga won its games. When all teams have played two games only Dinamo-Shinnik and Linköping have 6 points.
(20 Aug 2012)
Historic rosters:
Historic statistics:
Past results:
League standings:
Fast facts
season 2016-2017
Norway participates in season 2016-2017: National team games, Olympic Qual., Olympic Qual. (women), World Championship, U20 National team games, U18 National team games, U16 National team games, World Women's Championship Div. IA, WJC d1A, WJC18 d1A, World Women's U18 Championship Div. IA, National team games (Women)
Pavel Razvadovsky and Maxim Parfeyevets shine in the night of third Continental Cup for Yunost Minsk, now the biggest winner of the plate Read more»