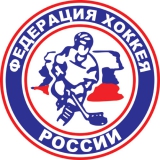 Russia
Year of foundation: 1952
Colours: red, blue, white
Club status: active
Address: Ice Hockey Federation of Russia
Luzhnetskaia Naberezhnaia 8
119991 Moscow
Russia
Phone: +7 495 637 02 77
Fax: +7 495 637 02 22
Email: sokolova@fhr.ru
WWW: http://www.fhr.ru/
Did you find any incorrect or incomplete information? Please, let us know.
Season 2015-2016
Current roster
season 2015-2016
* no longer in the club
from 1991 to present: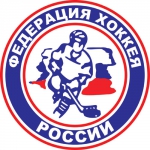 World Juniors Quarter finals
The quarter final match-ups of the World Junior Championship in Canada is decided after the end of the Preliminary Round:
Sweden - Switzerland
Canada - Finland
USA - Czech Republic
Russia - Slovakia
(01 Jan 2019)
Ilya Vorobyev and Harijs Vitolins awarded
Ilya Vorobyev and Harijs Vitolins, head coach and assistant of Russia national team, were awared by President Vladimir Putin with the Order of Friendship and the Order of Alexander Nevsky respectively "for the successful preparation of athletes who have achieved high sporting achievements at the 2018 Olympic Winter Games in Pyeongchang"
Russian hockey team, competed in Korea under the status of the Olympic athletes from Russia, won gold medals.
The Order of Friendship rewards foreign nationals whose work, deeds and efforts have been aimed at the betterment of relations with the Russian Federation and its people.
The Order of Alexander Nevsky is awarded to citizens of the Russian Federation who have achieved special personal merit in nation-building and for strengthening the international prestige of Russia
(01 Aug 2018)
Russia beats Belarus
Kirill Kaprizov scored twice and Pavel Datsyuk added a third goal when Russia beat Belarus 3-0 today in Moscow.
(30 Jan 2018)
World Juniors quarter finals
The World Junior Championship quarter finals will be played on Tuesday:
Czech Republic - Finland
Canada - Switzerland
Sweden - Slovakia
USA - Russia
Belarus and Denmark will play three games to decide who relegates.
(01 Jan 2018)
Germany and Russia U16 winners
U16 National team games have been played this weekend. Germany won a tournament in Kitzbühel with victories over Switzerland Red 7-3, Austria 10-4 and Switzerland White 9-1.
Slovakia and Russia played three games in Ruzinov. Russia wan all three: 6-0, 11-2, and 6-1.
(20 Aug 2017)
Finland beat Russia
Finland won the last game of three between the Under-17 teams of Finland and Russia in Vierumäki 2-1.
Finland also won game one 3-1 while Russia won the second game 4-3.
(13 Aug 2017)
Big wins on Ivan Hlinka Memorial opening day
Three of the four games on the first day of Ivan Hlinka Memorial in Breclav, Czech Republic and Bratislava, Slovakia ended with big wins. First Lukas Wernblom and Samuel Fagemo scored two goals each when Sweden beat USA 6-1 in Breclav. In the second game in Breclav Czech Republic beat Switzerland 6-2 after two goals by Jan Jenik and two by Jakub Lauko.
In Bratislava Ruslan Iskhatov scored the winner when Russia beat Canada 4-3 after a shootout. Rasmus Kupari had two goals and three assists when Finland got an easy 6-1 win over Slovakia.
(07 Aug 2017)
Women's World Championship coming up
On Friday starts the Women's World Championship in Plymouth, Michigan, United States. Yesterday the U.S. Women's National Team and USA Hockey announced that they've reached an agreement so USA will be represented by their best players at the home championship, trying to defend the gold medals.
In exhibition games yesterday Sweden beat Germany 3-2 and Switzerland beat Russia 4-0.
(29 Mar 2017)
Three in a row for Russia U16
The Russian U16 team bet the Czech 6-1 today in Český Těšín. Russia also won 3-2 on Tuesday and 4-1 on Wednesday.
(22 Dec 2016)
Czech U18 team beat Russia - twice
The Czech U18 team bet the Russia U18 in Pribram. The game yesterday ended 5-1. Filip Zadina scored twice while Jan Hladonik, David Kvasnicka and Radim Salda got a goal each for the Czechs. Maxim Marushev scored the Russian goal.
Today Czech Republic won 3-2 on goals by Ondrej Buchtela, Jan Kalus and Krystof Hrabik. Daniil Lobanov and Maxim Marushev scored for Russia.
(16 Oct 2016)
Historic rosters:
Historic statistics:
Past results:
League standings:
Fast facts
season 2015-2016
After 20 years Winter Olympics are back in Italy. IOC assigned today the organization to Milan-Cortina Read more»
The former Pan-American Tournament will host the international debut for Jamaica and Puerto Rico in September Read more»