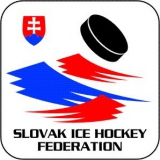 Slovakia
Year of foundation: 1993
Colours: blue, white, red
Club status: active
Address: Slovak Ice Hockey Federation
Junácka 6
832 80 Bratislava
Slovakia
Phone: +421 2 49 24 9237
Fax: +421 2 44 25 8344
Email: szlh@szlh.sk
WWW: http://www.szlh.sk/
Did you find any incorrect or incomplete information? Please, let us know.
Season 2016-2017
Current roster
season 2016-2017
* no longer in the club
from 1992 to present: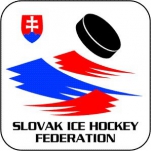 Swiss U20 team wins in Dresden
Team Switzerland U20 won the 4-nations U20 tournament in Dresden, Germany with a perfect record. Germany was beaten 4-2, Czech Republic 4-0 and Slovakia 3-0.
Swiss goalie Matteo Ritz was outstanding shutouts in both games he played. Damien Riat, also Switzerland, was the tournament's top scorer with three goals and two assists.
(30 Jul 2016)
Women's national team tournaments
Today started two national team tournaments for women. In Sundsvall, Sweden Canada beat Finland 2-0 and the home team lost 2-6 to USA. In Czech Republic Russia beat Switzerland 4-1 and Germany beat Slovakia 4-2.
(04 Nov 2015)
U17: USA and Slovakia wins
USA beat Czech Republic 5-4 and Slovakia got a 3-1 win over Switzerland on the opening day of a U17 tournament in Arosa.
(12 Aug 2015)
Ivan Hlinka Memorial starts tomorrow
The prestigeous U18 tournament starts tomorrow in Breclav and Bratislava. Yesterday two pre-tournament friendlies were played: Slovakia-Canada 1-12 and Czech Repubic - USA 2-1.
(09 Aug 2015)
Cernak suspended
Slovak defenceman Erik Cernak will be suspended one game at the World Junior Championship due to a check against the head and neck area of Finland's Mikko Rantanen.
(29 Dec 2014)
Milan Kolena seriously injured in a car accident
MHC Mountfield Martin forward Milan Kolena suffered a serious car accident on saturday morning near the village of Turčianska Štiavnička. According to club Facebook page Kolena underwent surgery. Site Turiec.sme.sk reported the player was in a car along with other three passengers, two men and a woman, all serious injured. "Circumstances and causes of the accident are under investigation" said regional police spokesman Radko Moravčík. Kolena was the captain of Slovakia U20 at the last World Championship and returned to Martin after starting the season at Kosice
(16 Nov 2014)
Dominik Graňák out from Olympics
Slovak defender Dominik Graňák broke his leg in Dynamo Moscow 2-4 home defeat against Dinamo Riga yesterday and thus can't be represent Slovakia at Olympics. "Graňák has a displaced fracture. This means goodbye to the Olympics" said after the game Dynamo coach Olegs Znaroks.
(25 Jan 2014)
Preparing for Hlinka Memorial
Two U18 exhibition games were played today as preparation for the 2013 Ivan Hlinka Memorial that is played August 5-10.
USA beat Czech Republic 1-0 and Canada beat Slovakia 3-1.
(03 Aug 2013)
Russia wins U19 tournament
The Russian U19 team won a 4-nations tournament in Trnava, Slovakia this week. They beat Czech Republic 3-1, Finland 5-3 and Slovakia 5-1.
(13 Apr 2013)
Belarus announces national team games
Belarus Hockey Federation announces the National Team games in preparation for World Championship: Andrei Skabelka troop will face Germany on 05 and 06 April in Minsk and Molodechno, Slovakia on 12 and 13 April in Minsk and Soligorsk (venue not yet confirmed) and then will play twice against Latvia on still unknown dates. Finally Belarus will compete in Skoda Cup
(20 Feb 2013)
Historic rosters:
Historic statistics:
Past results:
League standings:
Fast facts
season 2016-2017
Slovakia participates in season 2016-2017: National team games, Olympic Qual. (women), Winter Universiade, World Championship, World Women's Championship Div. IB, U20 National team games, WJC, U19 National team games, U18 National team games, WJC18, U17 National team games, U16 National team games, World Women's U18 Championship Div. IA, National team games (Women)
Sweden got a 2-1 shoot-out win over Canada in Sunday's World Championship final in Lanxess Arena, Cologne. Read more»
Ever since he first arrived on the ice for HC Kladno in 1987, it was clear that Jaromír Jágr was an exceptional hockey player. Read more»