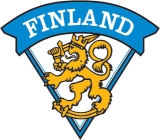 Finland
Year of foundation: 1928
Colours: blue, white, black
Club status: active
Address: Finnish Ice Hockey Association
Mäkelänkatu 91
00610 Helsinki
Finland
Phone: +358 9 756 750
Fax: +358 9 756 755 75
Email: office@finhockey.fi
Did you find any incorrect or incomplete information? Please, let us know.
Season 2016-2017
Current roster
season 2016-2017
* no longer in the club
from 1899 to present: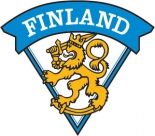 Finland wins U19 tournament
Finland won the U19 5-nation tournament played in Zuchwil, Switzerland this week. In the first game they were beaten 5-4 in overtime by Czech Republic. Then followed three wins; Sweden 4-0, Germany 5-2 and Switzerland 5-1.
(11 Feb 2017)
Mikko Koivu named captain of Finland at World Cup
Finnish Federation has announced Minnesota Wild forward, Mikko Koivu will serve as Team Finland's captain at the World Cup of Hockey. Koivu, also Wild captain, will lead Finland in three World Championship
(22 Aug 2016)
World Championship preparation
The World Championship in Russia starts in three days. Four pre-tournament games were played today. Canada beat Czech Republic 3-0 and Kazakhstan beat France 6-3. Finland-USA (3-2) and Switzerland - Germany (4-3) were both decided in overtime.
(03 May 2016)
Seven new members to Finnish Hockey Hall of Fame
Seven persons were today named to the Finnish Hockey Hall of fame: Pekka Leimu (player), Saku Koivu (player), Teemu Selänne (player). Kimmo Rintanen (player), Tiia Reima (player, member of Finnish 1st Women's Olympic team), Erkki "Neka" Haapanen (equipment manager) and Rauli Virtanen (coach).
(29 Dec 2015)
Women's national team tournaments
Today started two national team tournaments for women. In Sundsvall, Sweden Canada beat Finland 2-0 and the home team lost 2-6 to USA. In Czech Republic Russia beat Switzerland 4-1 and Germany beat Slovakia 4-2.
(04 Nov 2015)
Finland-Sweden
Finland and Sweden played three national team games today. In the Women's game Finland won 1-0 in Mariehamn. The Swedish U17 team beat Finland 7-4 in Haapajärvi. In the U20 tournament in Dmitrov, Russia Sweden won 3-2 after a shootout.
In Dmitrov the Czech U20 team beat Russia 4-0.
(29 Aug 2015)
Evaluation Camp in Lake Placid
At the U20 Evaluation Camp in Lake Placid Sweden beat USA Blue 5-2 while Finland lost 5-2 to USA White.
(03 Aug 2015)
Jukka Jalonen to coach Finland U20
52-year-old Jukka Jalonen is the new coach of Finland U20 team, replacing Hannu Jortikka who resigned after disappointing WJC in Canada. Jalonen coached Finland national team between 2009 and 2013, winning the gold medal at 2011 World Championship and the bronze medal in Vancouver 2010 before to coach SKA St. Petersburg until last season. The contract was signed until January 2016, after the WJC Finalnd will play at home
(20 Jan 2015)
Finland wins U20 tournament in Jönköping
The Finnish U20 team won a 4-nation tournament in Jönköping, Sweden the past weekend. They started off with a 2-1 shootout win to Russia and continued with 5-1 aganist Sweden and 7-1 against Czech Republic. Sweden finished second beating the Czechs 7-2 and the Russians 2-1. Russia beat Czech Republic 7-0 to finsih third.
Finland's Jesse Puljujärvi scored 3+3 points to finish as top scorer of the tournament in Kinnarps Arena.
(01 Sep 2014)
World Championship quarter-finals
The quarter-final match-ups of the World Championship in Minsk is now decided after the group stage has ended. USA will play Czech Republic in the first game. Then follow Russia-France, Canada-Finland and Sweden-Belarus. All four will be played on Thursday.
(20 May 2014)
Historic rosters:
Historic statistics:
Past results:
League standings:
Fast facts
season 2016-2017
Finland participates in season 2016-2017: Euro Hockey Tour, National team games, World Championship, World Cup of Hockey, World Women's Championship, U20 National team games, WJC, U19 National team games, U18 National team games, WJC18, U17 National team games, U16 National team games, World Women's U18 Championship, National team games (Women)
Sweden got a 2-1 shoot-out win over Canada in Sunday's World Championship final in Lanxess Arena, Cologne. Read more»
Ever since he first arrived on the ice for HC Kladno in 1987, it was clear that Jaromír Jágr was an exceptional hockey player. Read more»