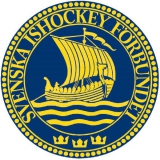 Sweden
Year of foundation: 1912
Colours: yellow, blue
Club status: active
Address: Swedish Ice Hockey Association
Box 5204
Bolidenvägen 22
12116 Johanneshov
Sweden
Phone: +46 8 449 04 00
Fax: +46 8 910 035
Email: info@swehockey.se
Did you find any incorrect or incomplete information? Please, let us know.
Season 2012-2013
* no longer in the club
from 1899 to present: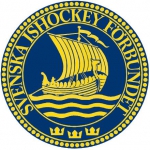 Finland-Sweden
Finland and Sweden played three national team games today. In the Women's game Finland won 1-0 in Mariehamn. The Swedish U17 team beat Finland 7-4 in Haapajärvi. In the U20 tournament in Dmitrov, Russia Sweden won 3-2 after a shootout.
In Dmitrov the Czech U20 team beat Russia 4-0.
(29 Aug 2015)
Evaluation Camp in Lake Placid
At the U20 Evaluation Camp in Lake Placid Sweden beat USA Blue 5-2 while Finland lost 5-2 to USA White.
(03 Aug 2015)
Swedish U18 roster
Sweden named today its roster for the upcoming World U18 Championship in Switzerland. Find it here with player profiles.
(31 Mar 2015)
Fredrik Pettersson and Linus Klasen declined national team call
Fredrik Pettersson and Linus Klasen won't partecipate at Channel One Cup in Sochi with Sweden from 18 to 21 December, despite the call from coach Pär Mårts. Their club HC Lugano asked players to remain in Switzerland to focus on 22-23 December NLA round.
"I'm sad about this situation but I will not force the hand, it is their right to refuse the call" said Mårts at TT Nyhetsbyrån
(15 Dec 2014)
Finland wins U20 tournament in Jönköping
The Finnish U20 team won a 4-nation tournament in Jönköping, Sweden the past weekend. They started off with a 2-1 shootout win to Russia and continued with 5-1 aganist Sweden and 7-1 against Czech Republic. Sweden finished second beating the Czechs 7-2 and the Russians 2-1. Russia beat Czech Republic 7-0 to finsih third.
Finland's Jesse Puljujärvi scored 3+3 points to finish as top scorer of the tournament in Kinnarps Arena.
(01 Sep 2014)
World Championship quarter-finals
The quarter-final match-ups of the World Championship in Minsk is now decided after the group stage has ended. USA will play Czech Republic in the first game. Then follow Russia-France, Canada-Finland and Sweden-Belarus. All four will be played on Thursday.
(20 May 2014)
Andersén replaces injured Rahimi
Sweden's defenseman Daniel Rahimi suffered an injury during the World Championship game against Czech Republic. He has already left Minsk and will be replaced with Niclas Andersén.
(13 May 2014)
New Swedish U18 coach
Jim Brithén will be new coach of the Swedish U18 national team.
He will be assisted by Stefan Bergkvist. Maciej Szwoch will be goalie coach.
(12 May 2014)
Sweden - Norway interrupted
The men's national team game between Sweden and Norway that was played in Sundsvall tonight was interrupted at the score 1-0 after one period due to bad ice.
After nine minutes of play there was a long break since commercial text was coming up from under the ice. The arena crew tried without success to repair it with water and a carbon dioxide fire extinguisher. The players then had to leave the ice for the locker rooms. After 50 minutes the game could continue, but when the second period was about to start the ice had not frozen, an edge had formed on the ice and there were still problems with the commercials under the ice.
The game was decided in a shoot-out that Sweden won 1-0. Niklas Olausson scored both the winning shot and the only goal in the first period.
(25 Apr 2014)
NHL won't allow Swedish players to celebrate in Stockholm
Swedish NHL players are not allowed to celebrate the results of the team at home in Stockholm.
A few hours after the final match they will take a special flight to bring back remaining NHL players in North America.
Even if Sweden will win the gold medal, players, all in the roster except Jimmie Ericsson, will not be released for a ceremony in Sweden. Earlier Swedish hockey players had planned to negotiate with their clubs to come to their location a day later, but the NHL decided otherwise.
(23 Feb 2014)
Historic rosters:
Historic statistics:
Past results:
League standings:
Fast facts
season 2012-2013
Eurohockey.com talked with Adam Sherlip, coach of India national team and founder of "Hockey Foundation" project Read more»
The start of 2015/16 SHL season is closing in and for upcoming season, there will be 14 teams competing for the trophy Le Mat. Reigning champions are Växjö Lakers. For the next 14 days, Eurohockey is presenting one team each day. ... Read more»