 Gap Rapaces
Short name: Gap
Name in original language: Les Rapaces de Gap Hautes-Alpes
Nickname: Les Rapaces
Year of foundation: 1937
Colours: blue,yellow
Club status: active (Due to icerink recostruction, Gap plays 2011-12 season in Marseille)
Address: Patinoire Brown-Ferrand
La Blâche
05 000 Gap
Phone: +33 04 92 53 71 11
Fax: +33 04 92 53 98 48
Email: gaprapaces@wanadoo.fr
Did you find any incorrect or incomplete information? Please, let us know.
Season 2017-2018
Current roster
season 2017-2018
* no longer in the club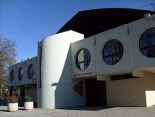 Adress: Stade de glace Alp'arena
Bd Pompidou
05 000 Gap
Phone: +33 (0)4 92 53 26 90
Capacity: 2000
Opened in: 1955
Champion de France: 1977,1978.
Coupe des As: 1986.
Champion de France D1: 1996, 2009
League winners:
from 2011 to present:
Gap wins the last edition of Coupe de la Ligue
Current Magnus Ligue champion Gap wins the Coupe de la Ligue beating 4-2 Rouen Dragons in the final, played at Meribel arena in front of 2.500 spectators. It was the last edition of the trophy played since 2006 but cancelled per decision of French Federation. Rouen and Grenoble are the major winners with four titles, but Dragons also lost three finals, giving the team from Normandy the record of 7 appareances in the last act in 10 editions of the trophy. It was the first Cup for Ga that lost against same Rouen the Champions' game at the begin of current season.
(17 Feb 2016)
Rouen and Grenoble reached Coupe de la Ligue final
Dragons Rouen and Grenoble Brûleurs de Loups qualified for Coupe de la Ligue final, held in Meribel next 30 Dicember. Since the creation of the competition in 2007, teams wil battle for the third time to win the trophy: in 2007 Grenoble won 2-1, in 2010 Rouen won 6-4.
In the semifinals Rouen lost first game 2-1 but crashed 6-0 Gap in 2nd leg, while Grenoble won 3-1 at Epinal and lost 4-5 in return match against Epinal advancing for goal difference
(02 Dec 2014)
Coupe de la ligue first round completed
The coupe de la ligue first round is now completed. In groups A (Angers, Rouen) & C (Grenoble, Briançon), the top favorites emerged and advanced to the quarter finals. In groups B and D, it was a 3 team fight to get to the next level. The big surprise was finally in group B with qualifications of Epinal and Strasbourg while the top favorite Amiens is eliminated. In group C, Dijon ended up first while Chamonix and Morzine were tied for 2nd. Chamonix finally advance thanks to a better goal difference. The quarter final match-ups will be the following : Strasbourg - Angers ; Rouen - Épinal ; Briançon - Dijon ; Grenoble - Chamonix
(16 Oct 2013)
President of Gap resigns
Georges Obninsky who has been President of Gap for the past 12 years has resigned from the club, "officially" saying its because he wants to devote his time to his professional career however its been rumoured his disagreements with the cities Mayor, Roger Didier, played in role in Obninsky leaving. Its unclear who will replace him but more will follow when the club holds their press conference.
(23 Oct 2012)
Historic rosters:
Historic statistics:
Past results:
League standings:
Fast facts
season 2017-2018
As we approach the new year, one of ice hockey's most anticipated and prominent events lingers on the horizon, the men's ice hockey tournament at the Winter Olympics. ... Read more»