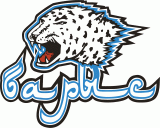 Barys Astana
Name in original language: Барыс Астана
Nickname: Astana Leopards
Year of foundation: 1999
Colours: blue, white
Club status: active
Address: ul. Munaitpasova, 9
010000, Astana
Phone: +7 (7172) 34-21-29
Fax: +7 (7172) 34-21-29
Email: hcbarys@yandex.ru, office@hcbarys.kz
WWW: Barys Astana
Did you find any incorrect or incomplete information? Please, let us know.
Season 2010-2011
Current roster
season 2010-2011
* no longer in the club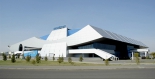 Adress: ul. Munaitpasova, 9
010000, Astana
Phone: +7 8(7172) 35-21-22
Email: dskazakhstan@mail.ru
Capacity: 5332
Opened in: 2001
Barys was formed in 1999 and began to play in the 2001-2002 season. The team played in the Kazakhstani Championship until 2007 in which the team moved to the Russian Supreme League. After spending the 2007-2008 season in the Supreme League, Barys Astana applied to join and were accepted into the Kontinental Hockey League
from 1999 to present: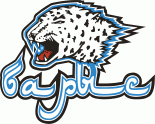 Brandon Bochenski named Kazakhstan Player of the Year
Eurohockey European Player of the Month for November 2013, American Brandon Bochenski (Barys Astana), was named the best hockey player of Kazakhstan by TV and newspapers journalists. It was just the second time from 1992 that the award was given to a foreign, after the victory of Canadian Kevin Dallman in 2009. Last year winner Roman Starchenko finished in second place before Evgeny Rymarev
(02 Jun 2014)
Brandon Bochenski Finishes the Year as KHL's Leading Goal Scorer
First-team KHL All-star and Barys Astana forward Brandon Bochenski will enter 2014 with the league lead in goals.  He scored a hat trick against Admiral on 26 December, only to top that effort two days later with two goals and three assists against Amur.  His 23 goals is a league best and 47 points is tied for second.
He was Eurohockey.com's November Player of the Month for similar performances.  Our interview with Brandon Bochenski can be seen here (full audio/text summary).
(29 Dec 2013)
Barys Astana won't be at Spengler Cup
Is now official: Barys Astana won't participate in next Spengler Cup as previously reported. Barys press service informs that, due to the Olympic season, the KHL is not able to provide a "window" on the calendar for two clubs, and at the end the choice was made ​​in favor of CSKA Moscow, which submitted firstly the application.
(27 Jun 2013)
Ari-Pekka Selin is Barys new coach
Barys Astana announces Finnish Ari-Pekka Selin as new head coach. Selin, 50, worked at Ilves, Saipa and last season at HPK Hämeenlinna and was Finland national team assistant coach at last World Championship. He signed a two-years contract.
Andrei Shayanov and Erlan Sagymbaev, along with former Ilves coach Raimo Helminen will be the assistents
(04 Jun 2013)
Roman Starchenko awarded as best player of Kazakhstan
Barys Astana and Kazakhstan national team forward Roman Starchenko was elected "Best hockey player of Kazakhstan". 27-year-old right wing preceded another two Barys' players, American Brandon Bochenski and Talgat Zhailauov who won trophy in 2007. With national team, Starchenko was the top scorer at IHWC Division I in Budapest
(31 May 2013)
Rochester Americans and Barys Astana at Spengler Cup 2013
For the second time the AHL's Rochester Americans have accepted an invitation to participate in the Spengler Cup tournament
The Rochester Americans also competed in the 1996 event, finishing third. They remain the only professional hockey club from North America ever to take part in the tournament.
"The Rochester Americans are extremely honored to have been selected to play in the 2013 Spengler Cup and represent the American Hockey League," said Americans President Ted Black. "This is a truly unique opportunity that will provide an incredibly valuable experience for our players. In addition, the chance for the Amerks to participate in the Spengler Cup for the second time will add another chapter to the great history of this storied franchise."
In addition, Kazakh media announces KHL's Barys Astana will compete in spengler Cup for the first time
(17 May 2013)
Pushkaryov comes back to Barys
Kazakh forward Konstantin Pushkaryov cancelled the contract signed in early summer with Spartak Moscow and comes back to Barys Astana, his former club. The reason for the breach of contract wasn't revealed
(20 Aug 2012)
SKA St. Petersburg and Toros Neftekamsk win pre-season tournaments
The President of Kazakhstan Cup came at the right time for KHL participants SKA St. Petersburg. With four wins in four games they dominated the tournament. Other KHL teams that played in the cup were Barys Astana and Yugra Khanty-Mansiysk along with the most traditional Kazakh team Kazzinc-Torpedo Ust-Kamenogorsk and a "B" version of the Kazakh national team.

Already yesterday the Lada Cup ended. In a tournament of four VHL teams Toros Neftekamsk won the final 2-1 against HC Sarov. The other two participants were Lada Togliatti and Dizel Penza. Lada won the game for the 3rd place 3-0 against Dizel. A detailed overview you can find here.
(13 Aug 2012)
Andrei Shayanov will coach Avtomobilist
Former Kazakhstan and Barys Astana head coach Andrei Shayanov was named new head coach of KHL Avtomobilist Yekaterinburg
(20 Jun 2012)
Vladimir Krikunov is the new coach of Barys Astana
62-year-old Vladimir Krikunov is the new Barys Astana head coach.
Last season Krikunov coached Ak Bars Kazan which was eliminated in the second round of the playoffs.
During his career Krikunov won the Russian League in 2004-05 with Dynamo Moscow and the the European league the following year
Krikunov was the head coach of Russian national team at the Olympics 2006 in Turin (4th place) World Championships 2005 (bronze medal) and 2006 (defeated in the quarterfinals).
At the 2002 Olympics in Salt Lake City team of Belarus led by Krikunov noted a sensational victory in quarter finals over Team Sweden.
(08 Jun 2012)
Historic rosters:
Historic statistics:
Past results:
League standings:
Fast facts
season 2010-2011
After another Leksand win the team almost caught up with the others after a horrible start of SHL. Read more»
Jakub Klepis scored the only goal of the game just seven seconds before the end when Färjestad beat HV 71 in SHL last night. Read more»