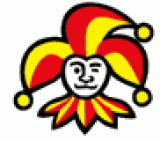 Jokerit
Name in original language: Jokerit HC Oyj
Year of foundation: 1967
Colours: yellow, red, blue
Club status: active
Address: Jokerit HC Oyj
Areenankuja 1
00240 Helsinki
Phone: +358 0204 1990
Fax: +358 0204 1992
Email: jokerit@jokerit.com
Did you find any incorrect or incomplete information? Please, let us know.
Season 2016-2017
Current roster
season 2016-2017
* no longer in the club
Adress: Hartwall Areena
Areenakuja 1
00240 Helsinki
Phone: +358 (0)204 19 97
Capacity: 13506
Opened in: 1997
Retired Numbers
5 - Esa Tikkanen
17 - Jari Kurri
24 - Waltteri Immonen
91 - Otakar Janecký
Notable players:
Champions '73, '92, '94, '96, '97European Champions '95, '96
League winners:
from 1900 to present:
JCWC starts in Sochi
On the first day of the 2018 Junior Club World Cup Jokerit of Finland beat Chinese club KRS 5-1. Loko of Russia got a 4-2 win over the Canadian team Ottawa Capitals.
(18 Aug 2018)
Longest KHL game ever
Jokerit beat CSKA in Moscow in the 8th period to stay in the KHL playoffs. Mika Niemi scored the winner at 142:09 but CSKA still leads the series 3-2.
(22 Mar 2018)
Junior Club World Cup quarter finals
The group stage of the JCWC in Yekaterinburg ended today. The quarter finals will be played on Thursday: Avto Yekaterinburg - MODO Hockey, Red Army Moscow - Jokerit, HC Davos - HC Ocelari Trinec and Snow Leopards Astana - HK Riga.
(22 Aug 2017)
KHL schedule announced
The KHL schedule for 2015-16 can now be found in our games database.
(30 Jun 2015)
Jokerit back at Spengler Cup
Jokerit Helsinki will be the sixth partecipant in next Spengler Cup, from 26 to 31 December in Davos. Finnish team played also last season, when finished without victories.
(09 Jun 2015)
New KHL record for goals scored
Steve Moses of Jokerit scored his 36th KHL goal of the season. No player has scored more than 35 before. See Goals leaders by season here.
(19 Feb 2015)
Marco Maurer plays Spengler Cup with Jokerit
HC Lugano announced defender Marco Maurer will play Spengler Cup on loan to Jokerit Helsinki. Maurer played Spengler also in 2012 edition with Adler Mannheim (on loan from Rapperswil, his club at that time)
(23 Dec 2014)
Selänne close to retirement
Daren Millard from Rogers Sportsnet reports that Teemu Selänne is going to meet Jokerit Helsinki managers to discuss a possible transfer to KHL for season 2014/2015, but now Teemu thinks he will rather end his career.
(08 Jun 2014)
Spengler Cup participants unveiled
Cup holder Genève-Servette, Team Canada, Salavat Yulaev Ufa, Jokerit Helsinki, Medvescak Zagreb and Davos are the teams that will compete in next Spengler Cup, as announced by tournament organization. Croatia will debut in Spengler Cup, while Jokerit Helsinki will return in Switzerland after 11 years.
(08 May 2014)
Jokerit fire Tomi Lämsä
Jokerit Helsinki have fired head coach Tom Lämsä and replaced him with current assistant Tomek Valtonen. "During the autumn the club did not play according to its potential. In making this decision, we hope to give the team a boost because it has the potential to be champion," said general manager Jari Kurri. The club also announced the addition of Pasi Nurminen to the coaching staff.
(18 Dec 2013)
Historic rosters:
Historic statistics:
Past results:
League standings:
Fast facts
season 2016-2017
After 20 years Winter Olympics are back in Italy. IOC assigned today the organization to Milan-Cortina Read more»
The former Pan-American Tournament will host the international debut for Jamaica and Puerto Rico in September Read more»