FC Barcelona
Year of foundation: 1972
Colours: blue,grenade
Club status: active
Address: FC Barcelona (Departamento de Comunicación)
Avenida Arístides Maillol, s/n
08028-Barcelona
Phone: +34 93 496 36 00
Fax: +34 93 496 37 67
Email: hoqueigel@fcbarcelona.cat, info@proesportsgel.com (Veterans)
Did you find any incorrect or incomplete information? Please, let us know.
Season 2018-2019
Current roster
season 2018-2019
* no longer in the club
The team was founded in 1972, after the construction of the Pista de Gel. The first title was the Cup in 1976. In the mid-eighties decade, the senior team was disbanded leaving only the junior team. In 1990 the club came back to top competition, and after that won League and Cup competitions in the great 1996-97 season.
Spain Champion: 1997, 2002, 2009
Copa del Rey: 1976, 1977, 1982, 1997
League winners:
from 1972 to present: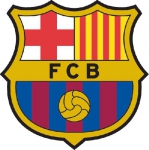 Txuri Urdin retains title in Spain
Txuri Urdin San Sebastian completed a perfect season confirming the title of Liga Nacional alredy won last season by beating in 3 games - 4-3, 7-1 and 7-2 - archrival CH Jaca after dominating regular season and knocking out SAD Majadahonda in the semifinals. Jaca, finished second, eliminated FC Barcelona to reach the final. This is the title number 14 for Txuri, now the the winningest club of the country, having passed Jaca with 13 titles
In December Txuri also won Copa del Rey, the national cup, beating 3-1 Jaca in the final. Czech Pavel Mrňa from champion Txuri finished as Top Scorer with 34 (17+17) points
(26 Mar 2018)
Barcelona win Copa del Rey
FC Barcelona won for the fifth time, the first since 1996-97, Spanish Copa del Rey by beating 6-2 in the final arch-rival CG Puigcerdà at Jaca. In the semifinals, played on Saturday, Barcelona won 7-6 at overtime Txuri Urdin, while Puigcerdà won 5-3 hosts Jaca. Its the first trophy for Barcelona coach Danylo Didkovsky
(18 Jan 2015)
CH Jaca lost for the first time
After 18 rounds of Liga Nacional, champion CH Jaca lost saturday its first game. Txuri Urdin from San Sebastian was the first team to earn points from Jaca, winning 4-1 at Pabellon de Hielo in Jaca. American forward Adrian Sosa was the man of the match scoring an hattrick. CG Puigcerdà won the game between runner ups clashing FC Barcelona 8-0.

(29 Jan 2012)
Historic rosters:
Historic statistics:
Past results:
League standings:
Fast facts
season 2018-2019
As Sheffield Steelers (EIHL) gear up for a play off push changes were made. Read more»
From practice in a car park and over a Persian carpet to skating in one of the most prestigious hockey academies: Eurohockey meets Guila Mohajer: facing many difficulties, the first Iranian women hockey player is now studying coaching in Vierumaki Sport ... Read more»