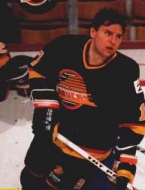 Great people of hockey history: Best left winger of the 80s burned out in NHL
"The best left winger ever". "The Tank". But also "Vladimir Crouton" or "Vlad the Inhaler". These all were nicknames of a famous hockey player from the 80s. Vladimir Krutov was a goalkeeper's nightmare on the ice and, together with Igor Larionov and Sergei Makarov, formed the most famous line of the Soviet Red Army. But he didn't cope well with moving across the Atlantic Ocean for a chance to live in a capitalist society and play in the NHL.
photo from canuckz.com
Many North American fans don't remember Vladimir Yevgenyevich Krutov (Владимир Евгеньевич Крутов) in a good light. The already-legendary forward signed a three-year contract with the Vancouver Canucks at the Canadian Embassy in Moscow on Sep 6, 1989, to join Igor Larionov, who had already signed with the Canucks earlier that summer.
The Vancouver fans were looking forward the amazing theatre of unbelievable hockey by two-thirds of well-known Soviet "KLM Line" (the line's right winger, Sergei Makarov, joined the defending Stanley Cup champion Calgary Flames), but Krutov performed below expectations.
Vladimir scored 31 points (11+23) in 64 games, which is not bad for a rookie, but Krutov wasn't a 20-year-old youngster making his first appearance in professional hockey. He was a nine-time member of the Soviet League's "Line-of-the-Year", which the KLM Line won from 1979-80 to 1986-87 inclusive, and again in 1988-89. The same year that Krutov scored 31 points in Vancouver, Makarov scored 86 points (20+66) in 80 games.
With 44 points in 74 games, Larionov's numbers weren't as good as Makarov's in 1989-90, but nor were they as bad as Krutov's. What's more, during the following seasons he acclimated to the North American style of hockey and also style of life and his performance improved each year.
Maybe Krutov would have also been able to adapt to the North American game, but he wasn't able to manage his lifestyle. He was accustomed to very strict discipline in the Red Army, and suddenly he was in Canada, where he had a lot more freedom to manage his personal time.
He received a contract for $2.1 million per year and was faced with an endless world of opportunities and didn't know what to do with his free time. Vladimir started to enjoy the life and money and was not able to discipline himself. 1989-90 Canucks head coach Bob McCammon said, "His usual routine was to stop at a 7-eleven Store and order two hot dogs, a bag of potato chips and a soft drink. After practice, he would return for a second order."
Krutov was overweight and Larionov's prediction that "he would score 40 goals per season" was not realized. Unable to handle the pressure and McCammon's frustration, he returned to Europe at the end of the season.
In the following years, when Larionov and Makarov were scoring 0.7 and 0.9 points per game, respectively, in the NHL, Krutov was finishing the career in Switzerland and Sweden.
They all started from the same point. After the 1980 Winter Olympics, where the U.S. Miracle on the Ice took place, the Soviet national team's management was really disappointed with the failure in Lake Placid and Viktor Tikhonov, a Soviet Army general who was also the head coach of the national hockey team, was charged with the task of restoring the team's glory.
Tikhonov carried out the order perfectly. He composed a unit of the five players that would subdue the rest of the international hockey world for a decade. Forwards Krutov, Larionov and Makarov were supplemented with great defencemen Viacheslav Fetisov and Alexei Kasatonov. This quintet, dubbed the "Green Unit" for the green-coloured sweaters they wore in practice, had god-like status on the Red Army club as well as on the national team. They even had their own bench.
But they paid for this high status with hard work, which included three practices per weekday and two on the weekends. The whole team was confined to the Red Army base for 300 days per year.
This diligence was offered during the games on the ice. They spent up to 40 minutes on the ice and you can see no marks of fatigue on them. The KLM Line won the Soviet Champions League 12 times, the IIHF World Championships four times and the Winter Olympics twice.
However, with the exception of Kasatonov, they all were adversaries of Soviet political regime and wanted to get a taste of the NHL. Their dream came true in 1989 when the Soviet Union was on the verge of breaking up and they were given the change to leave the country for a chance at the NHL, including Kasatonov.
Krutov and Larionov went to Vancouver, Makarov to Calgary, and Fetisov and Kasatonov to New Jersey. They never played together on one team again, but all of them except Krutov finished their careers in North America.
Only Vladimir Krutov had to come back to Europe. He has a son, Alexei, who is also a hockey player but he had a hard childhood. "Father was always talking about hockey. I wanted to go out play football but he say: 'Go play hockey," Alexei said.
Maybe that's a reflection of his father's failure, or maybe it's just his obsession with hockey. But one thing is for sure: Alexei doesn't want to play in the NHL.
Vladimir Krutov
12x Soviet Championship League champion (with CSKA Moscow; 1978-89)
5x IIHF World Champion (with Soviet Union; 1981-83, 86, 89); 1x silver(1987); 1x bronze(1985)
2x Winter Olympics Gold medalist (with Soviet Union; 1984, 88); 1x silver (1980)
2x IIHF U20 World Champion (with Soviet Union; 1979,80)
1x Canada Cup Champion (with Soviet Union; 1981), 1x silver(1987); 1x bronze(1984)
International games stats: 112GP; 137p. (73+64)
Soviet Champ. League stats: 438GP; 503p. (288+215)
NHL stats: 61GP; 34p. (11+23)
European leagues stats: 121GP; 156p. (72+84)
...more info in Eurohockey.com
player profile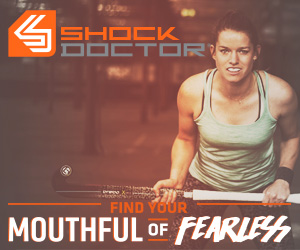 Current events

Czech Rep.: Tipsport extraliga | 1.liga | 2.liga

Slovakia: Tipsport Extraliga | 1.liga

Sweden: SHL | HockeyAllsvenskan
Other: EBEL | Belarus | Croatia | Denmark | Estonia | France | Great Britain | Iceland | Italy | Latvia | Lithuania | MOL-liga | Norway | Poland | Romania | Serbia | Slovenia | Spain | NHL | AHL |
League standings
Game fixtures
League leaders
HK Kurbads celebrates European debut with qualification for semifinals by beating a proud Narva Read more»
GKS Tychy won the second game in Riga, not enough to secure a spot in the semifinals Read more»