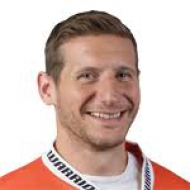 Long serving Welshman reaches 1000 games
October 26th was a momentous day for a long serving Sheffield Steeler , Jonathan Phillips as he recorded his 1000th EIHL game. He is the first player to have reached this milestone.
We compiled, with the help of various media outlets and our own thoughts, a fitting tribute to this great servant to ice hockey.
During his whole career he has amassed 1197 competitive games, 115 of those for his country: most of them as captain.
And he revealed he was completely unaware of the milestone until he was chatting to team-mate Tanner Eberle's parents last weekend.
"I didn't even realise until Sunday there when I was chatting to Tanner's parents and his mum congratulated me for next weekend," he laughed.
"I didn't know what she was on about until she told me it would be my 1,000th game. I was like 'oh, wow!' so I didn't know it was happening to be honest."
On his move from Cardiff Devils to Sheffield Steelers he had this to say:
" For me it was something I needed to do to keep improving. Cardiff was and still is a great club but being my home town team I wanted to leave before I hit a comfort zone. Dave Whistle was in Sheffield at the time and I loved playing for him when he was in Cardiff so he called me at the end of the season and a deal was done. A lot of people in Cardiff think I moved away to make more money when in fact I was offered more to stay in Cardiff.
And in my first season in Sheffield (I was only 23 and it was definitely scary) Shawn Maltby got injured and Dave Matsos (the coach at the time) approached me at practice and told me I was his new captain, i thought it was until Malts was back but he wanted me to remain as captain. I felt awkward being a young guy and i have so much respect for Malts, but he was great and told me i had nothing to worry about."
During his Elite League career, Phillips has enjoyed several successful seasons, including four league titles. "I've been fortunate to have been on some unbelievable and very tight teams. Each time you win something it's very special, and you look back and think 'Was this the best one, or was it that one?', but if I really sit back and think through them, the playoffs in 2008 was really very special and a huge moment for me. I used to go and watch the playoffs at Wembley with the Devils, and to then be on that stage playing for the first time is something I've never forgotten," he recalled. "With the league being the big prize that it is, every league title is up there as well - especially the last couple that we've won have gone down to the wire and that brings so much more excitement as it's like a playoff mentality."
In leading by example, Phillips has gone from a younger player on the Steelers' roster to one of their most experienced. How does he now approach the younger players joining his team? "You try to treat them like any other person, you've been there as the young guy yourself and know what it's like. If I see things that they're doing, such as trying to make plays at the wrong time or not make them when they perhaps should, then I try to talk to them," he said. "The younger kids coming through now though are so much more skilled than we ever were, so you try to help them in different ways. I think when we were younger you learned the game more, and did less skills practise. Now the new generation are a lot more skill-orientated, have better edge work, and a better shooting technique; but they need to learn how to read the game and react. I think this is something I've always been good at, so I try to pass on what I see."
He said: "The thing about it is I love playing. From when I first went to watch a Cardiff Devils game at the age of eight, it was something I fell in love with and something I wanted to do.
We wish him and his family all the best in the future.

Czech Rep.: Tipsport extraliga | 1.liga | 2.liga

Slovakia: Tipsport Extraliga | 1.liga

Sweden: SHL | HockeyAllsvenskan
Other: EBEL | Belarus | Croatia | Denmark | Estonia | France | Great Britain | Iceland | Italy | Latvia | Lithuania | MOL-liga | Norway | Poland | Romania | Serbia | Slovenia | Spain | NHL | AHL |
League standings
Game fixtures
League leaders
After Kazakhstan, also Slovakia postpone indefinitely the start of Extraliga and all hockey competitions after government bans all mass event Read more»
After a conference call between all ten clubs unanimously agreed that they cannot commit to a 2020-21 league season starting on December 5th as previously planned, and the season will be suspended. ... Read more»