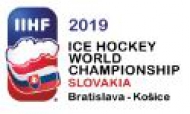 Slovakia still in play off race
Heavily favoured, the Slovaks maintained there challenge for a play off place when they comprehensively beat Great Britain.
This game could have been so different if Betteridge had converted an early chance. A minute after the opening faceoff, a turnover in the neutral zone gave him a clear-cut breakaway from the blueline in on Godla. However, just as he went to shoot, the puck rolled off his stick and he was unable to recover.
The Slovakian side raced into an early two goal lead when SEKERA and then TATAR put them in front, the goals coming just 24 seconds apart. Then on the powerplay  MARINCIN made it three. Shortly after  Ben Bowns, who had earlier looked uncomfortable, was replaced by Jackson Whistle in the GB goal.
A little more than a minute after Bowns' departure, the Britons got a good bounce when a shot by Mark Richardson hit the skate of a Slovak defender. Godla stopped the shot but couldn't control the rebound, and HAMMOND put it between the goalie's legs to make it 3-1.

From the face off in the second period Whistle pulled off a remarkable save when Hudachek skated the length of the ice and tried to go five hole.
But, much to the delight of a rowdy Slovakian crowd, three goals from the home side pushed them into a commanding lead. the first came from Cajkovsky, a long shot that dipped past an un-sighted Whistle, then Studenic with a solo effort and Liska on a shorthanded breakaway.
The only goal of the third period came with exactly two minutes left, when Bondra deflected Koch's point shot out of mid-air. 

When the two teams next hit the ice in Kosice – Britain against France on Monday and Slovakia against Denmark on Tuesday – they could be all-important or totally meaningless.


Czech Rep.: Tipsport extraliga | 1.liga | 2.liga

Slovakia: Tipsport Extraliga | 1.liga

Sweden: SHL | HockeyAllsvenskan
Other: EBEL | Belarus | Croatia | Denmark | Estonia | France | Great Britain | Iceland | Italy | Latvia | Lithuania | MOL-liga | Norway | Poland | Romania | Serbia | Slovenia | Spain | NHL | AHL |
League standings
Game fixtures
League leaders
Belfast Giants (EIHL) who currently occupy 5th place have made changes to improve their roster. Read more»
The Czechs wins the first EHT tournament of the season after three straight wins Read more»