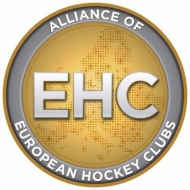 Nominees announced for 2019 Fenix Outdoor E.H.C. Hockey Awards
The Alliance of European Hockey Clubs (E.H.C.) has announced the nominees for the 2019 Fenix Outdoor – Warrior European Hockey Award The winners will be announced and celebrated at the Fenix Outdoor European Hockey Awards Dinner in Prague, Czech Republic on 11 June 2019
Young Player of the Year - presented by Fjällräven
Nominated (in alphabetical order):
Emil Bemström (Djurgården, SHL) – 23 SHL goals, added 9 playoff points in rookie season
Aleksi Heponiemi (Kärpät, Liiga) – Led Kärpät to Liiga win & playoff Game-7, Finland to WJC gold
Kaapo Kakko (TPS, Liiga)– 38pts in 45GP, 5pts in 5 playoff GP, WJC gold, picked for IIHF Worlds
Kirill Kaprizov (CSKA, KHL) – At 21, led CSKA to first Gagarin Cup title, a budding star
Moritz Seider (Mannheim, DEL) – DEL Rookie of the Year, sensational part in Mannheim's title win
Coach of the Year - presented by Globetrotter
Nominated (in alphabetical order):
Pavel Gross (Mannheim, DEL) – In first season, turned underachiever to winner, DEL + playoffs
Kari Jalonen (Bern, NLA) – Second title in three years, brought stability to up-and-down club
Adam Keefe (Belfast, EIHL) – National & Cup title, major influence on Giants and GBR national team
Antti Pennanen (HPK, Liiga) – Wins title with low-budget team and players rejected by other clubs

Roger Rönnberg(Frölunda, SHL) – Top in Sweden, top in Europe – the perfect season
Club of the Year - presented by Hanwag
Nominated (in alphabetical order):
Adler Mannheim (DEL) – Regular season champs, also win title after 3 disappointing seasons.
CSKA Moscow (KHL) – First title since 1989, comeback perfect for the once superior club.
Frölunda (SHL) – Biggest Euro dominance since 1980s CSKA Moscow; 3 CHL titles, 4 finals
Kärpät Oulu (Liiga) – Historic .761 win percentage in regular season, lost final Game-7 in OT
SC Bern (NLA) – Top Euro attendance for 18thstraight season, adds perfect domestic "double"
Warrior Career Excellence Award
The Warrior Career Excellence Award is annually presented to the player who during his or her career has best exemplified the qualities of sportsmanship and dedication combined with community service and high standard of playing ability.
Nominated (in alphabetical order):
Thomas Koch (KAC, EBEL) – Heart & soul of club, brought gold back to town, his 9thnational title
Lasse Kukkonen (Kärpät, Liiga) – Leads, produces, adds titles at 37. Iconic Kärpät figure
Joel Lundqvist (Frölunda, SHL) – The captain's captain. 3 Worlds, 4 SHL gold, 3 CHL gold
Branko Radivojevic (Trencin, SVK) – At 38, spiritual leader of his maternal club, true role model
Michael Wolf (R.B. Munich, DEL) – Cult figure whose value to German hockey goes beyond stats
Voting is now open on eurohockeyclubs.com! The winners will be announced and celebrated at the Fenix Outdoor European Hockey Awards Dinner in Prague, Czech Republic on 11 June 2019.
About the Alliance of European Hockey Clubs: The alliance was formally founded on 13 June 2016 at the E.H.C.'s first Annual General Meeting in Berlin, by some 70 clubs from 13 European countries. Ice hockey thus became the third major European team sport, after football's European Club Association (ECA) and Forum Club Handball (FCH), to found a club alliance with the mandate to look after and promote the interests of the professional hockey clubs and represent them internationally. The E.H.C. currently has 84 member clubs from 16 European countries.

Czech Rep.: Tipsport extraliga | 1.liga | 2.liga

Slovakia: Tipsport Extraliga | 1.liga

Sweden: SHL | HockeyAllsvenskan
Other: EBEL | Belarus | Croatia | Denmark | Estonia | France | Great Britain | Iceland | Italy | Latvia | Lithuania | MOL-liga | Norway | Poland | Romania | Serbia | Slovenia | Spain | NHL | AHL |
League standings
Game fixtures
League leaders
Past, present and future of a growning passion: Eurohockey meets Philippines national team captain Steven Füglister Read more»