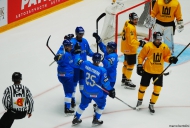 Kazakhstan earns another victory
Young Lithuania bravely engaged the home team but can't withstand the pressure of the blue wave
Lithuania can't resist to the blue wave of Kazakhstan, pushed by the flaming Barys Arena in Nur-Sultan, already scoring after 30 seconds with Nikita Mikhalis – the goal was disallowed after a video review, and totally in control of the game: Anton Sagadeyev, same Mikhalis and Bochenski has great chances in the first 5 minutes, only the skill of young goalie Laurynas Lubys, in the net for experienced Mantas Armalis, keeps the Baltics in the game. Kazakhstan opens the score in the first powerplay at 10:13 with a superb move of Brendon Bochenski emerging from behind the net giving a clever pass to Dustin Boyd easy finishing. Mikhalis wastes a chance one minute after the goal in a period where Lithuania is a mere appearance.
The central period has the same plot, Kazakhstan assaulting the Lithuanian fort, defended heroically by Lubys: Nekraych, Shevchenko, Mikhalis, Bochenski, have chances to double the score. The goals finally comes at 31:21 when Nikita Kleshenko finds the right path from the distance, surprising Lubys: the goalie can just touch the puck with the shoulder. Finally, a chance for Lithuania at minute 35; Karlsson deflects the shot from Misiuk. It's a single moment, because Kazakhstan siege continues: at 38:30 another goal for home team, scored by Asetov, was disallowed after the review.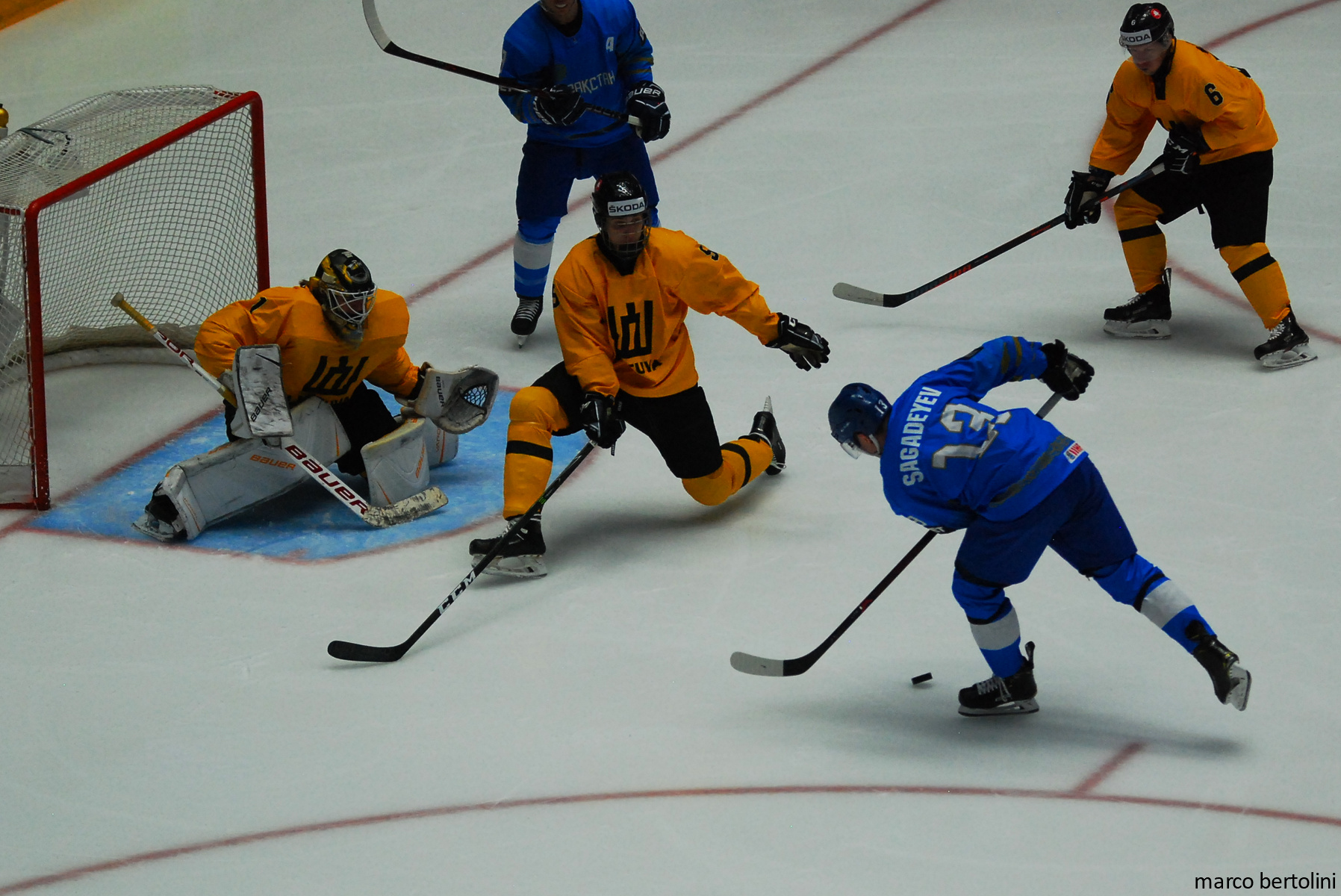 After two periods of pure suffering, Lithuania gets the head out managing to score in the opening of third period with a messy situation in front of the cage, solved by Arvidas Domeika. After a chance for Kleshenko, it's Bochenski to call Armalis to a difficult save in the traffic. Kazakhstan soon takes again the control of the game wasting the best chance with Nekraych in a one-vs-one with Lubys. The last minutes without the goalie in the net proves that Lithuania has energy to battle until the end. The goal of Darren Diez with a shot from the distance that surprises Lubys, seals a game with maybe too many sufferings for home team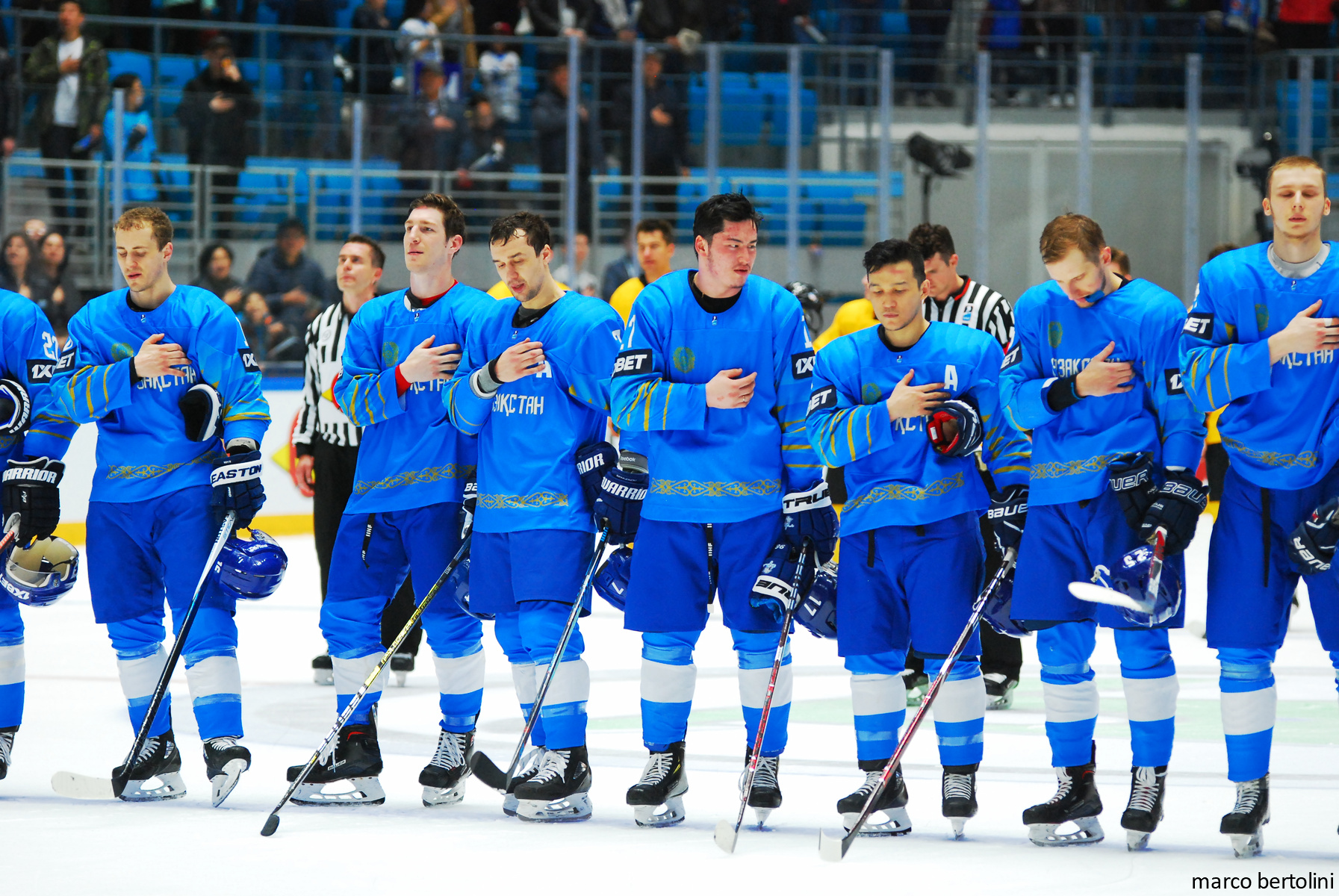 Despite a clear dominance Kazakhstan wins the game with a minimum advantage but coach Sidorenko can be satisfied with the performance of the team, so does his colleague Lacroix, Lithuania showed great solidity and capacity to face a stronger opponent.
MVP: Arvidas Domeika – Henrik Karlsson
Daniel Lacroix: "Congrats to Kazakhstan, they play really hard, well prepared. We are a young team, so we need to play almost a perfect game every time, I really like how we play tonight, I give ice time to our young goalie and I'm satisfied by the performance. We are improving, but we gonna make mistakes because we are young, I like the way we compete. It's not an easy tournament, the level is high, and every team can beat the other"
Andrei Skabelka: "Lithuania has a young and aggressive team, but we play under our possibilities, at this level you make a mistake and you're punish, as happened tonight, if you have chances to score, you have to do it, to avoid to pay for your mistake."

Czech Rep.: Tipsport extraliga | 1.liga | 2.liga

Slovakia: Tipsport Extraliga | 1.liga

Sweden: SHL | HockeyAllsvenskan
Other: EBEL | Belarus | Croatia | Denmark | Estonia | France | Great Britain | Iceland | Italy | Latvia | Lithuania | MOL-liga | Norway | Poland | Romania | Serbia | Slovenia | Spain | NHL | AHL |
League standings
Game fixtures
League leaders
Belfast Giants (EIHL) who currently occupy 5th place have made changes to improve their roster. Read more»
The Czechs wins the first EHT tournament of the season after three straight wins Read more»