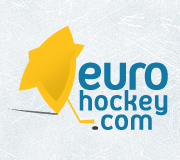 Estonia Ready for Big NHL Draft Year in 2018
Estonia could do something that they've never done ever before: have players drafted into the National Hockey League.
The NHL Draft has had no shortage of incredible stories for hockey around the world.
This past weekend, Nico Hischier became the first Swiss-born player to get drafted first overall into the NHL. A year after three Finns were drafted in the top five, a total of six Finnish-born players were drafted in the first round, the most ever for the nation. Alexandre Texier of the Columbus Blue Jackets became the highest-ever drafted player from France. Pittsburgh's Jan Drozg could be one of the best Slovenians since Anze Kopitar.
And in 2018, a country that has never been represented at the draft table could see as many as four players chosen.
That country is Estonia.
You can argue that Leo Komarov was the first Estonian player to get picked when Toronto selected him 180th overall in 2006. But since Estonia was still apart of the Soviet Union at the time and he moved to Finland at the age of five, the country he'd represent internationally, it doesn't really count.
So in 2018, there truly could be some history wherever the draft does indeed get held, with most signs pointing towards Dallas.
Five players are currently on the radar of NHL scouts: goalies Conrad Mölder and Christopher-Kullervo Jõgi, as well as forwards Robert Arrak, Kristofer Jõgi and Morten Arantez Jürgens.
What makes these five players significant is that, for a hockey program that has struggled financially over the past five years, they still have managed to churn out quality hockey players.
The most intriguing option has to be Arrak, who was passed over originally in Chicago this year. A big, physical centreman who wins his fair-share of important faceoffs, Arrak came over to play with the USHL's Cedar Rapids Roughriders this past season, where the 18-year-old finished with six points in 37 games.
His poor production was likely what led to him getting passed over, but his strong performance at the Division IIA World Juniors had to serve some notice. In three games with Estonia, Arrak finished with five points, while also becoming one of the team's most popular and effective players in years.
Arrak will return to Finland next year where he will play in the Jr. A Liiga with Jokerit, similar to how he finished off the year with Blues U20. His hopes are to play against men more consistently, similar to how he played with Estonia's men's team at the Division IB World Championships to close off the season.
Then there is Molder, who could be one of the more underrated goalie options from Europe. An athletic netminder that refuses to give up on a play, Molder has been a force to keep an eye on the past few years. Molder's strong season saw the Tallinn, Estonia native finish with a .935 save percentage in 30 games with the U18 Lahti Pelicans, a campaign that earned him the top goalie in the league.
What's strange about Molder is that despite being born in Estonia, he has chosen to not represent the country at any international event after living and training in Finland. Does this mean he'll choose to play for Finland in international competition? If so, the Finnish goalie market is already a tough one to crack.
One goalie who likely will be on the men's team for years to come is Christopher-Kullervo Jõgi, who graduated from playing with KJT-Haukaut's U17 program this past season. While the team wasn't great, Jogi finished with a .916 save percentage while also having a strong Division IIA performance as Estonia's starting goaltender. His dad, Ahti-Kullervo, was a long time general manager in the Estonian junior ranks, so his son likely has had the right help around him to help grab the attention of European-based NHL scouts.
Unrelated to Christopher-Kullervo, Kristofer Jõgi is another player earning some attention. Jõgi has represented his nation in five different tournaments, all at the Under-18 and Under-20 level. A former Jr. C champion, Jõgi isn't a big player but he's got a physical edge to him, kind of like a Antoine Roussel-lite. He's not as much of an offensive threat as some other Estonian players, but his defensive play and edgy playing style has earned him some recognition early on in the 17-year-old's career.
Jürgens could be one of the more offensive options of the group, having always been one of the best players in international competition. As a 16-year-old at the Division IIA World Juniors last December, Jurgens had what has proven to be his lowest point production total in international competition, and he still managed to get three points in five games as one of the youngest players in the tournament. Later in the year, he was actually named Estonia's top player at the Under-18.

After a good six game stint with Estonia's Jr. Team in the Estonian league, where he scored eight points in six games, finishing off a campaign that saw him play with Espoo Blues U18 team. The Blues were one of the worst teams in the league and Jürgens wasn't given a lot of ice time, but a few breaks along the way could make him a diamond in the rough later in the draft.
With a year away from the NHL Draft, a lot of things can change drastically. Players that are projected as top five picks in June of 2017 may not even be on anyone's map 365 days later. So while these five players have a chance to get drafted into the NHL, there's also a chance that a bad season could ruin everything.
But the hope is still there. And that's what matters at this point.
Follow me on Twitter, @StevenEllisNHL.

Czech Rep.: Tipsport extraliga | 1.liga | 2.liga

Slovakia: Tipsport Extraliga | 1.liga

Sweden: SHL | HockeyAllsvenskan
Other: EBEL | Belarus | Croatia | Denmark | Estonia | France | Great Britain | Iceland | Italy | Latvia | Lithuania | MOL-liga | Norway | Poland | Romania | Serbia | Slovenia | Spain | NHL | AHL |
League standings
Game fixtures
League leaders
Winning 2-1 against host Rungsted, Yunost keeps the perfect record proposing as favourite for the Superfinals Read more»
The final continental cup group game took place in Rungsted between Sheffield Steelers of Great Britain and Kurbads Riga of Latvia. Read more»