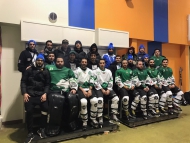 A Dream Ruined: Q&A With Iranian Captain Shahryar Sean Amini
Iran was about to realize their hockey dream by participating in the 2017 Asian Winter Games. But in a quick second, that all fell apart. Iranian team captain Shahryar Sean Amini shares his story.
In 2016, the hockey world was surprised to hear that Iran would be making their ice hockey debut. After multiple training camps and a couple of friendly competition matches, Iran was ready to truly hit the ice for the first time.
On paper, the team was strong with players coming from Switzerland, Canada, Germany and even the Russian KHL. But in reality, the team wasn't ready for the disappointment that took place after arriving to their first tournament, the 2017 Asian Winter Games in Sapporo, Japan. Just days before the tournament began, Iran found out that the team had too many illegal players on the roster, preventing them from competing for a medal.
Iranian captain Shahryar Sean Amini talked to Steven Ellis from Euro Hockey to discuss what happened in Sapporo and the hopes of building the team in the future.
EH) How did you get into hockey yourself?
SA) Well my friends took me to the ice rink and we started to play some pond hockey - that was the beginning of an unconditional love between hockey and me.
EH) How did you get approached to join Iran's national team?
SA) Actually I was just following the result of the Swiss National Inline Hockey team because some friends are playing there. Then I saw they were playing against Iran, sent them a message to be not too hard with my country and after that I saw a flyer on the Asiagos World Championship homepage, that Iran is looking for players around the world.
EH) What were your thoughts when you found out the team was going to Sapporo?
SA) I was so excited. I saw the opening ceremony of 2011 in Kazakhstan in front of 40,000 people - that was just amazing. So I really was looking forward to stand there, sing the national anthem with my teammates and just play the sport I love.
EH)) So what exactly happened that prevented Iran from competing for a medal?
SA) We sent our roster to the Asian Olympic Committee in September. In November, we got the accreditation for all 20 players and 3 goalkeepers. So by the end of the year, we saw an Instagram post from another team. They were complaining about six players who were professional hockey players. First of all, we only have one professional player and second of all I didn't know it's not allowed to have professional players on the team (ironic). 
Then they started to complain about the players who didn't play in Iran. No one could have played in Iran because our team was new. The IOC knew that and said everything was fine. After we arrived in Sapporo, Japan exactly three days before our first game, the whole thing started again. Based on Rule 50, athletes have to be born in Asia or have lived in their country for at least three years in a row. Well this rule was new. It was changed after the Asian Games in Kazakhstan because of a team who had some new foreign players with citizenships. We didn't check this rule exactly but why did they tell us three days before the games? We didn't know that before. We started to have meetings with the IIHF, with the Committee, with the other teams etc. but there were teams who stuck together and voted against us.
EH) Do you know of any other teams that had ineligible players (not just dual citizens)?
SA) No, I don't actually. But even then, we were there for one reason. To play the game we love - hockey. Compared to some other teams we didn't just gift people with a citizenship, so they can play. All our players are Iranians. They have Iranian parents who were born there, they have Iranian names and are Iranian looking.
EH) Now that there has been some downtime for all parties involved to calm down, how do you feel about the situation?
SA) We calmed down but are still sad and mad about the situation. We can't change it anymore but it hurts really bad because we would've played and won gold for sure with our roster.
EH Since the tournament is over, what's the next big event for Iran?
SA) The ice season is over for us because we can't attend the Asian Cup Challenge yet, as we are not an IIHF member. So the next big "event" will be the IIHF Conference to see if we get the IIHF Membership and after that the World Roller Games in Nanjing, China to attend with our Inline Hockey Team (woman and men and maybe juniors) at the World Championships in inline hockey and other roller sports.
EH) What will Iran do to make sure something like Sapporo doesn't happen again?
SA) Well for sure we'll read the rulebook in detail and get everything confirmed in written form by the organizer of the event.
EH) Despite being ineligible for the medal, how did Iran do against your opponents?
SA) We beat two of the teams but that wasn't important at that moment. It was just important that our team stayed together no matter what happened. We have great players who stayed with us as fans for the eight players who were allowed to play. We felt quite sad on the field. They really wanted to play and were not allowed, but still cheered for us during the games. I appreciate that and am really thankful to all these players.
EH) Hockey wise for you, what's next?
SA) Well my inline Season starts in less than 2 weeks. I will go back to Switzerland's second highest league this year.
EH) Anything else you would like to get across?
SA) I'm really thankful to Kaveh Sedghi for starting a National Team on Inline and Ice. He put in a lot of effort for this team and I'm looking forward to making Iran Hockey bigger and bigger together with him. I also want to thank Payam Dastyar, Ramin Atighechi and Christian Müller for all the help they put in, in Sapporo, to realize our friendly games at least. I'm proud of our team and of all our supporters inside and outside of Iran. 
Follow me on Twitter, @StevenEllisNHL.

Czech Rep.: Tipsport extraliga | 1.liga | 2.liga

Slovakia: Tipsport Extraliga | 1.liga

Sweden: SHL | HockeyAllsvenskan
Other: EBEL | Belarus | Croatia | Denmark | Estonia | France | Great Britain | Iceland | Italy | Latvia | Lithuania | MOL-liga | Norway | Poland | Romania | Serbia | Slovenia | Spain | NHL | AHL |
League standings
Game fixtures
League leaders
Winning 2-1 against host Rungsted, Yunost keeps the perfect record proposing as favourite for the Superfinals Read more»
The final continental cup group game took place in Rungsted between Sheffield Steelers of Great Britain and Kurbads Riga of Latvia. Read more»